Hangtown Motocross Classic
Rancho Cordova

,

CA
Hangtown
Lucas Oil AMA Pro Motocross Championship
He did it to us again. We had all this excitement for a stacked field and such in Lucas Oil Pro Motocross, and Monster Energy Kawasaki's Ryan Villopoto just goes out there and dominates the proceedings at the Hangtown opener. Is this a sign of things to come? Well, get ready, because RV tells us post-race that he just expects to keep getting better.
Racer X: Been a little while since we've seen you at an outdoor. What's it like to be back? And not only to be back, but to kick it off with the success that you had?
Ryan Villopoto: It definitely feels good. Hangtown's been a rough place and we haven't done well past years, but I feel like with the amount of time we've all had, we've all been in the same situation, but I feel like we're in a really good place with the time that we got given from supercross until now. For bike to feel like it did I feel like we're in a really good place and it's only going to be better from here. So, happy with that, and obviously happy with the way I rode. The first moto went really well and I was able to get out front fairly early and get a gap. The second moto was a little different. James [Stewart] and Ryan [Dungey] were riding really well and I was just eating roost. So I was trying to get out of the roost and trying to get into the moto a little bit and try to see what was going to play out.
Did you learn some lessons from two years ago when it seemed like supercross did kind of slow your preparation for outdoors? Is there stuff you took away from that to make sure it would go better off the start this time?
Yes and no. We knew we had to get on with testing and things like that. I think the whole situation that we were in coming into this outdoor season was better. We learned a lot, kind of from where we were with the bike in 2011. At that point, when we started testing this year, our priority was to not go back down that road. In 2011, I was good for a lot of the first motos but second motos were my struggle. We don't want that to happen again, and I feel like as good as my bike was here, I feel like we're only going to get better, hopefully. That's everybody's goal. But I feel like we're going to get better from here on out.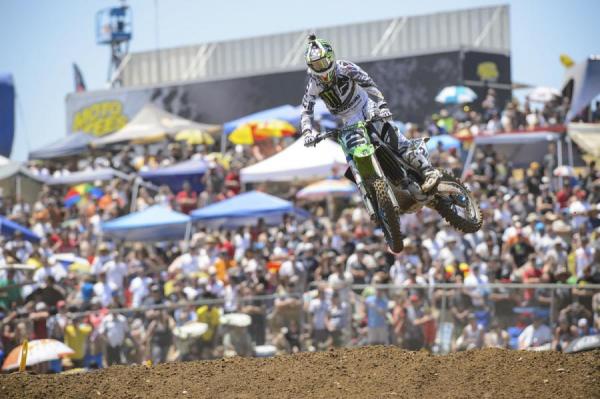 Ryan Villopoto went 1-1 in his first motocross race since 2011.
Simon Cudby photo
Did you surprise yourself a little bit? We know how stacked this field is. You said you've struggled sometimes at Hangtown in the past. Did you expect to win motos by the gap you had?
You know, I don't think you expect anything. You expect to have a good weekend, and however it finishes, that's great. With the win, regardless if it's by two seconds with the field that we're racing, or 20 or whatever it was, it's great. A win's a win. For sure, the bigger the better. But I'll take it with a one second gap, also.
We hear you had new forks for this race, air forks with a third chamber. Obviously they worked.
We ran, I guess you could call it dual-chamber, or a standard air fork in supercross. And we had the chance to do testing on the triple air fork and get it right for outdoors. For me, I just feel like it's a little more compliant, a little plusher. It's pretty close to the same but it's a little more intuitive. We're kind of learning it. I feel like with what we learned today we can go back and make it better. Like I said, I'm just pumped with kind of where we are so early. We've all been in the same situation, with not much testing. Especially me because I didn't even get to ride last year and do any outdoor testing.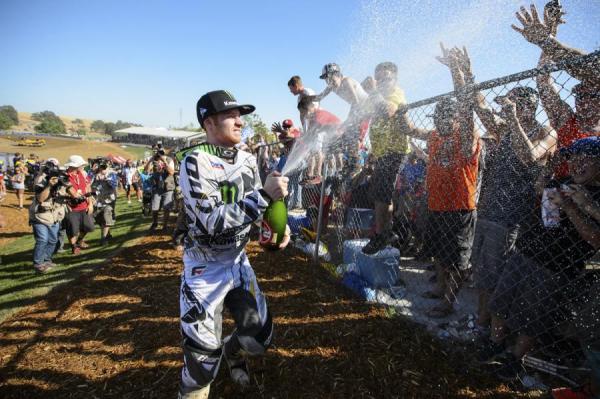 RV celebrates his win with the fans at Hangtown.
Simon Cudby photo
Second moto were you just waiting when you were going in third place?
Ryan was trying really hard to get around James, and I was sitting back there in third watching while everything else was going down. I was taking double roost and there are not that many lines out there. So Ryan was in one, James was in the other, so that kind of leaves me to follow one of those guys. At first I was a little impatient, trying to maybe get around Ryan and then go after James, but after a while it really wasn't working and I seemed to lose a little bit. It was kind of like I would sit back for a little bit and then make a push. Ryan made that one little mistake and veered off the track so he obviously made it a little easier for me to get around him. And then after that then I was working on James. So it's easier to get to work on one than have two guys in front of you, and you're eating all of that roost.