Red Bull KTM's Tony Cairoli drove a packed attendance crazy at Beto Carrero in Brazil by recording his third 'double' from seven rounds in the FIM Motocross World Championship and extended his lead further in the MX1 standings to 52 points over Gautier Paulin. The Sicilian finished ahead of Lucas Oil Pro Motocross Championship-bound Rockstar Suzuki duo Clement Desalle and Kevin Strijbos; the former notching his fifth trophy of the campaign on his 24th birthday while the latter grabbed his first podium on works yellow machinery since he was last incumbent on the official RM-Z450 in 2007. The damp event at the striking venue was also notable for witnessing the end of Jeffrey Herlings' perfect haul of motos in MX2 as the World Champion came unstuck in the final fling for the Superfinal concept. Herlings still claimed the Grand Prix to go seven unbeaten this year but Jose Butron's magnificent flight in and among the 450 bikes coupled with the KTM rider's first lap crash, meant 84's dream of a faultless campaign will not have to rest in overall classifications rather than a neat row of 25 points across the entire board.
At a time when Grand Prix is examining what it is, what it was and what it might be—and whether new directions should be taken—Beto Carrero was again an extreme example of how motocross can be glammed up and taken into a supercross framework. Perhaps only Brazil can stage this type of event; a track surrounded by grandstands packed with rabid fans screaming and clapping at the best action regardless of nationality and in a country obsessed with sport and motorsport and where manufacturers enjoy bounteous sales. It was hard not to be swept up in the enthusiasm of the show and escape the feeling that this is the kind of sensation a Grand Prix (a high level annual event) should bring. The other school of thought would find the man-made and condensed course the antithesis of motocross tradition.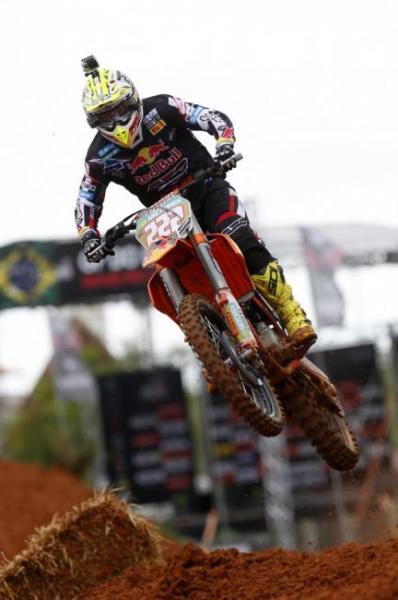 Cairoli now has a 52-point lead in the MX1 Class following his win in Brazil.
Ray Archer photo
Perhaps the weakest part of the meeting was the racing layout that was just too tight and folding to allow riders to seek and discover viable overtaking opportunities. To the designer's credit they are slightly limited by space and the compact track was appropriate in some ways for the last airing of the polemic Superfinal format (only used for non-European events in 2013, Brazil being the final flyaway) that should allow the 250s a fighting chance against the MX1 bikes. "I felt that the track was short for a 450," said Clement Desalle. "It was not that tricky because the speed wasn't so high but there were a lot of jumps and waves and other stuff. The ground was good and I could control the power of the bike with plenty of traction so that was a positive thing. I think the track would be better if there were some simpler sections."
European Champion Mel Pocock, who took his Monster Energy Yamaha to a career-best fifth position in the first moto offered a contrasting view from his first visit to Brazil: "This is the best GP I have been to in my life. There is so much atmosphere here and I cannot wait to come back next year. The track was awesome and the preparation also. I got held up by the 450s in the Superfinal. Not really with the MX2 guys because I could pass them quite easily but the 450s were faster in different places. It was hard work but this is by far the best GP I've been to."
The Superfinal is much maligned but standing trackside the hard fact is that it produces the strongest gate of forty riders you are likely to find outside of the Motocross of Nations. It also unveils a first corner and depth of action that is awe-inspiring and captivating. Like many plans of mad genius it is ultimately flawed (too convoluted and with safety concerns) but boy it is fantastic to watch from the fence.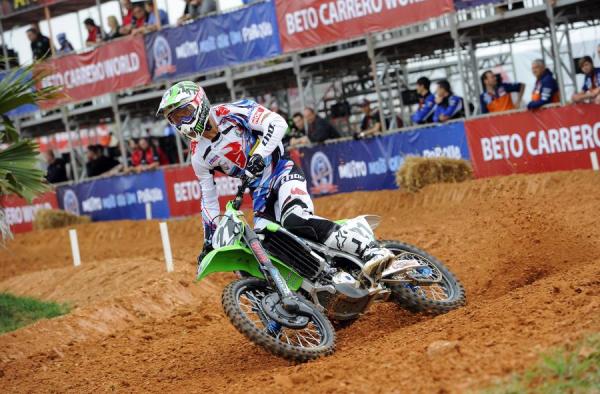 Following consecutive GP wins, Gautier Paulin finished fifth in Brazil.
Monster Energy photo
The suitability of Beto Carrero as a first class racing venue was confirmed with the announcement that the Motocross of Nations will visit in 2017 after trips to Latvia, Glen Helen and Maggiora. "It is amazing to race on this track," said Cairoli. "The facilities and everything is how it should be at every track and to have public like that coming and cheering for you was awesome. The track is not so wide in places and if they work and make it wider then it can be better but the design is very nice and I like it a lot…there was good grip. I think it will be amazing here for the Nations because there will be many people and if the track is a bit wider then they should be more lines."
Clement Desalle was unable to match 222 and couldn't pass the rapidly-progressing Honda World Motocross team's Max Nagl for second place in the first moto. The Belgian rode alone to another third spot in the Superfinal while Paulin struggled with his starts and Nagl also dropped the ball in the second sprint. The German needed to push in the second half of the distance to catch and pass Ken De Dycker for fifth and secure his first podium on the CRF450R but didn't have the energy and thus tied on points, conceded to the rejuvenated Strijbos (who led for 16 of the 19 circulations before Cairoli shook free some arm-pump) and had to check his patience. Another highlight of MX1 was the battle of the rookies and Kawasaki riders Tommy Searle and Jeremy Van Horebeek that lasted a good chunk of the moto and involved the position swapping and bar-banging we all like to see. Searle's slowly recovering broken finger and the lack of his riding prep since the injury in Portugal two weeks ago eventually told. The Briton's name was on the lips of the Honda team after run-ins with Nagl and then clipping the German's teammate Evgeny Bobryshev that sent the weakened Russian (broken right leg almost fully healed) to the floor. "Tommy was a bit crazy because he block-passed me on the take-off of a jump and I was really scared at that moment because it could have been a huge crash for both of us and I don't know why he did it," Nagl said. "He then crashed into Bobby just in front of me!"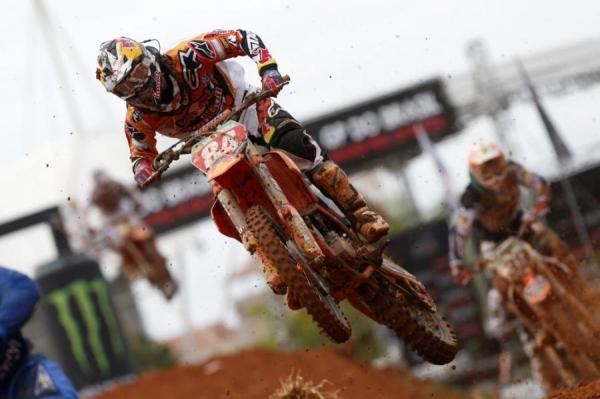 Herlings lost his perfect recond, but keep his overall streak in tact.
Ray Archer photo
MX2 was the showground for Herlings in the first moto as he hunted an eye-catching Glen Coldenhoff (Standing Construct KTM) and had the crowd on their feet as he closed to the rear wheel of his countryman. The reigning number one would fall foul of the congested first lap of the Superfinal and tried to motor through the pack with a painful right leg but couldn't catch Spaniard Jose Butron on the Silver Action KTM who was full of verve and attacking confidence for his fourth podium and first ever runner-up result. "I got a bit lucky at the start because I was between the two factory MX1 KTMs and they just cleared a line for me in the first corner and I was in fifth or sixth," he recalled. "I just did my race and looked behind me a couple of times expecting Jeffrey to come but he wasn't there. I'm sorry to beat him but I'm third in the championship now!"
"Against those big 450s you either come out with luck or you don't," lamented Herlings. "Jose pulled out a good start and I'm really happy for him. I had to start last and on this tiny track it is like BMX to pass all those 450s. It was not easy and I got some cramps. I'm not undefeated any more but things like that happen. If it had been a separate MX2 race then I might have been able to catch him."
Is the clock ticking for Jimmy Decotis? A fourth Grand Prix without notable results (17-15) is perhaps too soon for some of the rumours suggesting that the New Englander might be victim of his team looking at other options. JD might not be on his way out but with the high profile of the Monster and Pro Circuit backed CLS team it would be fair to say that the pressure is on. Decotis will at least have some American company from the next Grand Prix of the year with Michael Leib set to steer a Suzuki in MX2 at Ernee in France on June 9.
In the meantime Lucas Oil MX Pro Motocross fans will get the chance to see some Belgian speed at Thunder Valley next week with Desalle and Strijbos heading straight to California when most of the GP paddock start the long journey back to Europe.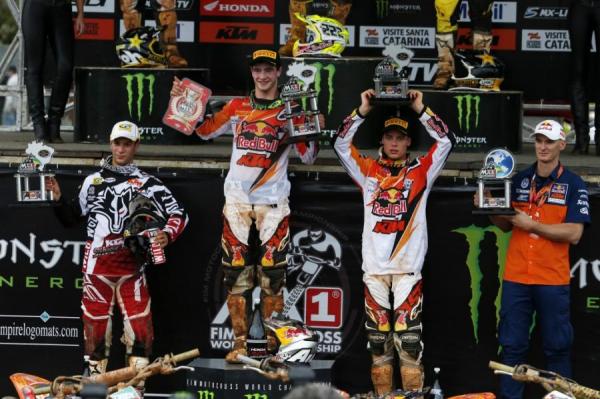 Jose Butron (left) won his first career MX2 GP moto on Sunday.
Ray Archer photo
MX1 Moto 1
1. Antonio Cairoli (ITA, KTM), 39:15.493;
2. Maximilian Nagl (GER, Honda), +0:03.017;
3. Clement Desalle (BEL, Suzuki), +0:04.748;
4. Gautier Paulin (FRA, Kawasaki), +0:24.442;
5. Jeremy van Horebeek (BEL, Kawasaki), +0:30.333;
6. Kevin Strijbos (BEL, Suzuki), +0:36.445;
7. David Philippaerts (ITA, Honda), +0:46.472;
8. Tommy Searle (GBR, Kawasaki), +0:49.004;
9. Ken de Dycker (BEL, KTM), +0:50.898;
10. Joel Roelants (BEL, Yamaha), +0:53.195;
Superfinal classification
1. Antonio Cairoli (ITA, KTM), 40:49.230;
2. Kevin Strijbos (BEL, Suzuki), +0:02.830;
3. Clement Desalle (BEL, Suzuki), +0:25.606;
4. Gautier Paulin (FRA, Kawasaki), +0:31.078;
5. Ken de Dycker (BEL, KTM), +0:41.121;
6. Maximilian Nagl (GER, Honda), +0:44.766;
7. Rui Goncalves (POR, KTM), +0:45.861;
8. Jeremy van Horebeek (BEL, Kawasaki), +0:50.619;
9. Tommy Searle (GBR, Kawasaki), +1:03.885;
10. Jose Butron (ESP, KTM), +1:09.255;
11. Shaun Simpson (GBR, TM), +1:19.992;
12. Evgeny Bobryshev (RUS, Honda), +1:22.240;
13. Jeffrey Herlings (NED, KTM), +1:23.261;
14. Joel Roelants (BEL, Yamaha), +1:26.011;
15. Jordi Tixier (FRA, KTM), +1:28.973;
16. Christophe Charlier (FRA, Yamaha), +1:34.001;
17. Davide Guarneri (ITA, KTM), +1:43.495;
18. Dean Ferris (AUS, Yamaha), +1:44.522;
19. Max Anstie (GBR, Suzuki), +1:44.590;
20. Alessandro Lupino (ITA, Kawasaki), +2:00.261;
MX1 Overall
1. Antonio Cairoli (ITA, KTM), 50 points;
2. Clement Desalle (BEL, Suzuki), 40 p.;
3. Kevin Strijbos (BEL, Suzuki), 37 p.;
4. Maximilian Nagl (GER, Honda), 37 p.;
5. Gautier Paulin (FRA, Kawasaki), 36 p.;
6. Jeremy van Horebeek (BEL, Kawasaki), 29 p.;
7. Ken de Dycker (BEL, KTM), 28 p.;
8. Tommy Searle (GBR, Kawasaki), 25 p.;
9. Joel Roelants (BEL, Yamaha), 20 p.;
10. Shaun Simpson (GBR, TM), 19 p.;
MX1 World Championship standings after 7 of 17 rounds
1. Antonio Cairoli (ITA, KTM), 330 points;
2. Gautier Paulin (FRA, Kawasaki), 278 p.;
3. Clement Desalle (BEL, Suzuki), 267 p.;
4. Ken de Dycker (BEL, KTM), 245 p.;
5. Kevin Strijbos (BEL, Suzuki), 220 p.;
6. Tommy Searle (GBR, Kawasaki), 205 p.;
7. Maximilian Nagl (GER, Honda), 169 p.;
8. Rui Goncalves (POR, KTM), 148 p.;
9. Jeremy van Horebeek (BEL, Kawasaki), 138 p.;
10. David Philippaerts (ITA, Honda), 130 p.;
MX2 Moto1
1. Jeffrey Herlings (NED, KTM), 40:08.386;
2. Glenn Coldenhoff (NED, KTM), +0:11.680;
3. Jake Nicholls (GBR, KTM), +0:16.551;
4. Jordi Tixier (FRA, KTM), +0:23.711;
5. Mel Pocock (GBR, Yamaha), +0:30.415;
6. Jose Butron (ESP, KTM), +0:32.337;
7. Dean Ferris (AUS, Yamaha), +0:37.039;
8. Dylan Ferrandis (FRA, Kawasaki), +0:42.374;
9. Alexander Tonkov (RUS, Honda), +0:44.771;
10. Alessandro Lupino (ITA, Kawasaki), +0:47.844;
Superfinal classification
1. Antonio Cairoli (ITA, KTM), 40:49.230;
2. Kevin Strijbos (BEL, Suzuki), +0:02.830;
3. Clement Desalle (BEL, Suzuki), +0:25.606;
4. Gautier Paulin (FRA, Kawasaki), +0:31.078;
5. Ken de Dycker (BEL, KTM), +0:41.121;
6. Maximilian Nagl (GER, Honda), +0:44.766;
7. Rui Goncalves (POR, KTM), +0:45.861;
8. Jeremy van Horebeek (BEL, Kawasaki), +0:50.619;
9. Tommy Searle (GBR, Kawasaki), +1:03.885;
10. Jose Butron (ESP, KTM), +1:09.255;
11. Shaun Simpson (GBR, TM), +1:19.992;
12. Evgeny Bobryshev (RUS, Honda), +1:22.240;
13. Jeffrey Herlings (NED, KTM), +1:23.261;
14. Joel Roelants (BEL, Yamaha), +1:26.011;
15. Jordi Tixier (FRA, KTM), +1:28.973;
16. Christophe Charlier (FRA, Yamaha), +1:34.001;
17. Davide Guarneri (ITA, KTM), +1:43.495;
18. Dean Ferris (AUS, Yamaha), +1:44.522;
19. Max Anstie (GBR, Suzuki), +1:44.590;
20. Alessandro Lupino (ITA, Kawasaki), +2:00.261;
MX2 Overall
1. Jeffrey Herlings (NED, KTM), 47 points;
2. Jose Butron (ESP, KTM), 40 p.;
3. Jordi Tixier (FRA, KTM), 38 p.;
4. Glenn Coldenhoff (NED, KTM), 31 p.;
5. Dean Ferris (AUS, Yamaha), 30 p.;
6. Christophe Charlier (FRA, Yamaha), 27 p.;
7. Mel Pocock (GBR, Yamaha), 26 p.;
8. Alessandro Lupino (ITA, Kawasaki), 25 p.;
9. Alexander Tonkov (RUS, Honda), 25 p.;
10. Dylan Ferrandis (FRA, Kawasaki), 25 p.;
MX2 World Championship standings after 7 of 17 rounds
1. Jeffrey Herlings (NED, KTM), 347 points;
2. Jordi Tixier (FRA, KTM), 257 p.;
3. Jose Butron (ESP, KTM), 218 p.;
4. Glenn Coldenhoff (NED, KTM), 214 p.;
5. Christophe Charlier (FRA, Yamaha), 198 p.;
6. Dean Ferris (AUS, Yamaha), 182 p.;
7. Max Anstie (GBR, Suzuki), 172 p.;
8. Jake Nicholls (GBR, KTM), 150 p.;
9. Alessandro Lupino (ITA, Kawasaki), 148 p.;
10. Mel Pocock (GBR, Yamaha), 138 p.;