Centurylink Field
Seattle

,

WA
Seattle
Monster Energy AMA Supercross Championship
Arguably the most overlooked rider in 2013, privateer Weston Peick continues to plug along, garnering top tens in 450SX along the way. The former high school football player, known for his durability, is currently the top privateer in points. A few years ago, Peick was know more for his outdoor prowess, and, in his own words a "goon" in supercross. But through the years, Peick has steadily developed in supercross and in a very deep field, has proven he can compete against the factory teams. We caught up with Weston yesterday to talk supercross, the Nationals, and more.
Racer X: Early in the season we talked and you said that just making mains wasn't your goal. You wanted more. Now that we are nearing the end of supercross, can you look back and say that you're satisfied with your season?
Weston Peick: Definitely not. For how many good riders are in this season, and how deep the field is, I still think I could of had a few more top tens if I was able to stay off the ground. But that is part of the game. I feel like if I wouldn't have crashed I would be somewhere around the top ten in points.
You're currently fourteen in points, not far off your goal, and the top privateer. Does that hold any meaning to you?
Yeah, I can say in a way that it's cool that I'm the top privateer. I guess it's cool to say that I'm the top privateer against the factory guys.
You're coming off your second top ten this season in Minneapolis.
It is obviously good to get tenth place, but I still want more. I would like to get near the top five hopefully by the end of the year. But it's a stacked field and if you don't start up front, it's hard to get up there. That's the biggest thing, if I can get a top five start than that's a different story because it's easier and you don't have to fight through the back and by the time you make it up there everyone has already pulled away.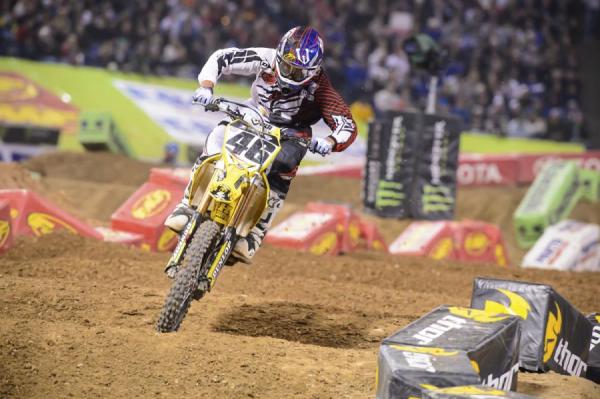 Peick scored his second top ten of the season in Minneapolis.
Simon Cudby photo
You have been one of the more overlooked riders this year. Why do you think that's the case?
I couldn't even answer that question. I'm wondering the same thing. I ask myself that same question. I'm just out there racing, doing my thing and dealing with what happens. I do feel a get quite a bit overlooked but I guess that's just part of it.
A couple years ago, if you had gotten a top ten in supercross it would have been a huge surprise. Now, if you get a top ten it's not that big of a surprise. Are you happy with the way you have progressed through supercross?
Yeah, for sure. I was a goon at supercross when I first started. For about the first year and half, two years I was all over the place and I bet people were getting pissed off at me [laughs]. I made a few mains when I first started, but I've improved a lot since then. I kind of like supercross more now, because I haven't had much luck getting support for outdoors. It's kind of hard to get motivated for outdoors, because if I don't have support it's really hard to do. It costs a lot of money and there are so many more things involved. I can do the close ones and make some money and keep my name out there, but it's hard to do the entire series.
Last year you were only able to ride two Nationals due to not having a ride. What are your plans for this year? Do you have plans to do a full schedule?
No, not at the moment. Right now I'll do Hangtown, Thunder Valley, Washougal, Utah and Elsinore, unless I am able to get a ride then I will do all of them.
Have you talked with any teams about securing a ride for outdoors?
I can't really speak yet, because it's not a for sure deal. It's possible there could be a change in my program with a change in parts and stuff. I can't talk yet, but maybe something will come together.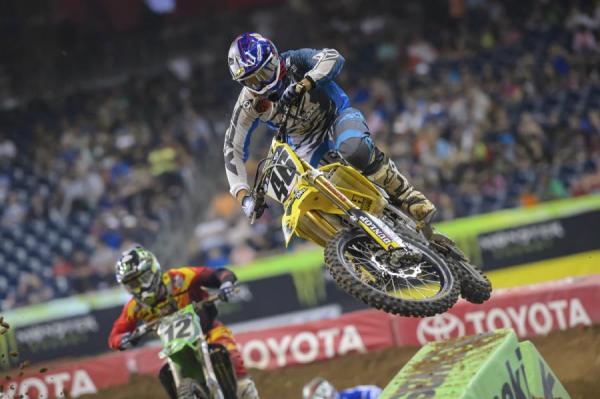 Peick is currently 14th in 450SX points.
Cudby photo
Are you optimistic you'll be able to ride a full schedule this year?
I don't know about the full schedule. It's a possibility. There are a few things that we are trying to work out. But it's one of those last minute things that we may not know until a few weeks before. If it happens it happens and I'm ready to go either way. But nothing is for sure yet.
You had two top tens in your only two Nationals last year (Washougal and Lake Elsinore). Do you have those same expectations coming into Hangtown?
For sure. I feel like I can get top tens in supercross, I don't see why I can't do that well in outdoors. Obviously my fitness is there so I should be able to go out there and do the same thing.
Thanks, Weston. Who would you like to thank for helping you this season?
Hyper X, R2MX, FLY, Proride.com, Utopia, Piston Bones, Bolt Hardware, Renegade, Max Mucle, Torco Oils, Sunstar, DCR Cams, Engine Ice, Victorville Motorcycle Center, GET, Dunlop, Injectioneering, Hinson, Factory Backing, Works Connection, Motion Pro, Galfer, Moto Tassinari, Acerbis, J27MX, Vertex, FMF, Boyesen, ICW Radiators, Dubya, RK Excel, Motorsport Hillsboro, Moto Seat, Matrix, DT1, ODI, Hammer Head, Josh Marsh, Buddy Antunez, and Applied.