Centurylink Field
Seattle

,

WA
Seattle
Monster Energy AMA Supercross Championship
We have a unique (and seemingly likely) opportunity to see back-to-back hometown winners this week in Monster Energy Supercross when the tour goes to Seattle. Washington is the home state of defending champ and current points leader Ryan Villopoto, and the race comes seven days after former champ Ryan Dungey earned a popular hometown win with his Minneapolis SX victory. (Seattle, by the way, was the site of RV's first 450 SX win, back in 2009.) So what are some other hometown experiences, good and bad? That's what this list is about!
STEVE LAMSON: Lammy was from Pollock Pines, California, which made Hangtown his hometown race—it's forty minutes away! Lamson took full advantage, winning Hangtown four times, all in the 125 class. That should really come as no surprise: Lammy is one of the fastest 125cc motocross racers of all time. But here's the cool little factoid about Lamson and Hangtown: He won the first national of his career there in 1992, and the last national of his career there in 2000.
JEFF STANTON: Incredibly, three-time AMA Supercross #1 Jeff Stanton, who hailed from Michigan, never managed to win the Pontiac Silverdome race, even though it was a double-header for almost his entire career. Stanton always seemed to run into trouble there, opening the door for guys like Ron Lechien, Jean-Michel Bayle, and Damon Bradshaw to get multiple wins at the old home field of the Detroit Lions and the Michigan Mafia.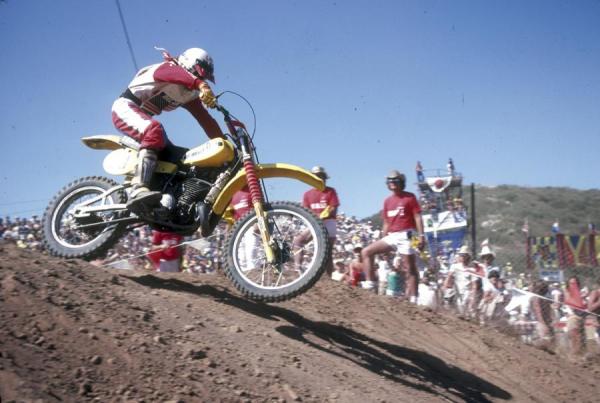 Marty Moates, a Carlsbad local, won the 1980 Carlsbad U.S. Grand Prix.
Racer X Archives photo
MARTY MOATES: A Carlsbad local, Marty Moates went into the 1980 Carlsbad U.S. Grand Prix at his home track given little chance to win by pretty much everyone but his sponsor at LOP and his friends the Simo brothers, who would go on to found No Fear right there in Carlsbad. History now remembers Moates' sensational double victory as one of the all-time upsets in global motocross—the one and only time he won a major race, in the process becoming the First American to win the Carlsbad USGP.
MIKE LaROCCO: One of the coolest nights and most popular race wins we can remember in supercross history came in Indianapolis in 2004 when The Rock himself, Indiana's own Mike LaRocco, held off a frantic late charge by soon-to-be-champion Chad Reed to earn the last major win of his professional career. He then took his son on a victory lap around as the packed house gave him a standing ovation.
DAVID BAILEY: In 1986 there was a combined 125/500 National at Lake Sugar Tree, the Virginia racetrack that also happened to be the home of Team Honda's David Bailey. Playing a double role as title contender and co-promoter, Bailey ended up winning the 500 class on the track he grew up on, topping Rick Johnson and Jeff Ward. It was the only time Bailey got to race a pro national there. Here's more on that race from the Racer X Vault.
KENNY KEYLON: In 1982, Kenny Keylon was riding for Honda's support team when the nationals came near his Brooksville, Florida, home, with a race just down the road in St. Petersburg. Keylon put on a superb performance, showing the factory riders from Southern California the way around the deep sand of Sunshine Speedway for his one and only professional win.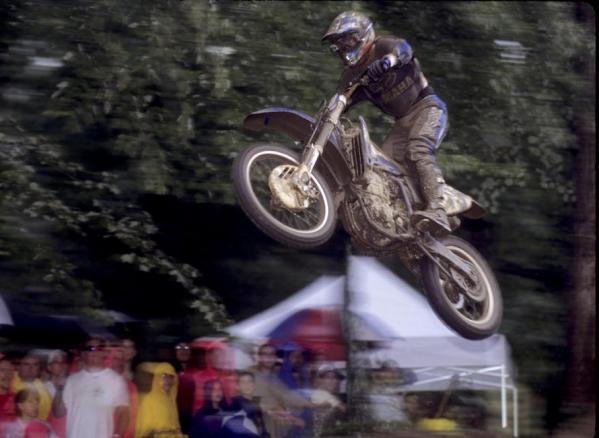 Doug Henry (pictured above) and John Dowd were local legends at Moto-X 338.
Racer X Archives photo
SOUTHWICK 1998: Even today, the mention of Southwick Moto-X 338 brings up memories of local legends Doug Henry (Oxford, Connecticut) and John Dowd (Chicopee, Massachusetts) lighting up the sand with frightening speed and efficiency. They both lived so close to Moto-X 338 that they raced countless times there coming up through the ranks. In 1998, however, they made it to the top simultaneously when Henry topped the 250 class and Dowd won the 125 National on a pair of factory Yamahas. It was the all-time day at Southwick for hometown winners.
KEN ROCZEN: Kenny is from Germany, so obviously he doesn't get many "home" races on the U.S. circuit. But back in 2009, at his home track of Teuschenthal in the eastern portion of Germany, Roczen became the youngest winner in motocross history when he captured the German GP win at the extraordinary age of 15 years, 53 days! It was the ultimate place for a breakthrough win, one hour away from his hometown, and one Ken and his loyal German fans will probably never forget it. And that record—youngest GP winner ever—may stand for a very long time.
RON LECHIEN: A lot of cool things happened around Ron Lechien winning the 1983 San Diego SX. First, having already signed with Honda for '84, the 16-year-old from nearby El Cajon did not get to do his last race of '83 on his own race bike, so a sponsor went out and bought him a YZ250. With Bevo Forti turning the wrenches, Dogger went out and won the main event. And then on Monday morning, when Ronnie was back at his high-school desk for homeroom, the principal congratulated Lechien for winning the race over the intercom! To this day, Dogger says it was one of his favorite memories from his professional career.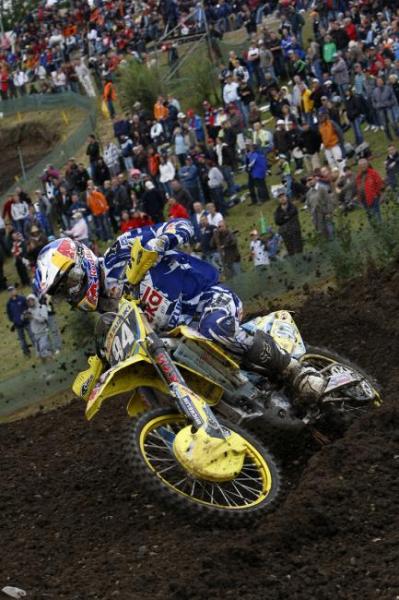 Ken Roczen, then on a Suzuki, won at his home race of Teuschenthal in 2009.
Racer X Archives photo
JASON McCORMICK: Top guys like Villopoto (Washougal) and Dungey (Spring Creek) have had plenty of success at their home tracks, as well as other places. But what Jason McCormick did at his home track of Washougal in 1995, '98, and '99 was remarkable. Never a factory rider, McCormick finished third on three different occasions at Washougal, just east of his hometown of Vancouver, Washington. He placed behind Mike Brown and Ryan Hughes in '95, Ricky Carmichael and Robbie Reynard in '98, and then Brock Sellards and Carmichael in '99—including a sensational win in the second moto. Those were the only podiums McCormick ever earned as a pro, and his best supercross finish was a fourth—at Seattle, of course!
TRAVIS PASTRANA: The phenomenally talented but fragile Travis Pastrana really only had two healthy tries to win his hometown race at Budds Creek, Maryland, just down the road from his birthplace and home in Annapolis. Pastrana lost both motos in 2000 to his 125 National rival Stephane Roncada, and then both motos to champion-to-be Mike Brown in 2001. Those were the only two times Pastrana raced at Budds Creek as a pro motocrosser.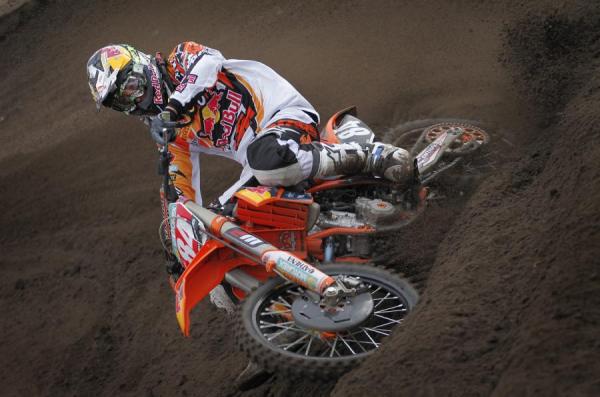 Jeffrey Herlings has never lost at his home track of Valkenswaard.
Ray Archer photo
KEVIN WINDHAM: K-Dub grew up in Louisiana and lives just a little ways across Lake Pontchartrain in Mississippi now, and every race held in New Orleans' Super Dome while he was a pro was basically a hometown throwdown. He won there once in 1998 while riding a Yamaha, topping Jeremy McGrath and Damon Huffman and triggering a party at Razzoo's on Bourbon Street that lasted well into the next day!
JEFF EMIG: When Jeff Emig won the 1996 St. Louis SX, it was big—very big—for two reasons. Fro's win prevented his nemesis Jeremy McGrath from having the one and only perfect season in the premier class of Monster Energy Supercross, and it marked a popular hometown win for Emig, who was born and raised in Kansas City, Missouri.
LARRY WARD: It may say in the record books that Larry Ward hails from South Carolina, but he actually grew up in Snohomish, Washington, making Seattle his hometown SX race. Big Bird managed to win in the Kingdome not once but twice, both times on Suzuki. Ward topped the 1990 Seattle SX for his first main-event win, then the 1999 Seattle SX for his last main event win in an epic career.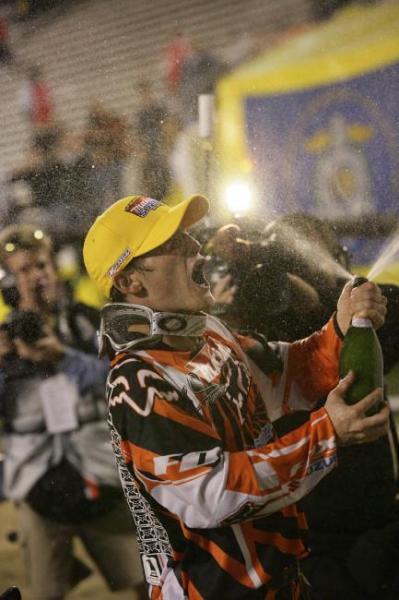 RC celebrates his last SX race ever in Orlando in 2007.
Simon Cudby photo
JEFFREY HERLINGS: The Dutch KTM rider has a remarkable streak of hometown success going at his hometown track, Valkenswaard in the Netherlands. Since he turned pro in 2010, Herlings has won every GP moto he has entered at the sandy Valkenswaard circuit, including two moto wins in his so-far-perfect 2013 World Championship tour. His real challenge will come when he meets Tony Cairoli, who beat him in the Belgian sand at the MXoN in '12, as soon as next year's visit to Valkenswaard.
ORLANDO: The Citrus Bowl in Orlando is a hard race to pin down as any one particular rider's hometown event. Ricky Carmichael is from Havana, Florida, James Stewart hails from Dade City, Davi Millsaps grew up in the Orlando area, Tim Ferry was from West Palm Beach … just a lot of locals! But the venue did host some epic races that could be called hometown wins, like Chad Reed beating Carmichael and Stewart in their first real SX battle royale back in 2005, or Stewart besting Carmichael there in '06. But the big one came in 2007, as it was Ricky's last SX race, and he wanted to go out with a win. He gave it all he had, but Stewart had a little more and still managed to win in a fantastic duel. The cool part? RC's twins were born the night before his last race, so he certainly had a weekend to remember, even if he didn't quite win!
Did we miss any big ones? Send us your favorite hometown stories: online@racerxonline.com.