Metrodome
Minneapolis

,

MN
Minneapolis
Monster Energy AMA Supercross Championship
Even through nearly two full years of injuries and rough patches, Wil Hahn never lost his sense of humor. In fact, "Wil Hahn is funny" unfortunately was starting to become known more than "Wil Hahn is fast." In supercross, he hadn't logged much of a season since his second-place run in the 2010 West Region Lites campaign. For 2013, he knew he had one last chance. GEICO Honda already had a full four-rider squad signed for the year, but they gave Wil another shot with a deal as the fifth 250 rider. This would be his last, best chance, and that's a lot of pressure.
Such pressure could make some riders fold, but Wilbur was able to stare it in the face, and even traded some of the funny for the serious. When I called him on the eve of this 250 East season, I joked that maybe we shouldn't call him a contender for this title, for fear of jinxing it. Some riders get very superstitious following injury-plagued seasons. But Wil would have none of that, saying simply, "No, that's no problem." After he finished second at the Dallas opener, he wasn't in a joking mood, instead talking about getting aggressive, banging bars and establishing himself as a threat. Wil is still funny when needed, but he's not shying away from the seriousness of this championship. He doesn't try to hide from it and use clichés like "taking it one race at a time" or "I'll be happy as long as he gives it my all." He doesn't try to pretend this isn't happening. He is fully embracing this moment and the pressure that it brings. He knows this is his time, and he knows what he's up against.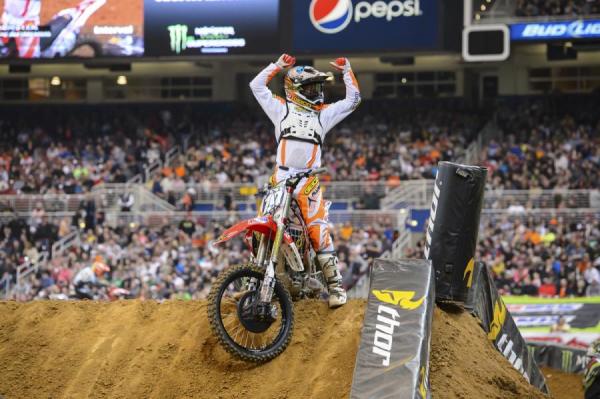 Hahn will put the funny stuff aside and focus on serious business for the next few weeks.
Cudby photo
"Hey, if anybody tells you they're not thinking about it or they don't want it, they're crazy," says Hahn.
But with pressure mounting, there's always the temptation to block it out or pretend it's not there. Hahn would rather see it for what it is. "There's always going to be a little bit of that [temptation to block it out], and it's a matter of how much you put on yourself, I feel like," he says. "So I put it on myself. These guys have the bike ready. GEICO has the team ready. I'm ready. I'm prepared every week. So you go in like that and I'm ready to attack it head first. I'm ready to go after it."