Metrodome
Minneapolis

,

MN
Minneapolis
Monster Energy AMA Supercross Championship
Welcome to Racerhead, now in the full-on stretch run for the 2013 Monster Energy Supercross tour. Minneapolis will host tomorrow night's race, which is a very good thing—they have a roof over their stadium! It's very cold and snowing up there last time I checked Chad Reed's Instagram pics from press day, but tomorrow night should be a barnburner anyway. Defending champ Ryan Villopoto has been in complete command the past five rounds, and he shows little weakness in his game right now. But Ryan Dungey hails from Minnesota, which will give him some added incentive to get what would be his second win of the year, and maybe a chance to catch up more to Davi Millsaps, the early points leader who has been falling further and further behind RV on the charts.
In the 250 class, maybe we will finally see a three-way battle between three guys who have won races: points leader Wil Hahn, Red Bull KTM's Marvin Musquin, and Rockstar Energy Racing's Blake Wharton. (Fourth winner Dean Wilson is one the sidelines.) And we could also see an even better showing by Monster Energy/Pro Circuit Kawasaki replacement rider Tyler Bowers, who was downright impressive in Houston on the #68 Kawi.
There's also the return of GP racing this weekend, with an American to boot, which will make for more interesting streaming on Sunday morning over on www.mx-life.tv. Add it all up and it should be a very good weekend for racing on both sides of the Atlantic Ocean.
Let's get started with this week's news...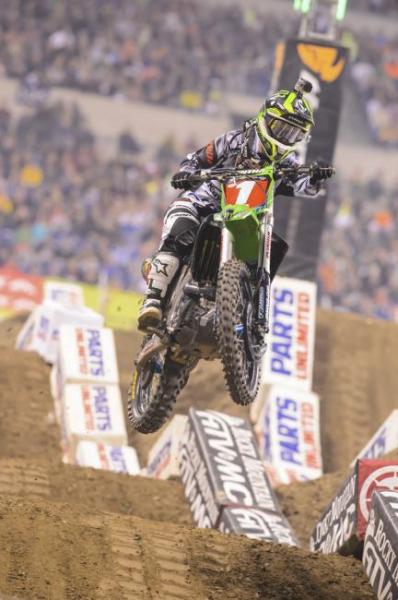 Villopoto seeks his sixth straight win in Minneapolis Saturday.
Simon Cudby photo
HOW TO WATCH (Chase Stallo)
Monster Energy Supercross returns to Minneapolis for the first time since 2008 for round 14. Coverage of 450SX can be seen Sunday, April 14 on CBS beginning at noon Eastern. Speed will host coverage of 250SX from Minneapolis starting at 4:30 Eastern Sunday. Be sure to follow Racer X on Twitter and Instagram (@racerxonline) for coverage from the pits and play-by-play action of the night's racing. Also, make sure to check out RacerXonline.com for morning, practice, and race reports.
THE NUMBER – 8 (Aaron Hansel)
A season of Monster Energy Supercross is a lot like a round of golf. Say what? Okay, so the environment and physical nature of each sport are wildly different, but when it comes to putting together a solid racing season and shooting a good round, there are a lot of similarities. You can have a great round going but a single bad hole ruins your whole score. In racing, you can be in championship contention and have one little mistake ruin everything.
Well, after throwing away the sure win in Indianapolis with less than a lap remaining, this is something Blake Wharton is more familiar with than he'd like to be. He's in a weird situation where the asterisk next to his season means he should actually have more wins to his credit, not less, and even his win in Houston can't erase the damage that was done to his points situation.
Right now he's third in points, 23 back of Wil Hahn. Had he kept it rubber-side-down in Indy, things would be much different—which, in a weird way, almost makes his win in Houston hard to swallow. If he'd won in Indy, the win last weekend would have put him in second place, just eight points behind Hahn with two races remaining. With three guys who have proven they can get in the mix this year, that's certainly within striking distance of the Eastern Regional 250SX Championship. Technically he's still in it, but making up 23 points in two races on Hahn and Musquin is about as likely as Broc Tickle inviting Andrew Short out for a friendly game of golf.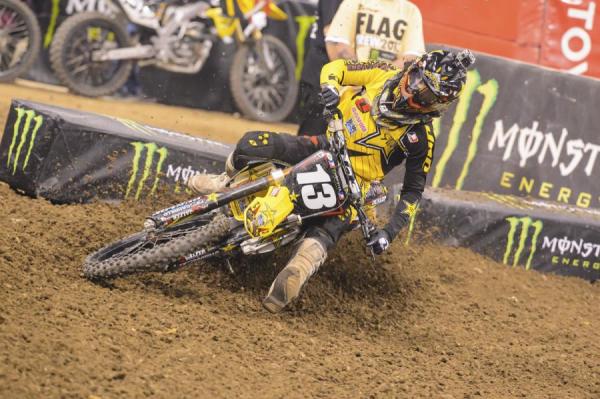 A last lap mistake in Indy may have cost Wharton a chance at the championship.
Simon Cudby photo
Speaking of title contention, who's still in the hunt mathematically right now for the 450SX crown? With four races left and 25 points awarded for a win, a rider has to be within 100 points of Villopoto to still have a chance. Tying Villopoto in points won't get the job done, as Villopoto already has eight wins, and there aren't enough races left for anyone to exceed that tie-breaking stat. As it stands today, Davi Millsaps (21 points out), Ryan Dungey (25), Justin Barcia (75), Chad Reed (81), and Trey Canard (92) are all still technically in it. Granted, the championship picture looks pretty grim for a few of those guys, but as we've seen time and time again, anything can happen in racing. Even though there's less than a quarter of the series left, a lot can happen in four races. Here's hoping nobody gets hurt, especially with the Lucas Oil Motocross Championship just around the corner.
ANOTHER NUMBER: 31 (DC)
When Jimmy Decotis lines up tomorrow at the Italian Grand Prix, he will be trying to become the thirty-second American to win a Grand Prix motocross race. Decotis, who picked up a ride with the Monster Energy/Pro Circuit-backed CLS Kawasaki team, got the call on Easter Sunday from Europe and was able to sort out a deal. He and a friend then flew across the pond to start setting up a new home in Holland and start sorting out the new bike. (Motocross Planet caught up with Jimmy and posted a video you can see down below further.)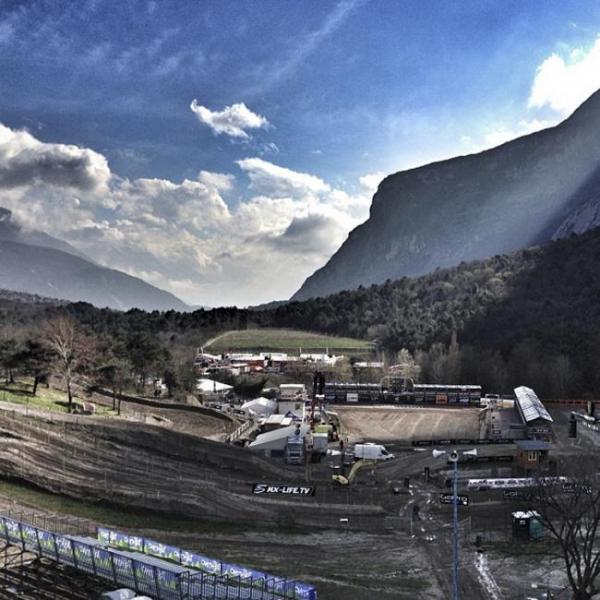 The spectacular setting of the Trentino circuit in Italy will be crowded with Grand Prix fans this weekend.
So who are the thirty-one American riders who won GP races? Going back to 1973, when Jimy Pomeroy became "First American" with his win in Sabadell, Spain, here are the Americans who have won (in loose chronological order: Pomeroy, Brad Lackey, Marty Smith, Danny LaPorte, Bob Hannah, Jimmy Ellis, Marty Moates, Chuck Sun, Danny "Magoo" Chandler, Johnny O'Mara, Kent Howerton, Mike Guerra, Donnie Hansen, Ron Lechien, David Bailey, Mark Barnett, Billy Liles, Broc Glover, Rick Johnson, Micky Dymond, Erik Kehoe, Rodney Smith, Trampas Parker, Bob Moore, Zach Osborne, Donny Schmit, Mike Healey, Jeff Stanton, Mike Kiedrowski, Tallon Vohland, Mike Brown, and Kevin Windham.)
REED 51/49 (Steve Matthes)
This update is brought to you from my mom's couch up in Winnipeg. Yep, I'm back in the motherland as this weekend's race in Minneapolis is only a short eight-hour car ride away. And this just in: there's snow everywhere and it's cold.
So what's the deal with Chad Reed and racing this weekend? Well, this much we know. Reed posted a photo of him riding (no one loves social media like Chad Reed!) and then a photo of his crew in a snowy parking lot. So unless he's set this all up like some sort of fake moon landing, things seem promising. And then he tweeted that he'll be there in Minny either signing or riding or perhaps both.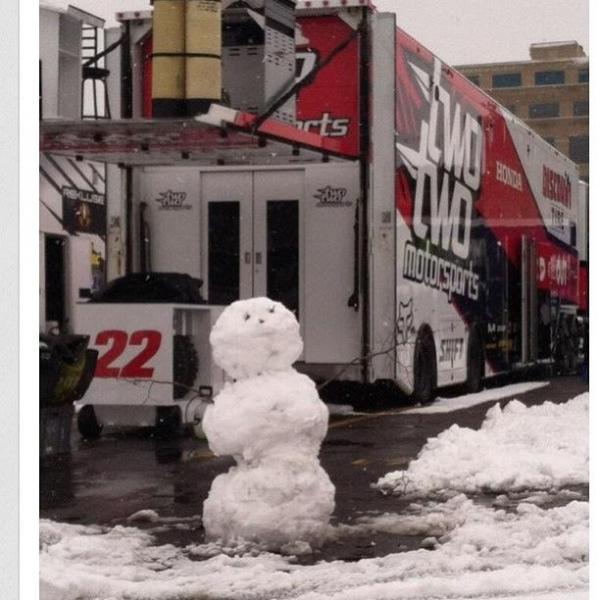 Chad Reed's team arrived in Minneapolis early enough to pile up snow into some kind of cohesive statue.
Chad Reed photo
I reached out to Chad, told him I have write something about him this weekend and could he be so kind as to give me a percentage on whether or not he rides this weekend? He shot back with a "51/49," meaning that the chancibility (it's a word now, thanks to Kenny Watson) is that he's racing. I do know that when I was in Florida this past week (great job James Lissimore making the Racer X video of it, by the way) Chad wasn't riding and was icing his knee whenever he could. Except when he was on the go-kart.
If you're asking me what I think, I think the 51 wins out and we see the Two-Two on the line this weekend. But if not, well just know that he at least tried to be!
PRO PERSPECTIVE – MINNESOTA (Jason Thomas and David Pingree)
Ping: With Minneapolis back on the schedule, you have to think Ryan Dungey is looking forward to this weekend. I realize it can be chaotic for a guy with his status, but he has handlers now for most of the ticket/autograph requests. Being from Montana, I never had a hometown supercross or national. (No, DC, there was never a Little Big Horn Supercross round, despite your jokes.) The closest event was Washougal, and even though it wasn't my absolute favorite track to race on, I always enjoyed going there. The people in the Northwest are friendly and remind me of folks from Montana.
Aside from that I have fond memories of places that I did well. Most people disliked the Kenworthys National in Troy, Ohio. I loved it. Some of my best national finishes were on that flat piece of land placed inside a giant oven, and I was always excited when that race came around. I guess it played to my strengths: I liked jumps, sticky dirt, and good ruts and berms. Troy had all that; it was basically a fast outdoor supercross track. Unadilla was the polar opposite of Troy and, as you can probably guess, I enjoyed that place almost as much as Ricky Carmichael.
Minneapolis itself is a bit of a mixed bag for me. I won there in 1999 but a first-turn crash in 2000 effectively cost me that championship. How do I make peace with that? It's like being a Prince fan but hating the color purple.
Aside from the biting cold, I remember the fans in Minnesota were always enthusiastic and friendly. Hopefully that zeal comes back after the short hiatus and the fans return in force this weekend.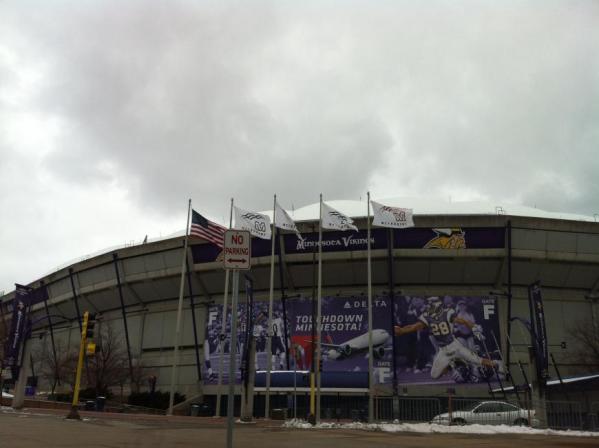 Supercross has returned to Minneapolis.
Jordan Roberts photo
JT: Brrr.... That's going to be the theme for the return to snowy Minneapolis this weekend. With outdoor pits and a frozen forecast, surely Feld had better weather in mind when they planned a Minnesota Supercross in April. I always enjoyed this race, though, mostly because of the traction that the cold winters left on the dirt. You could always count on ruts and tacky conditions when we rolled into the Metrodome. Other than the dirt, I was fairly indifferent to the race, mostly because it was so cold outside that I would mostly either be in my hotel room or inside the dome. I'm sure guys like Ryan Dungey and Gannon Audette enjoy having a race close to home. (And coincidentally, both Alex Martin and Jeremy Martin, Minnesota natives, are out with injuries.)
For me, while it wasn't the closest race necessarily, Atlanta was always a race I looked forward to. With the orange Georgia clay, a sell-out crowd, and most of my friends and family making the drive north, it just had a great feel to it. I raced amateur supercrosses there going back to 1995, so I have a lot of history in that building. I didn't always have the best luck there, but it still gives me a warm feeling when I walk into the Georgia Dome. I'm sure it will feel like his home field when Ryan Dungey walks onto the track this Saturday, much like I did all those times in Atlanta.
I like the idea of rotating some races in and out of the schedule, and it will be fun to head back to Minneapolis for the first time in five years. I'm sure the fans are ready to have supercross back, and hopefully they will show that with great attendance. With their hometown boy making his return, can the #5 KTM stand and deliver? If he does, the crowd might just blow the roof right off of that place.
MISSED TWO (DC)
In yesterday's List of Lone Stars, which was made up of riders that have done something that no one else from their state or country has done, I overlooked a couple of big ones. For instance, although Austria can claim a lot of world championships and Grand Prix wins, and now more SX and outdoor national wins (through KTM motorcycles), the European nation has produced just one winner who actually rides a motorcycle. Heinz Kinigadner is a two-time 250cc world champ with multiple GP wins, both accomplishments that no one else from his country has achieved (though the actor Christoph Waltz of Inglorious Basterds and Django Unchained has two Academy Awards). Kini is still very much involved with KTM and Red Bull and is one of the truly nicest people you will ever meet.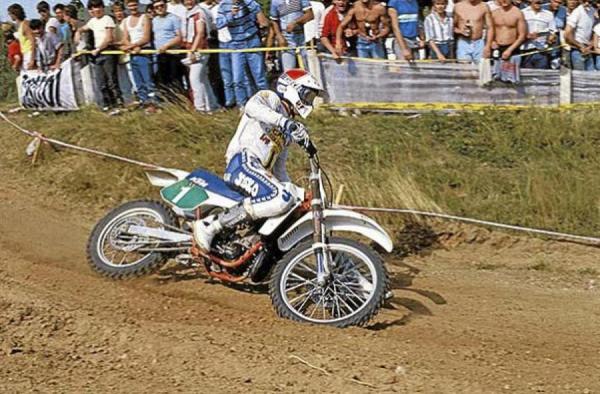 Heinz Kinigander is the one and only Austrian to have won major MX races or titles.
Racer X photo
And although a lot of cool motocross stuff comes from Indiana, including Throttle Jockey, Lucas Oil, the second-biggest supercross on the Monster Energy SX schedule, the Indy Trade Show, and a handful of great shops and racetracks, and of course, #27 Larry Whitmer, the Voice of RedBud, only one rider from the Hoosier State has ever won an outdoor national or supercross, let alone a couple of titles, and that's Mike LaRocco! Sorry about the oversights, Heinz and The Rock (sounds like a sitcom title, doesn't it?).
I could also mention Ping being from Montana originally and winning some SX races (including the Little Bighorn SX), but he's not the only Montana-born rider to do something special on a motorcycle. Turns out a guy named Robert Craig Knievel was a product of the Treasure State. And Ping moved to Arizona anyway.
HEADING WEST (Jason Weigandt)
Eli Tomac is known as a mild-mannered guy off the track, but perhaps you've heard he comes from very competitive stock? The Tomac crew is in this game to win, and that means that Ken Roczen's run to the points lead in 250 West isn't sitting well with them. By the time the duo met again in Daytona (in the 450 class), Tomac wasn't shy about saying he wanted to beat Roczen, even though that race would have zero impact on 250 West points. This is a rivalry now.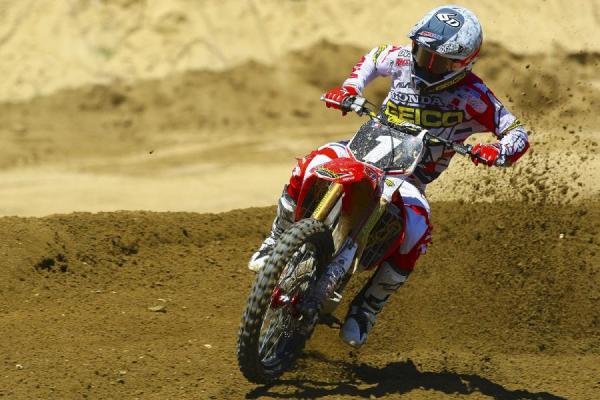 Eli Tomac working on his outdoor game recently.
BrownDogWilson photo
When the West resumes next weekend in Seattle, don't expect Tomac to go with the proverbial "one race at a time" deal. He will try to make something happen and force the so-far-very-consistent Roczen into a mistake. We're not talking full-on takeouts, but remember, when Dean Wilson got aggressive with Eli last year, Eli wasn't shy about running it back in on him. Surely Roczen's crew knows this, so it will be interesting to see how he plays it next weekend. Does Roczen go for the win or give Eli room? What can Eli do to shake the points leader up? And what about the spoilers? Cole Seely and Jason Anderson have ridden well out West and could steal points if things get crazy.
We're looking at a real difference in attitude between East and West. Where Musquin and Hahn have shown nothing but respect for each other, and probably will continue to, Roczen versus Tomac has the potential to get rough.
SURREALITY SHOW (DC)
On Wednesday afternoon my favorite online moto hangout, VitalMX.com, was visited by a television producer named Amy Rhodin, who posted an invitation for a certain type of young motocross athlete she was looking for, with the potential to be part of a reality show:
Did your toddler learn to ride before learning to walk? Do your family's finances go straight to paying for his or her training, repairs or even injuries? Does your life as a parent revolve around your child's moto training schedule? Is motocross the one thing that brings your family together (or sometimes pulls it apart)?
If so, we want to hear your stories! A prominent reality television company in New York City is looking for families that live their lives on the side of a motocross track. We're looking for devoted parents to young motocross amateurs, with big dreams to be the next pro-rider. Parents who will do anything to help their child get there, we want to hear from you.
Parents or guardians email 11streetcasting@gmail.com with your name, location, age(s) of your rider(s), their experience level, and a brief description of your life as a moto family.
It didn't take long for Rhodin's inquiry to cause quite a stir on Vital. She has worked on MTV reality shows like Teen Mom (and Teen Mom 2 and Teen Mom 3) and 16 and Pregnant. Not exactly Shakespearean theatre, obviously. Her post got a lot of attention and comments, good and bad, but one fundamental question rose above it all: Is this the kind of "mainstream" publicity out sport wants, or even needs? Coming from West Virginia, where the notoriously stupid show Buckwild just got canceled after one of the stars died in his Jeep, I know the damage that comes with shows that paint an unfortunate picture (though Buckwild was a part of West Virginia and a subculture that does exist). But a lot of people liked that show, so....
Not sure how this is going to turn out, but if you're interested in someone investigating the very deepest, darkest or "bestest" moments of your and your little racer's lives, the casting director's email is up there.
RANCH TIME (DC)
The Ranch in Southern California is holding a regional on May 25-26 for the Red Bull AMA Amateur National Motocross Championships at Loretta Lynn Ranch, which means it's going to be hosting some very fast young (and old) men (and women) next month. KTM wants to help all riders get ready for the event with an open practice day on May 11 at The Ranch by offering live timing so that riders can see where they stand and where others stand as they prepare for the big race. It's available to all for a modest fee, just visit www.ktmorangeevents.com.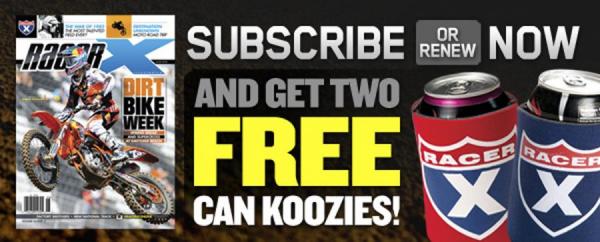 WORLD'S FASTEST FACULTY (DC)
This summer's Ricky Carmichael University at both RedBud and at Fat Cat in England will be staffed by the fastest faculty ever. Besides Ricky Carmichael himself and friends like Jeff Emig and Jeff Stanton, the RCU is adding both Grant Langston and Ivan Tedesco to this year's lineup at RedBud (July 3).  And Langston has already signed up for the trip over to England (July 11-12), where former world champion James Dobb joins the staff.  That brings the RCU staff up to thirty-two championships on the track in the U.S. and, with Dobb, thirty in the UK!  You will go faster, and you will have fun.  For info or to register, please go to 
www.rickycarmichaeluniversity.com
.
HIGHLIGHTS OF THE WEEK (Chase Stallo)
IN THE PITS: Want an idea of what it's like to be inside the pits of Monster Energy Supercross as a journalist? Check out Jason Weigandt's weekly column Redux, and see what it's all about.

ON THE MEND: The 250SX East Region, which has been devastated by injuries in 2013, was dealt two more blows in the last few weeks when AG Motorsports' Kyle Peters and MyPlash/Star Racing's Jeremy Martin went down with injuries. Chase Stallo caught up with both riders this week to get an update on their current status.
ON THE WAY BACK: Eleven10 Mods Yamaha's Alex Martin has been sidelined all season with a broken wrist. Martin has begun training for the Lucas Oil Pro Motocross Championship season opener at Hangtown May 18 and was at the Eleven10 Mods practice track last weekend getting in some testing, which is were Andrew Fredrickson checked in with the Minnesota native.
FAST IN FLORIDA: Matthes spent last week in Florida annoying the likes of Villopoto, Weimer, Reed, Byrne and, of course, Tim Ferry. Luckily he brought James Lissimore with him to put this video together of the riders logging some fast practice laps.
HEAD-SCRATCHING HEADLINE(S) OF THE WEEK
"Yoshimura Suzuki's James Stewart Overcomes Challenging Houston Supercross." Stewart finished nineteenth after crashing while battling for a podium spot.
"Google Glasses Already Being Banned from Strip Clubs" BetaBeat.com
IN THE MAG: DIRT BIKE WEEK 2013
Spring Break in Daytona has room for any type of two-wheeled specialist. With the hat trick of off-road events culminating in a little more than one weekend, you can be sure to be entertained. For riders and fans alike, the events including Monster Energy AMA Supercross, Ricky Carmichael Amateur Supercross, and Amsoil GNCC Racing are the cream of the crop. Read more about what happens down in Daytona during Spring Break in Jason Weigandt's Dirt Bike Week 2013 feature in the June issue of Racer X Illustrated.
HEY, WATCH IT!
Blake Wharton GoPro Footage from Houston

Minneapolis Animated Track Map
Justin Brayton Training for the Lead Roll in River Dance


Jimmy D Preps for Grand Prix debut
RANDOM NOTES (Staff)
Longtime Colorado fast guy Bobby Fitch was driving past Thunder Valley earlier this week and snapped this photo. That's why they don't hold nationals in April!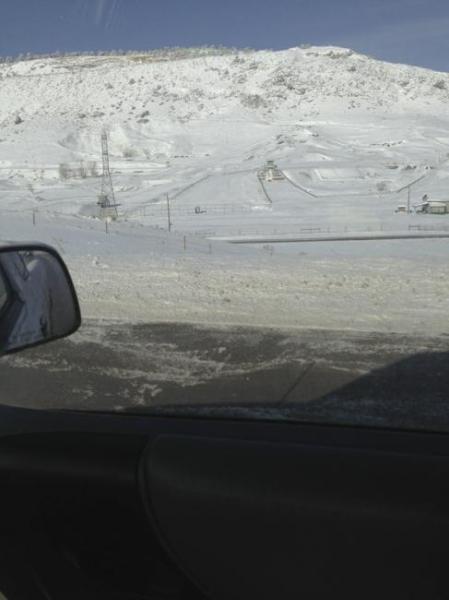 Two days later, Fitch stopped by again, and the place looks absolutely perfect!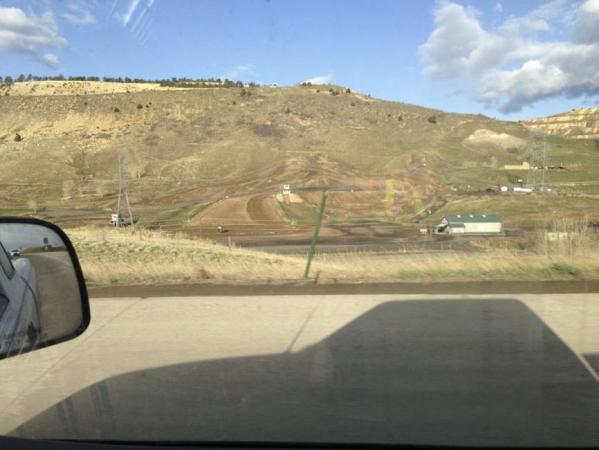 Current Formula 1 driving star Kimi Raikkonen, who won the 2013 F1 opener in Australia a few weeks back, is not afraid to ride some moto between races. Speed.com ran this story and photos about it earlier in the week.
His team might have been worried that Kimi would hurt himself on the bike, but surely if they told him to stop, his answer would have been his famous "Leave me alone, I know what I'm doing," which he is known to use on his radio during the races.
Here's a vintage shirt Washougal is selling to raise funds to send some Northwest legends to the Vintage des Nations in England in September.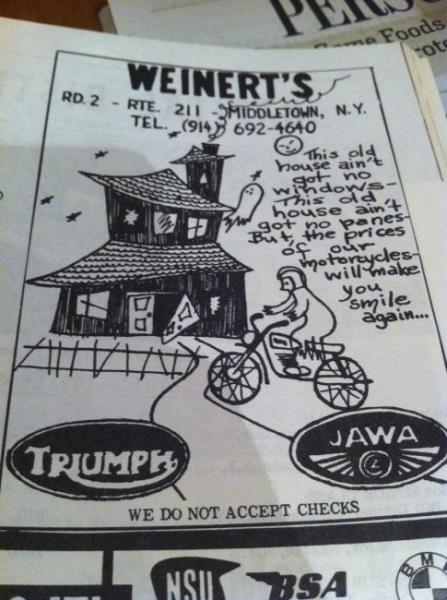 Our regular contributor Nick McCabe found himself as bargain online: A full set of New England-based
Cycle Sports
magazines, dating from 1965 to '75 and covering all of the motorcycle happenings of the early NESC and the Atlantic Coast. Included in one book was this hand-drawn advertisement for the Weinert family bike shop, which produced Hall of Famer "Jammin'" Jimmy Weinert, the multi-time champion from Middletown, New York.
Okay, that's it for Racerhead. Thanks for stopping by, see you at the races.