Minneapolis Morning Report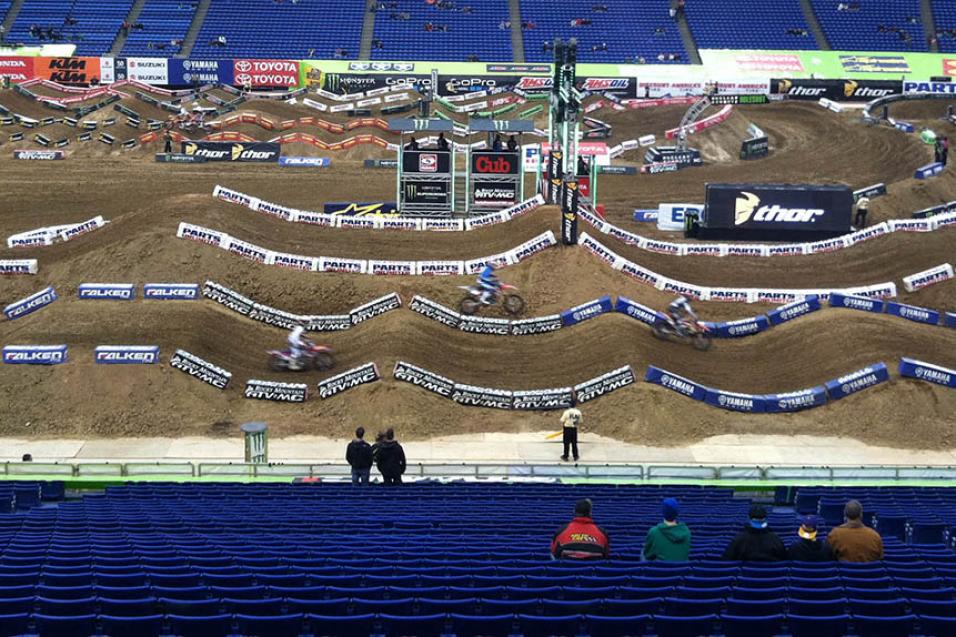 Metrodome
Minneapolis

,

MN
Minneapolis
Monster Energy AMA Supercross Championship
The high temperature today in Minneapolis is 39 degrees. There is snow in the pits and one of the parking lots of coated with a sheet of ice. Even in Minnesota, the weather isn't supposed to be this bad in April (hey, the Twins built a new baseball stadium and didn't even put a roof on it). But it's gnarly cold today, which gives us the perfect opportunity to go with one of the most overused, overrought and lame clichés in race report writing. Ready? It might be cold outside but the action inside the dome is going to be hot.
With that out of the way, here's some stuff to know about today's race: The dirt here is soft, and it looks like the track crew threw some water down on it before practice. Didn't take long for the corners to develop some deep ruts, but the jumps and the whoops held up through the first practice. The whoops are deep and steep, but spaced pretty close together, and the section isn't that long. So they don't appear to be as tough as they look at first glance—nothing like last week's mega-whoop section in Houston. There's also a rhythm lane that a few riders went triple-triple-triple through, and it's pretty big.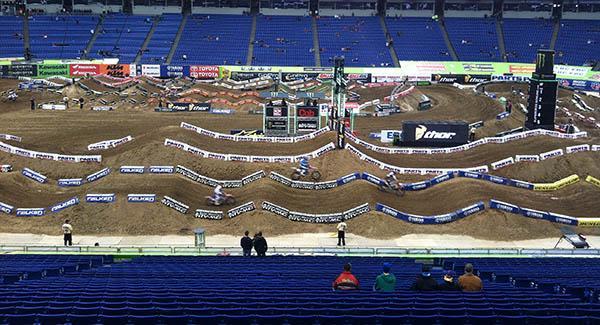 Practice has begun in Minnesota.
Stallo photo
Chad Reed is back in action after knee surgery kept him out of Houston. He looked pretty good in the untimed practice and he's a go for racing tonight.
We talked to Red Bull KTM's Marvin Musquin about last week's crash. He said he was disappointed at first, but realized he had won three races in a row, and that bad things are going to happen from time to time, so he can't complain. He knows this is a must win race, though. On the other end, we chatted with GEICO Honda Team Manager Mike LaRocco about Wil Hahn's title chances. "We're trying to get him back into attack mode like he was at the beginning of the year, instead of riding defensive," says The Rock. "It's always hard being in that position. You're thinking of what you don't want to have happen instead of what you want to have happen."
Tyler Bowers feels better this weekend. He had not been riding or training at all after AMSOIL Arenacross wrapped, since he was coming off of a broken collarbone.  When he heard he had a shot at the Monster Energy Pro Circuit ride, he dusted his bike off for the first time and rode, and then he got the PC deal and got to start riding their bike the Friday before Easter. He said he had ridden about four times before Houston. Now he has another week under his belt and should feel better, but, in general, he wishes he was a little more prepared. The team was very happy with his fourth-place result last week, though.
That's all for now. We'll be back with a report after practice. The action is going to be hot!