Reliant Stadium
Houston

,

TX
Houston
Monster Energy AMA Supercross Championship
Monster Energy Supercross is up for an Emmy! As they say, it's an honor to be nominated. And, a SX show has already won a National Telly Award. What's that all mean? We called up Michael Prince, Feld Motorsports' Vice President of Tactical Marketing, to find out. Michael is known at the races as the guy in the Tommy Bahama shirts, and for the last five years, he's been running the SX TV shows every weekend. Here's some scoop for this week's Between the Motos.
Racer X: Hi, Michael. Congrats on these awards, and explain what they mean. It's a pretty big deal for Supercross.

Michael Prince:
Thanks. For supercross, it's the first time one of our shows has won a national award. The Telly Award is a national award strictly for cable, networks aren't involved, but there are about 13,000 submissions, whether it be full-length programming, live programming, even commercials. Less than 10 percent of the entrants win awards. We've already won the Telly, and we won it in the Live Segment Shows category for the Las Vegas Finals last year. I'm very excited about that for the crew, because they work so hard every weekend, and they earned it. We've won it, and we should be getting our little statue soon, I've been told.
The other one that's really exciting—and not to lessen anything with the Tellys—but we were nominated for a National Sports Emmy Award. And the category we're nominated in is one of the top two categories, which is Outstanding Live Events Turnaround. That's how we do our CBS turnaround shows, where we record a live event, cut and edit all night, and turn it around for airing the next day. And we're really excited for supercross to be nominated right alongside the Olympics and NASCAR. You look at those crews compared to ours. We have three editors, the Olympics, I saw their list, they have 28 editors! On our show, we have a cast of 22-23 people who travel, and we have a local cast of another 20. So, they have almost as many editors, alone, as I have on a full crew. So this is all about our crew. Most people don't know how a show is put together, and they just like it or hate it after watching it. Believe me, I know, I get the emails, I see the feedback. I get praised, and I get yelled at. And that's okay, we do the best we can, but sometimes we do mess up, and sometimes we don't get to show what everyone wants. But, that said, we work hard. We have a crew that shows up at 10 in the morning and they don't get done until 8 a.m. the next day when we send the CBS show off. Most people don't realize the hours these people put in, so I can't praise my producer, my director, and this crew, enough. These people bust their hump to make it happen. They're all fans, so we kind of know what people want to see—and we listen to the fans, too. I think over the years, our shows have gotten better, and our TV package has gotten better.
When do you find out if you've won?
The Emmys are given out May 7 at Lincoln Center in New York. So after the Vegas Supercross, I will jump on a plane and head to New York, and hopefully we'll get lucky!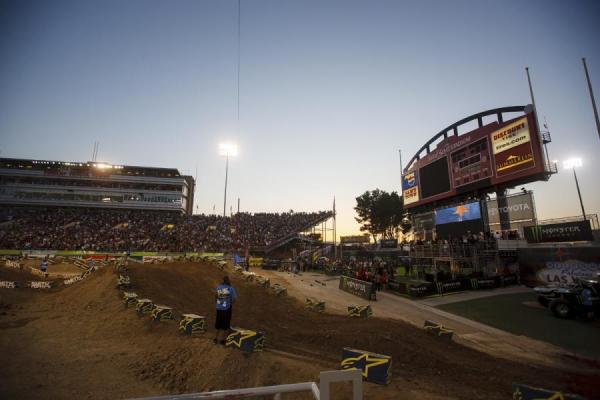 Monster Energy Supercross won a Telly Award in the Live Segment Shows category for it's coverage of the Las Vegas finale last year.
Simon Cudby photo
How did the Salt Lake CBS show and the Las Vegas SPEED show get the nominations?
We submit them. The way it works is, you take your full show and break it down to ten minutes, and they want to see pieces you used for each part of the show, racing, interviews, features, bumpers in and out. On the Tellys, it was strictly because it was a live event, and we, in talking to our partners at SPEED, felt like last year's Vegas show was really solid.
Every four years, the Olympics roll around, and they do a ton of live turnaround stuff due to time zones, overlapping events, and things like that. It has to be huge to be considered up against competition like that for an Emmy.
That's what was exciting for me, that and the NASCAR show. They've nominated the NASCAR All-Star show, and you know they pull out every possible stop they can to make sure that show is a premiere show for the network, and they do a tremendous job. Those two, specifically, the Olympics and the NASCAR All-Star Racing, that's standing up with the big boys. It is a credit to what our riders do—all I can show is what's out there on the track. Our riders are second to none as athletes compared to anyone.
I know your crew works very hard to capture the sport, but I also know there are major challenges to televising supercross.
It's hard from the fact that there are 20 stories going on at once. You've got a battle going for fifth or sixth, you show that and someone up front goes down. You're on the edge of your seat the whole night trying to shoot the show.
As far as the work goes, on the management side at Feld, there are about six of us that do reports on the show every Monday. We watch the show back, and I get feedback from everyone, even people outside of TV. Then our producer and director go back and look at the show, and I get feedback from them. Then, our Tech manager looks through it and I get feedback there to see if we had technical problems. We go through all of it on Monday and Tuesday, and on Wednesday my whole day is conference calls. It's almost frame-by-frame how far we break it down, trying to figure out what worked and didn't work, and how we can make it better. What's the story? What's the news? What's a new way to educate the public on our sport? The die-hard racers are die-hard fans, and we know and understand that. But for this sport to grow, we need new people tuning in, so we try to break it down to help those people understand what supercross is all about.
I've noticed, especially with the live shows where you have more time, a lot of features about the riders off the track.
Yes, we want to get the helmets off and show you what they go through. We did a piece a few weeks ago with [Eli] Tomac training with Ryan Hughes. I would challenge anyone to say someone trains harder than our guys. We have a producer who does nothing but put together theses pieces, and her production work has been amazing on these. We've been able to bring things out of the riders and help fans get to know them and understand them.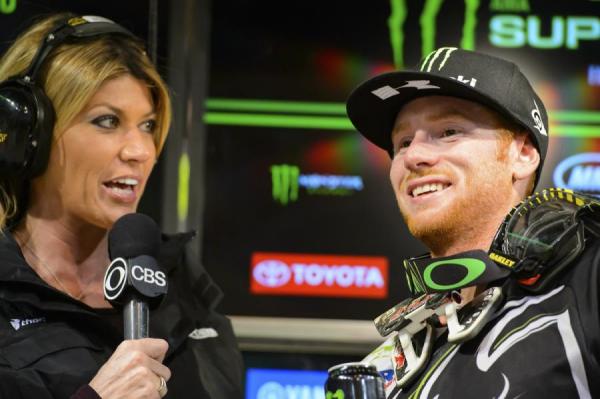 SPEED and CBS pit reporter Erin Bates (left) talks with Ryan Villopoto (right) after his win in St. Louis.
Simon Cudby photo
Beyond the awards, how is it going this year?
It's good, our ratings are up. We're about seven and a half or eight percent higher this year. This is my fifth season doing television in Supercross, and our ratings have gone up each year. We've been lucky that the racing has been great, but I think also we've benefitted from the increase in live shows. People ask why we don't do them all live, but, we're trying. There's so much that goes into these decisions—and for those that want them all live, hang in there, maybe someday we'll be there.
Where there any live shows five years ago?
We had one live show five years ago. We're up to 11 now, so that's big. And I think now people get used to spending Saturday night with watching parties for the live races. And we see it through the social media we post during the show, people are having some incredible parties. I bet they rival just about anything I saw during my rock and roll days!
Man, I know you spent a lifetime on tour with bands, so that says a lot.
Hey, I'd love to be at some of those watching parties! But, you know what, I love what I do at these races, and we're all very fortunate to have the jobs we have, too. I wouldn't trade it for anything.