Reliant Stadium
Houston

,

TX
Houston
Monster Energy AMA Supercross Championship
The story is the same every year, even down to the exact same words. "You know me," Broc Tickle will say. "I start slowly and keep working and eventually things start to come together."
It was his plan since well before anyone knew him. Back in the day, Tickle was just a random amateur in the crowd, known more for his funny name than for serious results. He kept improving, though, until he was a threat for top tens, top fives, podiums, and finally in his last year at Loretta Lynn's, he grabbed a championship. (Check out his amateur trajectory here).
He built slowly as a professional, too. He's the rare story of Star Racing Yamaha sticking with a rider long enough to finally get the rewards. His first career Lites SX win, also the first-ever for Star, took place in Seattle in 2010, his fourth professional season.
Then Mitch Payton and Pro Circuit called, and Tickle delivered the West Lites title in 2011. His transition to the 450s, though, was slow in developing. Struggles last year—he had just one top-ten finish in the first nine rounds of 450SX—seemed to leave him in a funk. In St. Louis, I found Tickle outside the Pro Circuit truck, and he was bummed. He said he kept riding tight, he couldn't get into the right place, mentally. But he would keep trying. It all led into his familiar credo, about starting slowly, working hard, and eventually things will come together. Tickle kept repeating it, week after week, until he didn't need to anymore. By the Nationals, things really were coming together.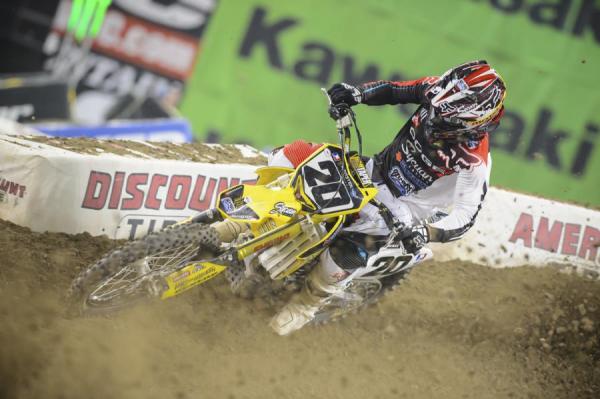 Tickle got off to a slow start this season, but has begun to turn it around recently.
Simon Cudby photo
With the switch to Dodge/Sycuan RCH Suzuki this year, and the speed he showed on a 450 last summer, many were expecting Tickle to take a huge leap forward in 2013. So far, his season has been solid, but certainly not a breakout. But guess what? It's coming together, slowly. His run in Toronto for eighth was his best of the season.
"I've was consistently scoring 10th and 11th at the beginning of the season but my numbers are trending upward now…8th, 9th, 10th," Tickle said in an RCH report last week. "I feel like I'm riding really well, hitting my spots, making good passes and I feel strong. The only way to get better is to get on the bike and train."
Tickle's work ethic has never been in question. For the last month, he's been in Florida at Ricky Carmichael's track, grinding away. He took a brief trip up to Michigan for the weekend to spend Easter with his wife's family, and then headed right back down to RC's farm this week.
"With it being Easter weekend, these guys have been in the grind since well before the season started back in January and this would be a goodtime for a rider to take off," said Carmichael. "Some guys do and it works for them. Some guys like to stay in the grind and that's what Broc's doing, riding down at my place this week. We're moving up in points and he had a really strong charge in Toronto after a tough start.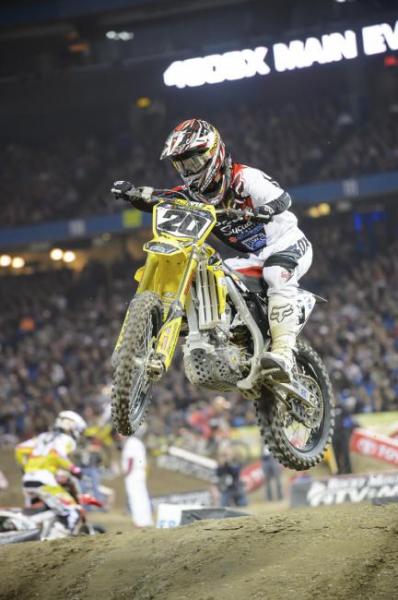 RC has high praise for Tickle's work ethic.
Simon Cudby photo
"What I'm seeing the last five weeks out of Broc is that he's been more consistent," said Carmichael. "You can see his confidence; he's racing and battling with guys. He's around guys that he needs to be racing with. Some guys are falling out of the point's battle because of injuries. This is the toughest part of the season. If you can stay to the grind and keep pounding it out, you can take advantage of the guys who are beaten and battered. It's an important time of the season and his riding is coming into form which gives me a lot of confidence in him."
"I felt that I rode really well in Toronto," said Tickle. "I've been down at Ricky's, and it's been good, quality work, and I think it's starting to pay off."