Welcome to Racerhead, and Happy Easter Weekend to everyone. The professional riders in this country have a rare weekend off, and the riders in Europe have an even rarer Monday afternoon Grand Prix. All of the amateur kids are back in school (or homeschool) after completing the busy month of March's gauntlet of big amateur events with last week's James Stewart AMA Spring Classic at Freestone.
But sad news starts us out. Godspeed to Al Holley, the father of Supercross Live's Jim Holley and a longtime engine-builder, mechanic, dirt tracker and all-around motorcycle man. Mr. Holley was a great guy to know, and he often work with riders coming up through the ranks—particularly from Japan—as they competed on the U.S. circuit. He passed away this week after a long illness. The motocross world lost a good man.
Mr. Holley's funeral service will take place tomorrow, March 30, at 12:30 p.m.
 at the Oakwood Memorial Park. It is located at 
22601 Lassen Street, Chatsworth, CA 91311. Cards, letters and flowers can be sent to the above address, C/O Al Holley.
There is a video tribute to Al Holley on YouTube with photos of the whole Holley family.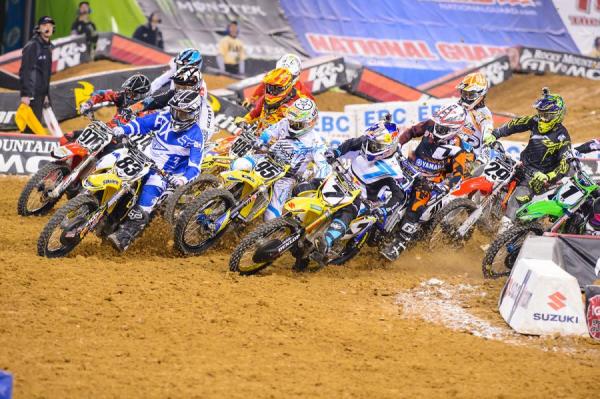 Monster Energy Supercross is off this weekend for the first time in 2013.
Simon Cudby photo
THE NUMBER – 12 (Aaron Hansel)
Finally, after twelve straight rounds of racing, Monster Energy Supercross finally get a much needed break. Of course, there's a lot more to it than just twelve simple stops on the circuit. Let's take a look at some of the cumulative numbers behind three straight months of supercross.
Total Races: 96
450SX Mains: 12
250SX Mains: 12
450SX Heats: 24
250SX Heats: 24
450SX LCQs: 12
250SX LCQs: 12
Total Laps: 876
450SX Mains: 240
250SX Mains: 180
450SX Heats: 192
250SX Heats: 144
450SX LCQs: 72
250SX LCQs: 48
Total Practices: 72
450SX Untimed: 12
450SX Timed: 24
250SX Untimed: 12
250SX Timed: 24
Approximate Miles: 6775
A1:
Phoenix: 357
A2: 357
Oakland: 397
A3: 397
San Diego: 97
Dallas: 1342
Atlanta: 803
St. Louis: 556
Daytona: 987
Indianapolis: 969
Toronto: 513
Main Event Winners:  10
450SX winners - 5: Ryan Villopoto (7), Davi Millsaps (2), Ryan Dungey (1), Justin Barcia (1), James Stewart (1)
250SX winners - 5: Eli Tomac (4), Marvin Musquin (3), Ken Roczen (2), Wil Hahn (2), Dean Wilson (1)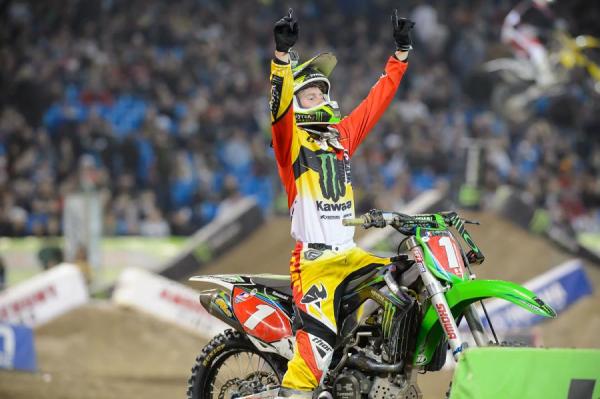 RV has won 7 of the 12 450SX main events thus far in 2013.
Simon Cudby photo
PRO PERSPECTIVE: THE OFF WEEK (Jason Thomas and Ping)
JT: Ah, time off. Even if only for the Easter weekend, the one and only off-weekend of the supercross series is a welcome sign for most riders and teams. The idea of waking up at home on Saturday morning with no real agenda is a wonderful thing. While most riders have spent this past week doing outdoor preparation, I usually tried to put in overtime on my supercross improvement. Sure, outdoors is incredibly important, but for me I always wanted to finish strong in supercross. I usually was limited in my testing choices anyway so outdoor testing like it was for factory riders. Many years I would be in a points battle for the privateer challenge and I always reveled in logging laps and miles when I felt others were relaxing or focused on other things. Sitting on the starting line for those last few races, I would find comfort in the fact that I had been improving in SX when most were already putting their effort into motocross. Sure, I would be less prepared for Hangtown, but a great result at Salt Lake or Las Vegas always seemed to be more important than two or three positions at Hangtown.
As we move into these last few weeks, some riders will be blitzing supercross whoops until dark while some will be in outdoor mode. So as I am sitting here in Santiago, Chile, sipping coffee and reminiscing on years gone by, I hope all of the industry enjoys time off with friends and loved ones. Happy Easter!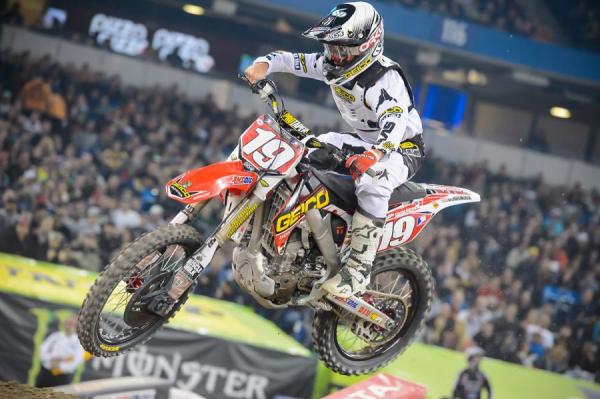 Wil Hahn hold the 250SX points lead heading into the off weekend.
Simon Cudby photo
Ping: Getting a break is big for the riders and crew of the series right now. They've been going hard for months and months, like, since September, and a lot of them are burned out. As a racer you get sick of the same routine. Since the first of October you've been going to the supercross track, burning laps, riding your bicycle and going to the gym. Or as Ryan Dungey calls it, "a nice little Sunday."
So the weekend off is a nice chance to be normal again. Maybe you take a couple days and get some things done around your house or go to the beach or just catch up on "Gossip Girl."
After a few days of that you typically get to work prepping for the motocross series. Hangtown is just weeks away and bike setup needs to be figured out as well as some fitness adjustments for the longer motos. This was always a nice way to mix it up for me. I enjoy riding my bike and it was fun to get outdoors and open it up a bit after all the months of riding tight circles at the supercross track.
The break is different for each rider based on how they are feeling and what they need to get done. One thing is the same… they are all glad to have a few days off from the grind.
Happy Easter, everyone.
RUMOR MILL (Steve Matthes)
Happy Good Friday, everyone! On this weekend of rest and relaxation, I'll touch on some things brewing behind the scenes. First, Monster Energy/Pro Circuit Kawasaki is looking for a fill-in rider as Dean Wilson is probably out for the rest of SX and now rookie Justin Hill has a wrist problem that will keep him out for the next few weeks.
We're not sure who the replacement will be, but Jimmy Decotis' name was thrown out there by the PC guys, or perhaps Cole Thompson, as both of those riders are doing well and are complete privateers. Another name is three-time Arenacross Champion Tyler Bowers, as that series is done and he's free to ride. We had Tyler on the Pulpmx Show a couple of weeks ago and he mentioned that he's got some healing up to do and wasn't looking to jump into supercross but a call from the PC guys could be enough to heal up a little quicker, right?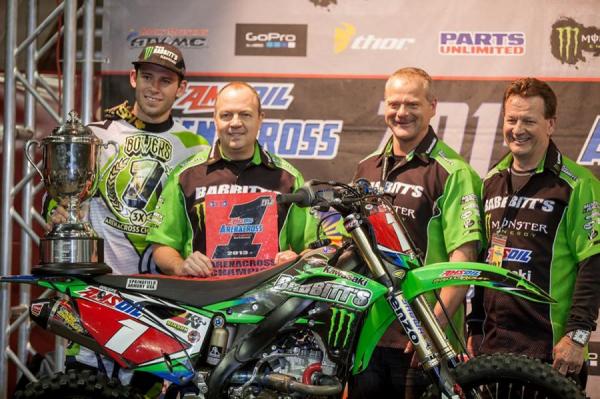 Is Arenacross Champion Tyler Bowers (far left) headed to Pro Circuit?
Arenacross.com photo
I asked a guy at Pro Circuit and he proceeded to give me a bunch of made up European names as the fill-in and then mentioned that Mitch was beside him and that they were all laughing at me. So, yeah, there's that. Or perhaps there really is a rider named Pavel Borkavitch or Jaborg Jaborg out there that Payton is keeping an eye on and will be up front at Houston SX.
We're also hearing that Valli Motorsports is looking at supporting Kyle Regal for some SX and the Lucas Oil Pro Motocross Championship. Regal has ridden for Valli before and he also needs a ride for the Nationals, so this makes sense. Larry Brooks is over at Valli helping out in some capacity and he once had Regal on his team. Although relations were strained between Regal, his step-dad and the Valli team owner when Kyle first rode there it does seem like it would work nowadays. Kyle has been doing work at Johnny Louch's Rockwell Training Facility in Southern California. Stay tuned.
ELI'S CHOICE (Steve Matthes)
The Eli Tomac sweepstakes are still going on as the teams line up for a chance to get the promising young gun on their team. We know GEICO Honda wants him back to be "the next Kevin Windham" over there, as in the lone 450 guy on a 250 team. We also know that RCH Suzuki has thrown their hat in the ring for Tomac and now we hear that Monster Energy Kawasaki is also interested in Eli. This would mean Kawi would add a third rider as current riders Villopoto and Jake Weimer have multi-year deals and will be there next year. As the Eli turns…
SPRING AHEAD TO SUMMER (Jason Weigandt)
Weather is (slowly) warming around the country. Tracks, riding days and local racing series are beginning to kick off. It's motocross season, and that means plenty of fans are starting to shift thoughts to this summer's Lucas Oil Pro Motocross Championship. Monster Energy Supercross has been superb so far, and that bodes well for what we'll see come Hangtown. You can expect more Dungey/Villopoto/Stewart/Reed/Barcia/Canard/Millsaps battles on 450s, and you might see Dean Wilson (if he's healed up) and Eli Tomac (if he moves up, which is likely) added to that mix, too. That's a crazy 450 class, even without the looming return of J-Law!
But where does this leave the 250s? Last year's five-rider fast pack (Barcia, Tomac, Blake Baggett, Ken Roczen, Marvin Musquin) put on as good a show as any. But if Barcia and Tomac are on 450s, and Baggett is lagging a bit due to his long recovery from a broken wrist, you're left with an all-Red Bull KTM showdown based on last year's results.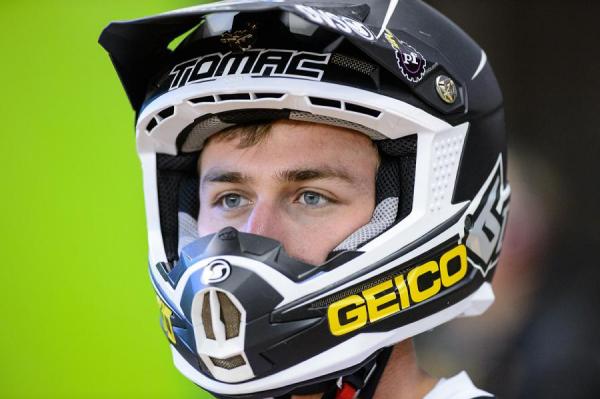 Where will Eli Tomac land in 2014?
Simon Cudby photo
Baggett is playing coy right now, telling me this week he's keeping things on the DL. His whole deal sounds like a comedy, as he says he can't ride but he's not at all worried about Hangtown. Testing? He joked that he at least has a 2012 championship bike sitting in his bedroom, and he can just take that up to Hangtown if needed. Blake was last seen hanging out at Daytona, and his wrist had hardly any range of motion. He's ten weeks out of surgery and still has a month and a half to go, so there's ample healing time. This was no simple wrist break, though.
We also hear Baggett's Monster Energy/Pro Circuit Kawasaki teammate Darryn Durham still might not be ready to go, as his shoulder troubles (dating back to last year) persist. With Justin Hill now suffering a broken radius (arm) in Toronto, and Tyla Rattray racing 450s for the team this summer, that leaves Martin Davalos as the only 250MX rider on that team not battling injury. Whoa.
Will this impact the decision on Adam Cianciarulo making his debut at Hangtown? And I'm just throwing this out there, but isn't Christophe Pourcel just sitting in Florida waiting for the phone to ring? That would be an intriguing pick.
Either way, there could be a huge void this summer for other 250 riders to jump into. Could MyPlash/Star Racing Yamaha rookies Jeremy Martin and Cooper Webb be in the mix? Could veterans like Zach Osborne or Nico Izzi take advantage of the opportunity? Will Justin Bogle, practically a forgotten man right now, deliver on his potential once healthy? Lots of intrigue for the 250 class this summer.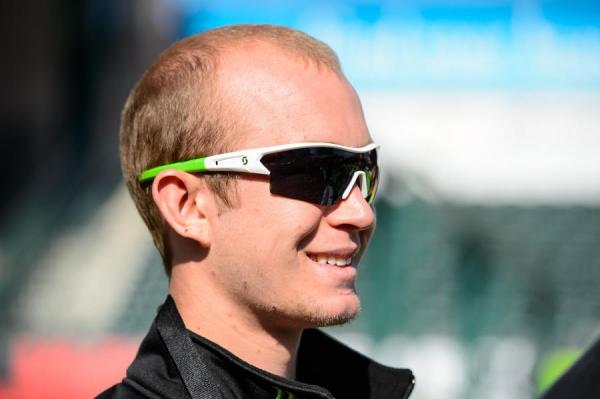 Baggett will be back to defend his championship this summer.
Simon Cudby photo
MONDAY'S MAIN EVENTS (DC)
There is some racing going on this weekend, but as I alluded to in the opening, it's actually on Monday that the real races take place. That's when the FIM World Championships start up again over in Valkenswaard, the Netherlands. Due to the Easter holiday, the practice and qualifying will take place on Sunday, and the main motos on Monday. Now it may sound a little strange, racing motocross on a Monday, but I attended this race two years ago and it had a good-sized turnout, despite the date. The winners that day were Tony Cairoli in MX1 and Jeffrey Herlings in MX2, and I doubt the results will be any different this time around. As Cairoli showed the world last September at the Motocross of Nations in nearby Lommel, Belgium, he is now an extraordinary sand rider, and he actually beat the heavily-favored Herlings in the last moto for MX1/MX3.
Herlings, by the way, has never lost a moto as a professional at Valkenswaard and I see little chance he will lose one on Monday. In fact, he has a better chance of lapping everyone than he does of getting beat! He was incredible to watch two years ago, and he had Ken Roczen chasing him around. Now the task falls on the likes of Romain Febvre, Max Anstie, Jose Butron and Glenn Coldenhoff (who is my pick for second after seeing him ride well at the MXoN last year as Herlings' teammate on the Netherlands).
Australian Dean Ferris, who was second at the opener in Qatar, might race, but it will be with a very sore shoulder after a crash two weeks ago.
Unfortunately, there will be no SuperFinal, so no chance for Herlings to win outright on a 250 against the big bikes. But I think in the bigger picture it's fortunate, because I haven't thought much of how the SuperFinal has worked at the first two rounds, and they are only using it in the off-the-continent flyaway races anyway.
If you get up early and want to watch the Valkenswaard GP live online, it begins at 6 a.m. Eastern on Monday on www.mx-life.tv. You can watch it for a fee.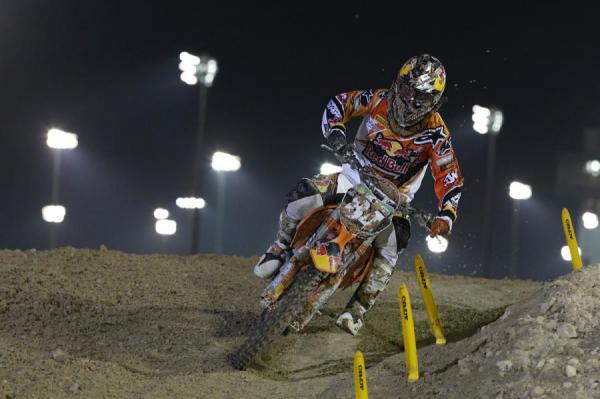 Herlings is expected to cruise in Valkenswaard on Monday.
Ray Archer photo
WEST VIRINGIA LORE (Andrew Fredrickson)
After West Virginia native Austin Coon made his first-ever the main event in Toronto and placed 18th, we had a question: Who was the last rider from West Virginia to make a main event? We dove deep into The Vault, and with the help from our Web Developer Cole Thorsen found out that it was 20 years ago, April 24th 1993, when Steve Childress got 17th in the 125 class at the RCA Dome in Indianapolis. Childress was making main events from 1989 to 1993, and he even reached the podium at the Pontiac SX before calling it quits and headed to college and then dental school. Besides Childress, the only West Virginians to make mains were Charlie Sullivan, Mike Bias, and our own Davey Coombs. Congrats Austin, for getting WV back in the main!
It should be noted that West Virginia's Logan Martin made the Lites main a few years back at the Toronto SX but that race didn't count towards AMA Lites points that year, so it won't be found in The Vault.
IN THE MAG: RIDE AID
Gus Decker has dedicated his life to helping privateers make it to the races. His newest venture, Team Gus, makes it possible for many who otherwise wouldn't be able to race. Gus goes to every supercross and every national, offering transportation and a place to pit for any rider who needs it. Read more about Gus and his dedication to the sport on page 150 of the May issue of Racer X Illustrated.
HIGHLIGHTS OF THE WEEK (Chase Stallo)
Webb to Debut at Hangtown: After ending his illustrious amateur career with five titles between the JS7 Freestone Spring Classic at Freestone and the GNC International Motocross Final at Oak Hill, respectively, MyPlash/Star Racing Yamaha's Cooper Webb confirmed that he will make his pro debut at Hangtown on May 18. Chase Stallo spoke with Webb earlier this week about the next chapter in his career.
Pointing Out: With the 2013 Monster Energy Supercross season winding down, Aaron Hansel decided to take a look at who will have to move up to 450SX in 2014.
Top Jimmy: With Jimmy Albertson on the mend following a broken wrist in Toronto (out 4-6 weeks) he joined our own Steve Matthes and Jason Weigandt on this weeks BTOSports Racer X Podcast.
HEY, WATCH IT! (Chase Stallo)
GoPro: The Rise of Millsaps
Beyond the Finish Line: Where It All Started
Prepping for Outdoors: Jason Anderson
Renner Charges on New KTM Electric Motorcycle
RANDOM NOTES (Staff)
From our friend Aaron Cooke at the Athlete Recovery Fund:
The Athlete Recovery Fund (ARF) is hosting a celebration and fundraiser at Duke's Mesquite Broiler in Temecula, CA, for the families of professional FMX riders Eigo Sato and Tyrone Gilks. The event will start at 7:00pm with free admission, raffle, food and drink, music, FMX Pro riders as guest bartenders and more. With the amount of local pro riders in the Temecula area there is sure to be a long list of riders coming by. Already confirmed for the event are Nate Adams, Taka Higashino, Andre' Villa, Jimmy Fitzpatrick, Destin Cantrell, Ronnie Faisst, Andy Bakken, Brian Foster and more. This event is open to all ages. 100 percent of donations and raffle proceeds and a percentage of Duke's proceeds will go directly to the families of Eigo Sato and Tyrone Gilks.
Among the items that will be raffled off are 4 VIP tickets to the Las Vegas SX finale, a pair of VIP passes to the X Games in Los Angeles, autographed memorabilia from Nate Adams, Chad Reed, Ryan Dungey, Ryan Villopoto, Ken Roczen and more.
For more information about tonight's event and the ARF, check them out online:
www.athleterecoveryfund.com / www.facebook.com/recoveryfund /
Final preparations are being made for the 6th Annual Racer X Inter-Am event coming up on April 6-7 at the famous OMC track in Boise, ID. Special guests include 500cc National Champion Mark Blackwell, Husqvarna factory rider Gunnar Lindstrom, original Dirt Bike magazine editor Rick " Super Hunky" Sieman, JT Racing founder John Gregory and more!
Free spectator admission and camping for all participants.
Racer X Inter-Am would like to thank these fine sponsors for helping us stage this event: WPS-Fly Racing, Wiseco, Motion Pro, Boyesen, Twin-Air, Powerseal, Experience Powersports, RK USA, Boise Vintage Cycle, Scott Sports, Rekluse, Dunlop, Mechanixwear, Maxima, Acerbis, Meier Mfg, PACNWVMX, and Bike Week Radio
For more information and photos of previous events click here.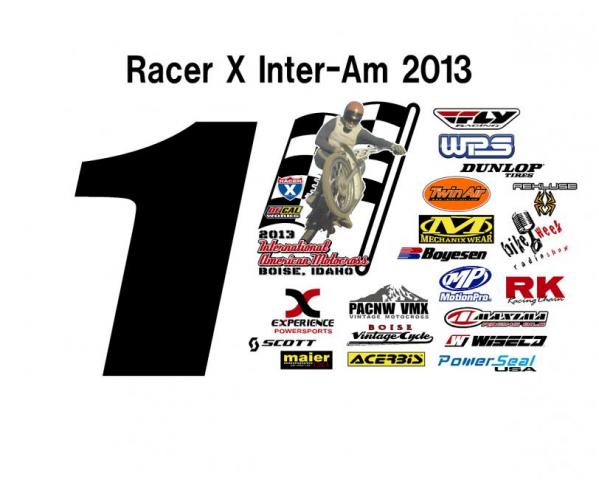 Congratulations to Mark Blackwell on being named Chairman of the Board of Directors for the Motorcycle Industry Council. Blackwell is a longtime motorcycle industry executive, after an excellent career as a Husqvarna and Maico factory rider, Suzuki team manager and more—he was the de facto 1971 AMA 500cc National MX Champion since he ranked as "top American" in the old Trans-AMA Series. Blackwell replaces outgoing chair Larry Little, who led the board for ten years and will still serve the MIC. Also joining the board is Jon-Eric Burleson of KTM has been named Vice Chair of the Board.
Amateur motocross racers in Southern California will have a new spring-season race to check out, beginning next weekend (April 4-7). Competitive Edge Motocross Park will host the first FMF California Classic, an AMA-sanctioned event organized by 2xPromotions. To check out all of the entry information and scheduling, check out www.2xpromotions.com.
And good luck to our longtime Copy Chief Jeff Kocan, as he and his wife Liz are expecting their first child anytime now. Can't wait to meet little Rufus!
Okay, time to go watch some basketball – who else had Florida Gulf Coast on their bracket in the Sweet 16? I sure as heck didn't! Happy Easter, everyone, see you at the races. Thanks for reading Racerhead.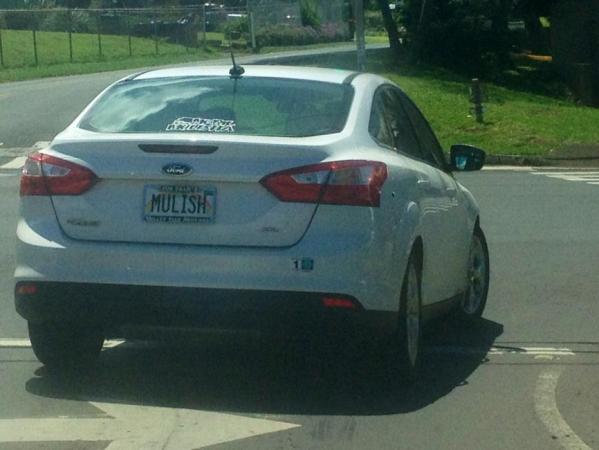 Michael Rigdon photo