Hangtown Motocross Classic
Rancho Cordova

,

CA
Hangtown
Lucas Oil AMA Pro Motocross Championship
MyPlash/Star Racing Yamaha's Cooper Webb has walked off into the sunset. After capturing five titles between the JS7 Freestone Spring Classic at Freestone and the GNC International Motocross Final at Oak Hill, respectively, sweeping the 250 class at both, Webb has announced that he will turn pro at Hangtown—an announcement that many had expected. We caught up with Webb yesterday talk to about his final amateur races and the next chapter in his career.
Racer X: The last time we spoke you said that your decision to turn pro would hinge on how you performed at the first couple amateur nationals. After taking home five titles at Freestone and Oak Hill, respectively, is it safe to say we will see you at Hangtown?
Cooper Webb: Yeah, I think it's safe to say you will see me at Hangtown. Like I said, it kind of depended on that. I felt really good at all the spring nationals, Oak Hill and Freestone. I felt really awesome and the bike felt awesome. My speed was there, and although the motos were not that long I felt like my fitness was there. Even my starts were there. It's definitely a good feeling to go there and do really well. I can now put in those final training days before Hangtown. I'm excited and can't wait to be on the gate May 18.
You're stepping into a new chapter in your career, after leaving quite the mark in the amateur ranks. Although you're probably excited going forward, will it also be tough to leave the family atmosphere of amateur racing?
I'm definitely excited, but it is going to be quite a bit different. I was thinking the other day how crazy it is, because I have been doing amateur races since I was five. It will be something different, but I think it will be good. It's kind of like you graduated from the amateur ranks and to finally turn pro, and your goal as a PW rider is to do that. You get to a time in your career when you know you're ready. While the amateur races are really cool, I think you get to that point where it's time to make that move and that's were I feel I'm at right now. But hopefully it will still keep my family involved. They will be going to a lot of the races, so I think it will still have a family feel to it.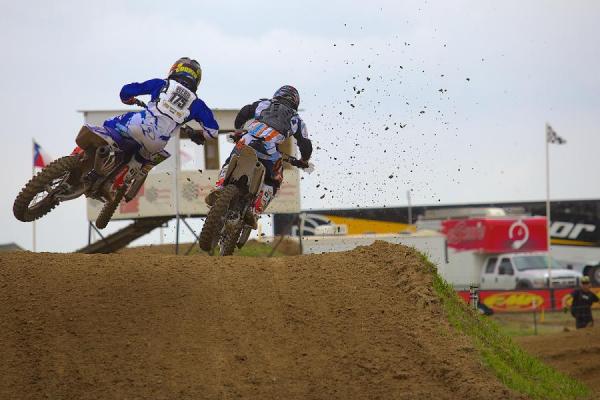 Webb dominated the last two amateur nationals of his career, taking home five titles.
Aran Eversman / Vurbmoto.com photo

It appears that you have been very mindful and calculated on how and when you would turn pro. Do you think this will help you come this summer?
I think it's going to help a lot. Knowing that this was the goal, not only at the beginning of this year, but at the end of last year. I knew that more than likely I was going to race Hangtown, but it still depended on where I was. It was good to stay focused and on track to really make this the goal, and [to be] training towards this and not really toward the amateur nationals. It's good to know almost a year in advance instead of coming off the spring nationals and saying, "Okay, lets go race Hangtown." We have a little less than two months until Hangtown so it's good to be prepared in advance instead of [being on] short notice. The team, Gary Bailey, Darren Stockton, and my family have all supported me since we made this plan at the spring nationals last year. We have seen all the riders that have done Hangtown and a full outdoor schedule and everyone felt like it was the right thing to do.
A lot of guys recently, Justin Barcia, Eli Tomac, Jessy Nelson, for example, have made the decision to go pro at Hangtown to get a full season of motocross under their belt before beginning supercross. Were you mindful of that when making your decision?
Yeah, definitely. It was pretty clear that, not necessarily the way it has to be done, it's the best way I feel it should be done. I think it's good to get a full season of motocross in so that you know what to expect when you go to supercross. Supercross and motocross are totally different, and we have grown up racing motocross. So I feel that it will be an easier transition because you're doing a lot longer motos and gnarlier tracks and racing the best guys out there. But at the end of the day it's still a motocross track and you kind of have an idea of what you're doing.
We spoke after Mini O's and you mentioned that you were already on a professional training regimen. Will that stay the same or are you going to turn it up a little bit?
I'm not too sure. Obviously I will probably put in some harder days, for sure. The program I have with Darren Stockton is working really well and I'm feeling great on the bike. The whole team has been working really hard with me making sure the bike is dialed in and Gary Bailey has been working really hard to make sure I'm dialed in. Things will probably get more intense in these next two months. I'm going back out to California in late April to get some more testing and riding in out there. I'm really trying to get as prepared as I can.
You grabbed five titles at Freestone and Oak Hill to walk off into the sunset of you amateur career. How happy you were that you were able to have that success?
It was awesome to go out the way I did. At Oak Hill, unfortunately they wouldn't let me ride the 250 in the 450 class, so I raced the Open Skills class and both 250 A classes. I won all three titles and only lost one moto. And the moto I lost there we had some problems with my brakes. The only bad thing about Oak Hill was my starts. Those concrete starts kind of affected me… I was just real inconsistent on those. To go to Freestone after a good week of racing and get back on the dirt start and race a little longer track was good. At Freestone I was able to ride the 450 class [on a 250F] and I won every moto of 250 and got a lot of good starts in the 450 class, but it was a little tough with everyone being on the faster bikes. My starts weren't as good as in the 250 classes, but I was able to actually win a moto in the 450 class and got a second after coming from pretty far behind. Unfortunately the last 450 Pro Sport moto I crashed right on the start and got run over and kind of got beat up so I wasn't able to finish that moto. That was kind of a bummer because that was my last actual amateur race. Luckily I'm healthy, and it was an awesome two weeks and you really can't go out much better. So it was good to go out on top, I guess.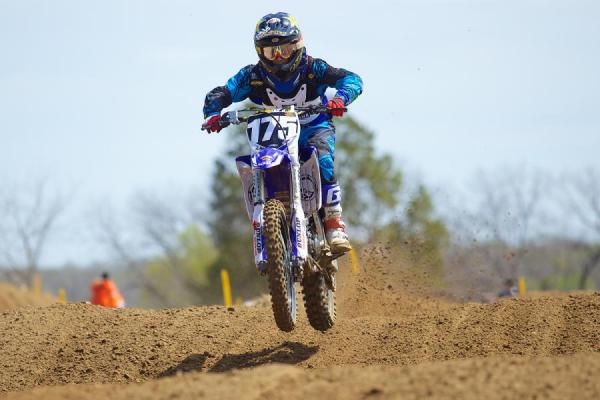 Webb will make his highly anticipated pro debut at Hangtown.
Aran Eversman / Vurbmoto.com photo
I know in the past you typically run the 250 in the 450 class. How difficult is it to ride the smaller bike against the 450s?
It's definitely difficult. You just have to make sure to carry a lot of momentum, which is what my dad always told me. You really have to nail your starts, as well. It's kind of a bummer when you nail a start and couldn't have really done it any better and you still come out only top five when in the 250 class you would have had the holeshot. But I really think it helped me. It fired me up and made me really push that limit to where I wouldn't have in the 250 class. I had the option to ride the 450, and I actually kind of wanted to. I rode them a little in California and they are awesome. But we figured since I will be racing the 250 for a couple years in my future that we would stick with that and ride harder instead of trying to ride the 450 at the last amateur races.
We are two months out from Hangtown. How are you feeling? Are the nerves getting to you at all?
I'm feeling good. Hopefully my nerves will be good. I usually don't get too nervous. Usually when I have some pressure, it tends to be good for me. It's not pressure from anyone else, just from myself because I want to do good. I have been working all this time to get to this point so you want to be prepared. I'm excited to say the least. I'm really looking forward to starting the new chapter in my career. And to be able to race on the level you've wanted to race on since you were a little kid is awesome. I've grown up going to Budds Creek and I went to High Point a couple of times, so I'm looking forward to racing all the tracks. To finally say you're a pro is kind of an amazing feeling.