Graduation. For most people, it's a joyful and momentous occasion full of celebrating, and often wrapped by making poor, late-night decisions in the back of a limousine. Good times indeed. But in the world of Monster Energy Supercross, it's not always champagne and high-fives.
The 250 (Lites, 125s, whatever you're calling it) class features a pointing out rule. A certain amount of points in a certain number of years, and you're forced into the 450 Class. This can have a huge impact on a career (just ask Broc Tickle, who was forced to the 450s last year and saw his racing life flashing in front of his eyes with early struggles). Pointing out is so critical,  we've seen riders "miss a race with injury" to avoid it altogether.
This year, however, we won't see any of that, as the only rider that's losing 250SX eligibility is Eli Tomac, who wants to make the jump to a 450 anyway. Let's take a look at the rest of the riders who you'd think would be pointing out this year, but aren't.
For an explanation of how the AMA's supercross advancement system (there is no pointing out rule in Lucas Oil Motocross, as the 250 class is National, not regional), go here.
Blake Wharton
A supercross professional since 2009, Blake Wharton is a 250SX veteran, and with his ability to run at the front and win the occasional race, you'd think this would definitely be his last year of 250SX eligibility. It isn't. In very basic terms, a rider points out if he exceeds a certain number of points for three years (the rules change slightly if a rider wins a championship). Wharton has come extremely close to that points threshold, but the only time he's exceeded it was last year. In 2009, he came within two points, within four points in 2010 and within ten points in 2011. Wharton probably would have exceeded the limit in 2011 had he not missed the final round of the series to undergo shoulder surgery. Right now he's got 108 points, so he'll likely exceed the limit this year (135 points in a nine-race series), meaning he'll have at least another year left on a 250.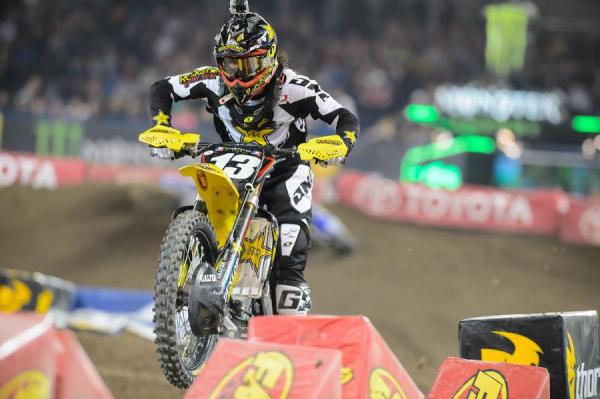 Wharton has at least one year of eligibility left in 250SX.
Simon Cudby photo
Dean Wilson
Here's another rider who you'd expect to be out of time, but actually isn't. He was under the limit as a rookie in 2010, since he missed two races getting hung up in customs after the Toronto round. This year, he got injured before he could accrue enough points to get bumped. He's still got a year of eligibility left, but it really doesn't matter, because Wilson's two-year Pro Circuit deal will include a PC 450 ride in supercross next year. But he's moving up because he wants to, not because he has to. Remember, Dean was supposed to be riding 450s this year!
Blake Baggett
El Chupacabra came in just two points shy of the threshold in his rookie year in 2010. He was above the limit in 2011 and 2012, so 2013 was a make-or-break year. Well, he broke, but he gets a break. Because he won't go over the points threshold this year, he'll be able to race 250SX next year.
Martin Davalos
Believe it or not, Davalos hasn't gone past the threshold in a single year since turning pro in 2006, which, given Davalos' speed, is surprising. If he doesn't score 135 points or more this year (right now he has 82), he'll have at least three more years of 250SX eligibility left.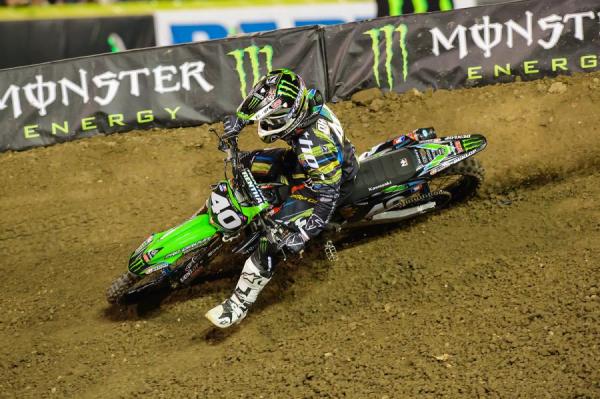 Davalos has never gone over the points limit in a single year. So, at the moment, he has three full years of eligibility left!
Simon Cudby photo
Cole Seely
Seely was on pace to exceed the limit last year until a severe injury suffered at Salt Lake City derailed his season. He was above in 2011, and right now he's got 95 points, so he'll probably end up with more than 135 by the time the checkers fly in Vegas. If so, it'll be one more year of eligibility for Seely, and one more year of listening to his agent say how scared the rest of the Western Regional 250SX racers should be. Let it be known that guys like Baggett and Seely probably want to race 450s next year, but you've got to go where the offers are
Kyle Cunningham
Cunningham is also fast and has also been around awhile. However, thanks mainly to injuries, Cunningham hasn't ever gone over the points limit and if he doesn't go over this year (right now he's got 83 points with three West races to go), he'll have at least three years of eligibility left. It's worth noting that in 2010, he raced a few supercross races on a 450 and did well, with his best finish being a fourth in Las Vegas.
Ryan Sipes
Sipes has been racing the 250SX class since 2005, when it was still referred to as the 125 class! He's been fast, and even has a pair of race wins under his belt, but like Cunningham, he's suffered a few injuries along the way. The only time he's gone over the limit was in 2011, and thanks to a wrist injury suffered at A2, he won't surpass the magic number this season. He's got at least two years left if he wants them. Ryan wants to race 450s (and we hear he probably will try it at Houston) but, again, you have to go where the contract offers are.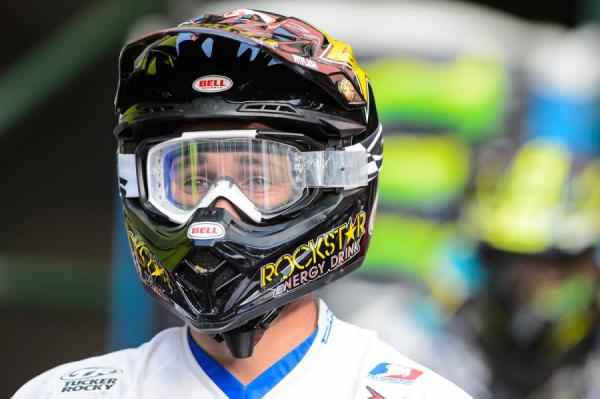 Due to injuries, Cunningham could have three years left in the 250s, depending on how he finishes '13.
Simon Cudby photo


Wil Hahn
In interviews, Wil Hahn has mentioned that this is his last chance at a 250SX title, but technically, that's not true. Hahn's only gone over the point limit once, when he finished second overall in the West behind Jake Weimer in 2010. Injuries ruined 2011 and 2012.  Right now he's just one point shy of going over for a second time, which means he'll have another year of eligibility left.
Ken Roczen
In his first U.S. season in 2011, thanks largely in part to a DNF in Phoenix, Roczen scored 130 points. That was just five shy of the mark. He went over last year, and he's already gone over this year, so it's one more year for 'ze German.
Ah, but wait! Hahn and Roczen are leading the points in the West and the East. Check out this rule:
2. A rider that wins a 250SX Championship will be eligible to participate in the 250SX class for a maximum of three years total regardless of what year he/she won the title. (i.e. if a rider wins the Championship in their third year of 250SX competition, they will be ineligible for the 250SX class regardless of points and therefore not eligible to defend their 250SX Championship title)
This is the rule that knocked Tickle out of the class--if you've race the class three years or more, and you win the title, you're done. If Hahn and Roczen win titles this year, the same will happen to them. What do we call this? Getting Tickled!
(By the way, this is only Marvin Musquin's second year in 250SX, so he's good for 2014 no matter what).