Rogers Centre
Toronto

,

ON
Toronto
Monster Energy AMA Supercross Championship
Canadian Cole Thompson electrified the home crowd in Toronto on Saturday with a last turn crash/pass with Slaton/TUF Racing's Vince Friese. Although the officials overruled the pass and pushed him from fifth back to sixth, that still marked a career-high finish for Thompson. Last year during the Nationals, Cole showed potential as rookie privateer on a 450 before a brief fill-in ride with Star/Valli Yamahas. But he's made strides in 2013. He's shown the speed to challenge for podiums, but by his own admission, has made mistakes, too. Although this is his second professional season, remember, Thompson moved directly from the B class in the amateur ranks—never racing the A class. Thompson says he's ready to put the mental mistakes behind him and take full advantage of the next few rounds. We caught up with Canadian earlier this week to talk about the chaotic finish in Toronto and what it means to shine in front of the home crowd.
Racer X: It was quite a finish to the race on Saturday. Can you take us through what happened from your perspective?
Cole Thompson: It was a good race, and I got a good last lap charge on and coming into the last corner Vince [Friese] was in front of me and I get tried tucking inside of him. From where everyone saw it, it looked like I went into him, but I think he panicked a bit because he saw that I was right there and he basically just drove right into me. We both went down off the face of the finish and his bike shot across of me. I didn't even realize his leg was in my bike wheel, and it locked up my bike and I kind of went over the bars. I wasn't too upset about it because I didn't feel I did anything, but he came up to me after the race saying it was my fault, so I was kind of caught off guard.
Initially you were awarded fifth and then they overruled it. Did you get an explanation from the AMA on why the decision was made?
They said [the AMA] that [it was] because we had come together right at the end and his bike had gone to the top of the lip and that it had crossed in front of mine. In all honesty, it doesn't make sense from my perspective because to me I felt like I had made the pass. It's what they called, so I just have to keep pushing forward.
Let's move on to the rest of the race. You had a career-high sixth in front of your home fans. How did it feel to achieve the feat in your home country?
It was good. There were a lot of people there that had watched me race my whole life. I got to see a lot of friends that I don't get to see every year, so to be home and racing in front of everyone and to have a decent main event was good. I felt like I struggled near the middle of the main event, but near the end I picked it up and got back on pace. I managed to get a sixth and stay up on two wheels, which has been an issue with me this year, so it was good to build from that. Everyone seemed to be stoked on it, so I'm happy to have a good round under me now.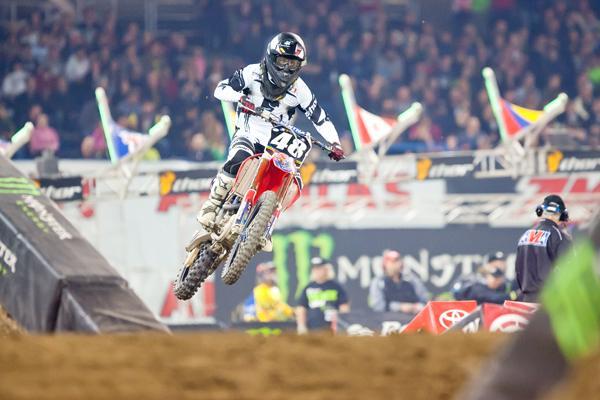 Thompson finished a career-high sixth in Toronto.
Andrew Fredrickson photo
A lot of riders may have a hometown race, or a home state race; you actually have a home country race. Does that add extra pressure or is it something you embrace?
No, it's definitely cool. To come to Canada and have a whole stadium full of Canadians rooting for me is huge. Every lap of the main event and the heat race I could hear everyone cheering. It makes you appreciate how much support you have. People from Canada support me and are behind me 100 percent, so it was awesome to have everyone there rooting for me.
You received a pretty big standing ovation at the end of the main. How cool was that?
It was good. I'm not one to really show off, but with everyone cheering real loud with the last lap crash and pass, I couldn't help but wave to everyone and thank them for being so good to me. It was pretty cool for them to stand up and cheer back. It was just a great weekend and a great way to end it.
You have had a couple of races this year where you were in podium position, but have let them slip through your grasp due to crashes…
It's not my rookie year anymore, but I felt like I was making rookie mistakes. When it came to crunch time and I needed to follow through with a podium position and get it done, I always seemed to crack and have big crashes or mistakes. Now it feels like I have put that behind me and now it is just a matter of going out and getting it done in the last few rounds of the East Region and make the best of what I have left of a season. I think I'm eleventh in points, so it's not like I'm fighting for any championships, but it's just a matter of going out and proving to myself and the people that support me that I can be a top threat.
How mentally challenging is it to overcome those mistakes?
After last weekend in Indianapolis I got off the bike and was really frustrated. I had two crashes, and I was in a good position to be on the podium. I was right behind [Kyle] Peters and he was going a good pace, and there was no excuse to why I couldn't have finished that race in a top five position. Once again, I made a mistake and was frustrated, but it's a matter of blocking it out of your head and telling yourself that you have the speed and that it is just a matter of running those 15 laps. I have done it a million times on the practice track and I'm a consistent rider for the most part. I knew going into Toronto that I was going to get that round I needed to, to give me the confidence again to get the 15 laps done.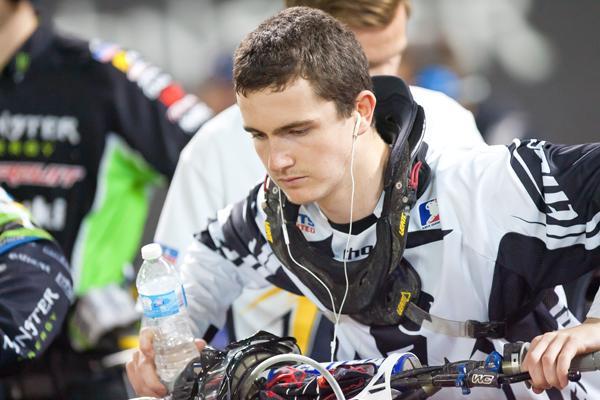 Thompson is looking to leave the mental mistakes behind, and challenge for a podium in Houston.
Andrew Fredickson photo
Are you going into outdoor testing during the off weekend, or are you sticking with supercross?
I'll probably to a little of both. Throughout the season I kind of play ride with doing outdoors just to keep my mind off doing just supercross. I will get back down South—I'm still home right now—and figure out whether I'm going to ride the 450 or 250 outdoors.
You rode the 450 outdoors last year before moving to the 250 during a fill-in ride for Star/Valli Yamaha. Are you looking to ride the 450 again, or are you hoping to stay on the 250 and get a fill-in ride?
Right now it [the plan] is just to stick with what I have going. If I get a call for anything, I would like to see what it is, though. Right now we are trying to figure out if making a 250 competitive would be better for me. I've been riding the 250 decent this year and I'm feeling a lot more confident on the little bike. And this is the class I need to make it in before I step up to the big 450. I will probably try and get a 250 together and get that dialed in for outdoors.
Thanks, Cole. Who would you like to thanks for helping you out this season?
I would like to thank MXschools.com, Axtour, Jetwerx, 26 Suspension, Thor/Parts Unlimited, Oakley, Alpinestars, Pro Circuit, Works Connection, Silkolene, Throttle Jockey, EVS Sports, Lambton Diesel Specialist, BPM Motors, GPF, Dunlop, Moto Tassinari, and Hinson.