By Eli Moore
You think Easter break is a welcome sight for the pro riders in Monster Energy Supercross? Please. A bunch of amateurs have just completed a crazy trip through the spring, which can include big races like the Thor Spring Classic in Millcreek, Alabama, Daytona, Florida's Monster Energy Ricky Carmichael Amateur Supercross, and the Texas two-step through Oak Hill, Texas, and Freestone in Wortham, Texas. Race them all, and you're looking at nearly a month locked in a motorhome with mom and dad.
Some choose to condense the trip down to the two Texas races—the 37th Annual One Industries International Grand National Championships at Oak Hill, and the James Stewart AMA Spring Championships at Freestone. There were a lot of big amateur stars at both, so to sort through it, we asked the amateur moto experts at Vurbmoto.com for their take. Here were ten kids who really stood out at the Texas Ams.

(And if you want more, go hit up Vurb, they've got a ton of words, photos, and video from all of these races).

1.) Cooper Webb – The term "hauling ass" was made for Cooper Webb. The 17-year-old Star Yamaha recruit swept through Texas guns blazing. He took home five A class championships in the process, cementing his name at the top of the list of new rookies to watch at Hangtown [Webb is ready to go—read Between the Motos here]. Webb's competitive prowess shown through at Oak Hill where he picked his way through the field to win from nearly last not once, but twice. He really struggled on the concrete pad, there. Luckily for Cooper, cement starts at Nationals have gone the way of the dodo.
2.) Austin Forkner – Austin Forkner has been on a roll ever since his Supermini win at the Monster Cup in Las Vegas in October. The quiet young Kawasaki rider may not have the most intimidating demeanor off the track, but his riding doesn't reflect that. Forkner's attacking style and immaculate corner speed were a treat to watch as he crushed four titles at the Texas races.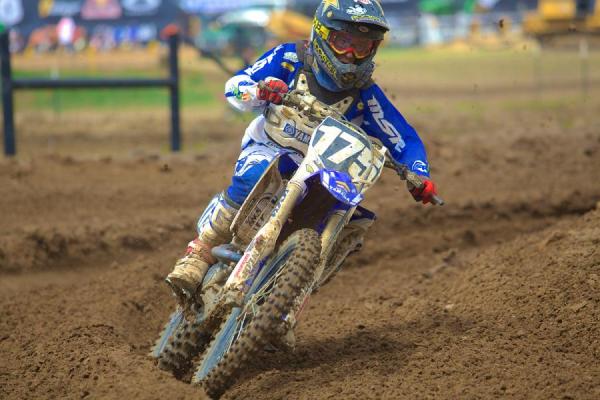 Cooper Webb was on fire in Texas, taking home five titles.
Aran Eversman / Vurbmoto.com photo
3.) Gage Linville – Already receiving major support in his race career, Gage Linville rides with a maturity way beyond his years. After a perfect week at Oak Hill, amassing six moto wins and three championships in the 65 classes, the young KTM rider followed that up with two more championships at Freestone. Nearly uncontested throughout each race, Gage already has fans lining the fences just to see him ride. Move over LeBron, he may be the next chosen one.
4.) Jett Reynolds – Not only does he have a cooler name than you, he probably rides a motorcycle better, too. Reynolds ruled the 50 classes in Texas, and was positively untouchable on his Cobras, bringing six championships back to California.  While he was unable to match the pace of Linville in the 65 classes, Jett has only just begun to take on the world of moto.
5.) Chris Alldredge – There were no championships for Alldredge in Texas, but he showed us something. After missing roughly a year with injuries, the Yamaha rider from California came out of the gate in the first A moto at Oak Hill and won, beating the likes of Webb, Matt Bisceglia, Shane McElrath, and Anthony Rodriguez (all of whom are signed to pro deals). Alldredge posted lap times equal to, if not better than, any rider on the track in each of his motos. His speed looked polished, too. As Chris puts that injury run behind him, every eye in the industry will soon be on him.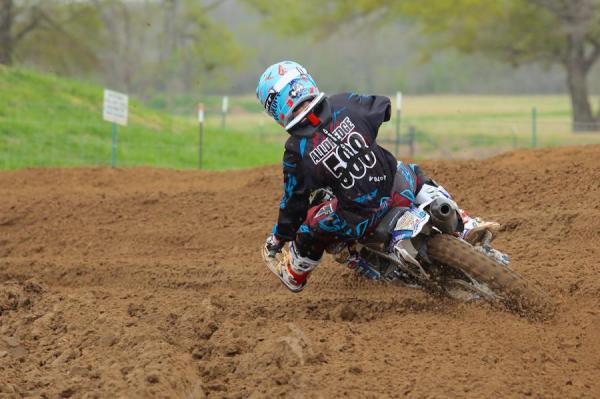 While he didn't capture a championship in Texas, Chris Alldredge looked healthy and back to form.
Aran Eversman / Vurbmoto.com photo
6.) Mitchell Harrison – While on paper he is overshadowed by Forkner, Supermini rider Mitchell Harrison showed everyone at Texas that he is on the cusp of stardom. Involved in some of the most epic battles of the week at Oak Hill, the Suzuki rider showed some serious fortitude and desire as he diced it out with Forkner. Mitchell is one to keep an eye on as the Ams start to make their way to Loretta's.
7.) Luke Renzland – Renzland's best overall finish in Texas was a fourth in the A classes. To the casual observer, his run in Texas was rather unimpressive. But the New Jersey native showed everyone watching that his pace is on par with each of the big names making their way to the Nationals this summer. Renzland may have struggled with consistency, but he has a training facility that every motocross rider dreams about, so it may just be a matter of time until Luke puts all the pieces together.
8.) Courtney Duncan – You probably have not heard of Courtney Duncan, but the New Zealand transplant is looking to change that. She handily won three Women's titles in Texas (including a come from WAY behind moto win featuring a last lap pass on Supermini star Hannah Hodges), but she also raced with the boys in Freestone. A seventh in the Schoolboy moto raised a few eyebrows, no doubt, and Duncan is definitely on our radar for 2013.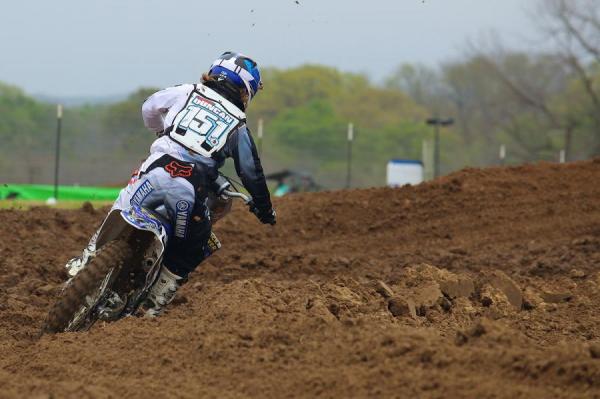 Courtney Duncan is one to watch for in the future.
Aran Eversman / Vurbmoto.com photo
9.) Darian Sanayei – With four total championships coming out of Texas in the uber competitive B classes, Sanayei has successfully put the target on his back for 2013. The Kawasaki rider has always pushed to be one of "the guys," and after some incredible races in Oak Hill and Freestone, no one will struggle pronouncing his name much longer. (Go: Suh-nye-eh)
10.) Max Miller – Racers hate when their dad wins more titles than they do. Luckily for Max Miller, his father Mike's three Vet championships in Texas were eclipsed by his four 65 championships. The KTM hotshoe struggled a bit with consistency in Oak Hill with only one championship, but took a clean slate to Freestone and came out with quite the masterpiece via three total wins in the 65 10-11 and 65 Open classes.