Rogers Centre
Toronto

,

ON
Toronto
Monster Energy AMA Supercross Championship
Davi Millsaps entire season turned around in just 11 seconds. Watch his
GoPro footage
from St. Louis and you'll see exactly how. It happens between 1:42 and 1:53 in the clip.
In St. Louis, Millsaps got his first mid-pack start of the season. Not a problem, though, because #18 is on point, ripping off passes and moving forward quickly. He passed five riders by the second lap. His speed would be enough to salvage a great finish despite the bad start, until one single straightaway changed it all. At the beginning of the straight, Millsaps rolled a double (because he saw the red caution light) and was passed by Ryan Dungey. At the end of that straight, he was nailed by an errant, crashing Trey Canard and went down. Millsaps hurt his arm in the crash and was unable to find his speed again for the rest of race. He suffered a season-worst sixth-place finish.
A few days later, Davi crashed at home and hurt his knee. In Daytona, he suffered another bad start, but you could tell he wasn't the same rider this time. Instead of knifing through the pack, he was merely keeping pace, and then he crashed. By the time he got up, everyone was gone, and so was his points lead.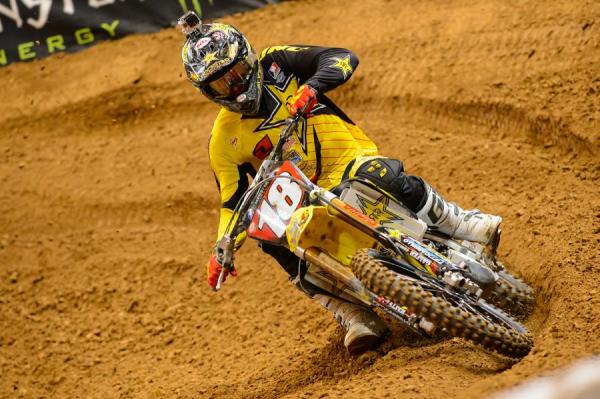 Not long ago, Davi Millsaps had the momentum and the points lead.
Simon Cudby photo
Momentum is a funny thing in this sport. There should be zero connection between what happened to Davi at St. Louis—passed under the red, run into by a red bike—and what happened in Daytona. But often these disconnected events weaved together in a singular story.
Thus, even in a season several months long, success often hinges on moments much, much smaller. Marvin Musquin can point to one fraction of a second that turned his entire year around—and that turnaround could impact his whole career—his whole life, even—if he ends up winning the 250 East SX title.
We showed you the picture in Racerhead last week. At Daytona, Musquin found a starting gate with an extra gap between the gate next to it. He had a clear view of the pin that holds the gate up, and that helped him drop the hammer an eye blink faster than everyone else. He got an incredible jump out of the gate, a holeshot, and fifteen laps later, his first career SX win. Until Daytona, Musquin's season was a bit of a disappointment. He had been fast in practice, but he was unable to duplicate that in the main events. Once he got that Daytona win, Musquin took career win number two seven days later. He rode incredibly well in Indianapolis, charging from last to second. And he would have finished second if not for an incredible stroke of good luck in the form of an unforced Blake Wharton error. At the first three 250 East rounds, Marvin was fast but couldn't put it together. At the last two, he couldn't help himself from winning.
Now, consider that when Marvin got that great jump in Daytona, he was also a fraction of an inch away from getting stuck in the gate. Had that happened, he could be looking at zero wins this year and a disappointing season overall. We'd all be saying, "What's up with Marvin?" Now he has a shot at being 250 SX East Champion.
If you don't think there's something to this momentum thing, Dean Wilson can help illustrate. He was the overwhelming title favorite going into the East opener in Dallas, and he rode high on those vibes. His lap times were far and away quicker than anyone else, and you could see the mojo via the huge whips and scrubs. Dean had never looked so strong, fresh, and confident.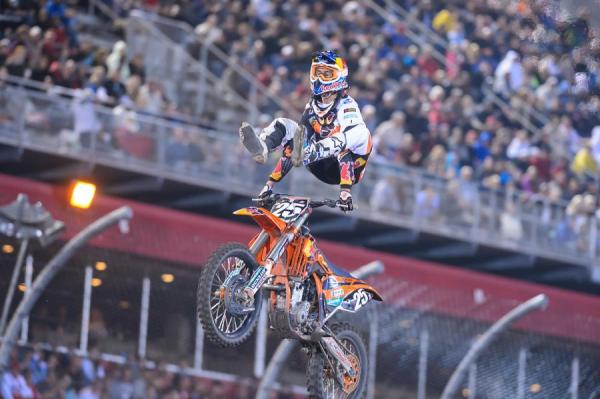 Marvin Musquin has clicked off two consecutive wins.
Simon Cudby photo
After that win, Dean crashed big during the week and came into Atlanta maybe a shade off of his Dallas pace. Wil Hahn held Dean off to take his first career win, and since then Hahn has delivered every week while Wilson has struggled to put it all together. Dean has been fast, but each week something snares him. It has to be something small, too, because he was so fast in Dallas, just four weeks earlier. It's not possible to lose fitness in that short of time, so whatever is holding him up is something smaller and harder to overcome.
The differences in performance are subtle. Often, when a rider starts struggling with results, his starts go away. Yes, the order can be reversed, as bad starts lead to bad results too. But as James Stewart started riding better this year, his starts got better too. Chad Reed, meanwhile, started the year with high expectations, and his starts were good. He was there early at Anaheim 1. He was right up front before those huge second-turn crashes at Oakland and Anaheim 3. He had good starts at San Diego and Dallas. He came into those races thinking he was a holeshot away from a win. But now that it's clear this is a bad season for Chad, he's been mired off the start for about a month.
That's the small difference between having momentum and not—and it's what makes it so impressive when a rider stares that inevitable conclusion in the face and manages to change the story. The absolute best can do it, but that's because being the best leads to unwavering confidence. Even with his early crashes and struggles, I doubt that Ryan Villopoto ever thought he had lost his edge. He's the two-time and defending SX champion. He's immune to such thoughts. When Stewart crashed out of Anaheim 1 in 2009, he left knowing he was behind in points but still had the speed to come all the way back and win the title. And he did. For everyone else, though, it's a more fleeting thought. Millsaps had every reason to tank through these final races.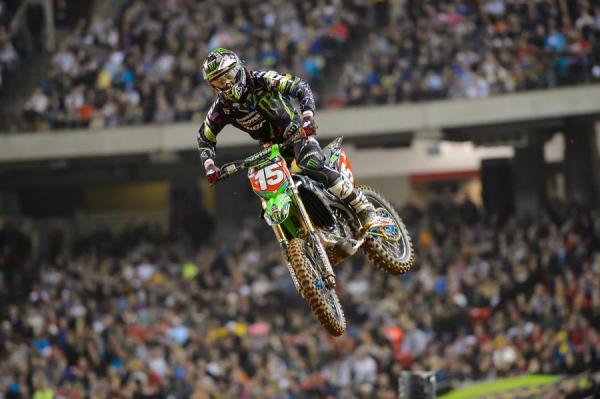 Pre-season favorite, Dean Wilson, held the red plate after Dallas, but was dealt a crushing blow in Indy.
Simon Cudby photo
It wouldn't have shocked anyone to see Millsaps roll into Indy, suffer another mid-pack start and card a seventh-place finish. The stars were aligning in that direction. But what did he do? He turned it around. Took the rotation of the earth and spun it the other way. He's riding with a knee injury, with stalled momentum. But he dug deep and managed to go right back to his old standards. He holeshot the main, fought back each time someone challenged him, and was one lap away from a podium finish. He crashed on the final lap, dropping him to fourth, but it was the exact type of ride that gave him such a big points lead in the first place.
Will those rides be enough to give Davi the title? Maybe, maybe not. But it will be enough to turn his momentum around—and that means everything.