Rogers Centre
Toronto

,

ON
Toronto
Monster Energy AMA Supercross Championship
It's not always about the horse you rode in on—sometimes results are based more on heart and determination than a flashy ride. Now in his third SX season, AJ Catanzaro has poured both his heart and his bank account into making his dream come true. Following a career-high fourth in Indy, Catanzaro tweeted that this was the best day of his life—a culmination of the hard work he's put into this year. We caught up with the Connecticut native earlier this week while he was still on the road from Indy. His van had broken down. No one ever said the privateer life was easy.
Racer X: Still on the road from Indy?
AJ Catanzaro: Yeah, we broke down yesterday and we stayed the night in the van. Now we're back on it.
Well, first and foremost, fantastic ride. How's it feel?
I don't know if it's hit me yet. I haven't gotten a chance to watch it. I haven't even looked at results online yet, so who knows if I even got fourth? It was just a cool night. I think that's where I've belonged for a while. If anyone watches practice I don't belong in twelfth, thirteenth place. I think I belong in the top five, top three. It's just a matter of putting the pieces of the puzzle together for me.
This is you third year as a professional and you've basically been doing this on your own from day one. How much more gratifying is it that you've made it to this point on your own?
It's actually kind of amazing how I went about it this year. In this sport I think a lot of dads are involved, and parents are involved all the way through, even when people are 20, 25 years old. And I've sort of been on my own. My dad's obviously got me to where I am. I wouldn't be where I am if it weren't for my family. But this year I kind of took the approach of just doing it solo. I wanted to see how far I could get on my own. Didn't really have much of an option. There was no teams, no rides, anything like that, and I just started networking myself the best I could. I approached a couple dealerships up north and I was able to get in touch with Pilgrim Powersports, and they helped me out with bikes, which was huge. So that was step one. And Pickett Weaponry stepped up as far as helping with travel costs, stuff along those lines. And it's just amazing how much … I give my dad a lot of credit because he did it when I was an amateur, but it is a lot of work to kind of be a team owner, team manager, and also a team rider. It's a full-time job, that's for sure.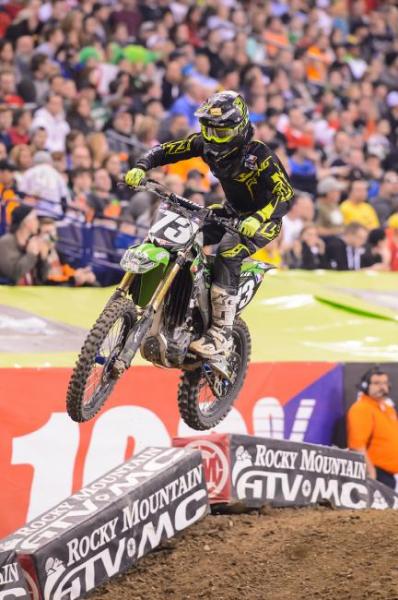 Catanzaro rode to a career-high fourth in Indy.
Simon Cudby photo
After the race, you tweeted that you couldn't stop crying. How emotional was it for you to finally achieve this goal?
It's hard to describe. I think few people understand it. When you put that much work into it, over so many years, and it just seems like one letdown after another, and as much as I love the sport, it changes how I go into the weekend and I leave disappointed every time. It's hard to keep motivated when that keeps happening. To come off the track and have everyone surround you … it was just overwhelming. That's all I want now. I'm going to keep on chasing that because that was the best feeling I've ever had.
I read a couple weeks back that you were done after Indy because of funding. I'm guessing that's no longer the case?
Well, actually I've been able to just kind of squeeze by. My van breaking down on the way back from Indy didn't help with that. I actually think I have $70 in my checking account. I'm able to hop in with my team owner on a flight to Toronto, and I'm staying with somebody up there. So that will help with that. And then after that I'm basically out of money. I'm hoping that fourth maybe helped me out and I'm going to continue if I kill it in Toronto. We'll see. I'm open to sign if any sponsors are willing to hop on board; it's not too late. Honestly, I kind of need it because I don't see myself getting much further with the money I have now, unfortunately.
How disappointing would that be, now that you're beginning to come into your own, to basically have to pull the plug?
Everything always seems to work out. I try to keep that thought in my head because everything happens for a reason. Whether I get a good fill-in ride or somebody steps up and helps me get through, I think it's all going to work out. I don't see myself hopping out of the series for sure. I won't let that happen.
Has the phone been blowing up since Saturday?
A little bit. I'd love to take advantage of some open spots on teams because I think I belong on one of those top teams. I think if I had a bike that was competitive, with my mindset that I have right now, I could be a force to be reckoned with. I'm just going to keep going at it. Hopefully something comes along. I know if I get a start that those results will keep coming. I'm confident of that.
You touched on how you put your own deal together this year. But you also have a T-shirt line out as well.
Yeah, this company, Amped Apparel, and I got together and did like a collaboration shirt, which is pretty cool because it's amazing the kind of a fan backing that I have and when something like that goes to sale people go nuts over it. To have a good quality company and shirt like that  everything helps from that. He's helped me out as much as he can with money as well. Every penny helps When something like that is coming in and I can get a little check to sign up for the next race or whatever it may be.
Are people still able to purchase the T-shirts?
They might be all sold out right now, but after my finish last weekend they might be in higher demand. So we'll see. It was just something we wanted to do and people were sending me pictures and wearing them watching the race this past weekend, which is awesome.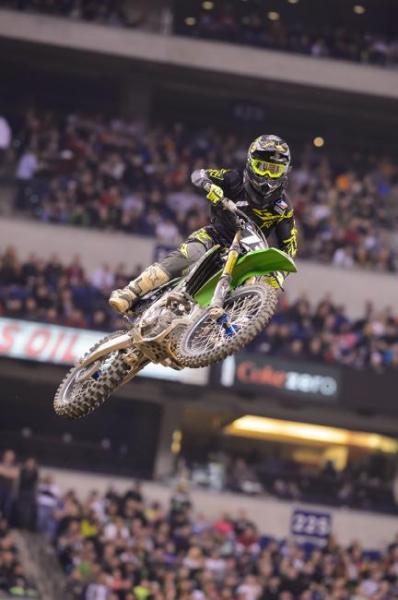 Catanzaro hopes to continue his rise up the ranks in Toronto.
Simon Cudby photo
Are you still training down at Clubmx?
I left Club about two or three weeks ago and I'm at Davi Millsaps' house in Georgia right now. And that's another thing—I can't thank him enough. He's kind of taken me under his wing the past year and a half. Whenever I get a chance, I go ride and train with him. It doesn't get much better.
Talk about that a little bit, about how beneficial it is to be training with Davi. How much are you able to take away from just watching him, comparing how he prepares?
It's great. Last year it was kind of a shock going into it. I went with the Ohlins team and he pulled me aside and said, "I want you to kind of come and stay and ride and train with me." And I hopped on that as quick as I could. Watching what he does and how he rides and his whole thought process behind it … We go out to eat and I pick at his brain as much as I can. He's been there, done that. He knows what he's doing. So I try to just learn as much as I possibly can from him, soak it all up.
Thanks, AJ. Who would you like to thank for helping you this season?
I would like to thank Pilgrim Powersports, Pickett Weaponry, Scott Witt, Tirestickers.com, Rocket Exhaust, Motonut Racing, TLR Performance, 139 Designs, Fly Racing, 100% Goggles, Amped Apparel, Hinson, Renegade Fuels, Peg Armor, Charles and Dane, my entire family, Konnor Buffis, and Rob Clingan.