Rogers Centre
Toronto

,

Canada
Toronto
Monster Energy AMA Supercross Championship
Hello, everyone, and welcome to The Rev Up. Six rounds remain in the 2013 Monster Energy Supercross Series, and we head to beautiful Toronto, Canada, for the sixth season in a row. Before we get to that, I want to choose a different line on this week's column. All of you take a long, hard look at this number: 60,312. The Indy SX ranked as the number-two motor sport in America last weekend—against the likes of Sprint car dirt racing, professional drag racing, and NASCAR's Nationwide Series. While you will be hard pressed to find the official attendance for the Nationwide stock car race in Bristol, Tennessee (maybe the most popular venue in their series), it was estimated to be less than 60,000. Only the Sprint Cup race saw larger attendance than the Indy SX. That's comparing apples to oranges, but, adding to our rich competitive aspects and points battles, the amount of fans turning up for Monster Energy Supercross in 2013 has been a resounding victory.
This is a great time for supercross. While there isn't anything like seeing SX action in person, you can absolutely feel it while watching live on Speed. Our media effort rivals any sport, period. The reporting, photos, and live virtual offerings are outstanding. From NCAA Basketball to the NFL, NASCAR, MotoGP, BMX—or any of my sport passions—I think a fan can find the most on the web, easily and substantially, right here in moto.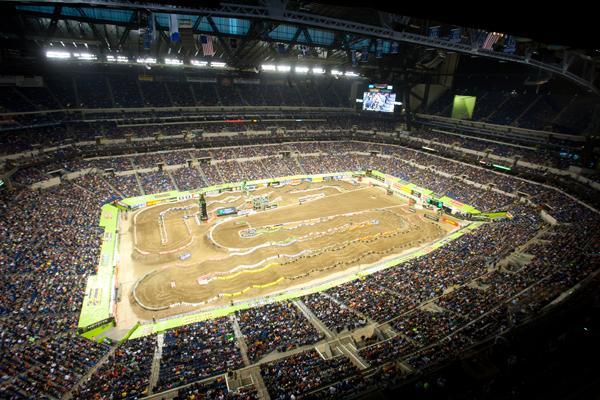 A massive crowd flooded Indy last weekend.
Andrew Fredrickson photo
How about the GoPro cameras? Very soon they can revolutionize supercross with live streaming video/audio of the rider of your choice. They can actually do it now, but they don't have a WiFi-equipped camera light enough for the racers to accept. They will soon. Can you imagine how insane it'll be to have goggle view from your favorite rider, live in HD splendor on your monitor or smart TV display? All sports are using this technology and it looks like it fits moto perfectly. You'll be able to tell when RV really gets a section or if Millsaps drills the whoops. Some amazing things could be coming soon.
I was able to attend Dallas, Atlanta, and St. Louis consecutively, and I was in the pits around 10 a.m. at each one. The coolest thing was seeing a lot of smiles on the faces of the circus unfurling their tents. The second coolest thing was standing in the press box atop the gargantuan domes and seeing them brimming with fans. The fans are the significant spoke in making our wheel spin. The core fan base of our sport is kind of gnarly, and fickle. They are hyper-sensitive and political, but they are merely the epicenter of that 60,312 I mentioned above. No motorsport fills their venue with a core fan base—they fill it with outside enthusiasts and people simply looking for a good time with their families. But, those core fans attract a lot of outsiders. Ask a core fan what they're doing this Saturday night, and without a blink they'll say, "Supercross, live on Speed."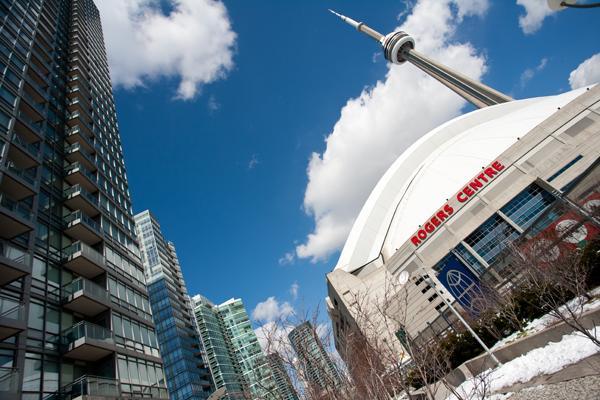 Monster Energy Supercross heads north of the border to Toronto this weekend.
Andrew Fredrickson photo
No race analysis this week. Just wanted to talk about how strong the sport seems to be in 2013.
Right now there will be 30,000 to 40,000 Canadians (no adjective needed) buying tickets to Round 11, and they will be met with a good time. Canada is a huge moto nation—they love some supercross. This is a good thing we're a part of. If you won't be one of the lucky ones in the stands this weekend, come over to www.racerxonline.com to watch, listen, and read about it.
Thanks for reading. See you next week.