Edward Jones Dome
St. Louis

,

MO
St. Louis
Monster Energy AMA Supercross Championship
After an injury riddled two-year stint stateside with J-Star JDR KTM, a story we chronicled this off-season, PJ Larsen found help from Rocket Exhaust to contest 450SX (his rookie year in the class) in 2013. After early struggles, the South Carolina native (who was the 2010 Australian MX and SX Lites Champion) has made three of the last four mains—tying a 450SX career-high 15th in Atlanta. After talking with Eleven10 Mods owner Chad Sanner the night after Atlanta, the team announced the signing of 2008 Horizon Award winner for (at least) the rest of the 250SX supercross season. Weather has halted any testing thus far, but the plan is for Larsen to get some riding in today before the team leaves for St. Louis. We talked with the always funny Larsen about the deal yesterday.
Racer X: It was announced earlier this week that you have signed with Eleven10 Mods Yamaha. Take us through how the deal came to fruition.
Peter (PJ) Larsen: I talked to Josh Pitts at Renegade Fuels about the deal a little bit before Dallas, but I think at that time they were thinking Alex Martin would be back on the bike sooner than he is, so we didn't really do anything then [Note: A-Mart, the lead rider on the team, is sidelined with a broken wrist]. I was talking to Josh in Atlanta and he brought it up again and I told him that I would be interested in riding the bike and that Chad [Sanner, Eleven10 Mods Owner] always has good equipment, so he called Chad after the race and actually that night I was on the phone with Chad at 2:30 that morning and we kind of got a little bit of a plan set. I flew back to California that Sunday, did some laundry, got back on a plane Sunday night and flew back east. We were going to meet down in South Carolina and do some testing, but we got rained out, so I got on a plane and flew to Pennsylvania [where Eleven10 Mods shop is located] and we are going to try and ride tomorrow before we head out to St. Louis.
My next question was how the adjustment to the Yamaha was going, but I guess you haven't had a chance to ride it yet.
No, I haven't had I chance to get on it yet. We've had some complications with the weather, but we are going to try and ride tomorrow.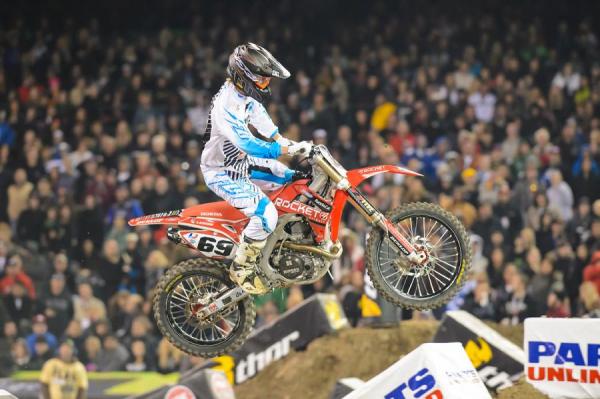 Larsen began the year in 450SX with Rocket Exhaust, but will transition to 250SX with Eleven10 Mods Yamaha beginning in St. Louis.
Simon Cudby photo
You haven't ridden a Yamaha in your career. What are some of the difficulties in switching to a different, unknown, brand mid-season?
Luckily I've never been the kind of guy that is overly picky on stuff. I've been able to get on the majority of bikes and be comfortable pretty much right away. I actually tried the Yamaha a couple of years ago and I really liked it back then, so I don't think we will have any problem getting adjusted to it. And I guess I'll say that the bike is probably going to be pretty slow since Chad is standing right in front of me. [Laughs] No, but I'm really confident in Chad and the team.
You're also switching classes as well. What adjustments do you see having to make in that aspect?
I don't really see switching classes as that big of a deal. Its still racing no matter what class you're in. Obviously both classes have a lot of talent in them… I don't think it's going to be anything different. I think it will be more along the lines of getting used to the bike and getting comfortable with it and getting going.
The 450 class was stocked with race winners and multiple champions. Now, you're entering a class that features only two past supercross race winners (Dean Wilson and Blake Wharton) entering the year. How does that change your expectations?
I think it obviously will change my expectations. Beforehand, in the 450 class my main focus was on making mains. In the 250 class, we're definitely not going to be happy to make a main and finish 15th like I was in the 450 class, because that's a big accomplishment with the amount of talent and the equipment I was up against. Now that I'm on a really good bike and program we need to be up front and not just making mains. Right now I can't really say where I'm going to finish because I haven't ridden the bike yet and haven't been able to do quite a bit of things.
Does that take away some pressure, in that you haven't had time to adjust to the bike?
The way I look at it is, since I haven't been able to ride the bike I have a good excuse on Saturday. [Laughs]
[Laughs] Well that is kind of what I was alluding to. So if you get 15th or something you have a great excuse!
[Laughs] Well, nah, nothing is really a good excuse. I'm pretty confident that I'll get on the bike and be comfortable. I think one thing we will be chasing is the suspension because the guys over at PR2 haven't gotten to do much on the Yamaha 250F in supercross. I'm confident that they will have a good base setup for me, and that's probably what I'll race with on Saturday. If everything comes together like it should I think we'll be fine.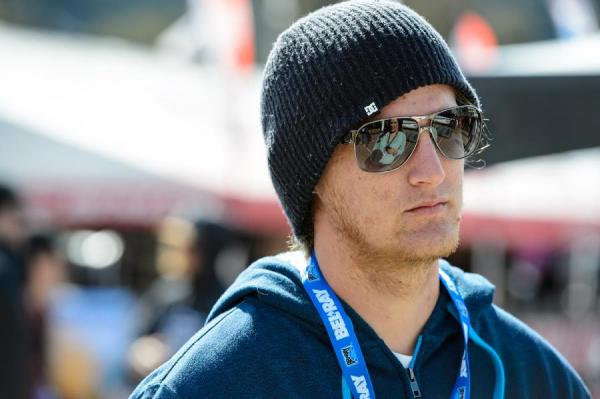 As of now, the deal between Eleven10 Mods and Larsen is for supercross only.
Simon Cudby photo
Is the deal for supercross only?
I've talked to Chad a little bit about it and I think the plan is to get through supercross right now and see where we are after Vegas. It could potentially be a deal for outdoors, but it's by no means guaranteed.
This last question is one that I think is on the minds of every South Carolinian. Why do you choose not to embrace your South Carolina heritage and list being from California?
[Laughs] Hey, you know what, California has to go on my entry list because I live in California now. If I put a South Carolina address, all my checks will go to South Carolina, and I really need my checks in California. [Laughs] So that's a pretty good excuse.
Yeah, I guess that's a valid excuse.
Do you like how they call me Peter Larsen, too? The form I changed it on was for my tax stuff, but it ended it up changing on everything. Now I don't even know how to change it back. I was like, damn. [Laughs]
Thanks, PJ. Good luck this weekend. Who would you like to thank for helping you this season?
I would like to thank Rocket Exhaust for helping me out during the beginning of the season. And now Eleven10 Mods, Yamaha, Renegade Fuels, FLY and DC Shoes.