St. Louis, MO
St. Louis
Monster Energy AMA Supercross Championship
It's not easy being on the fringes of stardom in this sport. The guys right around the tenth spot are not that far off the riders like Ryan Villopoto and Ryan Dungey, position-wise, but they are many miles off from making the money that the Ryans do.
But heading into 2013, the new Velocity 3 Racing team seemed like a homerun for a pair of riders expecting to battle near the top ten. Former factory mechanics Brian Berry and Kenny Germain were running the team, they had Yamaha bikes, parts and support (something that not many start up teams get but Germain and Berry's past relationships with Yamaha helped seal the deal) and they signed a couple of solid riders in Kyle Chisholm and Bobby Kiniry to compete in 450SX.
But that's all gone now, the V3 team has closed up shop and Kiniry and Chisholm have found new homes. The funding just never came through for the team and even before the season started, things were beginning to unravel.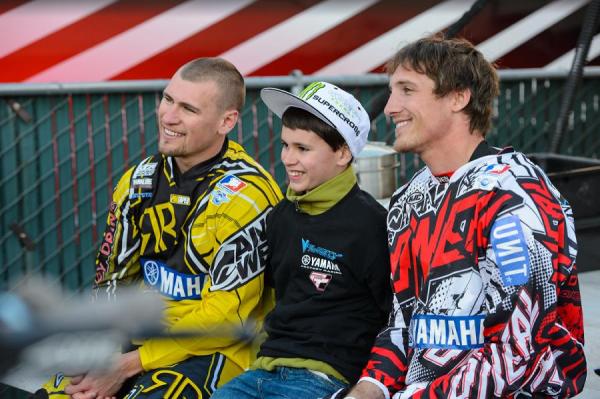 Velocity 3 is no longer, but luckily for Kiniry (left) and Chisholm (right) they have found new homes.
Simon Cudby photo
"I didn't get any fuel expenses paid back right from the start in November and no one said anything about it at all and that's when the warning bells went off for me," says Kiniry. "And then the first check was late, the second check was late and them [the team] asking me to enter the races myself was a sign. And then we never got a semi truck like promised, it was always next week. At our level, to be competitive we need all that. I have a family in New York and I'm trying to do my job in California to help my family. I'm willing to make sacrifices because we do make a good living at what we're doing, but it was tough."
Chisholm had doubts real early about the new team. "We were told that everything would be normal after a couple of weeks, so it wasn't on my mind much," he says. "But after those couple of weeks went by and it didn't happen, and then a couple more weeks went by and I knew we had to make some plans."
It's hard enough to compete at the top level. It's even harder trying to compete when juggling having enough parts, wondering if your bikes are even going to make it to the races. Worse yet is the stress of having no income coming in to pay your expenses. Kiniry and Chisholm even had to enter themselves into the races as the team wasn't able to do that for them. Chisholm says they were lucky that the AMA let them sign up on Saturday morning a few times, since the team entries hadn't come in.
Both riders haven't had the seasons that they wanted to have as Chisholm was unable to make the top ten before getting hurt, and Kiniry has missed a few mains Last year, Kiniry was a solid main event guy every week.
But with the disaster that was Velocity 3 over and done with, both riders are hoping that their new homes will result in some mental relief off the track and improved riding on it. Chisholm will be on the JGR/Toyota Yamaha team for the rest of supercross filling in for the injured Josh Grant, and Kiniry just got picked up by the N-Fab TiLUBE Yamaha squad for the rest of the season.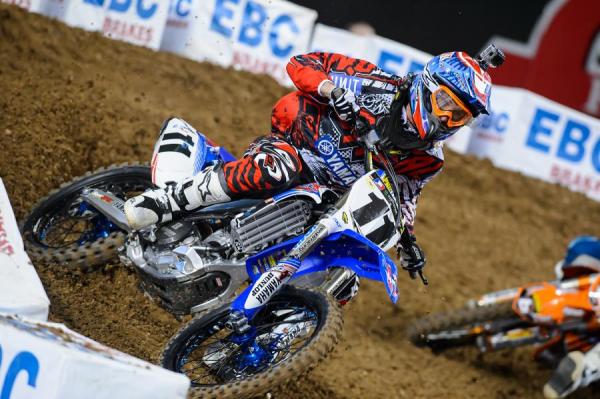 Chisholm had his struggles early in the year, but is hoping to rebound on his new ride.
Simon Cudby photo
"Yamaha was the key to keeping me racing," a relieved Kiniry says. "I couldn't have done it without having the bikes and parts. I needed a home at the races and being around good people is key to having success. Allan (Brown, N-Fab TiLUBE team owner) has had the success and has been around good riders. I like the bike and I wanted to keep racing and I can't thank them enough."
While Chisholm is a replacement for the injured Grant at JGR, Kiniry was simply added to the N-Fab TiLUBE team as a third rider. How did the team create extra space? Kiniry explains. "N-Fab and St Lawrence Radiology stepped up big time for me," he says. "All the sponsors. It makes me feel good. I know everyone on that team with Chris (Blose) and Phil (Nicoletti) and I feel like it should be a good home for me."
Chisholm was off a couple of races with an injury when he got the call to get on over to the Gibbs rig for Atlanta.
"I wasn't worrying about getting a ride, I talked to Yamaha and they wanted me on the bike so they were working on finding me a home," says Chisholm, who likes the current gen YZ450F very much. "I was talking to the Star Racing guys. I spoke to Jeremy (Albrecht, JGR team manager) before Atlanta and he wasn't sure at first because of Josh's condition, but they had press day in Atlanta, so that was an extra day on the bike. I was up for it, I didn't even know if my bike would be there from the V3 guys. I was fine with just jumping on it."
Chisholm was involved in a first turn crash at Atlanta that broke his bike and in the LCQ he was unable to transfer into the main, but he'll be a lot better with the extra time he spent this week testing on the JGR bike.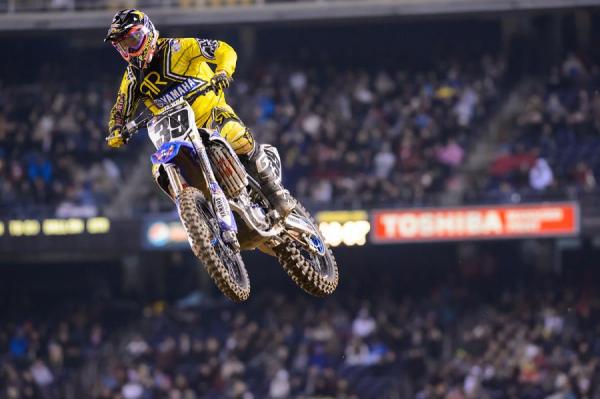 Kiniry will join the N-Fab TiLUBE team in St. Louis this weekend.
Simon Cudby photo
"I know they don't have a budget for three guys, Josh [Grant] is their guy and I'm happy to have this opportunity for supercross. All I can do is my best and I can make the most of it while I'm here and for outdoors, we'll figure that out when it comes," remarks Chisholm. "With JGR I'll have everything taken care of and have a good crew of guys to do my job, no excuses going forward from here."
For Kiniry, this weekend is his debut on the new team and he's already feeling much better about his situation than at any point earlier this year. "Allan Brown does the 450s well, it's an easy fit and he can help me get results. He was talking to me before Velocity 3 and I've known him for years.
"Allan's already entered me for the rest of the season and that's cool. I already have all the information for the next few weeks in terms of where we're staying, what time our autograph signing is and all that. My bike will be great, that's the least of my worries now."
Even though the Velocity 3 team didn't last, riders have nothing but good things to say about Berry and Germain, the two main principles behind the (terminal) Velocity 3 team. The funding Germain and Berry expected to get never came through. (Kiniry: "They were laying money out of their pockets to help Kyle and I go racing.") It's a sign of the times that we're in when V3 is now the third team to fold up this season (L&MC and most likely J-Star JDR KTM after supercross).
Hopefully, it's the last. Riders like Chisholm and Kiniry are too good and are needed in this sport to take any more of this. Look for both riders to log some better results in the races now that they're no longer worried about just making it to the races at all.