Qualcomm Stadium
San Diego

,

CA
San Diego
Monster Energy AMA Supercross Championship
Welcome to Racerhead, coming to you from Southern California for the last time during the 2013 Monster Energy Supercross Championship. Tomorrow night's San Diego SX marks the end of the "California season," which lasts six rounds (including a brief milk-run over to Phoenix). Then it's time to head east for Texas and the travel days of the tour, as well as the kickoff of the East Region.
So far, this has been an excellent championship, full of big surprises (Davi Millsaps has pretty much led since the drop of the gate at Anaheim) and a few shockers (rough nights for Ryan Villopoto, Chad Reed, Justin Barcia, and James Stewart). There's also the 250SX class that started out as an Eli Tomac walk, but then he tripped—twice—and now it's Ken Roczen's to lose. The West Region has one more round before the long break, so expect some fireworks tomorrow night as a lot of guys are going to be shooting to end this part of their season on a high note (and for guys like Tyla Rattray and Malcolm Stewart who did not qualify last Saturday night at Anaheim 3, it can't get much worse).
As for the 450 class, I have a gut feeling we might see our fifth different winner tomorrow night, and I'm guessing it will be either the Honda of Trey Canard or that of Chad Reed—if he can get through the first lap without hitting the mat. And of course there's James Stewart, the Yoshimura Suzuki rider who has struggled to this point with a torn ACL. He's never gone this long in his entire career without so much as a podium.
Let's get into the week right here...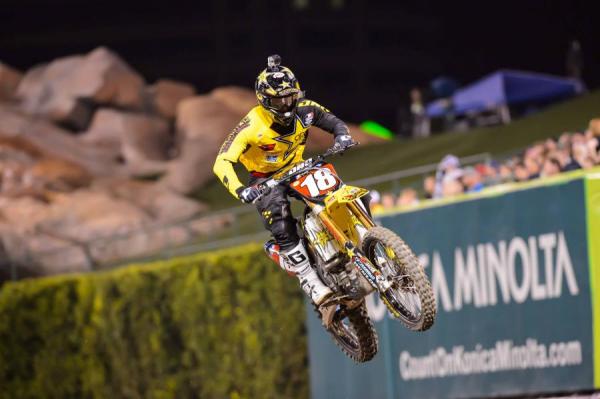 Davi Millsaps carries a 14-point lead into San Diego.
Simon Cudby photo
How to Watch (Chase Stallo)
Before live coverage of round six of Monster Energy Supercross from San Diego, begins at 10:30 Eastern on Saturday night on SPEED, make sure to tune in an hour early to catch live coverage of round six of AMSOIL Arenacross from Wilkes-Barre, Pennsylvania, at 9:30 Eastern. And then on Sunday you can tune into CBS on Sunday at noon Eastern for a special feature profiling the life of reigning two-time Monster Energy Champion Ryan Villopoto at noon on Sunday (East), 9 a.m. here out west.
The forecast for Saturday features a high of 57 for practice and qualifying and then will drop to around 54 for the heats and main events. As always, Racer X Online will be on hand providing updates from the pits and play-by-play of practice and the night show from San Diego. So be sure to follow us on Instagram and Twitter (@racerxonline) and go to RacerXonline.com for all the latest of the days action.

First look at the track in San Diego.
BrownDogWilson photo
THE NUMBER: 445 (DC)
In 1985 the 125cc class made its debut in supercross, with a kid named Todd Campbell winning the first 125cc main event at Jack Murphy Stadium in San Diego, beating three future Grand Prix stars in Tyson Vohland, Trampas Parker, and Bobby Moore. Since that first night there have been hundreds of AMA Supercross events where two classes were run—445, to be exact, according to Aaron Hansel's research in the Racer X Vault. That number is significant today because it took all 445 of those races before KTM finally had a night during which they won both main events. Ryan Dungey and Ken Roczen gave KTM its best night ever with the main-event wins at Angel Stadium, likely setting off a wild Sunday celebration over in Austria where the orange bikes are built. This follows last year's many "firsts" for KTM, including first 450 SX win, first 450 National win, first 450 Motocross Championship, first double win outdoors (Unadilla) and first moto sweep at the Motocross of Nations. No wonder they just signed The Man himself, Roger DeCoster, to a well-earned contract extension.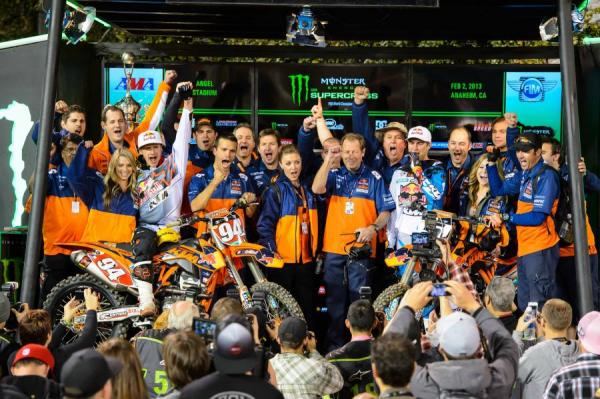 It took KTM 445 supercross races to sweep both classes.
Simon Cudby photo
Also, Dungey's win came from the twentieth pick on the gate, something that we don't recall ever seeing in the premier class of Monster Energy Supercross. We remember Jeremy McGrath coming through to win at the Pontiac Silverdome in the mid-nineties, and Ryan Villopoto doing it just a few years ago. But they won the LCQ; Dungey came from second and last overall pick. It was quite an impressive effort for a former champ who has had his fair share of problems here in the early races.
Press Day Buzz (Weege)
After two solid finishes on his privateer Honda, it would appear Andrew Short is back on solid ground. Ah, not so fast. Last weekend Shorty was still riding for Kranyak Racing, but he told our man Matthes he still didn't have the team plan completely settled yet but would know more after San Diego. That's all he could say. Our guess is it's easy to hitch a ride to the California races, but making the trek east will require a bigger commitment from that team, or someone else. There were rumors of Shorty moving to a Kawasaki (the Kranyak racing team had Kawi support last year when they were known as Jeff Ward Racing, and then had Josh Hansen riding on one at Anaheim 1 this year).
However, we hear that as of this week, Kawasaki is officially out of the Kranyak program, so you won't see Shorty on a KX450F any time soon. We'll see the #29 on his customary Honda this weekend, and hopefully, he just finds a darned way to get to the races at all when the tour heads east.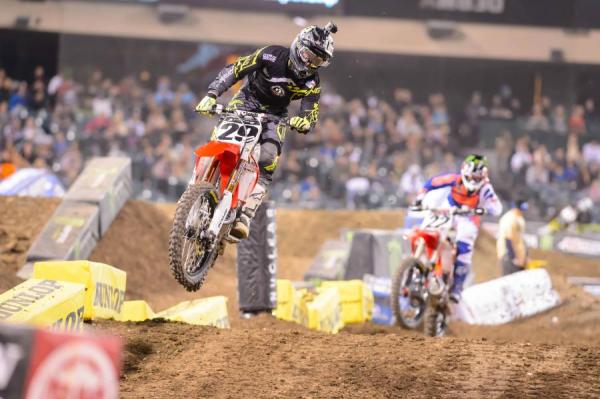 Andrew Short is hoping to know more about his future after San Diego.
Simon Cudby photo
As for Hansen, he has been out of the races with some sort of illness, but when social-media pictures of him free-riding surfaced, well, that didn't go over very well. Now that the Kranyak team doesn't have Kawi support anymore, not sure if Hansen will have a place to go back to once he's feeling better. Or, is he feeling better already? Trying to keep up with this is like following the trail of J-Law rumors.
Yes, J-Law.... No one really knows what to make of it this latest comeback. But I was over in the Monster Energy Kawasaki pits and Ryan Villopoto—a longtime Lawrence archenemy—was happy to play the bigger man.
"Good for him as a person if he's turning things around," said the SX champ. "And if I see him at a race I'll tell him that: 'Good job, man.'"
One rider we do know is coming back is Josh Hill, who we interviewed for Racer X Films yesterday. Hill has been completely up front about the troubles of his past, and he knows he's getting a second (or third) chance at this profession that most don't get.
The Hunt (DC)
If you live out here in Southern California, or you've just been watching the news, you have no doubt heard about the maniac ex-policeman who is on the run, having murdered three people so far, vendetta-style, over what he perceives to have been a wrongful dismissal from the force. I bring all this up because the man out in front of the hunt for the Los Angeles Police Department is none other than Charlie Beck, the LAPD's chief of police and a longtime motocross rider and enthusiast. Here's hoping Beck and the rest of the authorities get their man before much longer.
Coming Back from Oblivion. Again. (DC)
When I walked into the DC Shoes video premiere of the new Robbie Maddison Aircraft film, I was glad to see that Jason Lawrence was present (and in case you missed that, someone parked a pickup truck with the #338 ARMA bike right next to the DC team bus). J-Law was hanging out, head shaved, talking to his old friend Josh Hansen, who is also on some kind of extended hiatus, and now also looking for a ride to come back to. Later, I got a glimpse of some of the photos of #338 riding with #100 at Pala, and it hit me: Do these guys realize that those aren't their actual numbers anymore?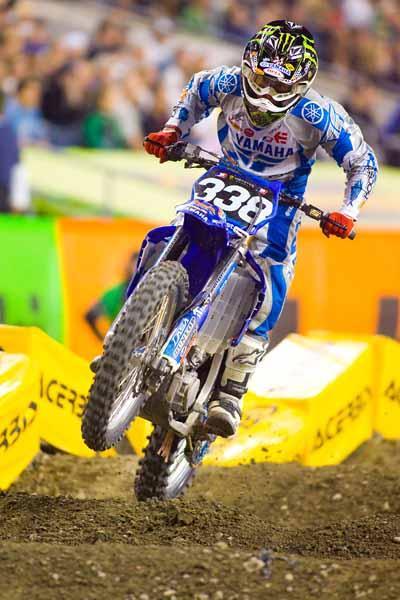 J-Law is planning on making a return to racing at the Nationals.
Andrew Fredrickson photo
I am not sure how J-Law will do this summer—if he can arrange a ride—but it will be good to see one of the most entertaining and controversial riders of the last decade back racing. His last time at an outdoor national was September 4, 2010, where he finished nineteenth in the 450 class. He's popped up here and there since, trying to pull it all together. Here's hoping it all comes together and he finds himself on the starting gate at Hangtown in May... And here's also hoping this time he waits until it falls until he tries to wheelie over it.
Nearly three years is a long time to be out of racing, but Lawrence has always been so wildly unpredictable—and downright fast—that he just might get into the thick of things at some point. But it's going to take much more discipline and focus than he showed the last time around. The 450 class outdoors is stacked, and those guys at the front are relentless.
RV + CBS = Sunday (Weege)
Ryan Villopoto had a media conference call yesterday to talk about his CBS show, Ryan Villopoto, A Champion. This is a must-watch (Sunday at noon on CBS), and all I need to tell you is that it's a behind-the-scenes take of Ryan's life, put together by Troy Adamatis and his crew that produced Inside the Outdoors. You know it will be good. Villopoto says the show will help explain how tough the life of a professional racer is, both from the non-stop obligations, to the training and riding during the week, to dealing with injuries, and the family struggles that come from sacrificing it all. Then, someone asked him if, considering how hard this road has been, if it's even worth it. RV paused, then gave an answer that impacts both him, and the likes of Hill, Lawrence and Hansen.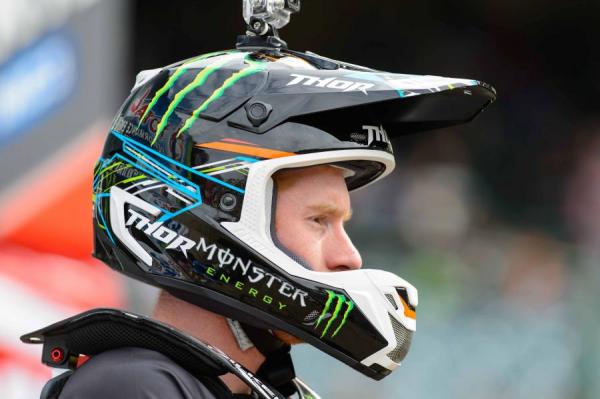 Be sure to check out RV special on CBS this Sunday.
Simon Cudby photo
"Yes it has [been worth it], on my side of things," he said. "I've done very well, I've put myself into great positions with success. But there are some guys who don't have the same success I had, even though they put themselves through the same thing I did, or more. They put themselves through hell and they might still have to get a regular job when it's all over. I think this show is going to a long way toward showing people how hard this life really is."
The Other Rival (Weege)
Speaking of Villopoto archenemies, when RV crashed last week in the main event, Mike Alessi was right behind and plowed into him. Villopoto blames himself for that one, as Mike was just in the wrong place at the wrong time. Turned out to be a rough night for Mike, who was battling Justin Brayton for the holeshot, and then led the first lap of the race, only to crash once on his own (while Davi Millsaps was going by him for second) and then again in the Villopoto incident.
Earlier in the day, I had talked to Mike about his season thus far, and he felt like everything was good—including his new Ohlins suspension—but he was just dealing with the general inconsistencies of supercross. He'd gotten some bad starts and out himself in bad positions, but also rode well at other races (fifth in Oakland). "I think getting the holeshot now is harder than it's ever been," said Mike. "More guys are studying the videos more closely, getting their technique down better, practicing it more. It's supercross. It's the best riders in the world."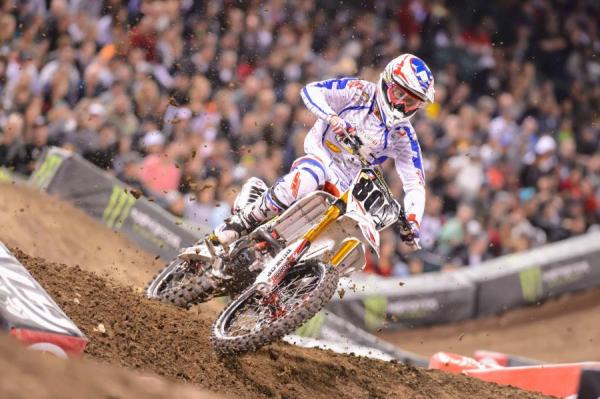 Mike Alessi is looking for a good start and finish this weekend.
Simon Cudby photo
Alessi knows starts are still his best talent, though, and he ended the conversation by saying if he could get a good start, he could get a good finish. But that didn't quite work out at A3. After the race, I saw Mike riding back up the tunnel and into the pits, and he shook his head in frustration, saying "Well, I got that holeshot." Mike knows that sometimes in supercross, even a good start isn't going to guarantee a good night.
Pro Perspective – 2013 Tracks (David Pingree and Jason Thomas)
Ping: Each round of the series is known for the type of dirt they use and also the floor layout of the stadium. With all of the California/Arizona rounds being baseball diamonds more or less, the tracks are typically odd and lacking in flow or rhythm. traction is also typically limited, with the exception of Oakland, where you'll enjoy excellent traction.
San Diego is unique to Southern California because the floor space is big and the design is more traditional football-stadium-style. The dirt this weekend usually contains more road base than the other rounds, and that isn't a coincidence. The first couple weeks in February are pretty wet here [for San Diego, anyway] and they take precautions to keep the track rideable.
So far, i think the tracks have been pretty good with the exception of A3. That thing was a disappointment. The whoops were the only obstacle that separated anyone, and the double before them limited your approach speed, and subsequently the number of passes that could be made there.
San Diego always delivers great racing, though, so I hope we get one more good fight between the stars of the sport before the show picks up and heads east.
JT$: When the track designs are released every summer, everyone looks them over and those with the means (see: money) even will pick out a design or two to replicate. They are studied, analyzed, and visualized for months before the actual event. The problem is that many times they are changed due to dirt limitations or weather, rendering all of this pointless. I used to just glance over what the coming week's layout was like, looking for any new obstacles or variations I could practice in the coming week. In 2012, I just threw darts at the printouts because I wasn't qualifying anyway.
The tracks themselves thus far have been typical for California. The Anaheims are the baseball-stadium-variety, which means a lot of 90-degree turns and unorthodox lanes. While not my favorite, it's the norm, and this situation isn't going to change anytime soon. Passing seems to be an issue on these tracks (90-degree turns) and Anaheim is historically one of the toughest races for traction. The moisture coming in from the Pacific Ocean magically appears on the track once the sun dips behind the botox horizon. It was my worst nightmare actually, as I tended to just grab a handful o' throttle and hope for the best.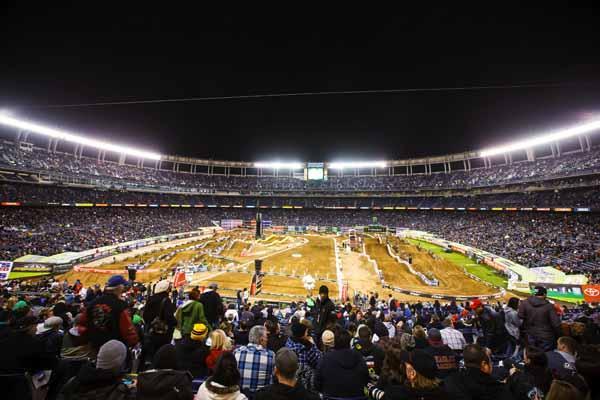 San Diego offers big floor space and the design is more traditional football-stadium-style.
Simon Cudby photo
My technique on tracks like Anaheim went over almost as well as James and Chad's BFF attempt in 2011. Oakland and Phoenix were true to form, with the Arizona adobe losing traction as the night went on and Oakland's track was shot (that's right, I said it) by the end of the night. The ruts in Oakland were tough for everyone.
With only San Diego left on the California swing, I think most riders are looking forward to going east. It seems the traction is directly correlated to how bad the weather is in said city. If frostbite is in the weather report and you need a snowmobile to get to your hotel, the track is going to be unreal. As we get ready to go east, I am looking forward to packing a jacket but also for some great racing!
In The Mag - The World's National Champs
From Australia to Sweden, there are many national motocross champions and championship race series that might get overlooked in the grand scheme of things. Though the racing's a bit different in Latvia than the States, we did our best to come up with the most comprehensive list of 2012 National Motocross Champions, starting on page 122 in the March 2013 issue of Racer X.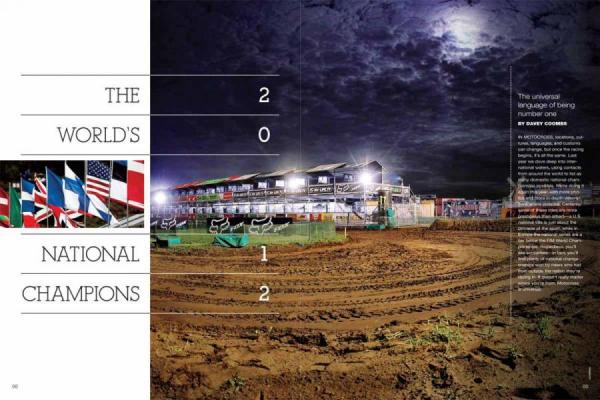 Head-Scratching Headline of the Week (Jason Weigandt)
"Fifth doesn't represent progress for Reed at A3"
This one comes from Fluid PR, Chad Reed's PR agency, in a post-race press release. Reed's results in the last two races (twelfth and fifth) are his worst two of the season, and he was involved in a first-lap melee that many could blame entirely on him. After the race, we found Reed huddled with his TwoTwo crew late into the night. Didn't seem good.
But it turns out that this PR is correct. When Reed's meeting finally ended and we talked to him, he was indeed upbeat about his riding. Chad admits he didn't have it in Oakland, but this week in practice, he said he decided to take a huge chance and go in a totally different direction with his bike, and he thinks it worked. He was so happy with the feeling of his machine that he thought he could have contended for the win had he not gone down. He did not feel that way in Oakland.
Yeah, the all-time master of the podium has been well short of the box in the last few weeks, but the result and the points are secondary to his feeling on the bike, and Chad thinks he's finally figured something out. Next up, his favorite track of all in San Diego, and then he'll head back home to Florida, with hopes of finally focusing on motos and training instead of testing.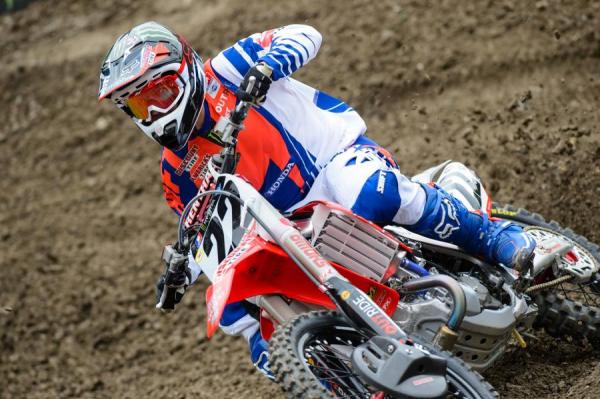 Reed is going for his seventh win in San Diego this weekend.
Simon Cudby photo
Highlights of the Week
(Chase Stallo)
The GEICO Connection: Outside sponsorship in the sport has been a hot topic all season. The the closing of L&Mc and J-Star/JDR KTM pushed the topic to the forefront. Jason Weigandt has been all over the story, talking last week with Toyota/JGR president of marketing David Evans. This week he wrote a piece on a team that is doing well and has secured a big sponsor for the present and the future—GEICO Honda.
The Miracle in Anaheim: Red Bull KTM's Ryan Dungey rode to a miraculous win in Anaheim after being the last qualifier of the night. After bouts of inconsistency during the early part of the year, Dungey popped the champagne for the first time in 2013 in Anaheim. He talked with Jason Weigandt after the race about his bizarre night.
King of the LCQs
: Throughout his long career,
Jason Thomas
has been in more LCQs than he can remember, so he obviously knows a thing or two about how much pressure is put on the rider in said situations. In this weeks Breakdown, Thomas talks about the pressures of the LCQ and what Dungey was facing last weekend in Anaheim.
Perseverance: It's been a rough start to the season for  250SX West Region Yamaha riders Kyle Cunningham (Star Racing Yamaha) and Travis Baker (Valli Yamaha). But neither has thrown in the towel on the season and achieved their best results of the season to date at Anaheim 3. Aaron Hansel pens a great piece on what each has dealt with and how they've overcome their early season struggles.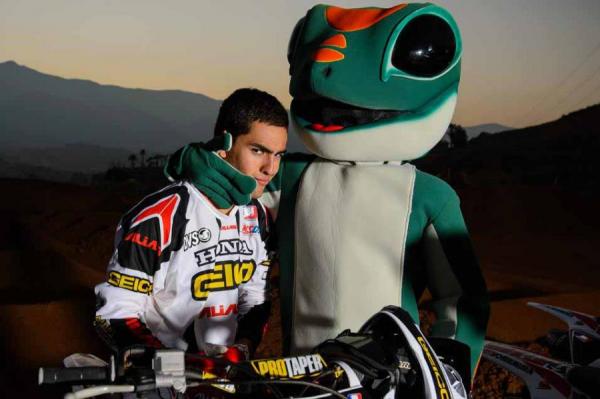 Be sure to check out ReduX: The GEICO Connection.
Simon Cudby photo
Hey, Watch It!
Animated Track Map: San Diego
Inside Rockstar Energy Racing: Episode 1
Upside Down & Inside Out Episode 6
Random Notes (Staff)
Announcing the 6th Annual Racer X Inter-AM in Boise! This year's race weekend is April 6-7 at the famous OMC track in Boise, Idaho. Celebrity guest invites this year include 500cc Champion Mark Blackwell, legendary moto journalist Rick "Super Hunky" Sieman, JT founder John Gregory, multi-time MX champions Danny LaPorte and Chuck Sun, the "Beast from the East" Damon Bradshaw, and Grammy-winning songwriter and Husqvarna fanatic Lyle Lovett.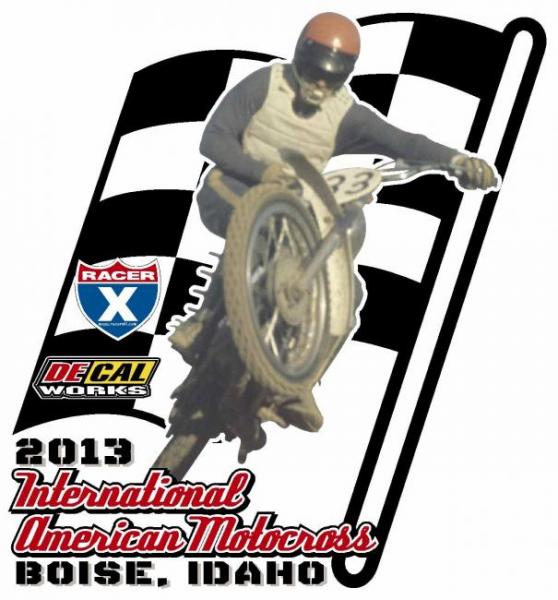 Once again the crew at DeCal Works have designed this year's limited-edition souvenir decal. A classic shot from the Wally Wallenberg MX archives. See if you can guess the bike brand, model year and rider. First winning entry received gets one of these special stickers as well as a Racer X T-shirt. Send your guess to: contests@racerxonline.com
And speaking of Idaho, check out the little snafu that our esteemed colleague Scott Wallenberg had to deal with from the Idaho DMV. At least they fixed their mistake!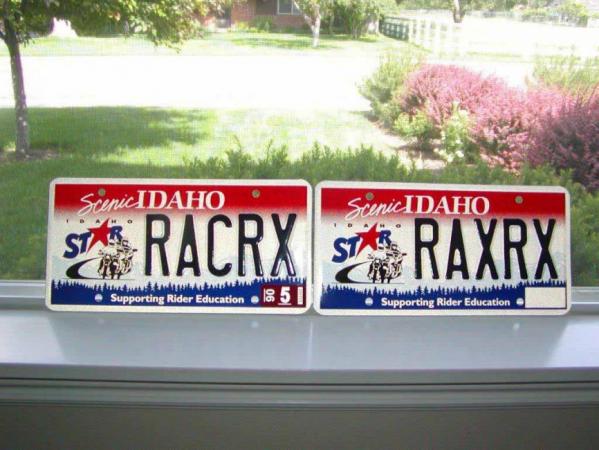 The New Zealand Motocross Championships kick off on Sunday, 8:30 a.m. NZ time, which means sometime on Saturday here. Racer X contributor Andy McGechan wrote a preview that you can read right here. And Sharon Cox sent over the link for the live timing and commentary, Timing Tech NZ.
That's all for this week. Be careful if you're in the path of this nasty weather, and we'll see you at the races.