San Diego, CA
San Diego
Monster Energy AMA Supercross Championship
No racer spends the off-season cycling for endless hours and burning through countless gallons of Sunoco in the hopes of getting a slow start to the season, but the simple fact of the matter is that for some guys, it's just unavoidable. After all, there's seventeen more guys than there are spots on the podium, and last we checked, there are no tie-games in racing. Yep, crashing, getting out of the gate poorly and finishing third in the LCQ are all dirty jobs, but everybody's got to do them sometimes. What really matters is how a racer, and the team surrounding him, react to several consecutive subpar finishes. Generally, this fork in the dirt presents two options. The racer can, A.) become demoralized, mentally throw in the towel for the season and continue the downward spiral, or B.) know that they're better than their results show and continue to fight. If you're Valli Motorsports Yamaha's
Travis Baker
or Star Racing's
Kyle Cunningham
, you've chosen the latter path.
Before A3, where Baker took a season best (and matched his career high) of sixth place, his season had been marred by multiple crashes, a DNQ in Phoenix and a bent shifter at A2 that ruined what looked to be a great night.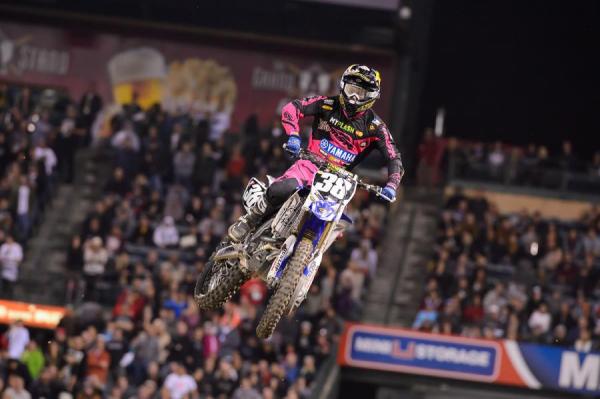 Cunningham finished a season-high fourth at A3.
Simon Cudby photo
"It's been probably one of my roughest seasons," Baker says. "I'm fast, just as fast as all those other guys. I mean, you've got those top three guys that are sometimes a lot faster, but from fourth to twelfth, at A3, the qualifying times were super close. I've been fast, but I haven't put it all together and crashes have prevented me from finishing up front. I've either been on the ground or at A2, when I was in fourth for five or six laps, I bent my shifter. And in Phoenix I got a little too aggressive. I went down in the qualifier, and I didn't even make the main because I got a bad start in the LCQ and only got up to third."
Kyle Cunningham's problems have been easier to identify.
"At the opener I landed on Max Anstie off the triple on the second lap and lost my front brake," Cunningham explains. "Then I got the flu and thought I was dying! It put me on the couch for about two weeks. I couldn't go to the gym, and there was very little riding."
The less than favorable conditions faced by both of these Yamaha pilots have resulted in, you guessed it, less than favorable scores; a 15-DNQ-13-12 through four rounds for Baker and a 11-8-9-7 for Cunningham. But instead of packing it in and going through the SX motions while awaiting the new beginning that comes with the Nationals, both have kept working hard. At A3, things paid off when both riders recorded their best finishes of 2013.
"I finally put it all together and it paid off," Baker says of his A3 ride. "I got a good start, and when that happens you can run up with those guys and separate from everyone else."
To compliment Baker's persistence, Valli Motorsports owner Chad Lanza brought in some extra firepower in the form of Larry and Davin (Larry's son) Brooks.
"I asked Larry and Davin Brooks to come help Travis with race day stuff like watching tape, picking lines, where to be aggressive and where not to be," Lanza says. "Gavin does all the taping, and Larry has been nice enough to help Travis with some line choices and different things on the race track. That's made a good difference in just a week. You can tell the difference in his riding and everything else. It's all there, and Travis has really been focusing on improving on his weaknesses. Right now it's on a week-to-week basis, but it looks like they'll be helping us in San Diego too."
For Cunningham, who finished fourth at A3, it was a healthy body and different clutch setup that seemed to make the difference last week.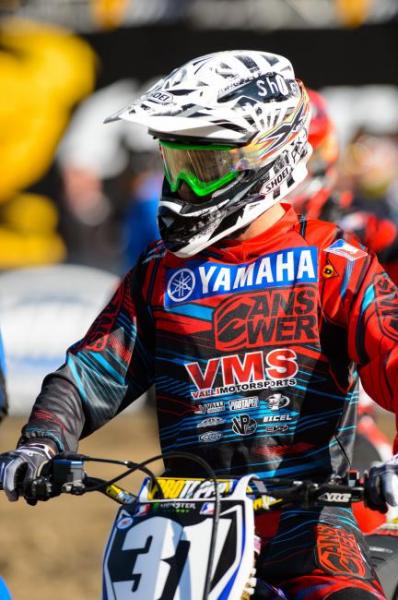 Valli Yamaha Team Owner Chad Lanza has brought in Larry and Gavin (Larry's son) Brooks to help Baker and the team.
Simon Cudby photo
"Ryan Morais (Star Racing team manager) did a bunch of testing last week, and I did some testing on Thursday with our motor guy and my mechanic. We went back to the drawing board with clutch components, and it definitely paid off getting out of the gate. I've been telling those guys that if I could get off the gate a little better and start up front I'd put it up in the top five, and that's what we did. As far as lap times in the mains go, we've been on pace, even when I finished in eighth in Phoenix. It's just about getting out of the gate good and running with those guys. The team put in a lot of work for me, and I'm happy. It's really good for the whole team when testing pays off."
With just one race remaining before the big break in the Western Regional 250SX series, what's next for Baker and Cunningham?
"It's nice to have a little break, but it's bad because I'd rather race." Baker says. "I want to keep my momentum going and keep getting better. I made some mistakes last week and even then I was close to that top five. And in the points, I just want to get as high as I can. Right now I'm like fourteenth I think, and I want to get up as far as I can."
Says Cunningham, "I feel like we just started racing and we're already coming up on an eight-week break, but it'll be nice. I'm going to go home for Dallas and see some of my family. We still have San Diego, and I'm looking forward to going there and bettering my result from last weekend. We're only a few points out of fourth as it stands right now, and that's pretty good. The biggest thing is just go out and try for podiums and hang it out a little bit. And of course a big thanks to MYPLASH, Metal Mulisha, and all the guys on the team and the hard work they put in last week. Thanks to my mechanic Sean, my mom and dad, and everyone who is staying behind me and keeping me pushing. We're going to go out at San Diego and try to put it on the box and hopefully look for a win."