Angel Stadium
Anaheim

,

CA
Anaheim III (A3)
Monster Energy AMA Supercross Championship
Things have not gone smoothly for Red Bull KTM's Ryan Dungey so far this year, and when the much-talked-about air shock in his bike sprang a leak in his heat race, leading to a DNF, it looked like the bottom had dropped out of his season. Perhaps, literally, if you think about it. His LCQ was filled with rough moments, too. It was not looking good for the 2010 Monster Energy SX Champion. And then? He turned it all around. After the race, we stepped into Ryan's motorhome and asked him about an incredible night.
Racer X: Are you going to forget this race anytime soon? This has to be one of the craziest races ever for you.
Ryan Dungey:
Yeah, definitely one of the craziest races as far as going to LCQ. Definitely haven't had one of those before and then come out of that into the main. But a lot of people would kind of look at tonight like a lot of things went wrong, but a lot of things went right. Obviously the failure of the air shock was a bummer, but luckily it was in the heat race and not the main event. And then going to the spring shock for the LCQ and not knowing how that was going to react, and I kind of had to trust that and luckily everything went good. I fell down the second turn and had my work cut out for me.
Right. You actually did go down in the LCQ?
Yeah, down, away from the bike. But I got to it and was able to remount and I just put on a charge, and with about a half a lap to go I was able to make the pass into second which just squeaked her in there for the main. But the LCQ was a good race just for the fact that the bike felt good. And then obviously just kind of seeing how that felt before going in the main—kind of get a feel for it. So, knowing that, I actually lined up on the same gate for the main event. I knew I spun a little bit coming out of the gate because I leaned too far forward for the LCQ but I did a start on the hot lap and I spun again so I was like, I'm going to lean back a little bit, and I was able to shift a gear and I really drive it into the first corner. The first corner helped out tonight just for the fact that it wasn't a complete 180; it almost was a two turn left-hander. So everybody would start breaking at the first part of the left-handed turn and I was able to drive around the outside and [Matt] Goerke, I just squeaked by his front tire and glad my tires stuck. So I found myself in fourth. We went over that single-double and then carnage was happening on the third turn. Got into second, made a pass into first after two laps. Got a little pressure in the beginning but opened up a little bit of a cushion and was able to ride my own lines and felt comfortable.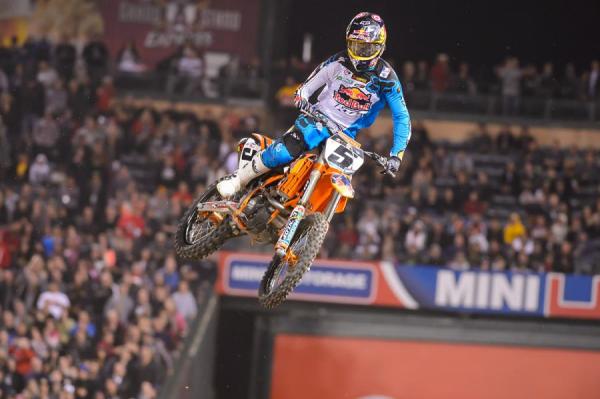 Ryan Dungey picked up his first win of 2013 in Anaheim.
Simon Cudby photo
Today this track was also key just to not make mistakes because the fact that everybody in practice, the seven or eight guys, were within a half a second. I think Stewy [James Stewart] threw down a fast one but we were all right there. So I knew was going to be a start and I knew that if I could get out front I could put down good laps and that's what made things more comfortable. But it was all about getting a good start from the outside and luckily we did. It's cool for KTM getting two wins tonight with both classes. Very exciting stuff. We've had some tough things happen but its part of racing but it's good to build on this and just keep moving forward. I feel like we've been making progress with the bike little by little. And I feel like we have a good setup. So, keep carrying this forward.
I think you've worked hard the last couple years to not get too high, and not get too low. How much did that come in handy tonight? I'm sure after the heat or the last lap of the LCQ it would have been easy to just panic. Were you able to stay pretty calm through that?
Well, going to the LCQ is definitely not an easy deal. It's kind of a worked-up situation. But keeping calm and all, it's either make it or you don't. So not really having a chance in the heat race and just having to go straight back to the truck was not ideal but at the same time it's just a matter of keeping calm, being positive. They don't give out points for the heats or LCQ. If you can get in the main and then do your work in the main that's kind of what I was hoping. But I was hoping to take a situation that looked tough and make it good. So, I'm happy with tonight just coming out of the LCQ. I kind of always wanted to do that…
You have never done that?
I never came out of the LCQ and won a race. Usually if you go to the LCQ things aren't really working for you. So at the same time it was cool to turn it around completely and get a win. Everybody was on our side, and it was really cool.
When did that problem with the shock start? When you ran over the starting gate? Did you know you had that problem until then?
I started the bike and I revved it and then I really revved it and I felt the rear kind of drop a little bit. And we had had that problem before in practice but we thought we fixed it.
Practice today or just in the past?
Practice at the test track, in the past. Once I did that I was like, 'Oh man.' So I lifted it up thinking it was just me and maybe I was just feeling something off. And then the gate, the 30-second board goes sideways and I started holding the bike half throttle, three-quarter throttle and the thing just dropped, dropped, dropped. And it was losing air. All in all, it's definitely a new technology that still needs to be figured out but at the same time it could have been a lot worse. It's a good technology. We're slowly building on it. It's young. Luckily it didn't put a damper on things like it could have in the main event. Things didn't go right but things went right, at the same time.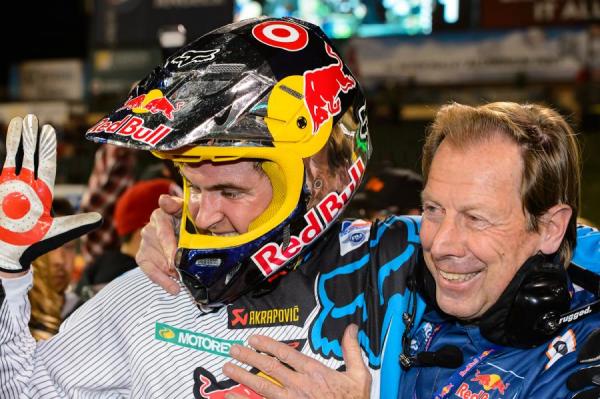 Dungey and Team Manager breathe a sigh of relief after a rough start to the night.
Simon Cudby photo
When was the last time you rode with the spring shock? Did you even know what to expect?
Well, that was the thing going into the LCQ. It was like, okay, I know I've got to get top two, but how is this thing going to react? And as easy as it sounds to say it but I was kind of fighting myself. You've got to trust it, you've got to have faith and believe it's going to work. And to a point I kind of got over the fact that I had a spring shock on. I was just, all right, qualify. That first lap hitting things, I went into the whoops. The whoops was the biggest thing—how's it going to react? And I went in and I'm like, this is good… and then I was almost out of them. I was like, all right, it's good. So that was kind of funny. It's really neat to have people on your side and support and definitely without the encouragement it would have been tough tonight.
I think people think on the outside when that shock is a problem that you're back here screaming and yelling at everybody on the team. But instead everybody's kind of working together.
If anything, sometimes it's my fault when things go wrong and they don't sit there and blame me for my things. But Roger [DeCoster]… I saw the expression on everybody's face that basically said we're sorry. But there's no time to apologize. It's not like the nights over. We're not going to sit there and put our heads down. We had to keep our heads up. We had an LCQ to make it to the main, and to win the main event tonight was just the cherry on top for all of us. All the guys across the board just did an amazing job tonight, and have done an amazing job through the whole off-season and the whole beginning of this year.