The Daytona Supercross is not what it once was—and in many ways, it's better. Over the last decade, the event has evolved quite a bit, both in schedule and appearance, and it now even boasts an amateur event via the Ricky Carmichael Amateur Supercross at Daytona, which will run on Sunday and Monday after the pro race (and is now open for registration, here). What's behind all the changes? Last week, we got some phone time with Joie Chitwood, President of Daytona International Speedway, to find out.
Racer X: Joie, thanks for doing this. You folks just finished the Rolex 24 Hours of Daytona race, so you're probably pretty darn tired.
Joie Chitwood: Yeah we are just worn out right now. As soon as we finished the 24 hours of Daytona on Sunday, I flew up to Michigan on Sunday to meet with manufacturers on Monday.
Wow!
Yeah, worst decision of my life! [laughs]. No, I'm kidding. But that schedule was just brutal. Then I was in Orlando yesterday to speak to the National Sports Forum, and now Andrew Booth and I are driving in the car all day doing TV and radio tours to promote the Daytona 500. Then after that, it's Bike Week. So I won't catch my breath until April. But this is what we do!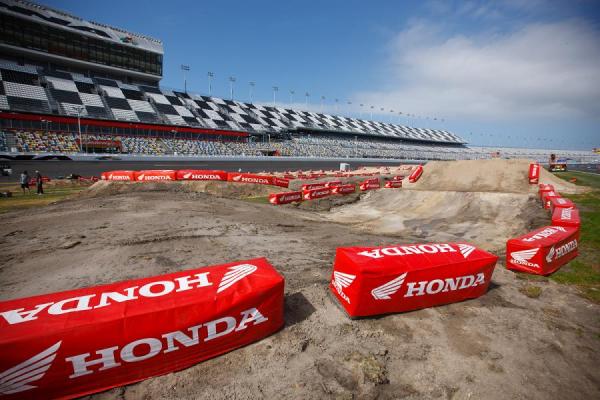 Monster Energy Supercross heads to Daytona on March 9.
Simon Cudby photo
I want to talk about the evolution of Bike Week in general, with supercross obviously being a part of that. We've seen a lot of changes with the supercross as of late—it moved to a night race, the track has changed, fans can come down on the asphalt now, and there's an amateur component with the Ricky Carmichael Amateur Supercross. What sparks all of these changes?
Well the key is, you have to listen to what the fans are telling you. We might think we know, but you really don't know until you ask the customer. You know, we have the longest-running continuous supercross of anyone, we've been doing it since 1971, which is over 40 years. It just blows me away to think about that! But the fact that we have Ricky Carmichael designing a really unique course, we want this win to be special, we want it to mean something, so we have such a rough track. Then, letting the fans come down on the race track itself? That's something else. And I love, the last two years, we have a start where the riders are coming straight at them, right toward those fans, and then making that hard left. Those fans in that area, you can't beat that. So for us, we're always trying to listen to our fans and make it better, and I think we've done a good job of doing that. I don't know what's next on our list, I think we've gone to some good places with this race right now, but I'm sure we'll come up with something new eventually. And, if you take the weather out of the equation last year, we had a great race, Bubba was leading, the fans were into it, the track was tough.
What kind of growth have you seen with this race?
Without a doubt it's much bigger than it was. We had a real nice pop last year in the attendance, even with the rain, which was amazing to us. I think part of that is how cool the course is. I think it resonates with the customer. Now, of course, all of the other venues they go to are great—be it ballparks or stadiums. But running at Daytona is pretty cool, and we have our own history and heritage here, be it sports cars or stock cars or motorcycles. I also think the way we've changed the schedule helps. We now start the week with supercross, and then we have the full week of demo rides and everything in between, then we finish it off with AMA Pro RoadRacing and some flat track racing as well. I think starting bike week with Supercross is a great way to get out of the gate strong.
Seems to me like it's all evolved. There may have been a time when the whole Bike Week scene, be it at the Speedway, or down on mainstreet, was all one. But I would imagine a lot of the crowd at the supercross now is totally unrelated to that—you've got kids in the stands that couldn't care less about Harleys, and vice-versa. Has the audience evolved?
Without a doubt it has, and we changed it on the schedule. They're now separated onto the two weekends, because I think there's a different crowd in terms of the supercross fan and the road racing fan. But, we have all of the amenities going on here, and no matter which sport you're a fan of, who doesn't want to see all of the latest bike displays and participate in giveaways and things like that? And we do a lot of other things, in terms of bikini contests in our Thunder Alley and things like that. But whether you're a road racing fan or a supercross fan, you're adding that whole Bike Week element to the race, and that is going to add to the experience. It makes for some long days, but fun days, too.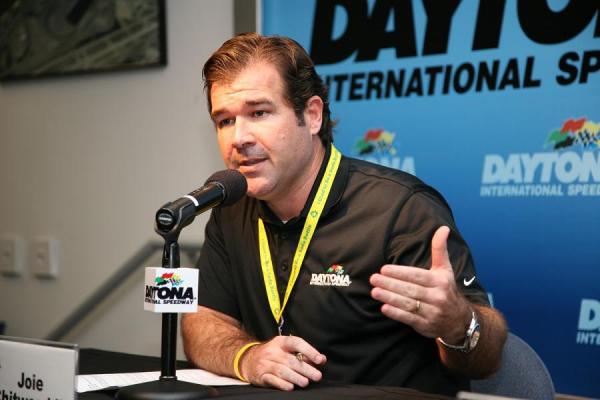 Joie Chitwood (pictured above) is the President of Daytona International Speedway.
Photo courtesy of Daytona
What about adding the amateur supercross? That's a pretty big step.
For us, it's all experiential. Our fans tell us they want to experience things that they can't get anywhere else. So, we let them sit on the track to watch the supercross, or, Oh my God, an amateur is going to be able to ride the supercross course? Now, we modify the course and tame it down a little bit, but the fact that you can actually get out there and run it, not many sports give you that opportunity. We do some of the same things with stock cars and our NASCAR Richard Petty Experience, where you get into a stock car and get to go 160 on the high banks. We find that is what the fans crave—to be in the same situation as the pros. And I'll tell you what, the Ricky Carmichael Amateur Supercross is growing every year, and why wouldn't it? I'm a sports fan. Anytime I can get out there and experience something the pros experience, I'm a fan of that.
Hey, last thing. The Daytona 500, you can make the argument that it's the second-largest sporting event in this country. It's huge. But you and the rest of the folks there, it's the same exact crew running the Daytona Supercross. It's not something on the back burner.
If we run an event in Daytona, we're going to treat it the same way—the same level of effort and promotion. It doesn't matter if we're tired or if we ran the Daytona 500 two weeks before it, we're going to give it everything we got. And we've got some people on our staff that are big fans of supercross, so they're passionate about this event. It's really easy for us to get excited at Daytona—you know what, we have pretty cool jobs. Yeah, the hours are crazy, yeah, we pull all-nighters and for three months I barely even get to go home, I'll get two months off during that whole stretch. But we have sports cars here, then stock cars, and then motorcycles, and at the end of the day, it's pretty darn cool.
Alright well we will see you down there shortly. Get that Daytona 500 rinky dink thing out of the way, first.
[Laughs] Yeah that's right, just that little car event we run, the 55th running of it or whatever it is. We'll get that out of the way and then get ready for the real action when the bikes come in next month!