Qualcomm Stadium
San Diego

,

CA
San Diego
Monster Energy AMA Supercross Championship
Welcome to Observations, where we'll wrap up what we saw this past weekend at the final stop at Anaheim stadium, look back at last year and look forward to the series finale. The series is five rounds down with twelve to go and the rider with the fourteen-point lead in the series is still considered an underdog. Wacky, right?
First things first. I was amazed at how basic the track was. Like, so basic that most everyone figured it out really early. It was very tight in sections, as well. I almost think that there was a lack of dirt, seeing as how this was the fourth weekend in January that the dirt was used (three SX's, one Monster Jam). Like, the guys were out of dirt and therefore had to "skimp" on obstacles. Maybe I'm wrong but everything seemed small and easy this weekend. The one rhythm lane where you could do something different was a quad over a tabletop and double out or triple on and single out. The teams I talked to say that there was virtually no difference in times no matter which rhythm you did. All in all, I wasn't a fan of the track this weekend and not many racers were either.
My boss Weigandt is on me to switch this column up so I thought we could take a look at the difference in points from some racers from one year ago when we wrapped up Anaheim 2, the fifth race of the 2012 supercross series. Hope he's happy (Editor's note: We'll see.)
Davi Millsaps-2012 points- 56/2013 points- 107/+51 points better
What can you say about The Duke? An amazing turnaround by Millsaps and his second at Anaheim 3 was much like the rest of his season: Impressive. You only need to go back one season to see the difference with Millsaps. At Anaheim 2 2012, he started in fifth, finished seventh and his lap times deteriorated by almost two seconds by the end of the race. This weekend he was second, dropped to third and fought back to a second with lap times that were within a second of his fastest lap with two laps to go. He's a new man on a new machine.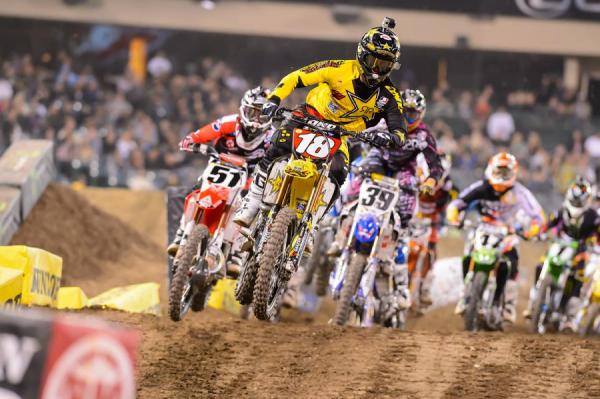 Millsaps still controls his own destiny as the series heads to San Diego.
Simon Cudby photo
I was talking to the guys on Millsaps' old team (JGR) about him and they're as surprised as anyone with this Davi Millsaps 2.0 we're all seeing. I was also speaking to Jim Holley about Davi on the Pulpmx Show and he mentioned that as guys get older, they get a family and they realize that they need to provide for said family. Davi's worked hard these last couple of years and is finally realizing his potential. You have to think Ezra Lusk is part of this. Maybe it's because he's such a cool guy and one of my favorite dudes out of all the old retired guys, but I just feel like Lusk has quietly been a real help to Davi. The Duke is for real, no doubt about it.
Percent chance he wins the title - 35 percent (these percentages are SUPER scientific by the way).
Ryan Dungey-2012 points- 103/2013 points- 93/ -10 points worse
What a night for Dungey at A3 -- he probably had to chug a bunch of Pepto after it was all said and done. An air shock failure on the line forces him to the LCQ where he barely qualifies and then wins the main going away. It was his first win of the season and it puts everything back on track for The Dunge. I think he's been struggling a bit so far this year (three podiums in five races is struggling? Yes, for him it is) but with two LCQ's and all his bad starts I suppose only a ten-point difference from last year isn't too bad. Would I put an air shock back on my bike if I was Ryan seeing as how he won the main with a traditional spring shock? Hells no.
Percent chance he wins the title - 25.3 percent.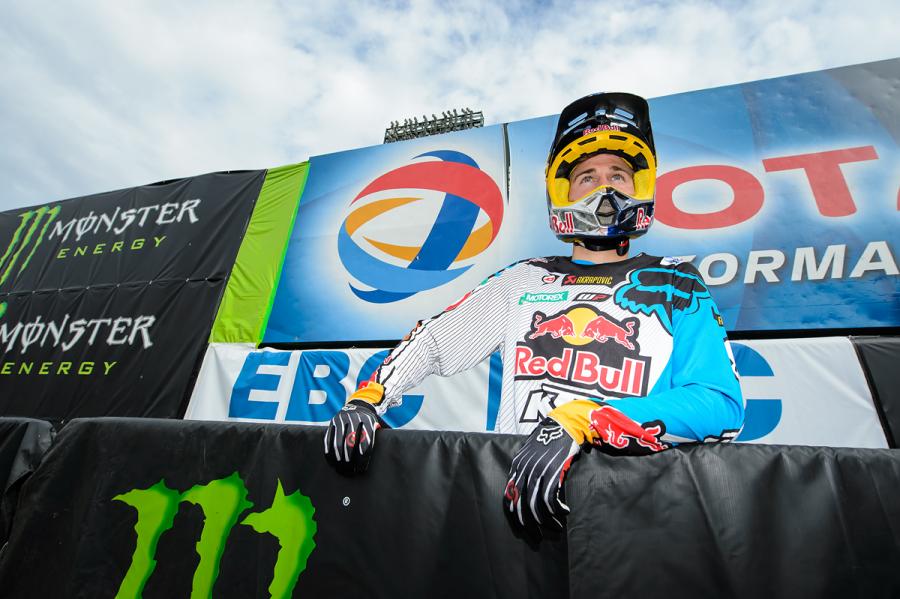 Dungey got a big win at A3. Will the trend continue in San Diego?
Simon Cudby photo
Trey Canard-2012 points-16/ 2013 points-92/ +78 points better
These results are obviously skewed quite a bit because of Trey's injury a year ago (remember he missed A1 last year with a collarbone injury and was landed on at round three), but he's been very good. He has two second places (and was four turns away from another podium in Phoenix) but is coming off his worst finish this season at A3. Trey's been quite a story this year and for me, he's just got to keep on keeping on and he'll be fine. Just make it through the season and it will be a win for the Okie. I know I'll get hell for this at the races but I can't see him making a run for the title. He's still a little sketchy in the mains and has a few too many of those "cover your eyes in the press box" moments. But I hope he proves me wrong. And by the way, did you hear that he's working with Tim Ferry? Yeah, that's awesome.
Percent chance he wins the title - 16.4 percent.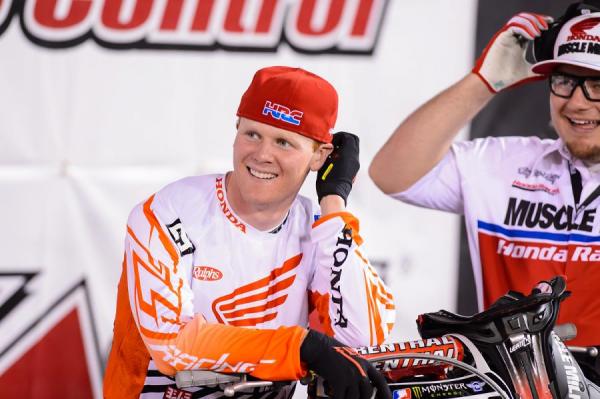 Trey Canard has had the biggest turnaround from a year ago.
Simon Cudby photo
Ryan Villopoto-2012 points-108/ 2013 points-90/  -28 points worse
Ryan Villopoto after five races in 2012? Two wins. And he's got the same number in 2013 but is 28 points off his pace from a year ago. Obviously his bad races are really bad and so far in 2013, only his starts and his own mistakes have beaten him. At A3 he got involved with the Justin Brayton/Chad Reed crash but even after that, he was still eleventh and probably would've gotten a podium. But then he went down again and it was all she wrote for the ginger warrior. When he's been raced heads up, no one can touch him. He's only beating himself so far, which is why methinks when he figures it out, he's still the favorite to win this title even though he's 27 points down.
Percent chance he wins the title - 42 perent.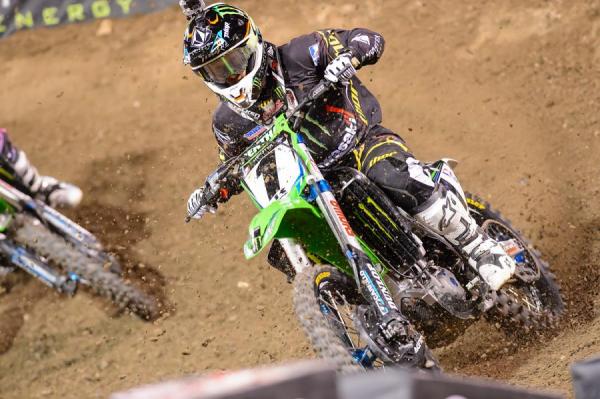 RV has two wins thus far in 2013 ... the same number he had at this time last year.
Simon Cudby photo
Chad Reed 2012 points- 105/ 2013 points 81/ -24 points worse
Chad's A3 was wrecked by another early race crash. Like last week, he was the principal rider involved but unlike last week, he wasn't 100 percent responsible for this. It was a racing move he tried to make on Justin Brayton and it didn't work. Blame the incredibly tight track that saw numerous pileups in almost every race in the same area if you want to wave that blame stick around. Anyway, Reed fought back to fifth in a good ride that he was happy with at the end of the race. He's 24 points off his 2012 pace (and three positions in the standings back as well) but he feels like he's getting better and has things figured out. He's yet another person in a string of about eighty-four that I spoke to who is looking forward to getting back east. So for all the above reasons, I'm not counting him out of this thing, despite being over a race behind the leader. Are you?
Percent chance he wins the title - 21.3 percent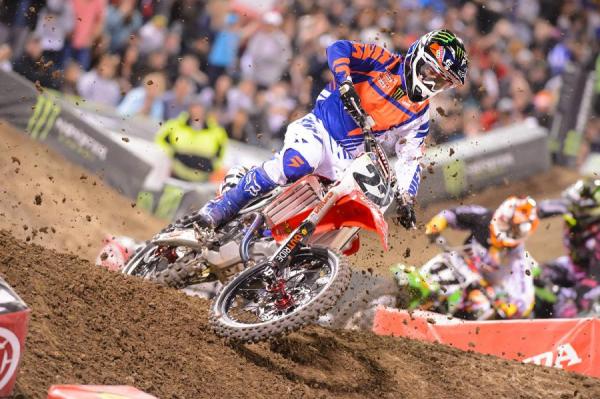 Reed bounced back from an early crash at A3 to salvage fifth.
Simon Cudby photo
Andrew Short-2012 points-59/ 2013 points-71/+12 points better
Somehow, Short's better this year than last despite his team folding up, him not getting paid for a long time and his whole life being in flux. He's one of only four riders to finish in the top ten at all five races this year (last year he had two poopy races in the first five) despite being without his factory Honda at the last two. But you'll never hear the "Woe is me" stuff from Andrew. He's got a positive attitude and is working on different ways he can keep on going after San Diego. I have no clue what he's got planned, but I'm impressed with his season so far. Showa Works forks to KYB production air forks? No worries. A bike that has everything modded to a bike that has very little modded? No worries. What about the fact that he's probably now racing on a bike that could be ten to fifteen pounds heavier than what he had? You guessed it, no worries. Andrew's truly an amazing guy on and off the track. I would have been reduced to flipping everyone off as I rode around the track if I were him.
Percent chance he wins the title - 8 percent.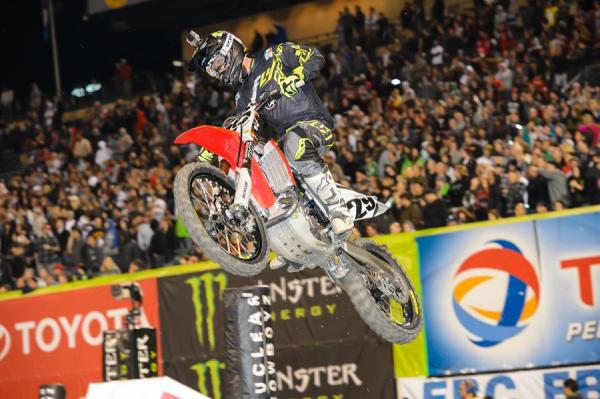 It's been a stressful season for Short off the track, but on the track he has been solid.
Simon Cudby photo
Justin Barcia - Rookie (therefore his point total in 2013 is much better than 2012)
Bam-Bam is the real deal, no doubt about it. That sound you hear is Dean Wilson and Eli Tomac drooling while watching Justin in the 450 class because they've always matched up well to Justin and should be expected to do about the same in 2014. Barcia's won a race and no matter what happens from here, he's had a great season. Yeah, he's been a bit erratic but that's kind of what we thought we'd see. We also all thought that he'd win a race but not as quickly as he did. Barcia's awesome and his future is bright.
Percent chance he wins the title - 9 percent (miracles can happen folks, the Kardashians are still on TV!).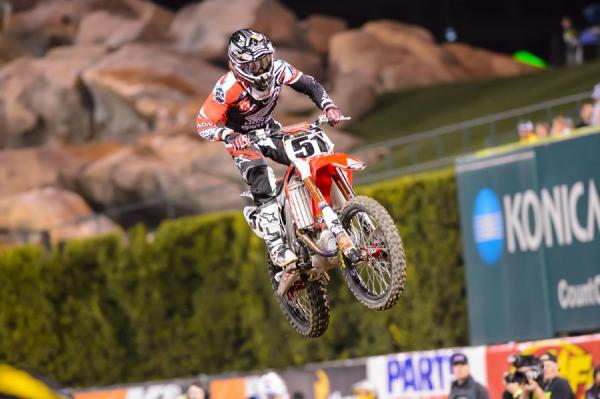 Bam Bam has shown he is the real deal in his rookie year.
Simon Cudby photo
James Stewart-2012 points-95/ 2013 points- 56/ -39 points worse
Stewie had his best race of the season at A3 as he fought hard to get up into second and if you closed one eye, the old #7 was back there for a bit. But alas, it was not to be as James got caught and passed by the guy he caught and passed earlier (Millsaps) and for good measure, Barcia got him as well. To me he looked a bit tired out there and he probably was. After all, he probably hasn't been able to moto down with his knee injury and staying sharp is hard. A year ago he had a win but appeared to be fighting the bike and this year he seems to have the bike but is being held up by the body. That's really a damm shame because Stewart is something to watch out on the track. It's like some sort of actor is out there is portraying the rider previously known as James Stewart. We should applaud him for being out there racing each week because he's certainly taken plenty of grief for appearing to pack it in at times in the past. After the races, I've seen him out there signing for fans and hanging out so props to JS7 for that. I just want a healthy James Stewart out there and I have to admit I'm sort of upset at his stupid knee right now.
Percent he wins the title - 1 percent (I'm only putting him this low because he told me he thinks his title shot is gone so if he's not a believer, then I'm certainly not).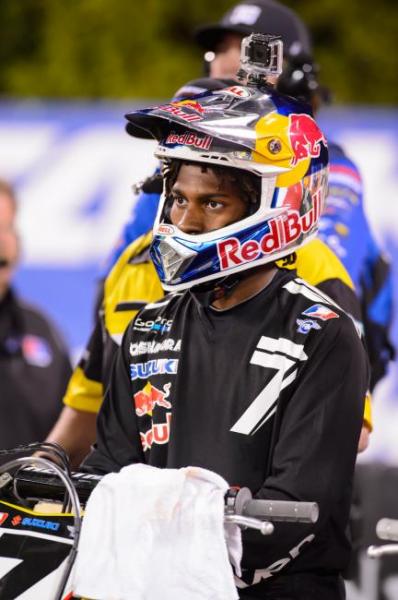 Can Stewart find the podium for the first time in San Diego?
Simon Cudby photo
Justin Brayton-2012 points-53/ 2013 points 53/ 0 point difference
JB10's got the same number of points and is one spot better in the standings from a year ago. But, and there's always a but, he missed the main in Dodger Stadium last year so in a way, he was a bit better last year on points per race. Brayton's due -- there's no doubt about it. He's won two heats, grabbed some starts here and there and has looked good but it hasn't come together for this Hawkeye. Yet. But if you're hoping he's going to win this title, sorry folks.
Percent chance he wins the title - 6 percent.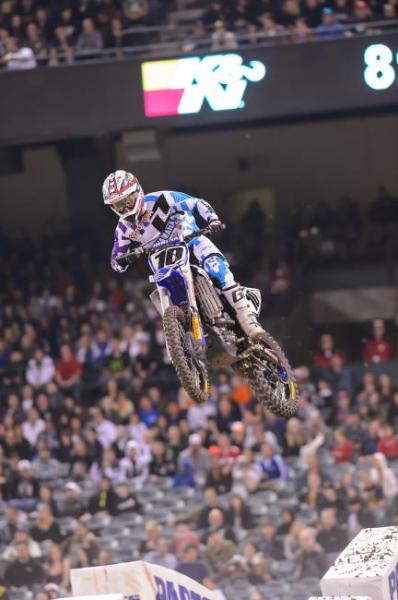 JB has the same number of points as he did a year ago.
Simon Cudby photo
Let's take a look at the A3 results shall we?
250SX Results
1. Ken Roczen KTM 250 SX-F- Kenny was great at A3. His scrubs were insane and he seems to be a bit happier this season for whatever reason. And it shows in his riding. 2-2-2-1-1 on the year and a nice points lead with one race left before the break.
2. Martin Davalos Kawasaki KX 250F- Probably one of the best nights of Martin's SX career. Maybe it was due to being a bit lighter in one ass cheek because of Mitch Payton chewing it off all week long. Davalos was actually catching Roczen for a bit before he "tightened up," which is approximately the 1,853rd time he's used that line on the podium when describing his race. Still, nice night.
3. Eli Tomac Honda CRF 250- Tomac's start killed him. He actually had a faster times than Roczen in the main event but it's tough to get up there when you start where Eli did. Remember when he seemed unstoppable? Yeah me too. Weird huh?
4. Kyle Cunningham Yamaha YZ250F- Two great rides for Kyle on the Yamaha. KC landed on Max Anstie at round one and was battling the flu the following two weeks. These finishes are more in line with what he's capable of.
5. Jason Anderson Suzuki RM-Z250- Ho hum, another weekend and another great ride for Anderson. He went from sixteenth to fifth in the main event and was on fire for the whole fifteen laps. Or maybe that was just his number one fan (Jason Weigandt's) crotch? [Editor's note: Hey!] Either way, J-An (see what I did there?) was in traffic for most of the race and was still one of four guys (the other three were the top three) in the 53-second range. 2014 is going to be Jason Anderson's year. Stamp that.
6. Travis Baker Yamaha YZ250F- Baker had his best ride of the season by far. Baker's on the Valli Motorsports Yamaha squad. That team uses the old Factory Yamaha hauler (they even have the old factory Yamaha driver Pat Muras!) and therefore there are a ton of Yamaha guys going in and out all day long. Jimmy Perry, Bob Oliver, Mike Guerra and Keith McCarty are all around a lot and if I'm Baker, the only guy on the team, I think I'm feeling some pressure. I wonder if those Yamaha guys tell Baker all about a Steve Matthes who worked at Yamaha for three years as one of the top mechanics to ever come through the doors? Probably not. [Editor's note: Top?]
7. Joey Savatgy KTM 250 SX-F- I un-followed Joey on Twitter and it caused a bit of a rift between us (this is where we're at in 2013; un-following is the new slapping someone in the face with a glove in the 1850s) but I smoothed it over by explaining that I'm too old to get his references and he Tweets too much. He seemed to accept this reasoning and we're on good terms now. Whew!
8. Austin Politelli Honda CRF 250- Lost in the "Savatgy" hype, Politelli has done a nice job so far this year. For those of you that can't get seats on the Savatgy bandwagon, check out the Politelli one. It's pretty empty but I think it will be filling up soon.
9. Max Anstie Suzuki RM-Z250- There's also plenty of room on the Anstie bandwagon in case you're wondering.
10. Zach Osborne Honda CRF 250- Zach crashed in the same spot in both the heat and the main event. He had to go to the LCQ with a crash that left him sitting on the side of the track staring out like he'd seen a purple bigfoot or something. Not sure what was going on inside his head at that point.
11. Jessy Nelson Honda CRF 250- Nelson was docked one spot for jumping on a yellow. It's weird man, I go by their truck at the races and at the Anaheim rounds it just seems so, so, so busy all the time. I don't know what Troy has going on under there but it sometimes seems like Le Black or one of those other high-end clubs.
12. Cole Seely Honda CRF 250- DEFINITELY not what the TLD Honda team wanted, not sure what was up with Seely but his starts weren't there and with Cole that's a key part of his deal. He was up to fifth before crashing back.
13. Christian Craig Honda CRF 250- You can say this for the TLD Honda team, they're backing each other up in the results.
14. Josh Cachia KTM 250 SX-F- Don't let the Murrieta, California AMA results sheet fool you, Josh is all-Aussie.
15. Scott Champion Honda CRF 250
16. Kade Mosig Kawasaki KX 250F
17. Jean Ramos KX 250F- Jean Carlos Ramos is…THE MAN IN THE MAIN EVENT. Starring Matt Damon and that chick with the bug eyes.
18. Dakota Tedder Kawasaki KX 250F
19. Tyler Bereman Kawasaki KX 250F
20. Derek Anderson Kawasaki KX 250F- Derek's first main event of the year and truthfully, he should've been in at least a couple of others because he's been close. But I have no idea why he got last in the main.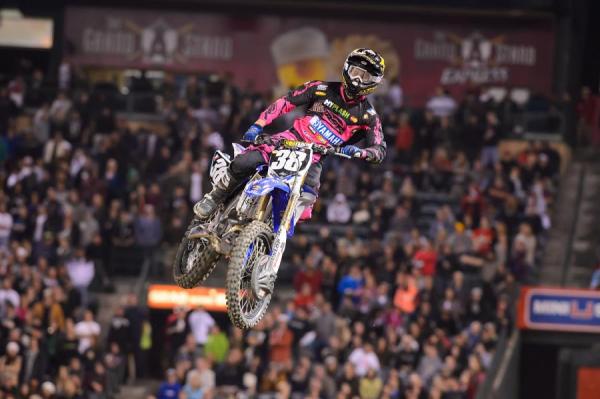 Kyle Cunningham finished a seasons-best fourth at A3.
Simon Cudby photo
450SX Results
1. Ryan Dungey KTM 450 SX-F
2. David Millsaps Suzuki RM-Z450- Millsaps went to the air forks this weekend and it seemed to work out ok for him. But we might have to remove his pseudo-privateer status due to the fact that those are indeed pretty trick and full works. Just saying. As well, you're welcome Erin Bates for that little tidbit.
3. Justin Barcia Honda CRF 450- Justin had two DNFs in a row so his coach Jeff Stanton answered the bat phone and came out to A3 to "get the train back on the rails." I'd say that it worked out pretty well as Barcia rode a great race to get third. If anyone sees a bound and gagged Jeff Stanton getting stuffed in the Honda truck after each race to ensure he shows up, call the cops.
4. James Stewart Suzuki RM-Z450
5. Chad Reed Honda CRF 450
6. Andrew Short Honda CRF 450
7. Trey Canard Honda CRF 450
8. Ryan Villopoto Kawasaki KX 450F
9. Broc Tickle Suzuki RM-Z450- I don't know about Tickle. He's been ok but with a works bike under him (although let's face it, his PC Kawi 450 last year was basically a works bike) and Ricky Carmichael on board to help out, I feel like he should be better than last year but he's sort of the same.
10. Justin Brayton Yamaha YZ450F
11. Matthew Lemoine Kawasaki KX 450F- Considering that Matt was kicking his bike when the 30-second card turned sideways, this career-best result for Matt is especially impressive. Lemoine got a few sniffs from a top 250 team seeing if he had any interest in racing the East Coast.
12. Jimmy Albertson Honda CRF 450- Like in Phoenix, Top Jimmy again was forced to ride the LCQ and again, he beat Ryan Dungey to win the thing. The LCQ was stacked with some fast guys and it was an impressive ride for Jimmy. With Dungey coming on, Albertson caught and passed LCQ leader Phil Nicoletti to take the win with the eventual main event winner breathing down his neck. Once in the main, Jimmy was forced to toss his goggles with the light rain coming down and still placed an impressive twelfth.
13. Matthew Goerke KTM 450 SX-F- Goerke got into a collision with RV as he was moving through the pack that left a hole in his clutch cover, as well as in his results. He was ninth when it happened and dropped back to fifteenth and finished the race with oil spewing everywhere. I didn't see it but I know that Matt's team wasn't happy with the ginger.
14. Kyle Chisholm Yamaha YZ450F- Chisholm's finishes this year: 13-13-15-13-14. That is consistent but probably not the kind of consistent that he'd like to be. Just like last year, I cannot remember one time where Chiz was top five off the start. I'm no Gary Semics, but to get out front in the start is huge.
15. Vince Friese Honda CRF 450- Pretty good interview with Vince this past Monday on the Pulpmx Show. We talked about a lot of things and he was pretty honest about all of it. He admits that he's made some poor choices in the past but this year, he's working on moving forward and trying to get better. Whatever he's doing is working.
16. PJ Larsen Honda CRF 450- Larsen made his first main event of the year and as I've said before, you've got to get into these mains consistently before you can worry about actually doing really well in them. Larsen has a couple of top East Coast 250 teams looking at him to perhaps fill in when that series starts so lets keep an eye on him to see if he stays on the big bike.
17. Mike Alessi Suzuki RM-Z450- The good news is Mike's main event starts appear to be back in form (after a lot of "detective work" by Tony Alessi, who used those words exactly. Does anyone not think that he did indeed go over everything with a microscope?), but the bad news is that he was involved in a couple of crashes that knocked him back. In particular, the first one with Millsaps could've been really ugly and Alessi was lucky to bounce right back up.
18. Joshua Grant Yamaha YZ450F- Kyle Lewis has been helping out Josh for the early part of the year and it's interesting to see these older dudes coming out to help out the new(ish) guys.
19. Chris Blose Yamaha YZ450F- Blose's YZ450F motor made a grinding and banging noise so he pulled it in early. Bummer.
20. Jake Weimer Kawasaki KX 450F- Weimer got run over by Matt Lemoine on the first lap and looks like he's got a couple of broken ribs to deal with. Double bummer.
Some quick notes (dedicated to Tom McGovern at Kawasaki).
- Bobby Kiniry didn't make the main event despite starting third in the first 450 heat. He ended up tenth and didn't even fall or anything! He was telling me that he wished he had fallen because then that would be an excuse. In his defense though, his mechanic had made an error and put on the pit board that he was seventh (when he was ninth-the last qualifying spot) so when Georke passed him for the last spot, he didn't fight it, figuring he had a spot into the main. In the LCQ he was looking good going into the second turn when Les Smith started a pileup that left him, and his main event hopes, finished. Bobby's got a lot going on in his life with a new baby, a wife in New York, a banged up knee and a team that's in shambles. So you think you want to be a motocrosser?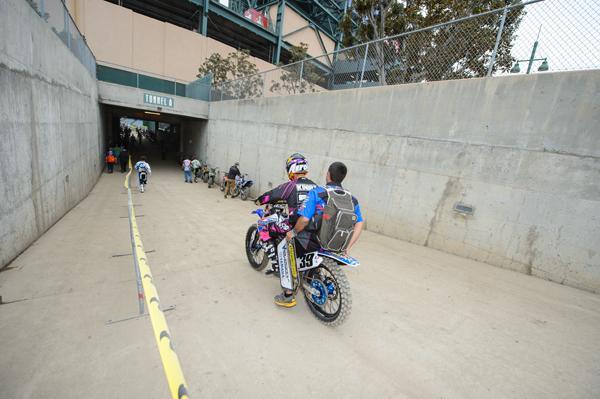 Kiniry missed his second main of the year in Anaheim.
Simon Cudby photo
- If you're a regular reader of this column you know that I'm a pretty non-biased reporter when it comes to gear and what the riders wear. Fly Racing's involved in the Pulpmx Show, JT Racing advertises on Pulp and Thor MX sponsors the Racer X Podcasts. I could totally just run the company line and love all the above brands (and to be clear, I am a sucker for JT stuff, I love most of it. Call me crazy but I'm all in when it comes to putting spots from a breed of dog on a pant) but I can't do that. That wouldn't be me being me. So with that said, Chad Reed's Shift gear has been, in the words of David Pingree, mopping the floor with just about every other gear company out there that doesn't put dog spots on their gear. This weekend Reed's new color way topped his A1 color way and yeah, Shift has got it going on this year.
- You know you're putting out nice looking stuff when the other gear guys are slowly nodding their heads going "Yeah, it's all right…" and then just trailing off.  Hey you gear guys reading this, you know who you are.
- I put out on Twitter that if I was an Oakley athlete I would never, ever not wear any goggle strap that didn't have the old-school Oakley lettering on it. I would insist on it in my contract actually. Justin Brayton doesn't really agree with me but what does he know? The old-school lettering on the strap is iconic. That is all.
- Mike Alessi said it was too wet up where he lives so he was forced to ride motocross all week. And at this time we cannot confirm that Tony was outside at midnight soaking down the house and Mike's window to make him think it was raining.
Send me an email if you want to chat about Anaheim 3 or really about anything. I'm pretty lonely and I don't have any friends. matthes@racerxonline.com