Angel Stadium
Anaheim

,

CA
Anaheim 1 (A1)
Monster Energy AMA Supercross Championship
You already know who won the races. Now enjoy 250 Words for an extra take on a story you might have missed.
We are often reminded of just how steep and fast the learning curve of professional motorsports racing can be. Whether it's guys like Eli Tomac and Ken Roczen just shredding a track like they did on Saturday night at Angel Stadium, or a pure SX rookie like Jessy Nelson crashing out immediately after the start, this sport does not give kids a lot of chances to learn from their mistakes—at least not on a stage as big as Anaheim's.
In 250SX racing, the young riders are split into East and West Regions, which means they only get nine races (including the Las Vegas finale's East-West Shootout), so one mistake can ruin a championship run. That's why it was remarkable how downright aggressive yet fully in control Tomac's GEICO Honda was out front.
Sure, he's the defending #1 in this division, so it shouldn't be much of a stretch to see him win. But Tomac did more than win—he seemed to sprint every single lap, hardly missing a beat. Maybe he knew Roczen's Red Bull KTM was also much improved, and the German import was obviously better and faster and likely more confident than last year, given the full season of experience. Both Tomac and Roczen have won championships, so they know the mantra here: You can't win a series in one race, but you can damn sure lose it. But they rode with such aggression that it was obvious there will be no holds barred between these two phenoms, and they will likely carry this duel all the way through Vegas.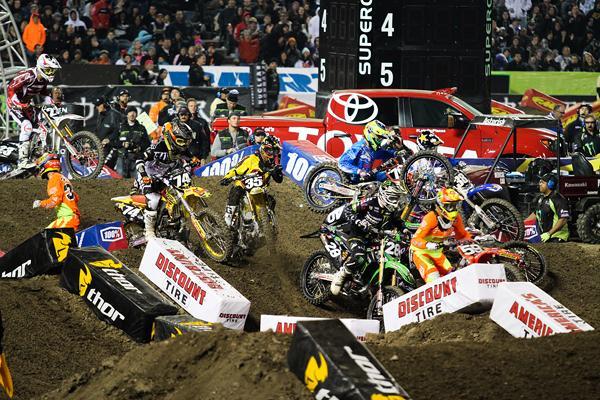 A huge crash in the first turn brought down a quarter of the field at Anaheim.
Devin Davis photo
Others, however, were not so fortunate, and a few shots at the championship were pretty much dashed right off the start when TLD/Lucas Oil Honda's Nelson, a very fast learner based on what we saw when he turned pro last May, scored the main-event holeshot but then tripped over the first jump, bringing down a quarter of the field with him. Nelson would finish eighteenth. Monster Energy/Pro Circuit Kawasaki's Martin Davalos, also caught up in the ensuing pile-up, would finish last. In a nine-race series, it's hard to overcome a 24-point deficit from a rider as solid as a Tomac or a Roczen—especially when they already have a good idea of what it takes to survive and thrive at this level.
Which leads me back to a point I made in Racerhead on Friday: How can requiring young riders to use the smaller stages of the AMSOIL Arenacross Series as a stepping-stone to the massive platform that is Anaheim be a bad thing? Learning the frantic, tight confines of indoor, nighttime, high-pressure racing—even if for just three or four races—would almost certainly help prevent the opening-night jitters, and that in turn might help prevent things like an ugly chain-reaction crash off the start of your first real pro supercross race.