We're now just 22 days away from the 2013 Monster Energy Supercross Championship opener at Anaheim, so it's time for #22 on the Monster Energy 30-day Countdown of the best supercross racers of all time. Today's rider didn't claim a supercross title in the big-bike class, but he will certainly be remembered as one of the fastest supercross riders ever.
Bainbridge, Georgia's Ezra "Yogi" Lusk seemed destined for greatness at a young age, blasting through the amateur ranks with Team Green Kawasaki and then with Suzuki. At age 16, he made his pro supercross debut at the 1992 season opener in Orlando and nearly won the 125 main event! He took the 125 East Region title in 1994, but his 250-class debut season in 1996 was awash in crashes.
Suzuki had pushed quite a few 125 SX champs through the ranks, only to see them struggle in the 250s, and Lusk looked set to be another. But late in the '96 season he found consistency and set his career back on the upswing, finishing third in the final standings behind established stars Jeremy McGrath and Jeff Emig.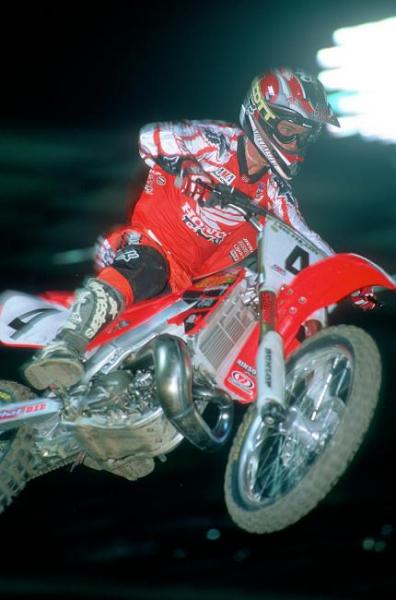 Ezra Lusk enjoyed his best years with Honda.
Chris Hultner photo

The next year Lusk joined Team Yamaha and collected the first two 250 SX wins of his career. Team Honda then made him the centerpiece of its post-Jeremy McGrath rebuild, and he repaid their faith by approaching the '98 season with incredible speed and aggression. There were times over the next two years where you could make the argument that Lusk was the fastest rider in the game, but other times he was too aggressive, and he couldn't match McGrath's consistency. For example, he won the first two rounds of the '99 championship, only to crash back to sixteenth at round three and lose the points lead. Much worse, he crashed in practice (in an incident that was not his fault) at the 2000 opener and lost the entire season to a shoulder injury. That season was shaping up as his best chance to win the title.
Lusk was never quite able to return to the same level again, save for a superb win over Chad Reed at the 2003 Phoenix SX while riding for Team Kawasaki. For '04, he switched back to Yamahas and lit up the test track during the preseason, but more crashes and injuries marred his season. That year would be his last in professional racing.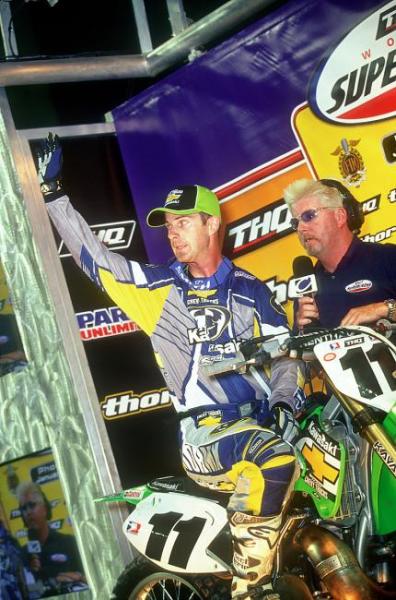 Lusk raced for Team Kawasaki in 2003 and had a superb win over Chad Reed at Phoenix.
Simon Cudby photo

While Lusk never did win the championship, his twelve career main-event victories are the third-most of any rider who didn't win a title. But beyond the numbers, Lusk gets extra points on this list thanks to his raw speed and pure determination. While he couldn't topple McGrath for the full season, he's one of the few men walking the planet who can claim a few straight-up victories against the King. That's more than enough to place him at #22 on our all-time list.
You can check out all of Ezra Lusk's race results in the Racer X Vault.
The 30 Best Supercross Racers of All Time Tracker:
#22 Ezra Lusk
#23 Broc Glover
#24 Ron Lechien
#25 Jimmy Weinert
#26 David Vuillemin
#27 Donnie Hansen
#28 Larry Ward
#29 Mike Kiedrowski
#30 Marty Tripes