Hello, everyone, and welcome to the Rev Up. Getting to the top of the mountain in professional motocross and supercross rivals winning the Super Bowl, The F1 championship, or the FIFA World Cup. I'll put up what Ryan Villopoto has done, and is doing in our sport, up against any athlete on the planet. With the 2013 Monster Energy Supercross season right around the corner, Villopoto is the guy. What makes him special among the other greats and what will make us remember him years from now?

I see a lot of different characteristics in Ryan that a lot of the old timers had. He doesn't have the mouth of Bob Hannah, but his all out attack on the bike reminds me of The Hurricane's charge. Neither is afraid to hang it out and slip a peg a few times per moto. Both are super fit, and ride their bikes a ton. The two have an unorthodox riding style, where Bob used to lock his legs standing up, RV rides with his head and elbows down quite a bit. Villopoto also has the technical aspect of a McGrath or Stewart. He can scrub as hard as anyone, and nail timing sections impeccably. Oh yeah, he also gets great starts.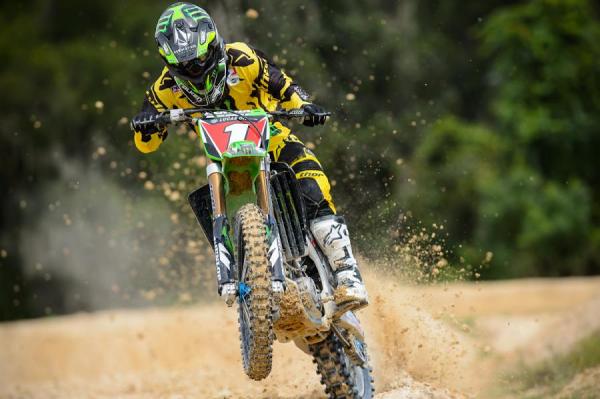 Villopoto has been testing in Florida to get ready for the 2013 season.
Simon Cudby photo
How did he get so gnarly? I think some of it can be attributed to the years he spent getting smoked by Mike Alessi at almost every amateur national. Getting beaten by a rider you hate builds something inside that can be channeled with the right timing. Although getting past Alessi only provided him with a breath of comfort before the Jason Lawrence trouble was on his back. Both of those things can push a racer down roads he doesn't want to take. The mental strain of drama is too much for some guys and their confidence fades. But it only hardened Ryan. He overcame the challenges of those riders in the 250 Class, and when he emerged on the 450, he had become something bigger, faster, and stronger.

The 450 Class is a big step and has provided trouble for some of the all-time best. Damon Bradshaw came in and won immediately, but crashed and was never able to win the title. Ricky Carmichael was almost laughable for his first two seasons. Many, many 125/250F sensations have failed to deliver on expectations. But Ryan has been methodical through his first three seasons and is now the two-time defending 450SX Champion. Staying healthy has been the shiniest bullet in his gun belt. Like Carmichael, a knee injury clipped him and like Carmichael the first time he got back on the track he decimated the competition. Do recall RV on the track at Las Vegas in October. Yes, he had a weird crash and smacked his head, but rest assured he has dusted that off by now and is back to invincible status. Go ahead and take a look at who can beat him. I think he's faster than Chad Reed, Stewart, and Ryan Dungey. He's already proven he can go that speed for the distance, too. Does Justin Barcia have the speed to run with him for 20 laps? I don't think so. I almost don't want to talk about Trey Canard in this speak as I hope he just stays on two wheels and safe. Of course, the saying goes, "That's why they run the races." That said, the races are going to be tough in 2013 unless your initials are RV.

We have created a pretty terrible monster with RV Park. I call him that because of his product as a whole. He's an amusement park of speed, stubbornness, and iron will. It is his unbelievable corner speed that gets me. I don't know if you can call it textbook style and it looks violent, but that is how he gets them. He is quicker into and out of almost every corner on the track. And if there is a decent berm, forget about it, Elvis has left the building.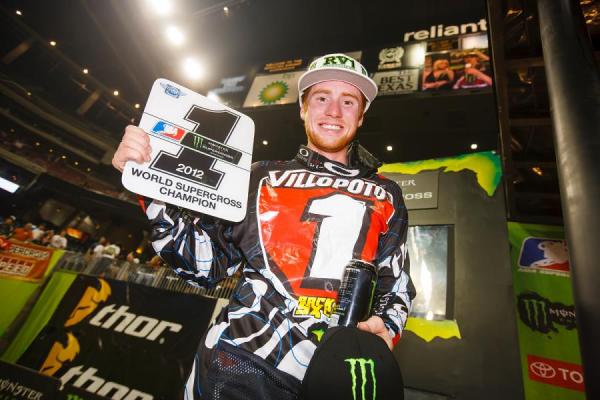 Villopoto is seeking his third straight Monster Energy Supercross title in 2013.
Simon Cudby photo
Off the track I'm conflicted with the way he is under the radar. He doesn't go off on Twitter, hasn't been in any trouble to speak of and aside from blasting some wild life, isn't very wild at all. He's a married man that takes care of business at the racetrack and steers clear of static. Kind of boring to me, but how much does the public really know about him? McGrath championed the video craze to broadcast his personality. Carmichael had his video games with THQ and eventually took a leadership role at the top, but we haven't seen a lot of what Ryan is really like and he isn't as big of a name in the mainstream. Being somewhat socially aloof may add to his success as a racer though. If you want to question anything about Ryan Villopoto he can just point at the scoreboard. He has the program figured out and he is the one everyone else is aiming for.

There is a new season coming. We've been growing every year with television, and with social media on the rampage more people in the world are going to know more about Supercross than ever. More people are going to learn about Ryan Villopoto. It's his time.

Thanks for reading, see you next week.