Once a year, we check in with Metal Mulisha founder (and 125 Supercross race winner, and freestyle great) Brian Deegan to see how he's progressing on four wheels. And his progress is rapid, as he topped the Lucas Oil Off-Road Series (LOORS) top-of-the-line Pro 2 class for the second-straight year, and also nearly won the Global Rallycross Championship. Winning in off-road trucks and rally cars, two very, very different disciplines, is hard. Deegan is making the transition to four wheels look easy.

Racer X: Hey Brian, congrats, you had some pretty solid success on four wheels this year.
Brian Deegan: Yeah it was a good year. Last year I was able to win two titles in the trucks, and get my feet wet in the car. This year I went back to trucks and was able to back up my Pro 2 title, which is the premier class in off-road. Right after that, it was focus on Global Rally Cross, and battling guys like Tanner Foust, Travis Pastrana and Ken Block. Came down to me and Tanner, and we had a good race all the way to the finish. I ended up second, came up short in that one. I definitely had the goal of winning two championships in two different series, and that's kind of difficult, but I'm going to try again next year!

For readers that don't understand, explain Global Rallycross, which is a newer series and is much different than traditional rally.
Yeah, it's almost like supercross, it's a closed course, short lap times and in front of big crowds. They're 600 horsepower all-wheel drive cars, and they're small cars, which is great because every manufacturer has an offering in that size of car, and that market is big. So we have great backing from Ford, for me personally I signed a long term deal with them. And a lot of other manufacturers are in the game. Key players, like I said, guys like Pastrana and Block, big names are battling in this, and X Games has helped build this, big time. I think it's going to keep growing.

Explain Pro 2 in the truck side. The 2 means two-wheel drive, it doesn't mean it's a secondary class.
When it started, Pro 4 was the premiere class, and this sport has been around almost 40 years. But things have moved from Pro 4 to Pro 2. The fastest racers are now all in Pro 2. Same truck, just Pro 4 has four-wheel drive and Pro 2 is two-wheel drive. They're a little less to maintain than the four-wheel drive.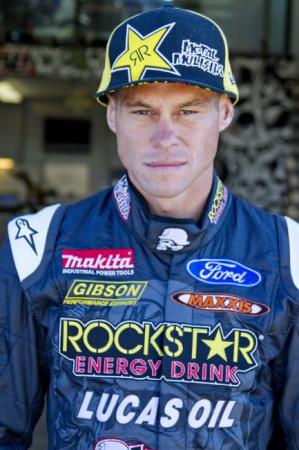 Now behind the wheel, Deegan gets to put the race face on again.
Courtesy Metal Mulisha
So when you win Pro 2 that means you're basically the man in off-road trucks right now?
Yeah, the Pro 2 trucks have the best drivers in the world, and we have 900 horsepower NASCAR motors, and 30 inches of suspension travel. It's the premiere class. You know, Rob MacCachren, who I race, has been at the top of off-road for many many years. And motorcross guys have done it, Ricky Johnson, Jeff Ward, Jeremy McGrath. I was able to come in and win my rookie season in Pro 2, first guy to ever do that, and then I was able to back it up. For me, it just clicked. Coming from dirt bikes was a great foundation, understanding the dirt, how to race and how to pass. I had gotten away from racing when I did freestyle, so I was excited to get back into it. And by winning these titles, it's helping me build my name and let everyone know I'm serious.

Well, that's what I'm saying. You're known as such a great marketing and business guy with the Mulisha, but behind all that, you've succeeded in each sport you've tried. You're not just in rally, you're winning. Not just in freestyle, you're winning. So my question is….how the hell were you able to learn so quickly? Rob MacCachren, I remember that guy winning races 20 years ago in the old Mickey Thompson Series.
[Laughs] Yeah MacCachren has been winning since the Mickey Thompson days. I look at other guys, like Johnson or Ward or McGrath, and I think, "Well, this just clicked for me because I'm a motocrosser." But, there's been other motocrossers at this game, too, but for some reason it really, really clicked for me. I think it has to do with I take this seriously. I train hard, I read books, I study tape. I do everything that it takes to put myself on the fast track. I do what it takes to believe I can beat these guys. I definitely don't show up not feeling I can win a race.

The rallycross cars are small, but still, can you practice at all? Anywhere?
That was the hardest thing about switching to cars and trucks. Compared to dirt bikes, where you can go test and practice any time you want, if we're lucky we'll get one or two tests between each race, and that's once or twice a month between each class. If I'm lucky, I'm in the car once besides race day between races. But next year, Ford is stepping up big, and we're going to have something like 50 different test days. I haven't had much practice and I've been able to win--so wait until next year when I can freaking go testing! I'll just spank on people!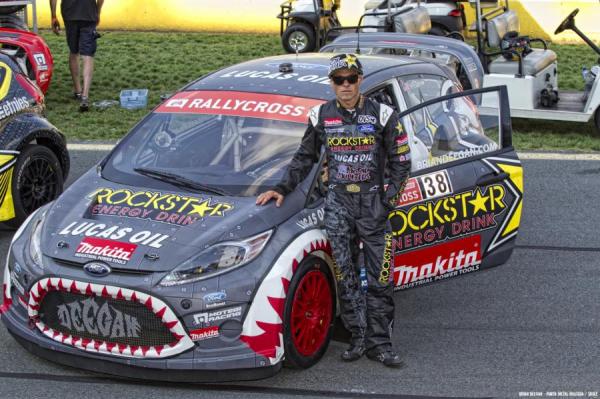 Deegan very nearly had a fiesta to celebrate a title with his Ford Fiesta. Next year?
Mulisha photo
[Laughs] You mention something really critical, that you have factory support from Ford. You were never able to achieve that on the moto side. So what's that mean to you?
You know what? It's just a huge feeling of accomplishment. I struggled my whole motocross racing career with that, trying to get that factory support. For them to come to me and put me on the team as one of their top drivers, to get to meet Edsel Ford, to see all the history at that company and now to be a part of it. There's such an American history story there with Ford, and it makes me feel like I've honestly done it, I've reached my goals. But, now that I'm there, and I have this kind of support, there's nothing left for me to do but win a whole lot more races and championships.

What about your motocross connections? Last year the Mulisha was on board with Star-Valli Yamaha. Now Star and Valli have gone separate ways, are you still involved?
Yeah absolutely, motocross and supercross are my roots. Now my kids ride, it's awesome. This year we're still with Star Racing, and all the riders will be running the Metal Mulisha MSR gear. I'm stoked on that, with riders like Kyle Cunningham and Jeremy Martin, I think things will be good there. Last year we just had [Nico] Izzi running our gear, this year it will be all of the team guys. I'm stoked.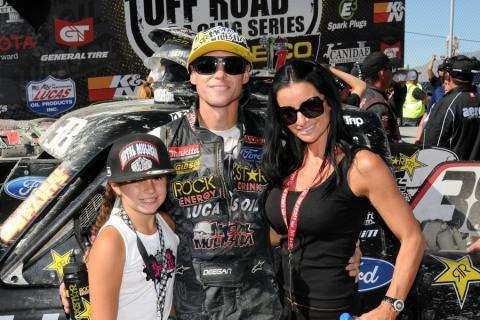 Deegan and family.