By Jason Thomas

Stuttgart, Germany has long hosted the opening round of the German Supercross Championship inside the hallowed Schleyer Halle.  In fact, 2012 marked the 30th Anniversary of the race which has run the gamut from the days of wood-cross to full blown supercross style (albeit miniaturized).  In that time, riders like Doug Dubach, Chad Reed and Mike Alessi have all lined up to try their hand in Deutschland.  With 14 Americans coming over this year, pitted against some solid European riders, the racing was bound to be intense.

Night one is always a guessing game.  There are always great riders making their debut overseas, a few new surprising upstarts, and then the seasoned veterans all vying for their place in the pecking order. At the checkers, however, it was Frenchman Mickael Musquin,  who is so often overshadowed by his World Champion brother Marvin, who stole the show.  A veteran of the series, Musquin took his KMP Racing Honda to its first win in the series. Rounding out the podium was fellow Frenchman Florent Richier and Suzuki mounted Jason Thomas (your author).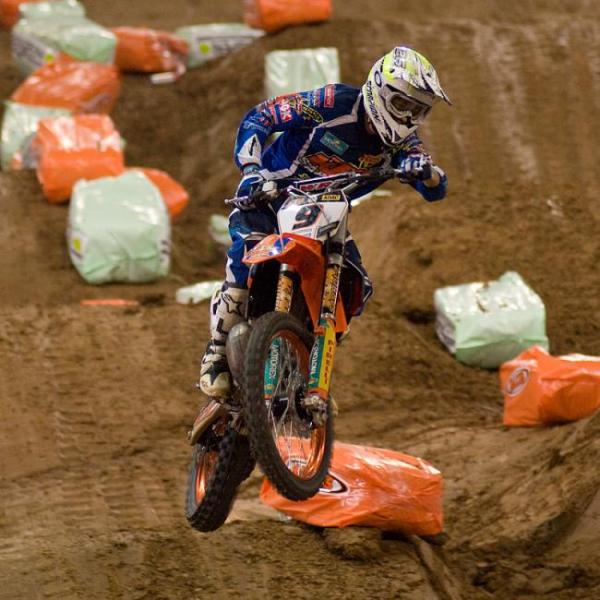 Check out the pipe! Florent Richier took the win on his KTM smoker.
Max Ludwig photo
Night two is a chance for everyone to regroup after a chaotic opener.  You will often see strange results in this series as there are too many good riders and not enough gates.  Florent Richier was having none of that however, and took the win and the overall with a 2-1 score.  Musquin and Thomas would have issues and find themselves in 7th and 8th, dropping them in the overall to 2nd and 4th respectively.  German wunderkind Dennis Ullrich wound up 3rd overall after a consistent pair of finishes.  It's worth noting, also, that both race winner Richier and third-place Ullrich were on two-stroke KTMs. The track was very tacky, so wheelspin wasn't a factor, and their snappy power could be used to max effectiveness.
The next event will be in Chemnitz, Germany on November 30 and December 1st.