Eli Tomac, GEICO Honda, 2nd Overall
Racer X: Hey, really close last year, really close this year, but you ended up second. But Weimer had a scary moment there at the end!
Eli Tomac: [Laughs] I know! And I was in the other lane so I was actually able to see it! I saw Justin scoot by him there, and then it was the last lap and he was still ahead of him, and I was like, "Maybe, maybe." I saw they were battling, and obviously Jake got him in the end.

You rode great, though. Different rhythm through one section. Did you feel like, all bets are off, I'm going to go for it?
Pretty much. Earlier this morning I walked it, and I could see they put a lip on that one spot, where you triple on. It sent you pretty close, so I decided I might as well just jump over the whole thing.

Second year here, you a little more used to it?
Oh yeah. Last year at this time I was just like, "I need to get home." But I'm used to the whole thing now. It's a lot of riding, and it's good for starts and just everything, really.

Talk about the bike, Justin Barcia's 450, which you raced last weekend and this weekend. You looked at home.
I am! I wish I could bring that thing to Anaheim 1!

Yeah you might never let that bike go.
Yeah I'm totally comfortable on the 450, I'm not afraid to let 'er hang.

What are your thoughts overall?
It was good, I won some main events so it wasn't like I got smoked the whole time.

And I don't think there's any money for winning King of Bercy, you guys just get your show up money. But you did win $3000 for winning the Superpole competitions. So you actually came out ahead of Weimer, money-wise!
[Laughs] I did!

Was there anything different about your approach? Last night was your fastest lap, a 41. Can you not do that in the mains? Is it too close to the edge?
Yeah in Superpole, I was just pinning it all the way around. If you rode like that in the race, you'd blow up by like, lap eight. I was just giving it in the corners and blowing up the berms. Race time, you have to be a little smoother.
Justin Brayton, JGR Toyota Yamaha, 3rd Overall

Don't punch me in the face for saying this, but, a lot of thirds this weekend.
I did get a lot of thirds, so why I would have a reason to punch you, Matthes? You're just being truthful.

So, frustrating or no?
No I don't think there's a reason to be frustrated. I've still not been on this bike for that long, and we came here to race and we came here to learn. And, I remember coming here a few years ago and beating a lot of good guys at this race, and then coming to Anaheim, and…JG won Anaheim, K-Dub did awesome….so you never know. And here, Weimer and Tomac were fast, they were on it, so it wasn't like I got beat by guys who were going slow.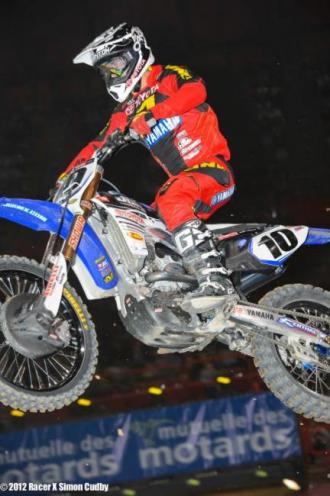 "It wasn't like I got beat by guys who were going slow." -- Justin Brayton
Cudby photo
Track was tough tonight?
Yeah, it was so slick, as soon as the race ended, Weimer turned to me and said "Can you believe the track?" It was one of the toughest tracks I've ever raced on, it was so slick.

Did you know what was going on when Weimer fell?
I did know what was going on. I knew about the points. Tomac was flying in that last race, he was flying all weekend, but I think Weimer deserves it, he won some mains and some match races.

Do you learn anything about your bike for Anaheim at a race like this?
I think you do. Whoops are whoops, jumps are jumps, and dirt is dirt. The track got rutted, too. You know how it is in California, there's just one line around the track. North Carolina is a little better, the dirt is softer, but every year you think you have it totally dialed and you show up to Anaheim and realize you need to go softer or stiffer. But I enjoy racing. You can only do so many laps during the week, I like coming over here.
Where were those guys getting you?
I thought my whoop speed was good, but there were two spots on the track I was struggling with. If not for those two spots, I think I could have been really close or maybe have even won a night. The two table section, and the very last tunnel turn. That turn swallowed me up every lap.

Wil Hahn, GEICO Honda, 5th Overall
First time in Europe for you. Let's talk about that, first.
Well, more than anything this is an experience for us. It's great to see new cultures. I've never left the United States, except for Toronto, and that doesn't count. I can't thank Eric Peronarrd for getting me over here, and my mechanic Shawn [Irwin] and everyone else that helped out.

What did you think of the races?
I loved it. The practices are just like home, that's normal, but the elimination races are different. You have to get good starts every time, and I proved that when I didn't get them the first two nights. Every race I would be "Okay I think I have a good start" and then I wouldn't. You've got to be ready or you'll end up in the wall. For me it's just learning about the bike, and the schedule is just bang bang bang, you're going the whole time. I felt good at the end of the races, I just need to work on the beginning, it's something that I've been struggling with for a little while.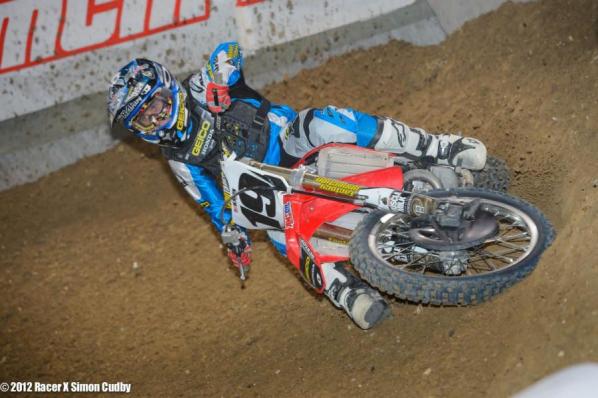 "I've never left the United States, except for Toronto, and that doesn't count." -- Wil Hahn
Cudby photo
Eric Sorby, 15th Overall
How did it go?
I'm really happy. I made the main events on the first and second nights. I had some good speed and some good technique, still. It was good for me.

And Superpole, exciting times. You went over the banners and cut the track in the first one, got disqualified, second one, you didn't care, you did it again.
Yeah that's right, I did it again. I can't compete with the American riders all weekend, like I said, I still have some speed, but not like those guys. But I wanted to show everyone that I was here, so I cut the track to get the fastest time.

You told me before the race, you've done four or five races now getting back into it after retirement. You going to keep doing this?
I don't know. Four years ago I raced Bercy and said it was my last race here. Now I'm back. It's different, I am doing it for fun, I'm enjoying every lap. It's hard to stop, this is what I've been doing since age five. So I think I might do some more. Maybe A1.
I think you've just dropped a bomb there. Hey do you make money doing a race like this? The American guys get their start money. But what about the other guys, guys like you, from France?
Hey, I don't know about those guys, but Sorby gets something! When Sorby is here, even when he doesn't win, something is always happening. So I make good money.