Las Vegas, NV
Monster Energy Cup
Monster Energy Cup
After a four-year run with MotoConcepts, Missouri native Vince Friese is looking for a new home. While his results have been consistent—twelfth overall in the West Region in Monster Energy Supercross (including four straight top tens to end the season) and 18th overall (450 Class) in the Lucas Oil Pro Motocross Championship—they haven't come without controversy. Known for his aggressive riding style, Friese has come under fire over the years for what many call being a "dirty" rider. But Friese is adamant about his intentions on the track: he rides aggressive, but never with malicious intent. With rumors swirling that Friese's career may take a new direction for 2013, we caught up with the former MotoConcepts rider to talk about his adventures at the MEC, his interest in Arenacross and much more.
Racer X: Let's talk about your bike set-up at the Monster Energy Cup. Rumor is that you were running pump gas, is that correct?
Vince Friese: Yeah, I was just riding a pretty much stock Suzuki 450. Race Tech really stepped up and helped me a bunch and got me some really awesome suspension. FMF helped me out with a pipe and Hinson got me a clutch—that's about all I had on it. It was a stock engine, pump gas, basically a bone stock bike. It was actually an old bike that was my practice bike for a while, so it was pretty wore out. But I figured Vegas is only a few hours drive from where I'm at, so I wanted to go race and try and make some money. It was a last minute decision, but it ended up being a pretty good move. I think the race went okay for me, I think I could have done a little bit better than what I did, but all in all for what I had going into it, it wasn't all that bad.
I would assume you were pretty pleased with a ninth in the third main, and twelfth overall, with what you had to work with.
I was pretty pumped with the ninth place in that last one. The twelfth overall was okay. I really wish I could have been up front in those first two. I was struggling with my starts. I'm usually pretty good with my starts, but that bike wasn't too fast and I was struggling to get off the gate. That was kind of frustrating, but that last one I got a decent start and was able to hold my position and stayed in about ninth. I think it would have made my night a little better if I could have figured out my starts in the first two motos.

Friese finished twelfth overall at the MEC on a bone stock Suzuki.
Simon Cudby photo
Does this mean that you are no longer with MotoConcepts?
No, I'm no longer with MotoConcepts. I had their graphics on there, but I don't ride for them anymore. My brother works for a graphics company and I had that bike last minute and I called him up to make me some graphics, because I didn't know we had to run our new number until the last second. I really like MotoConcepts, and they have helped me out for a long time. I was on the team for four years and I really like Mike Genova [team owner] and the whole team, so I didn't mind running their graphics for a race. They have supported me for a long time, and given me an awesome bike and a great program.
You have been with the team for a long time. Can you elaborate on why you won't be returning in 2013?
As far as I understand from them, it is kind of the same deal everyone is going through: everyone is trying to save money and I think they're cutting back to only Jake [Canada] and Mike [Alessi] next year. That's the last they told me about it, and I guess that's the deal. I think it may be a good thing for me. I've been there for four years and it may be good for me to start fresh somewhere else and build a relationship with another team, another program and another group of sponsors. I had an awesome run with MotoConcepts and was there since 2009 through this year, and they are a great team and a good program, but I think this will help me to step up my program and my results.
Have you been in talks with any other teams for 2013?
Right now I've been talking with quite a few people—kind of anything and everything. I'm going over to Germany next week to do the four race series with Sturm Kawasaki. A bunch of people have said that I'm doing arenacross, which I have talked with some people about that, but that's not 100 percent at all. No one has really made me an offer, but I've been in talks. There are still a lot of good teams out there, and good riders. Most of all the factory teams are in place with their riders. That's fine with me, there are a lot of second level teams that don't get factory support that have really good bikes. MotoConcepts wasn't a factory support team last year, but they were able to build me a good enough bike to go out and get holeshots on against some of the factory guys. I'm one of the heavier guys in the Lites class and I was still able to holeshot some races, so that just shows you what a team like that can do. As long as a team has a solid program and supporting me 100 percent, I'm confident I can do just as good on one of those teams as I could a factory bike.
The big rumor, like you mentioned, is that you were considering arenacross for next season. How serious have those talks gotten and how much of an adjustment would that be for you?
It's an option for me. I have talked with a couple of arenacross teams and it could be an option for me to do that. I still feel like I have a lot more to prove in supercross in the Lites class. I've done decent at it, and gotten a lot of top tens, but I feel like I'm at least a top five guy. I feel like I haven't gone into a season as prepared as I want to be and I just feel like I have a lot more to prove. I ride supercross pretty well and I think that my results have been decent, but nowhere near what they can or should be. I'm definitely not happy with top tens, I want to be at least a top five guy, and I think I can get on the podium and that's my goal for this year. And I won't be happy until I get there.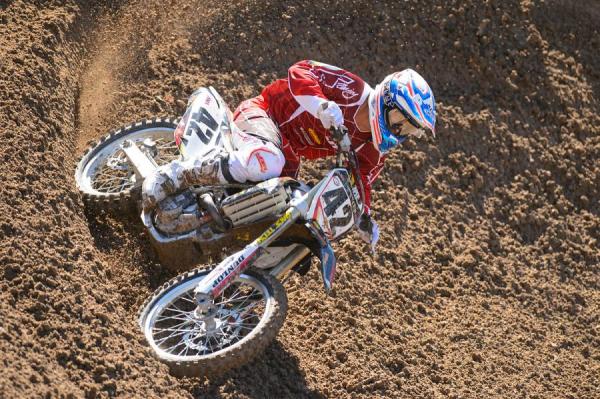 After four years with MotoConcepts, Friese is looking for a new home for 2013.
Simon Cudby photo

You're heading to Germany this weekend, and there are mixed opinions among riders about off-season supercross overseas. Some like them, but a lot feel like it takes away from their off-season preparations. Do you prefer going overseas and getting race experience? Also, do you feel that it takes away from your off-season training?
I think it takes away a little bit from your training. It's at least of full week of flying over there and flying back and you're jet lagged for a couple of days. The first couple are fun, but you do kind of get tired of it after a while. The flights are what are brutal. Going to the races is awesome, and I always love to race. There are always some good guys over there and it's fun to go over there and race on the tight tracks. The team I ride for over there is awesome and they help me out a lot. It's a good bike and program over there. As long as everything goes good over there I say it's worth it. It's good money and you bring it back over here and get the conversion right and it's even more money, so it's a pretty good deal I think.
You have come under fire during your career for what some call being a "dirty" rider. How do defend your riding style to the critics and detractors?
For one, I don't really feel like I'm a dirty rider. I feel like I have had that label put on me. I'm an aggressive rider and I feel like any time I'm near anybody it's like, "Oh, Vince just took that guy out." If someone crashes on the same track as me it's my fault! That's a little ridiculous I think. Everyone says that I'm dangerous, but never in my life or entire career have I injured a rider. It's never been my intention to hurt anyone. Yeah, I have taken some people out, but I've honestly been taken out more than I've taken people out. Like I said, it's never been my intention to hurt anybody. I just want to do better and race harder. I expect people to race me as hard as I race anybody else. I never get mad if someone rides aggressive with me or takes me out. I'm not out there to hurt anybody and at the end of the day all of us our on the same team—we're all professional motocross racers. Yeah, I may bump into someone trying to and knock them down trying to do better, but I'm not going to cross jump anyone or land on them, or anything like that. I think people get a little out of hand with it like when they say, "Oh, he's going to kill someone or he's trying to hurt somebody" I've never tried to hurt anyone and never plan on doing it. I think people get bored and want something or someone to talk crap about and I just happen to be that guy. I just want to do better and race the best that I can.
Thanks, Vince. Who would you like to thanks for helping you get to the Monster Energy Cup?
Yeah, I would like to thank Race Tech, Hinson, JT Racing, Dunlop, Alpinestars, MXwebsites.com, Shoei and FMF.