It's the kid versus the veteran one last time. The second-generation star against the journeyman. The American against the Kiwi. The 350 against the 450. It's everything that makes sports rivalries good—the complete opposite approach of two athletes resulting in exceptionally similar results, and resulting in a nail-biting finale.

The final round of the Can-Am Grand National Cross Country Series takes place Saturday at Loretta Lynn Ranch, and just one point separates Kailub Russell and Paul Whibley. As they say, two men enter, one man leaves.

It's been awhile since the GNCC Championship has been this close. In fact, since the series did away with "drop your worst race" scores eons ago, it has never been this close, as usually the points leader has a little pad coming into the final race. Last year, for example, the Loretta's finale was a double header, and points leader Charlie Mullins had such a big lead that he actually DNF'd Friday's race with engine troubles, and then came back to win on Sunday and still clinch the crown. This year, there isn't such a situation. When it comes down to KR versus Whibs, whoever finishes in front of the other will be champion.

Not much to separate them, either. Mullins championship defense has been marred with bad luck and injuries. He finally won a race a few weeks ago in Ohio, but will most likely miss this final round as he and his wife Rachel just welcomed their first baby this week. Others like Thad DuVall (winner at Unadilla last month) or two-time 2012 winner Rory Mead could possibly play spoiler. But with so much on the line for KR and Whibs, expect them to be at the head of the pack.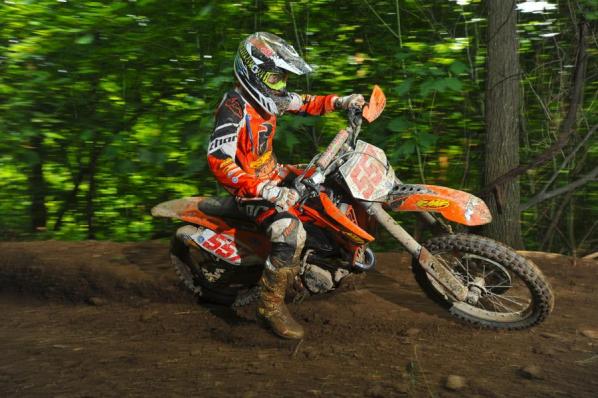 Russell leads Whibley by the slimmest of margins entering the final round at Loretta's.
Ken Hill / GNCC Racing photo
So what will separate them? Their completely different approaches end up about the same on the track. Russell is about 10 years younger than Whibley. He holds two GNCC XC2 Lites titles and likes the small bores so much that he races a KTM 350 even though he has the option of a 450. He is so confident in his speed that he rarely gets good starts, as he knows he can make passes and get to the front. And after crashing out of the first race of the season with a shoulder injury, he has proven both resilient and consistent, taking five wins and nine podiums in the last 11 races. His other two finishes were a pair of fourths.

And yet, he looks inconsistent next to the brick wall that is Whibs. In a season of 13 three-hour races, it's almost a given that something major will go wrong at least once during the year. Not for Whibley, the 2009 GNCC Champion. He's the blue-collar style racer, and in fact, he once actually held a blue-collar job, working in the forest service in his native New Zealand (hence his Axe man nickname). He built a pro career from nothing. Meanwhile, Russell's dad is 1991 AMA National Enduro Champion Jeff Russell (who also designs the GNCC tracks—Kailub and Jeff do not live in the same state or travel to the races together, and they even have to keep their distance on race weekends to avoid controversy. And yet, with this much at stake, expect that relationship to be controversial, anyway).

Whibley had finished on the podium in every round this year until taking fifth two weeks ago in Indiana. He's been devoid of major crashes or mechanicals the whole way, and he's been an absolute holeshot artist, getting just about every one of them this year. Whibley plays the veteran role to perfection. You know he'll get the start, you know he'll be strong to the end, and you know he'll never give up.

Championship pressure could play a factor, but neither Whibley nor Russell ever seem to wear much emotion on their sleeve. And Whibley has been here before with his 2009 title. It would be big for his Am-Pro Yamaha team, though, which hasn't won the GNCC title since Barry Hawk in 2003. And certainly it would be a boon for Yamaha to get its much-maligned YZ450F a championship (KTM, meanwhile, won last year's title with Mullins). But that Randy Hawkins-led Yamaha outfit knows what they're doing. Don't expect to see or feel much pressure over in the Am-Pro truck on Saturday morning.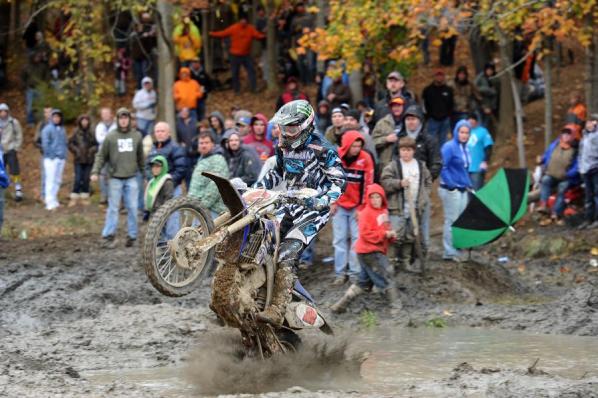 Whibley is seeking his second career XC1 title.
Ken Hill / GNCC Racing photo
As far as Russell goes, he has always seemed to treat his success as an inevitable result. Even Whibley isn't at all surprised by the challenge this year—he knew it was coming as soon as Russell moved up with two Lites titles under his belt. Russell is Ryan Villopoto-like about his business, never getting caught up in mind games, drama or confidence issues. He just shows up and rides fast and expects that to do the job. He may only be a second-year pro, and he might be gunning for his first premiere-class title, but he doesn't seem to be effected by any of it.

So, throw the theories aside. You've got two riders who couldn't be more different, but they're meeting in the middle, separated by one point with one race to go. Hard to say which approach is better, but soon we'll know which one results in a championship.
You can view live coverage of the season finale at GNCCRacing.com. Coverage begins at 1pm EST time, Saturday November 3.