Sam Boyd Stadium
Las Vegas

,

NV
Monster Energy Cup
Monster Energy Cup
The first real activity on race day for this year's Monster Energy Cup took place at 10 a.m. on Saturday, with Carey Hart and Ricky Carmichael announcing their new partnership for RCH Racing Dodge/Sycuan Suzuki.  Throughout the press conference, the words "marketing" and "demographics" and "sponsorship" were thrown around quite a bit. Yes, there was talk of race results, too, but it's well known that Hart's team—and Hart himself—built a brand around a reputation and an imagine. He marketed that rep and image first. Results were second. Not to say Hart wasn't a ground breaker (and incredible) for busting out the first back flip. But is he the GOAT of Freestyle? Not really, but is that really important? Hart understands marketing and business better than any of his peers, and he also came around at the right time—a time when marketing a business in a niche field like action sports can really make an impact.
A few hours later, practice for the MEC began inside the stadium, but the real action was taking place in the parking lot. Monster Energy brought out an all-star cast for demos, including live Gymkhana performances from Ken Block (how many places can you see Block doing his thing live?) while freestyle big hitters like Twitch, Bilko, Taka and Adam Jones busted out backflips. Drift Champ Vaughn Gittin Jr. took his mega-horsepower Mustang to the course next. A Baja truck did its thing. Then came some street bike stunt dudes, and even one of the Wheelie Boys from Baltimore. The scene was going off, and by about 5 p.m. the whole thing was so packed that I literally couldn't see anything. The fans were jammed up against the barriers and filling the bleachers.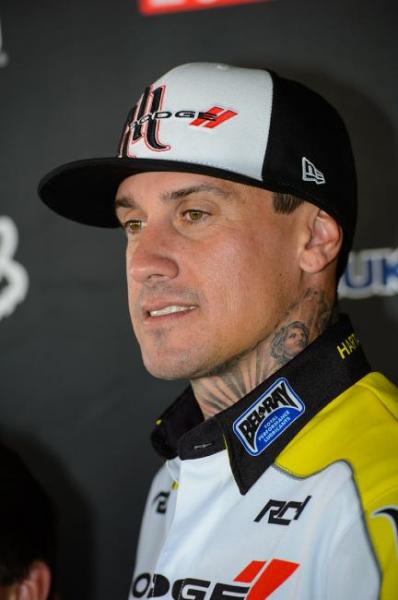 Carey Hart and RC have joined forces to form RCH Racing Dodge/Sycuan Suzuki.
Simon Cudby photo
Monster had a couple of announcers keeping track of this action out there. One was Cameron Steele, who we know well. I don't know who the other guy was. But between the two of them, they had the facts dialed in on each of these sports—drifting and rally and FMX and off-road trucks and everything else. And as I was watching all of that, while supercross practice was going off inside the building, and Carey Hart was taking questions from the press, I realized just how far our world and this sport has come. Thanks to the Internet (and everything it spawns, like social media and YouTube and message boards) and the ever-ending proliferation of cable TV, every little niche within the niche gets the chance to develop (and get sponsorship through energy drinks, by the way). We now have a Ken Block scene, a Carey Hart scene, a drifting scene, and an FMX scene. Twenty years ago, the Carey Harts of the world couldn't have become Carey Hart. How could they? Where would fans find them? How would they get exposure?
Hart did reality TV. Block seized control of YouTube. But twenty years ago, you had to watch what other people wanted you to watch. And with only one ESPN and no other cable sports networks, and no Internet, if a stogy TV network exec didn't pick up on a sport, it couldn't go anywhere.
And inside the stadium sat the main event, supercross. The "King of Action Sports" tag sounds like hype and marketing fluff quite often, but it was inarguable fact on Saturday night. Hart and Block are stars, but Ryan Villopoto and such still served as the main draw. I doubt you'll ever see RV doing a riding demo in the parking lot during the afternoon at anyone else's event. Remember, Hart started as a supercross racer. Block was a super fan long before he ever tried a rally car. Freestyle guys are gnarly and ballsy, but they respect the racers as the hardest of the hardcore. Supercross still pays huge, draws huge and creates the talk. It gets the most respect. Many would consider the 'Cup just a marketing vehicle as well, and it is, but damn, is that market impressive.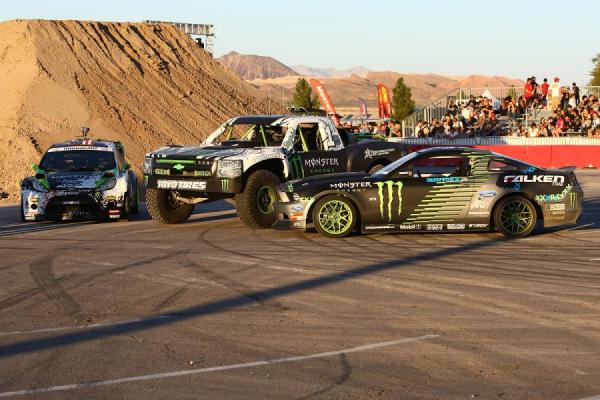 Monster had all of their athletes out in full force at the MEC...
BrownDogWilson photo
Today's world is one where niches within niches can finally have their day and draw fans. It fits for Block and Hart, and also goes nicely with supercross. You no longer have to succeed in the traditional realms (and sports to be successful.) Those of us who grew up following supercross know the difference. I used to live off of supercross races on TV, and some issues of MXA and Cycle News. That was all I had. I never got to bench race with fans because TV and print are one-way streets. And it's a lot harder to pick up the personality of a rider with such scarce coverage. Now? Bam Bam Barcia videos and interviews and info are all over the place. I stopped by the DMXS studios last week and we interviewed him for the Internet radio show for about 45 minutes. That medium didn't exist a generation ago.
Now this type of race gets live coverage on SPEED. And fans know who Barcia is. They know not only his record (two Lites SX titles) but also his personality. Barcia is a love-hate guy, and that gets people talking. But you have to see the guy often enough to decided to love or hate him.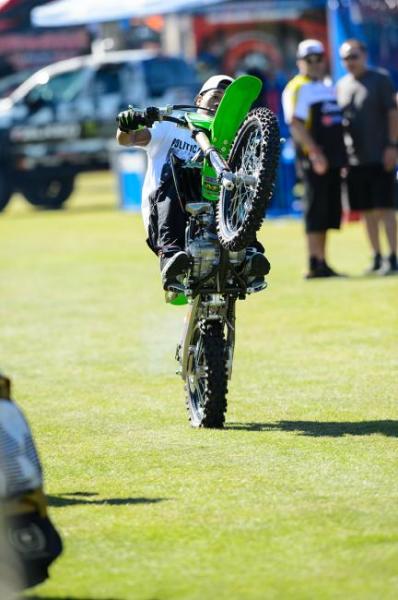 ...including the Wheelie Boys from Baltimore.
Simon Cudby photo
Yes, the MEC is a marketing vehicle. It promotes supercross and Monster Energy—it's not part of the actual series. But who cares? Ken Block races rounds of the World Rally Championship, but he's not going to win that title. And Carey Hart isn't the GOAT of Freestyle. But in today's world, there's room for things beyond series points and the results in Cycle News. So much room, in fact, that a stand-alone race can offer up a million bucks to a supercross racer.
Cruising the pits all day, good vibes were everywhere. This was not a pointless race buried in the middle of the off-season. It wasn't a championship points-paying event, but people were excited and people wanted to see it. That's what matters. The Monster Energy Cup, with live TV coverage and packed stands and pits and an overall vibe of excitement—without a championship on the line—is a celebration of how big this little niche has become.