Sam Boyd Stadium
Las Vegas

,

NV
Monster Energy Cup
Monster Energy Cup
Hello, everyone and welcome to The Rev Up. A lot can happen in a week and this one has been quite the doozie, judge. When I saw Felix Baumgartner take one small step for man, one completely out-of-his-head leap for mankind, my jaw just hung open. All death-defying banter aside, the fact that a human can actually do something like that got my head turning. I mean, they didn't send him up there to die. A mountain of technology, preparation, and history made it a reality, not just a stunt. Astonishing as it was, the good folks at Red Bull knew what they were doing. In the end, all they needed was a titanic set of stones from Baumgartner. They all had to take that step together though. They changed things with that feat in my opinion. Change, to me is fascinating...

Change can be fearsome. We're all afraid of change, but fear is powerful and provides that little extra we didn't think we had. You ever see a guy with a big lead have a guy catch him then somehow drop a second a lap and pull back out? He got comfortable being in the lead and hitting his lines. He wasn't going to change his game until he saw the guy catching him using the outside line. He thought, "Man, the inside is shorter and faster, I don't want to risk railing the berm and losing momentum." When the heat arrived he knew he had to change it up or he wasn't going to win. It was unfamiliar, uncomfortable and when he committed to it the fear produced adrenaline. Sometimes all we need is a little nudge, nudge. Once that guy ripped the high-line and began to pull away again, his flow felt even stronger.

I've seen a lot of instances of change producing rewards lately.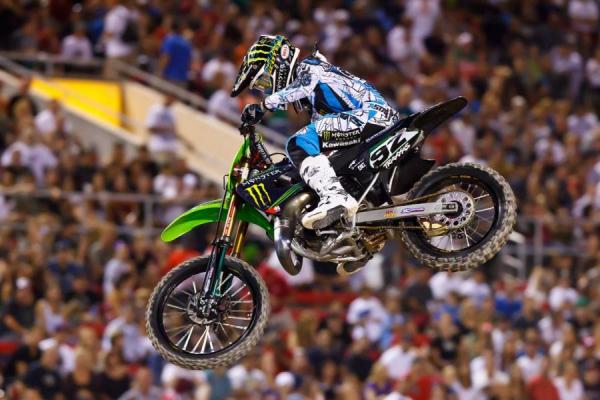 AC92 is making a big change tomorrow night at the MEC as he makes his 250F debut.
Simon Cudby photo
They are certainly changing things up with the second running of the Monster Energy Cup. The only parallel to a three heat format producing a winner I can think of is Loretta Lynn's, and this is a fair bit removed to say it in the slightest. What about the criteria of having to take a joker lane one lap during your masterpiece? I was in the game for 20 years, competed in "dash for cash" races at county fair grounds, and had to run to my bike to begin a race. No matter how sketchy all of that was, I never had to just randomly, but forcefully, take an alternate route to get to the checkered flag. At a glance its design looks brilliant. It's not like jumping across a gator pond, and might only cost a guy a couple seconds if he cleans it. But, for a million dollars, cleaning it looms large.

That right there is quite a bit of change. Excuse me, a million dollars? Back in my prime I'd do some hair-ball shit for $500. Take out my best buddy, quad into the whoops, or psycho a sweeper...I've done it just for gas money. All things are relative. And in those moments it's not about the money. For $500 or a "cool million," a motocross rider will climb the damn walls for the moment itself. I know a lot of guys that have made more money than they'll ever spend. But, they'd burn everything and run out from the ashes with the trophies and #1 plates in their arms. It's not about the money, it's about what it took to get the money.

Just look at this event! The 250 race with wunderkind, Adam Cianciarulo. I remember when Buddy Antunez went from 80 "expert" straight to 125 pro at Ponca City. His peers had been winning B titles for a couple of years but he went right into the fire. He was ready though. We've seen more "next big things" in the past 10 years than I can fit into this column, but there is something about young Adam. Well, young sir, I will tell you that if you want to be the man you have to beat the man. Good luck in your journey, and I'm excited to watch you go.

This event is all about changing the typical goings on of a supercross race. I don't know if it really is a supercross race as much as it is a dash for cash style, freak show. But, I think it is one of the most important races in history. No points, no #1 plates handed out, no series champion. A one time sprint for a million dollars. A live on SPEED depiction of our trade from a different angle, and under a different light. Will we see anything Saturday night that may spawn a change in the way Supercross goes? Maybe? Who knows? What I love is that people are making the effort to challenge the fear of change.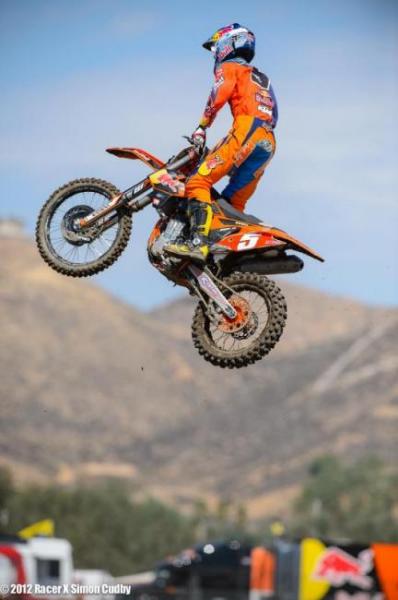 After a big change to KTM at the MEC last year, Ryan Dungey will be more than comfortable this year.
Simon Cudby photo
I've seen what change can produce recently on a personal level. My brother, The Wheelman, won the NASCAR Sprint Cup race in Charlotte, North Carolina last weekend. In the heart of "redneckville." A track where he had been knocked unconscious during his rookie year. He switched teams this season. Not of his choosing. He was scared. That fear has helped him produce the best season of his career including a win at a place nobody (including himself) thought he could. Sorry for going non-moto, but that deal was very special. It was big. He races in our home state of Kansas this weekend and can see the championship with five rounds to go.

Change moves forward. Change makes folks like Felix Baumgartner take that small step off the ledge into the abyss. That was the most incredible feat I've ever seen or heard of. I like to fancy myself as a man that isn't afraid of much, but I'm afraid of heights. I've never seen anything like that guy launching himself back to earth. I put down The Rev last week to get the juice going about the boys. Well, they're all coming and there is a lot of change coming with them. This race is devoid of championship glory. This event is about a different approach and accepting the challenge of the unknown. Lot of juice here, boys. Whole lot of the good stuff. Monster Energy Cup, round two, is on the board in fabulous Las Vegas. Who on the  committee feels Chad Reed can come out and be the man? Does anyone doubt Ryan Villopoto as the king of the supercross world? What will the young blood have to offer? This drop of the gate can mean one million dollars. You have to win the first one, the second one, and be the alpha one more time. Then you can walk out with both arms up because you won the challenge. And a million dollars. Supercross is back. Anybody ready for the weekend?

It's been a long week folks. Don't be afraid of change. Change produces miracles.

Thanks for reading, see you next week.