In honor of this weekend's Monster Energy Cup in Las Vegas, we always like to think back to a time when races like this weekend's MEC and others produced some epic results. Something about being away from the week-to-week grind sometimes produces the most unlikely of results.
So this week on the list, we harken back to a time when there were some memorable one-off rides from some different riders at some different races. These aren't in any particular order and if you can think of one that we didn't put on here, then please let us know at the bottom in the comments section.
1. Kevin Windham at the Jeremy McGrath Invitational at the Home Depot Center (2006)
The Sobe Honda rider Kevin Windham took home first place and a check for $125,000 after two nights of racing at the Home Depot Center in Los Angeles. Put on by Jeremy McGrath, the event pitted 250s vs 450s, and featured a track with metal ramps, as well as head-to-head racing, all leading up to a couple of nights of main events. And Windham about swept everything with his teammate Josh Grant in second (on a 250) and David Vuillemin in third. McGrath, expected to race his own event, went down hard in practice and spent Friday night in the hospital before retuning to the track on Saturday to watch. All in all, the event only ran one year and its mark on the sport was left with some of the unique ideas they tried.
2. Ezra Lusk at the World Supercross Round at the Rose Bowl (1999)
The now-defunct World Supercross Championship put on by the FIM varied from year to year in scope of its series along with the number of rounds (although technically, the series lives on, seeing as today's Monster Energy Supercross tour is billed as an FIM World Championship). Through the 90s, the World Supercross Championship ran during the fall and winter, but by 1999, it was on life support and only consisted of three rounds with one of them in Pasadena, California at the end of November. It was a strange night with some big names lining up but most of them on the sidelines. Honda's Ezra Lusk led wire to wire with Larry Ward in second and Jeremy McGrath third. The race was notable for the professional debut of 16-year-old Travis Pastrana in the 125 support class and the #199 Suzuki kid took the win over Ernesto Fonseca. And who rounded out the podium that night in the tiddler class? Our own David Pingree on the Primal Impulse Suzuki! When asked for his memories from that night, Ping relayed his memories: "I remember that I was riding well, I was in the lead and crashed in the whoops which I tended to do now and then. That was also the second race ever for my then-girlfriend, now wife. The first race she went to was Summercross, where I won so I had a lot of pressure on me to win again!"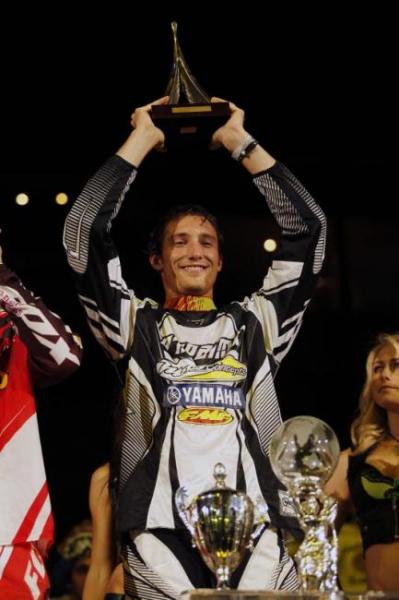 Kyle Chisholm was the surprise winner at Bercy last year.
Sarah Gutierrez photo
3. Jake Weimer at the US Open at the MGM Grand Garden Arena (2007)
The U.S. Open was held for a long time in Las Vegas at the MGM Grand Garden arena and featured a tight track, which went outside the arena and plenty of action over the two-nights each and every year. In 2007, Sobe/Samsung Honda Lites rider Jake Weimer lined up in the combined event on his Factory Connection Honda CRF250. On the second night, he took home an uncontested win against the 450s! He was helped by Yamaha's Chad Reed, who, needing a holeshot and a main event win to get a 250K U.S. Open "Trifecta" prize, held it pinned into the first turn, swept underneath a bunch of racers and took them out (my favorite post-race crash moment was Tim Ferry throwing a glove at Reed while yelling at him! And they are friends!). It was a wild night of racing that saw Grant Langston win the U.S. Open overall with a 2-5 while Weimer's main event win at the time was the biggest of his career.
4. Damon Bradshaw at the Osaka Supercross in Japan (1988)
The next big thing in motocross made his arrival at the end of the 1988 season when, as a 16-year-old riding a Yamaha YZ250, won his first ever big supercross race in Japan. It was quite an arrival for Bradshaw who managed to beat the worlds best rider, Ricky Johnson, on a rutty and slippery supercross track. Bradshaw announced his arrival in a big way and in front of all the OEM bosses. This would be like Adam Cianciarulo putting it to Ryan Villopoto! During the race, Bradshaw had RJ run it in on him a few different times but the kid held on for the win. Afterwards on the podium, Johnson remarked to Bradshaw that winning was the worst thing he could have ever done because now everyone was going to expect him to keep doing it!
5. Tim Ferry at Summercross at the LA Coliseum (1999)
[Editors note: You knew Matthes would tee off on this race]. Another one-off race produced another unlikely winner when Chaparral Yamaha's Tim Ferry, having a tremendous season as a privateer before being picked up by Larry Brooks' Chaparral Yamaha team for the Nationals, took advantage of a late race fall by The King, Jeremy McGrath, to take the win. In a race that didn't feature a lot of big-name riders due to it taking place in the middle of the summer, the crowd just accepted another McGrath win as a guarantee, as he jetted out to the lead early in the main event. But Ferry held strong and when MC uncharacteristically made a mistake, the #15 rider held on for the win. It was a shocking turn of events but one that I, ace tuner for Ferry, saw coming. Okay, actually I had no idea at all that MC could be beaten by anyone back in '99 and Ferry's win was as much of a shock to me as to anyone else. I'm just glad nothing fell off the bike. Although it doesn't seem to be remembered by anyone at all at anytime, I like to keep the memory of Summercross alive. Just ask anyone that has ever talked to me.
Oh, and even though it was promised to be the first or many Summercrosses, it was the only one and the 125 support class winner that night was our own David Pingree. So in a way, Racer X is home to the defending Summercross Champions in both classes. Yup, domination in an event that is totally forgotten. Take that Dirt Rider!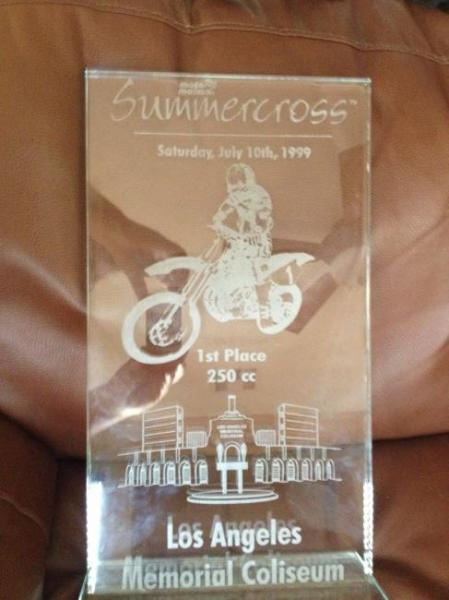 The Summercross trophy is now in safe hands.
Steve Matthes photo
6. Jeff Emig at the U.S. Open at the MGM Grand Garden Arena (1999)
Another 1999 win and this time at the U.S. Open again. This is perhaps one of the sweetest redemption stories to happen in our sport. Jeff Emig, the 1997 SX champion, was fired from Team Kawasaki late in the '99 season for an off-track arrest and came to the U.S. Open looking to try and get back on track. Riding a Yamaha for FMF and The Edge.com, Emig was a long-shot coming into the race and not too many people expected much from 'Fro. But in the end, over two nights of racing, Emig came away with the 100K first prize and the respect he garnered back from everyone in the industry was incredible. Emig rolled the dice and it came up sevens for him and his crew. Afterwards, Kawasaki's Bruce Stjernstrom, the man who fired Emig, was one of the first ones to congratulate his ex-rider on what remains a real story of an underdog coming out on top.
7. Ryan Villopoto at the Monster Energy Cup at Sam Boyd Stadium (2011)
The defending supercross and motocross champion, Ryan Villopoto came into Las Vegas as the favorite but no one expected the Monster Energy Kawasaki rider to win all three main events and claim the one million dollar prize. But that's exactly what RV did as he rode three calculated races to win pretty easily over KTM's Ryan Dungey and clinch the huge prize. It was a smashing success to the opening MEC and one that RV looks to duplicate this Saturday night.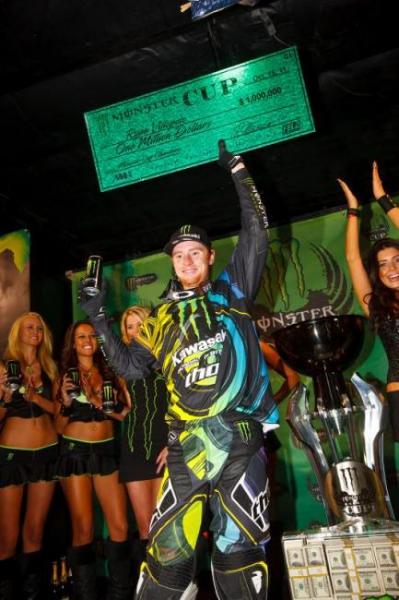 RV is going for the repeat at the Monster Energy Cup tomorrow.
Simon Cudby photo
8. Kyle Chisholm at Bercy in Paris, France (2011)
Another race that has over the years "brought it" in terms of entertainment and excitement, last year's edition saw highly touted riders like Justin Barcia and Eli Tomac of the GEICO Honda team (but on 450s) Motoconcepts' Mike Alessi and Kawasaki's Jake Weimer all looked upon as the favorites. But after three nights of racing, super-pole qualifying and heat races, it was then-privateer Yamaha rider Kyle Chisholm taking home the win. It was a very unexpected win for Kyle, who even had his dad wrenching for him and who only brought a suspension, a pipe, handlebars and a sprocket to the race for the stock Yamaha. Although he didn't win a main event, he used podiums and speed to take home what is probably the biggest win of his career so far.
9.  Ross Pederson at Moose Jaw, Saskatchewan (1983)
[Editor's note: You just knew Matthes was getting a story about The Roller in here.] It's not everyday that legends grace the same tracks that you and I ride at but in 1983, in a small town in Saskatchewan, Canada that's exactly what happened. Ross "Rollerball" Pederson was still just beginning his ten-year reign in Canadian moto when there was a big bucks Suzuki contingency race at the Moose Jaw track. Rollerball, used to mopping up on all the Canadian pros showed up to race all three pro classes and try to take home some serious cash. And that's exactly what he did, Rollerball beat up on Brent Shury, Mark Medock, Kevin Ferguson (who owned the track), Donnie Gill and others in taking six moto wins and walking away with the glory, the girls and the adulation of everyone in attendance that day. So despite him actually winning, I like to think that when a man like Pederson shows up at the local track, really everyone's a winner.