Fox Racing has enjoyed a good 30-year run at the very top of the gear food chain, but the company believes the development of its new Instinct boot and V4 helmet make for its biggest step forward, ever. To prove it, they've put together a traveling Fox Road Tour so riders can get to know the new stuff inside and out. We talked to Fox's Marketing Communications Director, Warren Johnson, for a little insight on how new product comes to market--and how they market it once it's there.
Racer X: Okay, Warren. What's this Fox Road Tour all about?
Warren Johnson: The Fox Road Tour travels across the country, and the goal is to provide a hands-on learning experience of Fox's two new product premiers, and that's the Instinct boot and the new V4 helmet. We've been to RCU at Lake Elsinore, and then it's been to a couple of regional stops. The goal is to piggyback off of big events at a dealership--maybe a big autograph signing, like when supercross begins--and we bring our rig in, and build an interactive consumer display.

And what is that interactive consumer display?
It's the Fox Bus, set up with a factory style awning. It commands a 50 by 35 foot footprint. It's big--think back to like when Mike LaRocco was riding out of a separate truck, next to the GEICO big rig. It's a truck like that. It's an interactive kiosk that can show the consumers the features of the product. For example, the Instinct boot, we have a cutaway so you can see the ankle hinge, and how that works. And the sole of the boot is a three-layer design, totally proprietary to Fox--we have a rubber outsole, a softer mid sole for some cushion, and that's taken from our athletic shoe, with the steel shank embedded in there. That mid sole feels like a running shoe when you stand in this boot, so we have a mat you can stand on to see what that feels like. We also have a cutaway from the helmet, showing the venting and things like that. You'll see the dual-stage helmet liner. What we did is, when we developed the Instinct and the V4, we benchmarked the best products out there, and made that our minimum baseline standard in every category. But with the Road Tour, we're able to let the consumer go out there and feel it and touch it and see it. We can set this thing up out in the lot at the shop and educate the consumer. And if the dealer is hosting an autograph session, we'll bring our athletes out--like Roczen, Reed and Dungey.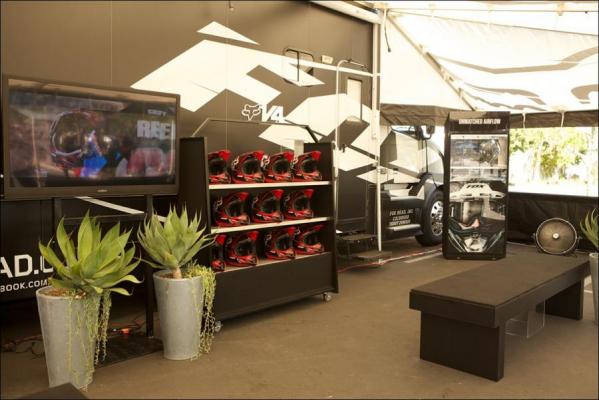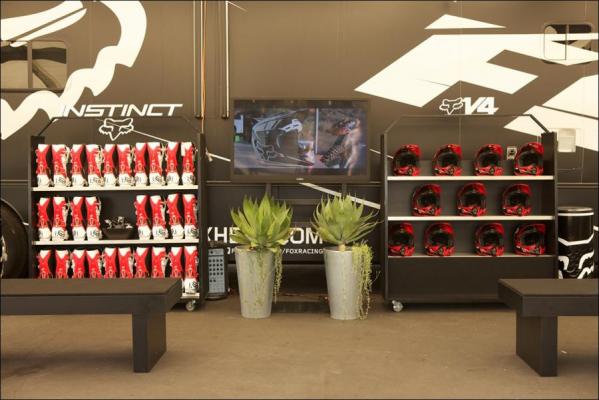 When the Fox Road Tour stops in at your local shop, you'll get a museum-quality look at their new product.

But Warren, people are going to say, "Yeah but, I can go down to any shop and look at a Fox boot." But this is much higher end?
Yes, don't think of this as a point of purchase display at a dealer, but as a museum quality interactive display.

You wouldn't be doing this if you weren't pumped on the new product. Is this revolutionary stuff?
Yes. We have a lot of new features that we have never used on our products before--we wouldn't say no one has done it before, but we've refined it to the point where no one has done it like this. The boot has quite a few patents.

Well, the banners say, "This is the first boot that can make you faster."
Exactly, and here is the story behind that: The boot was in development for over three years. We have an ad that says we had four different types of prototype boots, and it took all of those prototypes to make one boot in production. The idea that this is the first boot that can make you faster, it came from Eli Tomac, the first time we ever took it out to let him try it, this was last year, when he wore Fox. He tried the prototype and said they were unbelievable. He had never won a supercross at that point, but he said, "If you guys let me use this boot, I guarantee I can go faster, and I can win in them." So we gave him all-black prototypes, and he ended up winning in them, in San Diego.

And no one even knew that night what he was wearing?
Nope. Part of the devolpment process is real-world race testing. He was going to be part of it, but much later in the process. Also, at that point we didn't have a full range of sizes to pick from, and then you'll have some guys on a team that get the new boot, and some that don't, and you know how that goes. We had to hold off for him until we had his size, and then he won in it, and from that point on it was the only boot he ever wore.

Another story is Chad Reed. He had been a long time Alpinestars rider. He was in my office last year, during the off-season, and he was just in here reviewing some gear styles. We were still a good five months out from production, and he sees one of the boots and says it looks pretty sweet. A few weeks later, he said he would like to try the boots, and he wanted to test them. He rode with some of our engineers there, they went back and did their homework, and he made the switch. You guys can be clever and say that, instinctually, he knew the Instinct was the boot for him.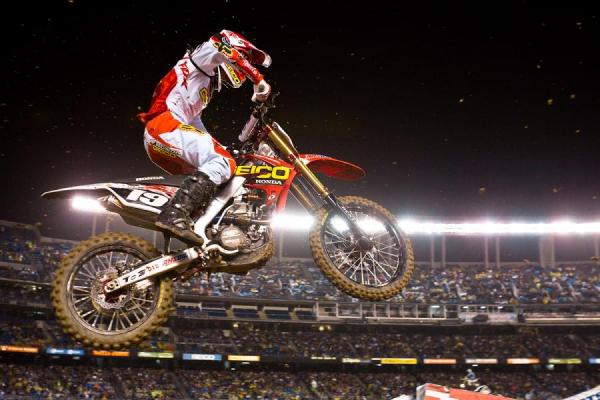 Few knew
Eli Tomac
was running prototype boots when he won his first ever supercross.
The Medium Group photo
Oh, that's very good, Warren. Hey, the boot industry has to be a tough one to crack. Fox gear has always had a great rep, you've had the helmet for a long time now, but is this your biggest, to use a pun, step, into the boot world.
Absolutely. This and the new V4 helmet, It's the most aggressive undertaking we have ever made as far as patents and development.

You mentioned that it takes three years, and I think that's something most of us would have no clue about. What's a three-year process to develop boots?
The first thing is, we started with the best test rider in the world, Ricky Carmichael.

So he was the first?
Yes, he was the first rider to ever ride in it. We went to his house probably a year after he retired. We brought 15 pairs of boots, and he loved it. He thought, because it felt so light and free, that it couldn't be protective. So he went out and started casing stuff on purpose just to test it! We start with a hypothesis, then go into the modeling phase, than the prototype phase, and then into the testing phase. Our riders raced in this boot for a good 18 months before it was out. As for the helmet, we worked so hard with the venting on it, that some testers have remarked that they can actually hear their bike better with it on--I had even thought about such a thing, but if you think about it, if there's better venting and more air going through it, you're also going to hear more.

For more on the Fox Road Tour go to http://www.foxhead.com/v4/#/tour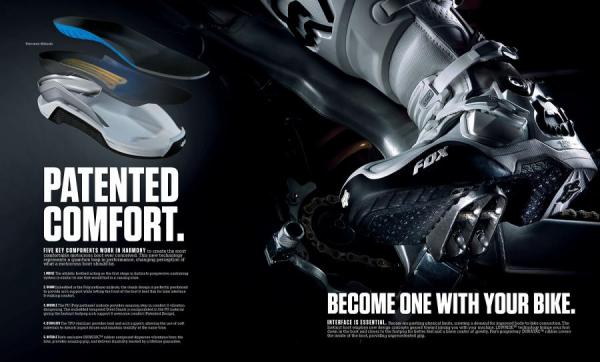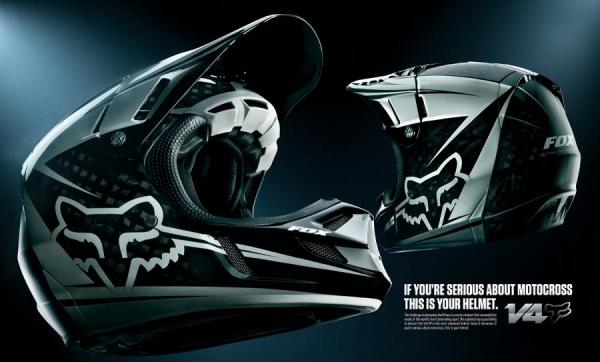 Fox is making a big push with some new ads--the gear has always been good, but they're hanging their hat on the new helmet (and boot).