Lommel
Lommel

,

Belgium
MX of Nations
Motocross of Nations
The current Motocross of Nations design (Motocross des Nations for you purists) debuted in 1985. That year launched the three riders/three classes/three motos format. Until then, two separate events ran on consecutive weekends, with the Motocross of Nations featuring four-man teams all racing 500s, and the Trophy des Nations, which featured four-man teams on 250s (super trivia question: there was once a 125-only event, too. Do you know the name?).
Since 1985, teams have played a strategy game to find the best rider and bike combinations. Pick the best talent and just stick them on whatever bikes are needed? Keep the riders on equipment they know? It's an annual debate, and it went on again this year when 250 Class rider Justin Barcia was tabbed to race a 450 in the MX3 spot.
It's something Team USA is familiar with. For The List, we present some other great stories of class jumping for American riders at the Motocross des Nations.
7. Ryan Hughes on a 500 in 1995: Team USA was in trouble during the 90s. The AMA 500 National Series had ceased, but the des Nations still required someone to race a 500. Kawasaki was the only brand with a 500 around, so a green guy had to go. In this case, it was Ryan Hughes, who had raced the 125 Nationals that year! Of course, tough-man Ryno was up for the challenge and rode it well, but he, Jeff Emig (250) and Steve Lamson (125) were just edged by the Belgians.
6. Jeff Ward on a 125 in 1988: The U.S. had a definitive Big Three in '88, with Team Honda's Rick Johnson regularly battling Kawasaki's Jeff Ward and Ron Lechein. No one else was close. Although Team Honda's George Holland was the new 125 National Champion, the AMA went with the best talents in RJ, Wardy and The Dogger. But which of these 250/500 riders would have to ride the 125? Since Ward was the smallest and lightest, he got the nod. In his first 125 race since 1984, Ward rode well, battling '88 125 World Champion Jean-Michel Bayle all day. Lechein and Johnson took the 500 and 250 classes, and Team USA won again.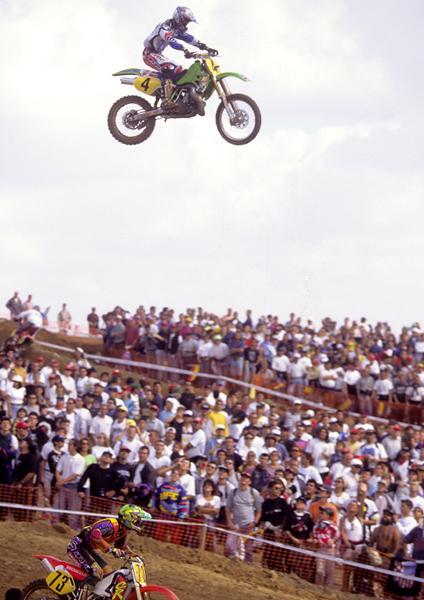 That's Jeff Emig skying through the air on a KX500 en route to a Team USA victory in '96.
DC photo
5. Mike LaRocco on a 250 in 1992: LaRocco was leading the points in the 125 Nationals, locked in battle with Jeff Emig for the title. With the pressure of Team USA's massive win streak building, riders like Jeff Stanton, Ward, Damon Bradshaw and Mike Kiedrowski passed on making the trip to Australia, as did Roger DeCoster (leaving Team USA Manager duties up to then-AMA official Roy Janson). LaRocco jumped up to a KX250 for the race, Emig rode his 125 and American 500 GP contender Billy Liles took the big bike. The so-called B Team won the sandy affair to keep the win streak alive--then LaRocco and Emig went back to battling each other on 125s!
4. Jeff Emig on a 500 in 1996: In Spain, a similar problem and similar solution as 1995. Emig, fresh off the 1996 125 National Championship, hopped on the same KX500 Hughes did the previous year. It's one of the only times Emig ever raced or rode a 500, but he delivered a superb performance to win the class. Jeremy McGrath (250) and Lamson (125) won their classes, too, adding up to one of the most dominant (and underrated) Team USA performances ever.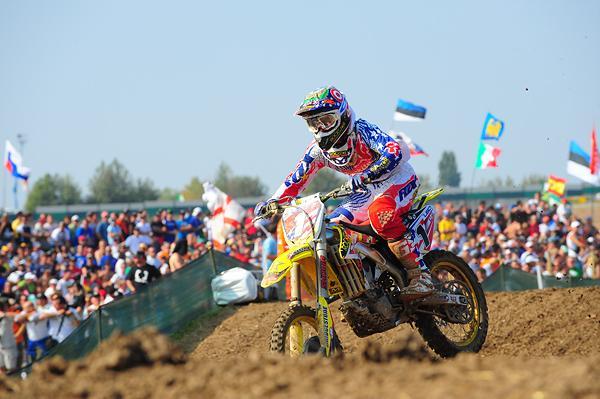 Ryan Dungey made the leap to the 450 in 2009 to help lead Team USA to the win.
Steve Cox photo
3. Dungey on a 450 in 2009: In 2009, the top 450 motocross rider in the U.S. was not from the U.S.--Chad Reed claimed the 450 National Championship. The U.S. was in a jam. Ryan Villopoto and Mike Alessi were injured. James Stewart had not ridden outdoors in a year. So up came 250 Champion Ryan Dungey to the 450, and, he was tabbed for the MX1 Class (against Reed and MX1 World Champion Tony Cairoli), while Ivan Tedesco, a full-time 450 rider, was given MX3 duty. Dungey couldn't match Reed or Cairoli in their first moto, but a first turn crash snagged the two big-bike champions in their next race. Dungey picked up the pieces and rode to the moto and overall win for the day, leading Team USA to victory.
2. Bob Hannah on a 125 in 1987: Possibly the most controversial des Nations pick ever. Hannah was the winningest American racer ever back then, but he was well past his prime, having not won an AMA National or Supercross in two years, and not won a title since the 70s! He wasn't even racing the full schedule anymore, settling into an R&D role with Suzuki. And yet, with the des Nations coming to the U.S. for the first time ever, at Unadilla, the AMA wanted Hannah on the team. He might be old, but he still hauled ass at 'Dilla, winning the 250 USGP there. But with big hitters Johnson and Ward sealed onto the big bikes, Hannah would have to ride a 125, which he hadn't done since 1982 (with little success). The 1986 and 1987 125 National Champion Mickey Diamond got the shaft, and was really never the same rider after that. Meanwhile, it rained like crazy at Dilla, but Hannah, incredibly, came through, going 4-1 to win the overall in the 125 Class. Team USA reigned supreme again.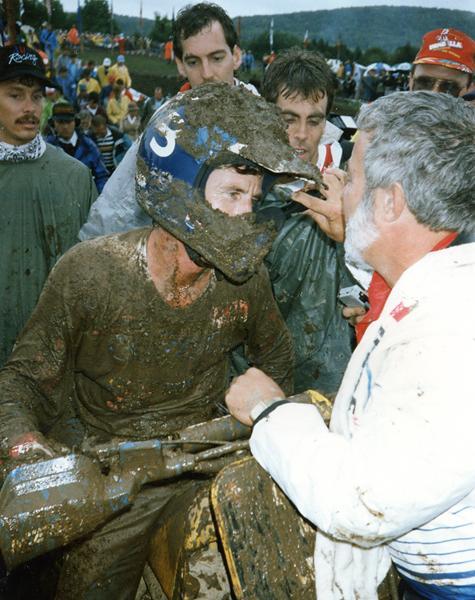 Hannah returned in 1987 to help lead Team USA at Unadilla.
Racer X Archives photo
1. Johnny O'Mara on a 125 in 1986: The 125 ride all 125 rides are judged by. O'Mara's days at Honda were up at the end of the 1986 season, but he was still tabbed for Team USA in one last ride on red, alongside teammates Johnson (250) and David Bailey (500). O'Mara had not raced the 125 Class since 1984, but he was fired up, and beat ever single rider at the event sans for his teammates. Along the way to finishing second overall in both of his motos, he powered his CR125 past 250s and 500s. Ten years later, Lamson took the first-ever des Nations moto win on a tiddler, but O'Mara's performance still stands out in MXdN lore.
Bonus: There is no greater jump in classes than in 1983 when Team USA consisted of Ricky Johnson, Mark Barnett, David Bailey and Jeff Ward. These were the days of the Motocross and Trophy des Nations, with everyone racing 500s one weekend and 250s the next.
But, the real interesting part was that Barnett and Ward, two of the premier 125 riders in the world, both raced 500s and both did pretty well at that. Although Bomber had shock issues one moto on the antiquated RM500 both smaller tiddler riders showed that they could ride anything, anywhere and anytime and still kick ass. America, heck yeah!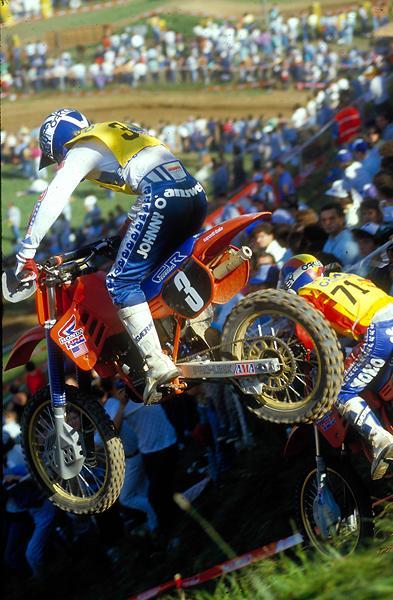 O'Mara put together one of the best performances on a 125 in des Nations history in '86.
Jack Burnicle photo