Steel City Raceway
Delmont

,

PA
Steel City
Lucas Oil AMA Pro Motocross Championship
"You're usually only as good as your last race in this sport," says Grant Langston.
Indeed, you rarely see much loyalty from riders to teams or teams to riders in motocross. But recent news this off-season skews differently. Last week, we learned of three riders who have had rough seasons, only to still be re-signed by their current teams for another run in 2013. Michael Byrne missed all of Monster Energy Supercross with a broken neck, then broke his leg while leading at Unadilla. But right before that, Byrner was re-signed by Team BTOSports.com, and the team will have a spot waiting for him when he gets back. Today, he's going in for surgery, but at least he doesn't have to worry about employment next year.

Les Smith hasn't had a great season, either, and he, too, broke his leg at Unadilla. But then his Langston-Witt Motorsports team announced they had re-signed Les, broken leg and all. Finally Christian Craig, finishing up a third injury-ravaged season for Lucas Oil Troy Lee Designs Honda, was also just re-signed.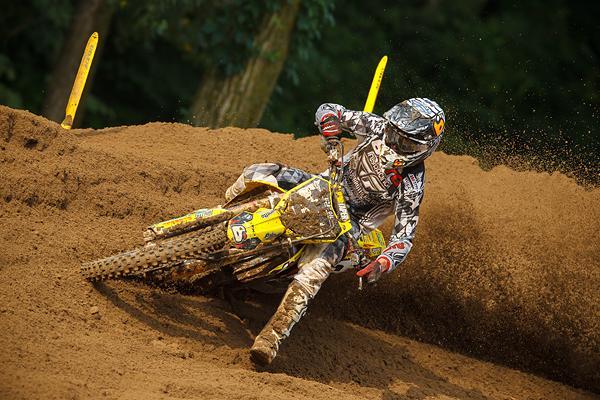 Michael Byrne has re-signed with the BTOSports.com team for next season.
Simon Cudby photo
Loyalty? You bet.

It's a great trend to see in one of the most cut-throat of professional sports. Motocrossers don't get five-year max money guaranteed deals, in fact, most riders only get one-year deals, and that means one injury or one bad season in general can ruin everything they've worked for to this point. In the case of Byrne, Craig and Smith, another chance awaits.

Says TLD Team Manager Tyler Keefe of Craig: "It's tough because he's only raced a handful of times, but if he has a solid off-season, he could really be a contender. His potential and the speed he shows is what you want in a rider."

Craig was slated to start racing for TLD in 2010, but an engine problem sent him over the bars while testing, resulting in a broken back. He was out for the whole season, and at first no one was sure if he would ever race again. But the team stuck with him through the process. Racer X's David Pingree was managing the team at the time. "I knew it would really be big for him if we could tell him not to worry about having a ride," says Ping. "I remember being hurt and in the hospital, I was riding for Pro Circuit at the time, and Mitch [Payton] came in to say I didn't need to worry about not having a ride when I healed up. It's such a load off of your shoulders. You're already stressed out about being hurt, you don't want to have to start worrying about losing your ride for next season."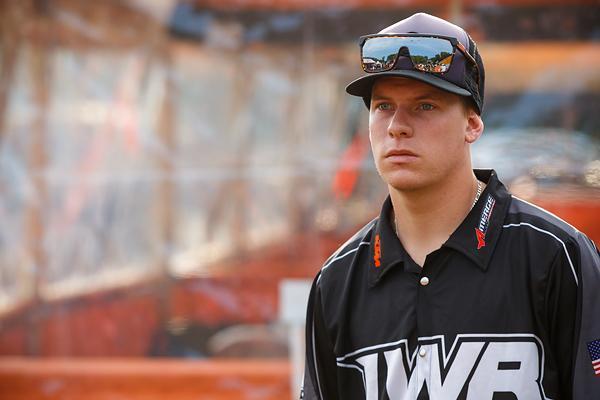 Les Smith and Langston-Witt KTM have agreed to terms for next season.
Simon Cudby photo
"You have one bad year and it seems almost like your career is done," says Langston. "I had one bad year in 2004 and it was almost like I was done. But Mitch [Payton] worked with me. I talked to him and he was like, 'Yeah, you want to do something? You're my guy.' There's not a lot of people like that in our sport, but I think it's starting to change."

Craig was even kept on a small salary throughout the 2010 season, and then came into 2011 ready to pay dividends. "Tyla Rattray came in like a bowling ball and took out three of my guys," says Keefe. Craig broke his leg in the crash, and wouldn't return until the outdoors, where he jumped to a 450. He logged some strong rides, but at Southwick he washed out in a turn and broke his navicular. His first surgery on the wrist did not go well, which pushed him back all the way until RedBud this year before he was finally feeling 100 percent. Since returning to racing, after nearly a year off, he's generated just one top-ten finish. But when he's gotten a start, he's shown he still packs great speed."
So much so that Langston's team was actually looking into signing Craig as Smith's teammate next year. It appeared Craig was set to sign, and Keefe expected to lose him. But at Unadilla, Craig had a change of heart and decided to go back to TLD, for less money than Langston-Witt was offering. Loyalty appears to have two sides.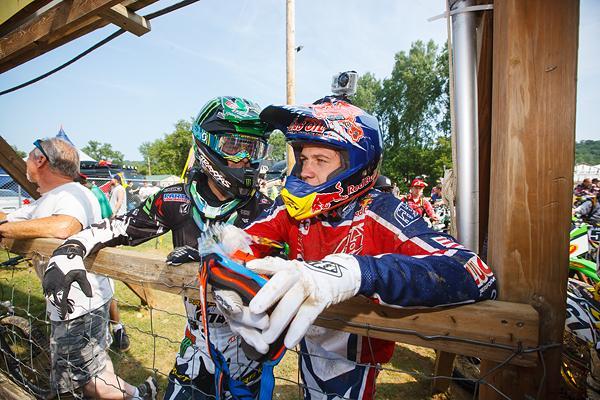 Christian Craig (right) will be back with Lucas Oil Troy Lee Designs next season.
Simon Cudby photo
Meanwhile, Les Smith sits 20th in 450 MX points, and is now on the shelf for the rest of the season with a broken leg. He also finished 12th in Lites East SX points. But for Langston, sticking with him was quite simple. "There's a lot of reasons," says Langston. "One is that we ran into some bike issues this year, which is expected since we're a first year team. We maybe held him from his maximum potential. Second, he did all we asked, he put in 100 percent, he never complained or bitched about anything, and he tried as hard as he could. And we think he can be better. The poor kid was Mr. Replacement Rider for a few years on different teams. But this year, any time anyone asked him about his future, all he said was that he wanted to keep riding for us. That means a lot to us, if gives you confidence that he's going to keep putting in that effort. And his results started to get better, and he got his best result ever a few weeks ago with a seventh. And I think he can be there all of the time."  

Craig, Byrne and Smith have been through plenty of ups and downs during their careers, but they were in the right place at the right time when it happened.