Steel City Raceway
Delmont

,

PA
Steel City
Lucas Oil AMA Pro Motocross Championship
Starting a successful racing team at the professional level isn't an easy feat and the odds are stacked heavily against you. Chip Munn doesn't care about those odds and is determined to make his team successful because he is truly passionate about racing. Munn Racing/Ankle Savers KTM put themselves on the map this year with a big rig, hiring riders and racing the entire 2012 season. Based out of Texas, Munn and his team have big plans for the 2013 season which include two semi trucks, tryouts for potential riders and a media plan so fans can follow the progress. We caught up with team owner Chip Munn for a quick chat about the 2012 season and the future of the team.
Racer X: Hi Chip, give me a little background on how you got involved with pro racing.
Chip Munn: Well, I grew up riding in the country, started racing and have loved motorcycles ever since. Fast forward to 1999, I bought a KTM shop from a friend of mine, and around that time KTM started doing amateur motocross and needed someone to help out with that. So in the fall of 1999 I started doing the amateur motocross track side support in the United States. I worked with KTM and other people with the amateur program until 2007. We always helped out pro riders as much as I could, and I mainly did it because of my passion for motorcycles and to help people get to live out their dreams.
You are making a big push into the pro scene with purchasing a big rig and hiring riders. What made you decide to step it up to that level?
I've always wanted to have the big truck with a team. In the past, I've had big trucks with goose neck trailers, fun movers, and all of that. It was just the next step in the evolution of what we we're doing and only made sense to get the semi and growing the program. We have plans for next year to get back with the amateur program and develop almost a farm program with the riders. The amateurs guys are my heros, the ones who work all week and then lay it on the line on the weekend. We are just trying to give back to the racers in anyway we can. We want to create a program for the guys to grow into from amateur to pro.
Sound like your really passionate about motocross! How do you feel your team has done since you started?
You know, I helped out Tevin Tapia for the last couple years, I helped out Ricky Renner, and more and then this year we helped Sean Hackley and Lance Vincent. People got hurt so we had a couple riders come in and it's been a great learning experience. It's much more than buying a truck, getting riders and going racing. For us, we are learning everyday and I truly enjoy it. We weren't expecting to win pro races, just to learn something new everyday and improve as a race team and I feel we are accomplishing that.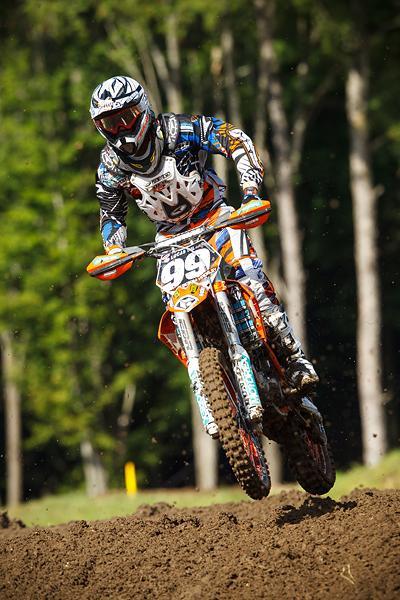 Sean Hackley has struggled with injuries during 2012.
Simon Cudby photo
So what's the plan for 2013? I heard some rumors about possibly adding another semi truck?
I've always liked the privateer programs like Warthog Racing and how they help kids reach their dreams of racing at places like Unadilla or Daytona Supercross. I've always tried to support riders that really want to do it and are appreciative of the help they get. I get a lot of satisfaction of helping riders live out their dreams of racing at the professional level. Right now, we are entertaining the idea of having a "A" and "B" team in two different semis with the goal for the riders on the "B" team to put in results and hard work to make it to the "A" team. Almost like a farm league system to make the transition from amateur to pro a little easier.
At the end of the day, I'd like to have my "B" team semi which would be for privateers and my "A" team be the fully supported riders, hired riders, or riders that get moved up with results. Kind of like what Warthog, Ted Parks and Team Gus have done with the privateers, but on a higher profile and also on the same brand of motorcycle. It's a big work in progress but I think it can be done.
Do you have any riders signed yet or can you not say right now?
I've got one guy lined up right now that is almost signed and we are looking at a bunch of riders. I'm extremely loyal to my sponsors and also my riders. Once I've built a relationship with a rider, it's almost like family over here and kind of hard to turn away riders that need support. That's why we are talking about making two teams so we can still help riders that have been in the program for a long time and also sign on new riders. Another thing we are talking about this year is having a tryout for the teams during the off-season. That way we aren't limited to just riders in Texas and can pick the right riders to start out the 2013 season with. There is still a ton of work to be done and we have a lot of ideas for next season and hopefully we get to that point and everything works out. KTM's support has been better than ever and getting to the point of having two semis will take a lot, but I don't think it's impossible and now is a good time to be on a orange motorcycle.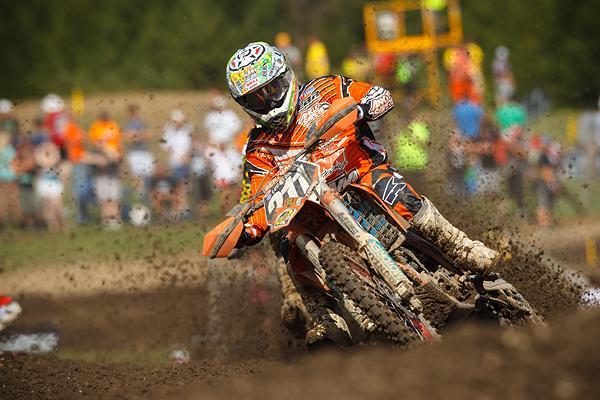 Tevin Tapia has been a fixture on the Munn/Ankle Savers KTM team.
Simon Cudby photo
Speaking of KTM support, how well do they support the team?
Well, it's really supported through the sponsors, through the dealership, through the customers and through our KTM community and its supporters. KTM does support the motorcycles through the dealership, but as far as motor and suspension development that is all done through Josh Rogers with EBR Performance. That's pretty much it as far as direct support and there's not really any parts support or any special parts or anything like that. Everything is off the shelf and can all be purchased through the shop. But mainly my team is what gets everything done. My mechanics, my driver and everyone that helps with day to day stuff that makes all this happen. I've got a great group of people that I work with and we are learning at every race how to improve and get better at this. We are already such a better team now than we we're at the beginning of the year and I'm really looking forward to 2013.
Do your mechanics just work on the weekends at the races or are they out of your shop? Is everyone based out of Texas?
There's some that work full time in the shop and some that work just on the weekends. Sometimes it kind of depends on what area we are in and what riders are on the team. Like this year when we we're on the East we had some new riders and we used some new mechanics but next year we are looking to do something a little more steady. I think we have it all figured out for next year though and it should be all set.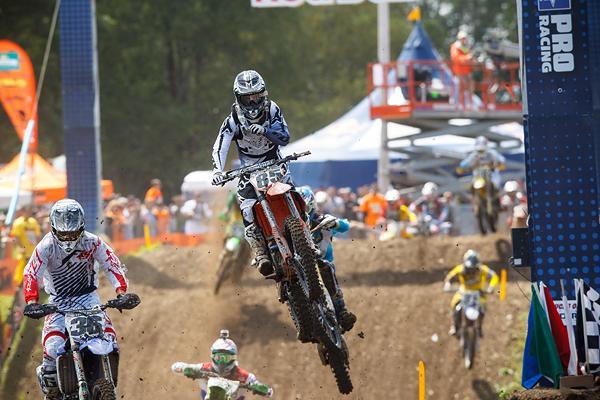 Robby Marshall has been a bright spot for the team since signing before Southwick.
Simon Cudby photo
By the sounds of it, your here for the long haul.
We work very hard at this and we may not be the best at what we do, but at the end of the day, I know we put in 100 percent and I'm happy with that. I make sure we do the best we can for KTM and our sponsors. This opportunity to go racing is amazing and we love it. The whole deal is built on a three year program. What I mean on that is, I've based this on working hard at this for three years. A growing three year program and each year sit down and look at what we are doing them reevaluate. But my personal goal is to have a 450 program, 250 program and a privateer program with the amateur program feeding all those programs. That's pretty much what my three year program is to have all those in place by three years.
Well it was good to hear from you, anything you'd like to add?
We have a lot of new media ideas, that are going to let the fans see how the team works and keep everyone updated on the social networking side of things. But mainly, I really couldn't do it without my whole team and the excellent sponsors we have, Munn Racing/Ankle Savers/ KTM, EBR Performance, DEP Pipes, Motorex, AXO, Enjoy Graphics, Dunlop, Wiseco, Rekluse, CYCRA, PMP Sprockets, Engine Ice, AGV Helmets, Motocross University, Odes UTV's, ODI Grips, ASV, Moto Tassinari, Tamer, DT1, DP Brakes, Motion Pro, Bolt Motorcycle Hardware, KTM Powerparts, KTM Original Spare Parts, KTMtalk.com and MotoNewEngland.com.