Washougal MX Park
Washougal

,

WA
Washougal
Lucas Oil AMA Pro Motocross Championship
Mike Alessi, MotoConcepts, 1-2 for second in 450 Class
I just did my best to put in the biggest fight that I could and protect those insides. I knew the only way he [Ryan Dungey] was going to be able to get around me was that he would have to go around me on the outside. I just made sure that I held on tight to those insides. He was riding extremely good and put the pressure on in those last couple of laps. I just went for it. It feels good to get a moto win. I tied for the overall, which is great. It's weird because, even though I got second, getting that taste of first that first moto, it feels good. That hunger and that spark is back.

Had to be a lot of emotion there for the team.
Yeah, first win for MotoConcepts. We're a privateer team, and I feel like no one believed in me or believed in them. We're kind of the underdog team. It's a totally different feeling for me racing as a privateer.

It's a home race for them, right?
Yeah, they're based about three hours down the road in Spokane, and we had 30-40 people there last night having dinner. Lots of support around the track. The fans were unbelievable. It's definitely something you can hear. The fans treated me exceptionally well, and this has been one of the most enjoyable seasons I've ever had.

Once you had the big lead over Dungey, it seemed like you rode worse! Then you picked it back up when he caught up.
Yeah for two laps there I started making big mistakes, almost went off the track there. Then once he caught back up, it was like 'This is fun again!' He's pushing me to ride better. I think I put in one of my fastest laps of the moto on the last lap.

Second moto?
I got a second place start behind Ryan. I tried to stick with Ryan for four or five laps and key off of him, but it wasn't happening. Honestly I wasn't prepared to go that fast for two full motos, it's something I have to work on. It's taken me two or three years to get to this speed again. I've got to keep working to get that all back in me.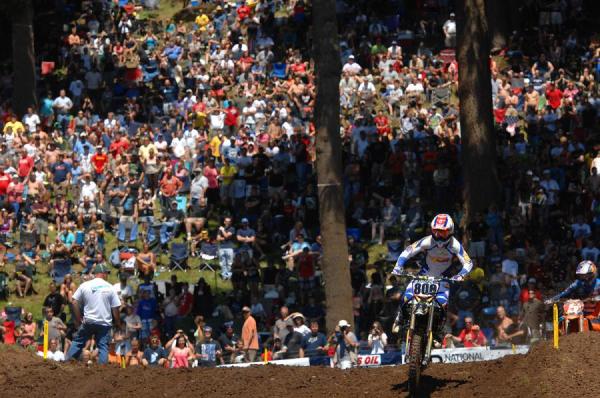 "Then once he caught back up, it was like 'This is fun again!' He's pushing me to ride better. I think I put in one of my fastest laps of the moto on the last lap." - Mike Alessi
Carl Stone photo
Eli Tomac, GEICO Honda, 2-3 for second in 250 Class
I just wasn't quite good enough to be number one today. First moto, I was just behind [Marvin] Musquin and Justin [Barcia] there for pretty much the whole time. I ate lots of roost and once I got by Musquin, me and Justin just kind of settled into a nice pace. Then second moto came around, not quite as good of a start, then just spent way too much time on Marvin again. Definitely wasn't easy to pass. I would try and get setup to square something and it would just funnel back into one line. It was tough to pass on this track today, but I don't want to blame it all on that.


Blake Baggett, Monster Energy Pro Circuit Kawasaki, 6-1 for third in the 250 Class

Racer X: I guess everyone's wondering about the first moto. Give us the rundown of what happened there?
Blake Baggett: I just crashed, made mistakes. I tried to go faster than I was able to go, so I made a few little mistakes and ended up going backward and ended up sixth. So I brought it back and just regrouped. I think I just tried to ride lines that weren't really there and weren't holding. I changed up tires and suspension for the second moto. It soaked it all up and worked better, I guess.

Wait you said you changed tires? How often do you do that? I know you pretty much run the same time every week.
Actually, we tried different tires for the first moto. I went back to my regular stuff for moto two.

Did you feel you were riding well in moto one besides the crashes?
No, I don't think I was riding very well the whole time. Just couldn't put the bike where I wanted. We made few phone calls to Bones back at home. He was watching it on TV at home, so we called him and he suggested some changes.

Second moto, you guys were really going at it during the last few laps.
It's getting down to the wire. [Justin Barcia] wants to win really bad, I want to win really bad and so does Eli and Musquin and Roczen. Everyone's giving it all they have every weekend and however it works out, it works out. Lappers get messy sometimes and then you just start changing your line and mixing it up. It was definitely a fun race. I had a lot of roost for a long time.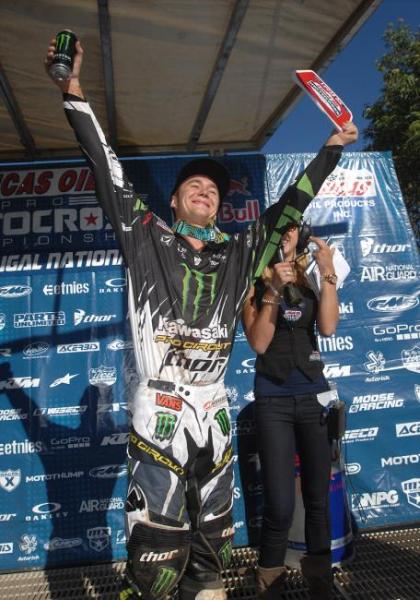 "It's getting down to the wire. [Justin Barcia] wants to win really bad, I want to win really bad and so does Eli and Musquin and Roczen." - Blake Baggett
Carl Stone photo
Andrew Short, Chaparral Honda, 4-3 for third in 450 Class
Today was good. Washougal has always been good for me, I've had success here including a win on the Lites bike. I feel like I'm going in the right direction, been making improvements the last few weekends. The last few races haven't gone so well for me--Colorado was the last race on the podium for me, and that race, it almost doesn't count because that race is like cheating for me!

What has been the difference the last few weeks?
Just my fitness. With Kenny [Roczen] down there in Texas, we've been doing a lot. I'm not 18, I'm older and I haven't been recovering as much. It's been a hot summer, in Texas it has been hot and at the races it has been hot. And the heat has always been tough for me, being a Colorado boy. I think I just dug myself too deep of a hole, and now I'm starting to get out of it.


Tarah Geiger, Lucas Oil Troy Lee Honda, 3-2 for second in WMX Class
That second moto was pretty tough. They did a pretty good job on the track fixing kind of the dangerous spots, but, at the same time, it made it fast for everybody and I think more one lined because there were only a few lines in the turns. So there was really only one. But it was a good race. We got a good battle going on.
Mariana Balbi, MotoConcepts, 4-3 for third in WMX Class
First moto, I had some problems. Like, I keep getting arm pump first moto especially. In the second moto, I felt great. I got a decent start. I was fourth, behind Geiger. I tried to keep up with them and I couldn't keep up with them, but now I'm moving in the right direction. We did some testing with the bike. It's pretty amazing and I think it was the best ride for me this season so far.
Weston Peick, Team bought a Suzuki with his own money, 9-11 for ninth in 450 Class

Racer X: What happened in practice, dude?
Weston Peick: Me and Vince Friese got into it. He just cut me off and kept going some shady stuff. He brake checked me and I crashed. Then he slammed me twice and the last lap of practice, he cleaned me out, we both crashed and I got up and just started throwing punches at him. We just started scrambling each other a little bit. Then a flagger came in and broke it up. That was that. Other than that, it was a solid weekend. I had my first national this year. I went 9-11 for ninth overall. So that's pretty solid after having a bike for three weeks.
Did you expect to do that? Top ten's good for not having raced one of these in a year, really.
I expected it. I know where I'm at. I know the speed I'm at. You don't lose your speed, you've just got to adapt to the bikes. I came here to get top ten and that's what I did.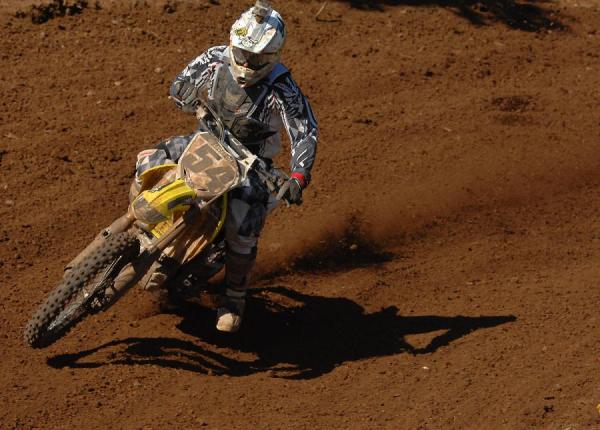 "You don't lose your speed, you've just got to adapt to the bikes. I came here to get top ten and that's what I did." - Weston Peick
Carl Stone photo
Tommy Hahn, Team Honda Muscle Milk, 7-7 for sixth in 450 Class
First moto, horrible start. I spun it off the gate. Behind the gate was really slick. Came around the first lap in twenty-third. I made some pretty good passes, especially for how hard it is to pass on this track. I ended up getting seventh. Second moto, I got an awesome start, ran fourth a lot, ended up getting seventh. I got tired the second moto, I'm not gonna lie. I've been on the bike for three weeks. I've been doing what I can. But I know where I stand. I've got three weeks now to get ready for
Southwick
.
Josh Hill, Dodge Motorsports Hart & Huntington Kawasaki, 28-19 for 22nd in 450 Class
The first moto was good. I got like a twelfth place start and I actually passed a few people, got up into eighth. We had some problems with the rear brake and I think they're related to my foot using it too much, but we had some problems. I lost my brakes around lap four and I got passed by a bunch of people. [My brakes] drifted on me. They kind of faded, then they'd kind of come back to where they'd kind of work. I tried to pick a couple guys off and just clipped my foot on a rut and took a ride.
Was that your bad leg?
It was my bad leg, but it didn't hurt it. I just hit the rut and it just ripped my foot off the pegs and I did like a sideways superman. It wouldn't have even been that bad of a crash, but my head was stuck under the cyclone fence! I had to have a spectator like lift it. By that time, I didn't really know where my bike was and my bike was all bent up. So the race was over. I just rode it out because now it's gate picks based on how you ride the moto. So I might as well ride it out. Second moto, I got an okay start but I ran into somebody in the first turn and then I had some more back brake issues once I got going. So I just rode it out. I didn't really have any back brakes the whole day, but I just tried to ride it out and get some points today.

Jake Weimer, Monster Energy Kawasaki, 3-5 for 4th in 450 Class
The whole day was tough, really. Even in practice, I wasn't good. The first moto, I ended up third, but I didn't feel like I rode well. Second moto again, just, didn't end up where I wanted to be. I was in a position to where I could end up on the podium, but just had an error on my part and fell down. Then, at that point, I just had to regroup and bear the roost for a little while longer and try and make a couple of passes. It was a tough day. Not much to say, really.