Washougal MX Park
Washougal

,

WA
Washougal
Lucas Oil AMA Pro Motocross Championship
Broken Bones. Concussions. Dislocated Shoulders. No, we aren't describing a playoff round of pro hockey, the UFC or even the emergency room after a European soccer riot.  We're talking about the action in the WMX Class in the 2012 Lucas Oil Pro Motocross Championship. In a year where the fierce and fiery battles taking place in the 250 ranks have stolen the show, the athletes of the WMX are quietly pushing through injury to put together one hell of a championship struggle. At Washougal, that fight was transformed into an all-out bareknuckle brawl in a single moment in the second moto.
After winning the first moto, Ashley Fiolek found herself under pressure from Rockstar Energy Drink Suzuki's Jessica Patterson in moto two. Fiolek is trying to mount a comeback after a concussion. Patterson is racing with a broken hand. Patterson took over the lead on the second lap, but Fiolek didn't let her get away and a few laps later, Patterson committed a disastrous error when she stalled her bike and dropped outside the top ten. Patterson regrouped and was able to charge back up to eighth before the checkered flag flew.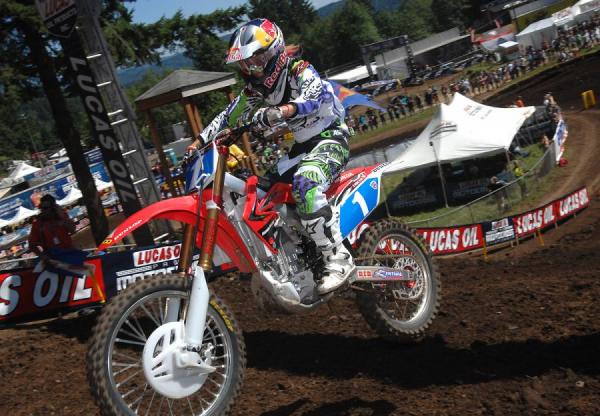 Ashley Fiolek is right back in the championship hunt after a 1-1 performance at Washougal.
Carl Stone photo
The Moment itself is not complicated and is easily explained; the above paragraph contains just three sentences. Its championship implications, however, are more complex. At one point, Patterson had thirty-three points in the standings on Tarah Gieger, and an astonishing sixty-three points on Fiolek, who was forced to sit High Point after suffering a concussion at Thunder Valley. After Patterson's second-moto blunder at Washougal (and a dismal day at RedBud where Patterson's objective was simply to salvage a few points while riding with the busted hand), she sits just two points ahead of Gieger, and eleven points ahead of Fiolek.
With just two WMX races remaining, what does this mean for the championship? Historically speaking, Gieger hasn't had the speed to beat Patterson straight up, but right now there's blood in the water. When you combine the extra motivation of being so tantalizingly close to the championship with Patterson's broken hand, Gieger could prove to be stiff competition at Southwick and Elsinore.
For Fiolek, the championship picture is just as intense. Just a few rounds ago, her title hopes had nearly disappeared, but when Patterson gave Fiolek an opening, she grabbed a crowbar, and systematically started yanking nails out of her championship coffin by roaring back to four straight moto wins. Now, with only four WMX motos left, Fiolek needs to make up twelve points in order to take over the lead. If she wins every remaining moto, guess how many points she'll be guaranteed to make up on Patterson? That's right, twelve.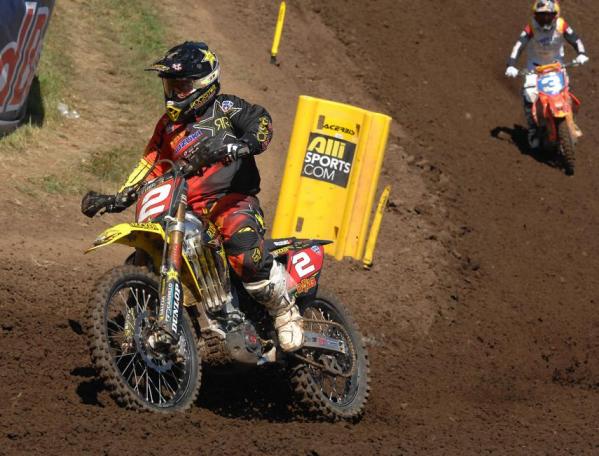 Jessica Patterson (near) is fighting through a hand injury, but still holds the points lead over Tarah Gieger (rear).
Carl Stone photo
With the 2012 WMX championship seemingly up for grabs, Patterson, Gieger and Fiolek all control their own destinies. Winning is essential, mistakes fatal. A gritty Patterson has already dealt with a dislocated shoulder earlier this year, can she overcome her broken hand as well? Gieger has been a model of consistency, but can she needs to step up and take a few wins? Fiolek is on a roll and had roosted right back in the thick of the title hunt.  Who will handle the pressure and deliver the next punch? We'll find out in a few weeks when the gate drops at Southwick.