Washougal MX Park
Washougal

,

WA
Washougal
Lucas Oil AMA Pro Motocross Championship
At Washougal, Red Bull KTM's Ryan Dungey scored another win--his sixth straight--but there was a much bigger challenge at this race than any of the previous five. Mike Alessi managed to beat Dungey in moto one, but Dungey came back to get moto two. He talked about his day, and other topics, after the race.

Racer X: You were battling Mike Alessi hard in the first moto, then you went down. How was that race for you?
Ryan Dungey: I went down there and tried to make an attempt, but I think it was good, overall. I had a little streak going there which was really good. I was really happy about that, but, at the end of the day, winning every moto doesn't get the job done. Well, it gets the job done, but more importantly it's [about] the championship. It was a tough race. I tried everything I could. He [Mike Alessi] rode a great race and I've got to give him credit.
Racer X: Prior to this, you won 10 motos in a row. Obviously, you don't want to lose. But, mentally, is it good for you to have those battles sometimes?
Yeah. Yes and no. I think, if anything, it was a nice little kick of motivation to go out there and work harder. Second moto went a little better. I got off to a good start and was able to pull away. But it's good. Anytime you can do something like that, I think we really had everyone going. From the fans here to on TV, it's good for the sport. These guys are good riders. Me winning the last motos that I have is great, but you can't ever underestimate these guys because, just like today, they can go out there and lay it down.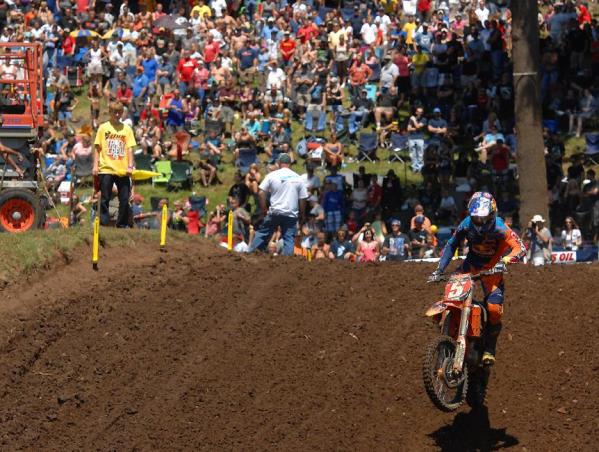 Ryan Dungey used a second moto win to take the overall at Washougal.
Carl Stone photo
A lot of riders say that this is a track that you really can't override because of the bumps, the shadows and it's slicker than it looks. Do you have to be concerned with portions of the track?
Yeah, absolutely. You definitely can't go at it like Millville, for example. You definitely have to be patient. It seems like the more you take your time, the faster you go, and the harder you try, the slower you go. That's why this track is really tough. I feel like it suits me a little bit, a riding style like that and I got my first win here. It's a track where your rear end will come right out from under you if you're not careful, it's that slippery. Second moto, it was, at least. It's definitely tough.
That's five in a row for you here. So what's the deal with you winning Washougal?
I don't know! Washougal has been great. In 2008, I was able to get my very first outdoor win. It's kind of amazing that was already that long ago. Every time we come back here, it's a lot of fun and it's nice to go five in a row. Each year it's been treating me well and the fans have been treating me well, too. It's a fun track. It kind of suits me a little bit. I enjoy it. But it makes it tough because line choice is really key, and you just really have to set the track up. You have to make it flow. You can't go straight into some things.
Did I hear that, with you linking up to Red Bull this year through KTM, that you started working with some of Red Bull's trainers in the off-season. I heard you learned some stuff about your diet?
Yeah, starting with Red Bull last year in the off-season, they have a couple of really solid personal trainers there. They go really in depth. I've always really kind of wanted to see that part of it and I have this year with them. Anywhere from blood tests to see where everything's at – your levels – to what you're allergic to food-wise and stuff. At this level, it's the little stuff. The guys are awesome. They came from the US Ski Team, which they dominated over there as well. To work with guys like that and get a little insight on stuff and get to know your body a little better, it can't hurt.
They worked with other athletes. What do they think about motocross, as far as the physical challenge that you have to go through?
This year it's new to them. This year I basically do what I do normally and they were doing all the monitoring and tests and stuff like that. It's really new, but they're really full bore ahead. They're really looking forward to getting into it, even from their amateur riders to their professional. But once their able to get the tests and the monitoring and stuff, they can readjust, try different things, see what works and what doesn't. Some things you're doing aren't the greatest, some things you find out are. I think it's all about learning for them right now and after a couple years of notes, they can do more and try to make plans with a rider to get healthy, for the rider to get better physically wise and mentally, also.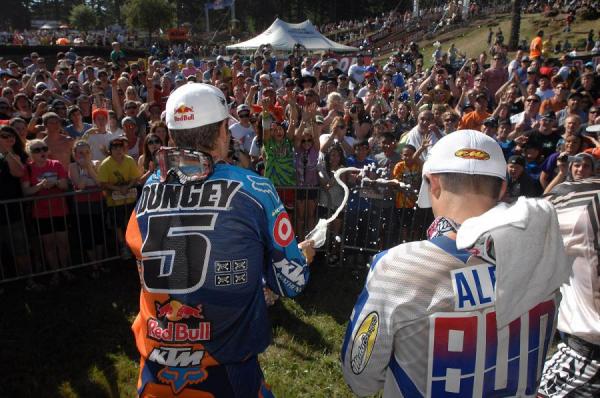 Dungey celebrates another overall at Washougal.
Carl Stone photo
What was the difference in your mindset between that first moto and second moto? It seemed like you got an early lead and you weren't giving it up.
It was the same mindset. I try to approach [each moto] the same, but it was just the start. That's what a lot of it is and the second moto was a prime example of getting a start and being able to ride the track like you want to. It definitely makes it hard being shuffled back there. Getting the roost was unreal. It hurt and it stung. I was just able to get that start that second moto and wasn't giving it up.
Going to Southwick, last year was a very emotional race for you. That was one of the greatest rides we've seen, someone blasting out on the track at the last minute and charging from the back. Going into that race, do you think about that and what happened last year?
Yes I do. Actually in my workout room, my brother built me a cabinet, and it has two things on it. There's a quote from Lance [Armstrong] on there, then it has that picture where my bike failed [last year at Southwick]. I look at it all the time and it's definitely fuel for the fire. It hurt emotionally. It was hard to accept that. But through adversity, you learn. It's a new year and new circumstances. The past is the past. You've just got to use it as motivation. I like Southwick. It's a great track, sandy and hopefully it's rough. We'll test a little for that during the break and I look forward to the motos.