Spring Creek Motocross
Millville

,

MN
Spring Creek (Millville)
Lucas Oil AMA Pro Motocross Championship
Racerhead is coming to you from Spring Creek MX Park in Millville, Minnesota, home to tomorrow's Spring Creek National, hosted by John and Greta Martin. It's a busy day, because tomorrow all four motos will air live on TV, beginning at 2 p.m. ET. The first two motos will air live on FUEL, and the second two motos will air live on NBC Sports Network. If you're not around a TV or don't get those channels, you can also watch the first motos live (and free) on www.allisports.com.
Before I get into this week's news, I want to offer an apology for all of the confusion that followed a severe attack on many websites related to the series: MX Sports' Pro Racing and amateur site (just in time for the Loretta Lynn's rush, thank you), GNCCRacing.com, and ATVMotocross.com. Someone went in and erased years of data, and it's taken all week to get them back online in some working order. The people at the office have been working overtime and beyond to get things rolling again, as it could not have come at a worse time—July Fourth weekend, as well as a severe storm in the mid-Atlantic that left most technicians scrambling to get every business in several states back online. It's been a long week, and we apologize for the inconvenience.
This a big week for not only the Martins but also Ryan Dungey, as Spring Creek is the homecoming race for the clear frontrunner in the Lucas Oil Motocross tour right now. Dungey, who hails from nearby Belle Plain, has been making the rounds for local TV, making appearances for his personal sponsor Target (which is also based in Minnesota) and probably dealing with dozens upon dozens of ticket requests.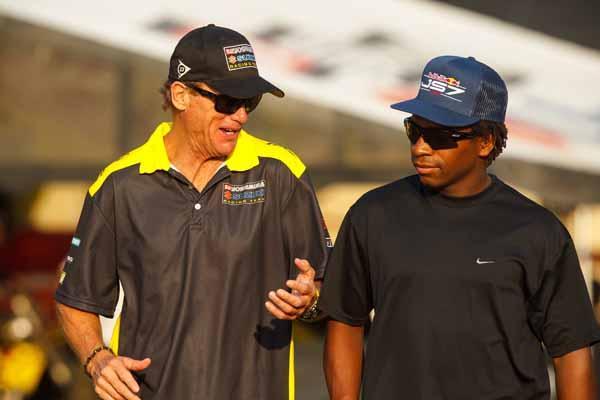 With the announcement that James Stewart will miss Millville and Washougal, and with Brett Metcalfe already on the sidelines for the season, Suzuki is missing both of their stars.
Simon Cudby photo
One person he does not have to worry about, unfortunately, is James Stewart. After coming back and trying to make a go of it at RedBud last weekend, Stewart was obviously not his usual super-fast self and has decided to take some more time off. We're hoping he will be back by Unadilla, and ready to get back to where he was before his disastrous crash at Thunder Valley.
Also missing, but coming at the bit to get back, is Ryan Villopoto, the current 450 Motocross Champion who had to abandon the defense of his #1 plate after tearing up his knee at the Seattle SX. According to a few guys who would know, RV is in perfect shape as far as his fitness goes, and he plans on starting to ride again sometime after Washougal next week. Will he be back in 2012? I am guessing for-sure at the Monster Energy Cup in Las Vegas.
But what about the Motocross of Nations in September? Team USA obviously needs all the help we can get in the sands of Lommel, Belgium. Dungey is a sure thing, but Stewart is a question mark; if he wants to go and he's healthy, then we have no problem. But if he's not? MotoConcepts' Mike Alessi is ranked second in points right now, but sand is not his strong suit. Justin Barcia is a great sand rider, but he's on a 250 right now, though he could jump up like he did at Southwick last year, where he won a 450 moto....
If Ryan Villopoto wants to go, that's a game changer for Team USA's prospects.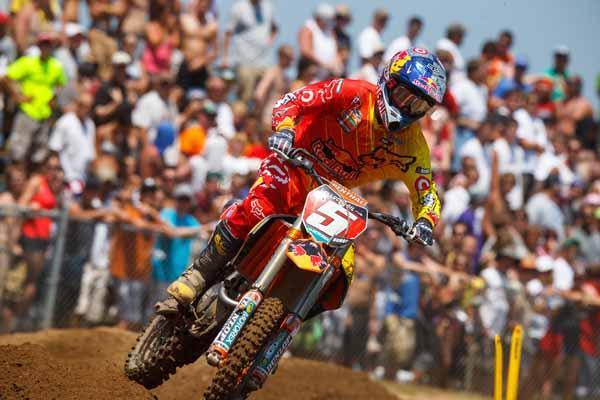 Ryan Dungey is looking to capture his fifth straight overall in front of his home town fans this weekend.
Simon Cudby photo
Longtime friend from down under Paul "Motodude" Brenchley posted this gem on Facebook yesterday:
"Ricky Carmichael and James Stewart in their second-to-last epic battle, the 2007 Budds Creek National. They split moto wins, with RC getting the better of James the second time around. We all hoped it would be a preview to Team USA for that year's Motocross of Nations at Budds Creek, but then James tore up his knee at Washougal and not only lost this title, but also a shot to join RC and Ryan Villopoto on what would have been one of the all-time great Team USA line-ups."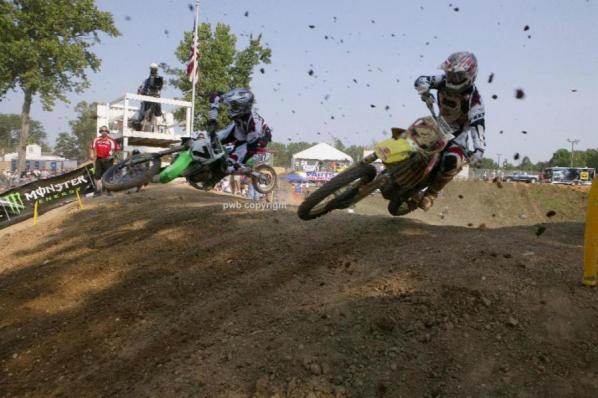 Carmichael at Stewart hit Henry Hill in fighting formation, back in 2007.
Paul Brenchley photo
Here's Ping:
My favorite part of RedBud last weekend wasn't Baggett's amazing performance, Stewart's return or Dungey's domination. Those were all cool storylines and I'm sure they've been discussed at length this week. The reason I wish I was standing beside LaRocco's Leap last Saturday is just to see this guy pull off this save. I don't know who he is but this is one of the better recoveries I've ever seen after casing a jump. He will certainly need some ice for his wrists and a clean pair of shorts but this was one lucky save.
Surfercross is coming up, people. In less than two weeks some of the best surfers and motocross riders in the world will come together for motos, waves and fish tacos. Check out the flier.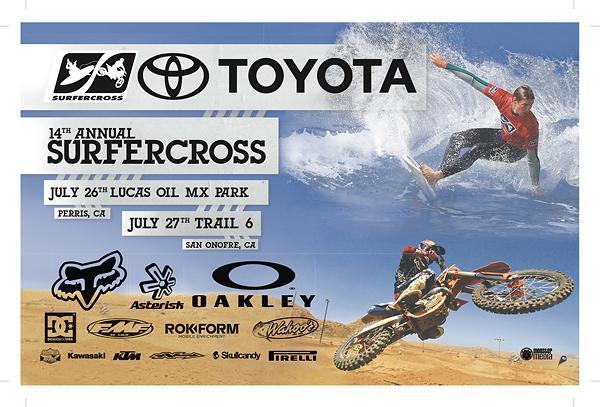 Thanks, Ping - here's Matthes:
Round 7 of the 2012 Lucas Oil Pro Motocross Championship this weekend in Millville presents an opportunity to see a couple of things. One is the battle for second in the 450 Class, which has been raging week in and week out. Yeah, sure, barring a complete disaster Ryan Dungey is going to dominate the 450 Class this weekend, but behind him, things are cooking. In the six races down, five different riders have taken second place (Justin Brayton, Jake Weimer, Mike Alessi, Broc Tickle and Ryan Dungey—he's done it twice) and no one has been able to consistently be the next guy. Alessi holds the spot in the points but there are plenty of guys who want that runner-up spot, and there's the battle, folks. That's what you have to keep your eye on.
The other is to see if Blake Baggett can win his third race in a row. He's got 19 points on everyone else in the 250 Class, and if he can make it four at Millville, we may just have ourselves a bit of a favorite in this class as well.
One rider who won't be getting second is James Stewart, as he announced he's going to miss the next two races and hopefully come back at Southwick, which is actually four weeks away with the break. Can't say I'm surprised at this—Stewart wasn't anywhere near Dungey's pace last weekend and I thought he would be closer. After all it was just a month ago that he was able to catch and pass Ryan at the nationals! No matter now, Stewart's hand isn't where it needs to be, and by default, his fitness isn't where it needs to be either. I know this sounds like a broken record but let's hope he heals up and is able to provide us with the same thrills (combined with Dungey) as the first two rounds when he was healthy.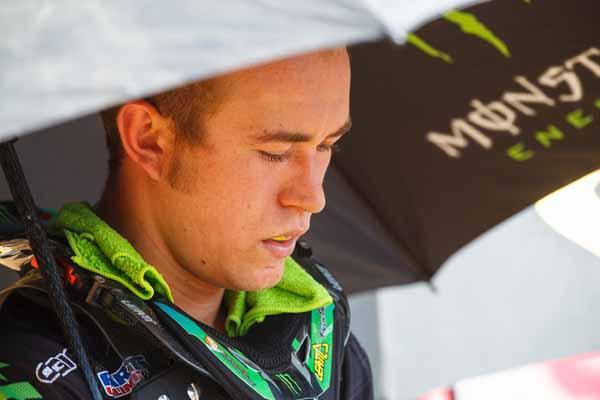 Blake Baggett looks to extend his 19-point lead over Justin Barcia at Millville.
Simon Cudby photo
Millville is a great track, a great facility, and is one of my favorites. It's where I drove down from Canada and saw my first AMA pro race in 1989, and I've raced many local races (and some 500 nationals) at the track. Good times at Millville and a truly world-class track in my opinion.
Obviously someone to keep an eye on would Eleven10 Mods' Alex Martin, who lives on the property, as pops John owns it (wonder if John has any Can-Ams laying around for Alex to practice on). Alex had some terrible luck last week when his bike blew up in qualifying practice, and due to not having a spare, he didn't get to race last weekend. On the GEICO Honda bike in a one-off ride a few years ago, Alex scored a fifth or something like that. If his bike makes it, he'll be inside the top ten and maybe even make it close to a top five.
Silly season is starting to heat up as we had Dean Wilson on the PulpMX Show last Monday night. Dean confirmed that he's going to the 450 Class—he'll make a decision in a couple of weeks—and that he went in for a second shoulder surgery last Tuesday to tune him right up. In talking to people close to the situation, it appears that JGR Yamaha and KTM are the front-runners for Wilson's services and it will be interesting to see what he chooses.
Jason Thomas said he heard from a good source that Yamaha is telling Wilson that any reservations he has about the backward-engine YZ450F can be eased by a new model coming out for 2014 and one that he could potentially ride 2013 outdoors if they can get it homologated fast enough. So the big question is if this is enough to ease Wilson's mind on the Yamaha, which is quickly proving that perception is reality. I don't believe the machine is the best one out there, but it's also not the worst bike ever and a career-killer like others have made it out to be. Truthfully, the truth lies somewhere in the middle.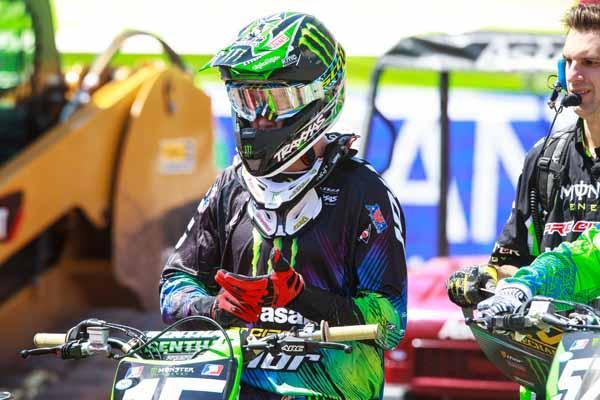 Dean Wilson has confirmed he is looking for a 450 ride for 2013.
Simon Cudby photo
Hart & Huntington looks like they're keeping Josh Hansen and still looking for a big-name 450 guy to pair with Little Hanny. MotoConcepts has reached out to Brett Metcalfe and Michael Byrne to see if there can be a deal there; the MCR team has Jake Canada and Mike Alessi already inked for next year. There's some interest from those guys in Cole Thompson as well.
And Byrne's old team BTOSports.com/BBMX looks to be making the switch to KTM for next year with two 450 riders, one of them being Matt Goerke, who's killing it up in Canada right now.
Speaking of Canada, that series picks up this weekend after a two-week break with a track that is as close to Lommel, Belgium, as you're going to find in North America, Gopher Dunes. I've been to both (haven't been to Cocoa Beach in Florida but I think it's closed now) and these two are definitely very, very similar.
Only in Canadian moto can you have a mechanic for a top rider step into that rider's ride once his rider got hurt. Ryan "Newf" Lockhart is making a comeback to racing on Kyle Keast's bike! Keast broke his leg at the second race and Yamaha and all the sponsors are fine with Newf making his 832rd comeback to racing. He's going to be tired, but good luck to Lockhart this weekend.
For all things Canadian moto, follow directmotocross.com.
Take a look over to Pulpmx.com when you read everything there is to read on Racer X and listen to the Pulpmx Show on Monday when we'll have our 99th show this Monday with myself and Kenny Watson mumbling our way through things.

Now over to Weege:
Tevin Tapia is on a collision course between "everyone is famous for fifteen minutes" and "any press is good press."
His fifteen minutes started in practice at Freestone, where he became the first rider to consistently jump the wall into the sand whoops. Yes, Tapia was nailing it better than anyone. Not Stewart, Baggett, Dungey, the other Stewart or anyone else. The fans were getting into it and by the end of the practice session, all eyes were locked on Tapia as he completed one more leap.
If it had ended there for Tapia, that would have been nice, but now he's back on the map for dubious reasons. First, at Budds Creek, he was getting lapped by leader Ken Roczen, he ended up in Roczen's line, blocking him, and allowing Blake Baggett to slice through for the lead. Then at RedBud, he ended up doing the same thing to leader Justin Barcia in the first moto. And once again Baggett was the beneficiary!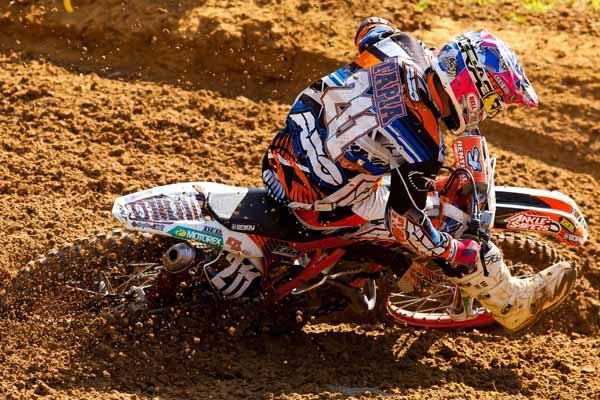 It's been a tough couple of rounds for Tevin Tapia when it comes to dealing with the lead pack.
Andrew Fredrickson photo
Tapia is a great guy and it's a bummer this happened. I talked to him before the race at RedBud and he felt terrible about what happened to Roczen. Then he tried to make extra, extra sure he got out of Barcia's way at RedBud. But Barcia stayed on the outside, so when Tapia moved off to the side of the track, Barcia got trapped. I saw Tevin again after the RedBud race, and he was even more bummed!
Luckily for him, Barcia is about the last rider who is going to get mad at a lapped rider anymore—you may recall he got in big trouble for that earlier this year. Barcia told Tapia he wasn't mad, but he did admit after the race that, in the past, he would have been screaming mad at the guy. Barcia is trying to change his ways.
It's reflected in the results. Bam Bam was about as erratic as it gets in the 250 Class for the last few seasons, but now he's been darned consistent. This year, Barcia has finished every single moto inside the top five. Last year, in the sixteen motos he raced in the 250 class, he only finished in the top five three times. This is an impressive turnaround, and while it would be easy to get frustrated watching Blake Baggett win motos and extend the points lead, Barcia is trying to focus on the positives. He's got the consistency down, he's clearly in shape, his bike keeps getting better. Could their be a reward for this when it's all over? We're only halfway there, we'll see.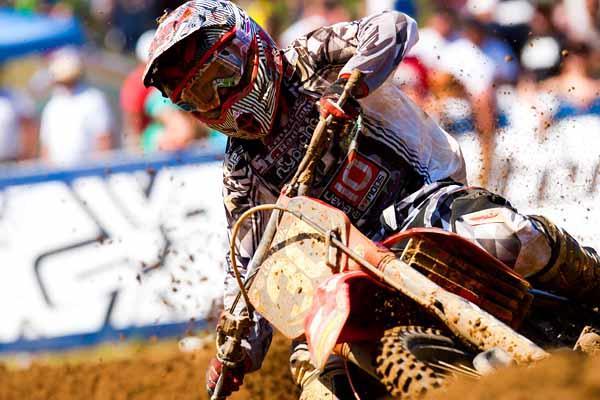 Look for Alex Martin to shine at his home track this weekend.
Andrew Fredrickson photo
Finally our man in NorCal, Aaron Hansel:
I was having a good day yesterday. I was clicking along on my Racer X assignments and my new air conditioner was keeping the house nice and cool in the 106 degree heat here in Chico, California. Then a couple emails just ruined my day. The first told me that James Stewart and the Yoshimura Suzuki team had decided not to race at Spring Creek this weekend. No matter what your opinion on Stewart is, there's no denying that he makes the racing more exciting, and his presence is definitely missed, especially when there's a guy like Ryan Dungey out there. The silver lining is that Stewart isn't done for the season, and the plan is for him to return at Southwick. If that happens, it ought to be quite a race. Stewart is absolutely incredible in the sand, and Dungey is just plain incredible, and seems to get better, stronger and faster at every round. When the series heads to Massachusetts, hopefully these factors will add up to more of that magic we saw from the 450 giants at the first two rounds of the season.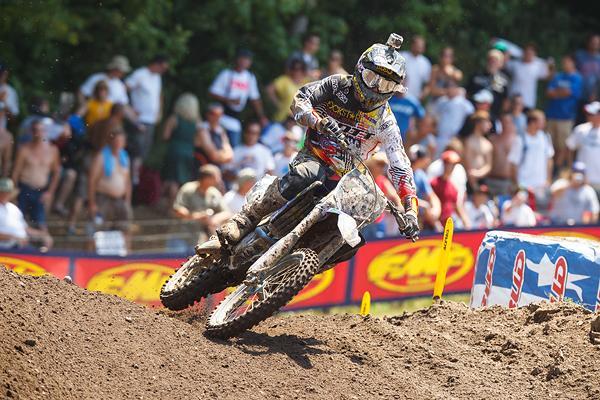 Star Valli fill-in rider Tommy Weeck will likley miss the rest of 2012 after breaking his tibia and fibula.
Simon Cudby photo
The second email, from Racer X Online Content Manager Chase Stallo, informed me that Star Valli Rockstar Yamaha's Tommy Weeck had broken his tibia and fibula in practice yesterday. I've never met Weeck in person, but this email bummed me out more than the first. Weeck, who hadn't made the cut when the MotoConcepts team made the transition from supercross to the Nationals, had just one race, RedBud, under his belt as a replacement rider with Star Valli, and he had done pretty well. In his first National of the year, he battled back after a first turn crash in moto one, and roosted to a fantastic eighth place in moto two. It makes you wonder what he could have done with more time on the bike, and it's too bad we won't get to see what he can do on the factory Yamaha-backed machine at Washougal, a track that Weeck absolutely rips on.
On a happier note, at least we get to see a couple of guys come back from injury tomorrow at Spring Creek. Tommy Hahn will be back in action with Team Honda Muscle Milk, as will Justin Bogle with GEICO Powersports Honda. Tomorrow will probably serve as a measuring stick for both riders, but the potential is definitely there for these guys to bring some additional excitement to the table in the tenth through fifth battle that is taking place in both classes.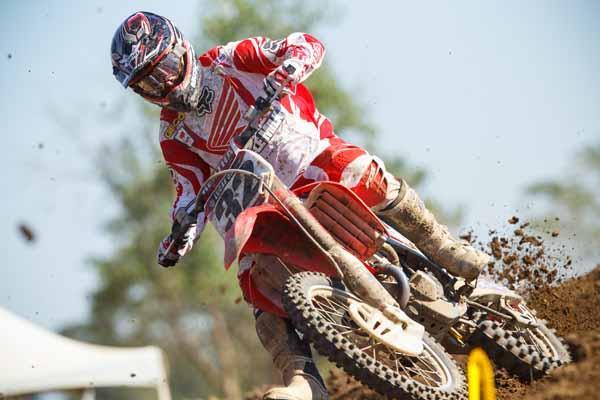 Tommy Hahn makes his return to racing this weekend at Millville.
Simon Cudby photo
Here are some random notes to end the week:
If you haven't watched it yet, you have to see Racer X cover man Travis Pastrana's cameo in Ken Block's extraordinary new film Gymkhana V. Check it out HERE.
Here's a nugget of Spring Creek trivia: Not only is John and Greta Martin's racetrack the site of Ricky Carmichael's last win on the AMA circuit back in 2007, it's also the circuit where he enjoyed some of his most impressive dominance. Carmichael won his class at Spring Creek an astonishing ten out of eleven times, beginning in 1997 and lasting through his farewell outdoor national in '07. Along the way the way he rode a KX125, KX250, CR250, CRF450 and RM-Z450.
So here's a good trivia question for you: Who is the only man to have beaten Ricky Carmichael at Spring Creek? The answer will be further down.
He got himself double-covered over in Europe, scoring page one of sister publications Moto and Moto-X, from England and Germany, respectively.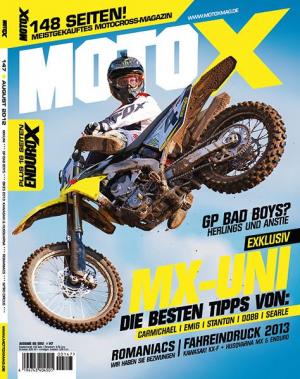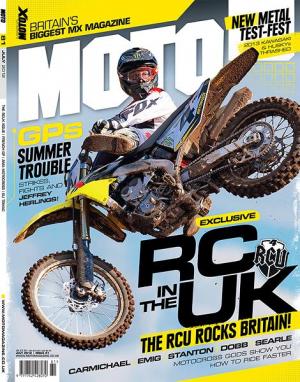 We want to send out big props to Strung Out's Jordan Burns for being voted #1 in the best punk rock drummer category in DRUM! magazine's reader poll. Jordan has been a part of the motocross industry for years and is best known in racing circles as the owner of the Moto XXX team, the infamous punk rock motocross team that shook up the industry back in the late '90s with Brian Deegan and Brian Swink.
The team went on to be the longest-running, most successful privateer effort to ever grace the pits. They unfortunately disbanded in 2008, leaving a memorable mark on the industry, but Jordan is still involved. Just last week Strung Out played a sold-out show in conjunction with the Mammoth Mountain Motocross, and it was off the hook!
It's a well-deserved award. If you've never listened to Jordan drum, he almost plays more like a prog rock drummer—his is an extremely technical style, sped up to create a frenetic and original punk rock beat. It can be jaw-dropping. Congrats, Jordan!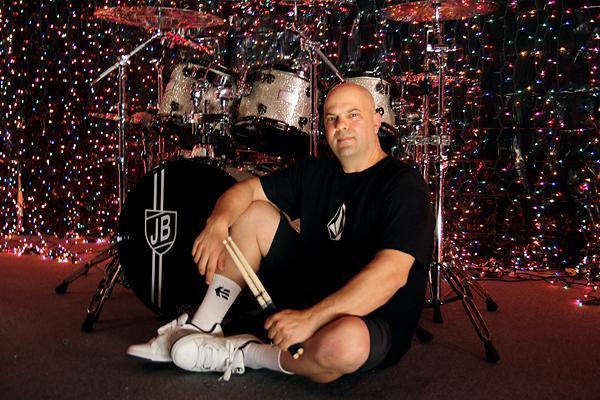 Okay, answer time: The only man to beat Ricky Carmichael at Millville was his Kawasaki teammate Nick Wey at the 1999 Spring Creek 125 National. It was Wey's one and only outdoor national win. You can check it out, as well as all of the Spring Creek results going back to their first national in 1983 in the Racer X Vault, presented by Kawasaki.
Millville, you might recall, is also the scene of RC's mud masterpiece: The second moto of the 2006 Spring Creek National saw Carmichael lap the entire field, the one and only time that's ever happened in series history....
Ryan Sipes was this year's LaRocco's Leap story, as you will see in this video. The highlight, though, was Blake Baggett charging that thing on his KXF250.
Scott Wallenberg, our Ambassador to the Old School, discovered this old BBC gem from 1969 featuring three 500cc Grand Prix races in Europe: Luxembourg, France and Switzerland. It's pretty impressive for something shot more than four decades ago!
We spotted this familiar-looking sticker on a car in the parking lot at RedBud—one of many, many cars in the parking lot at RedBud, we should add. Anyway, turns out it's a track called Dallas City Motocross in Iowa. Check it out: www.dcmxtracks.com.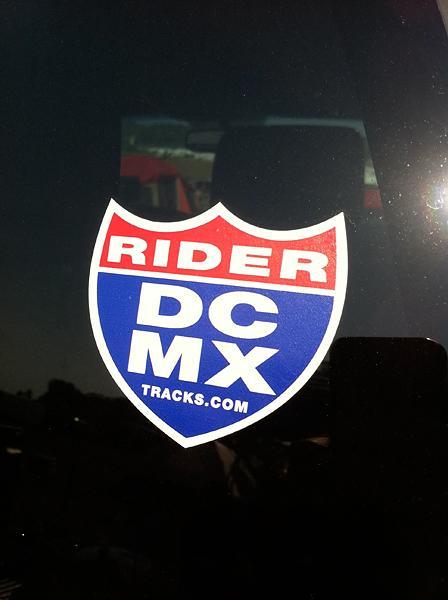 Ouch. San Bernardino, California, facing a $46 million deficit, has filed bankruptcy. That's the second well-known motocross town in California to have to vote for insolvency and reorganization, joining Mammoth. San Bernardino is the home to not only Glen Helen Raceway, but also Chaparral Motorsports, arguably the most famous motorcycle dealership in America.
Here's a cool behind-the-scenes look at the making of the new Fly catalog, featuring Andrew Short, Trey Canard, Jason Thomas and more (including our own Simon Cudby, who shot the stills). The film was made by our friend Matt Ware.
Laidback Lenny was at RedBud all weekend and submitted this blog post for your perusal.
If you raced Motocross in Illinois or Wisconsin at famous tracks like Elkhorn, Wisconsin, or Motosports Park in Byron, Illinois, in the late 60s and 70s then you will probably enjoy this reunion planned for August 4-5 in Walnut, Illinois. There will be a full schedule of Vintage races promoted by Midwest Vintage MX promoter John "Woody" Graves as well as a cook-out from Illinois MXer and Red Bud's own KB griller Kevin Boyle. Old movies from these tracks back in the day and special guests from the era include Marty Tripes and Vic Krause of Mr. Know-it-all fame and several former area champions like Wayne Welzien, Eric Skrudland, Brent Euen, Scott Wallenberg, Steve Abt, Corey Anderson, The Randa brothers and more. Check out the attached flyer and go to their Facebook page to see a ton of old photos from back then.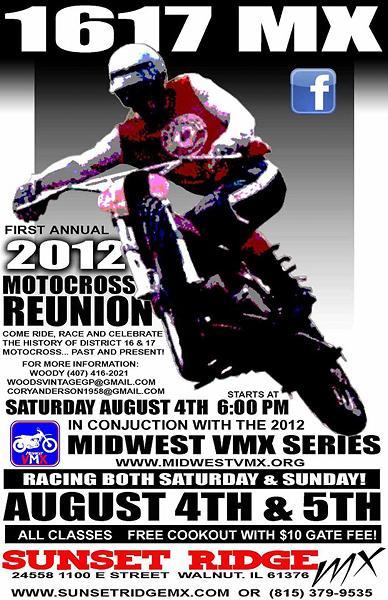 Heading to Spring Creek? Spend the day in the pro pits with the Racer X all-day pit pass, on sale at the Racer X booth on vendor row.
There are only 300 of these passes available, and this is the only way for you to get into the pro pits past noon. Spend five more hours in the pits! For $40 you get 12 issues of Racer X plus an all-day pit pass, good from 9 a.m. - 5 p.m. You can get the subscription for yourself or send it as a gift. If you need to buy more than one pass you can get a multi-year subscription to the same address.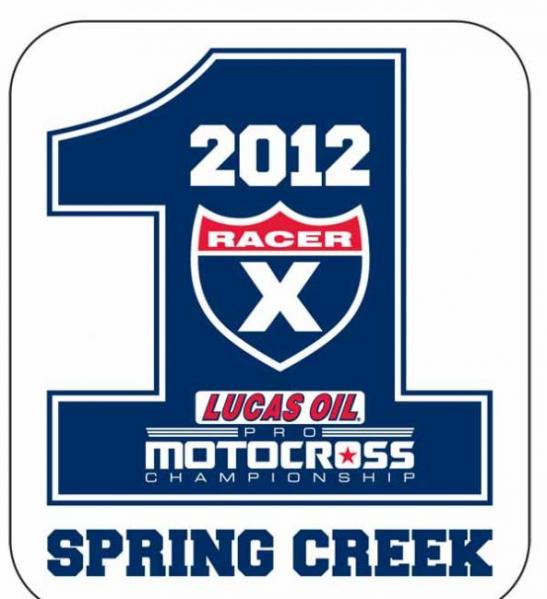 Also, stop by the Racer X booth on vendor row to pick up your collectible Spring Creek 2012 sticker! And if it's time for you to subscribe or renew your subscription to Racer X, we have a special offer at Spring Creek! For only $20 you get 13 issues of Racer X plus Spring Creek and Racer X pint glasses.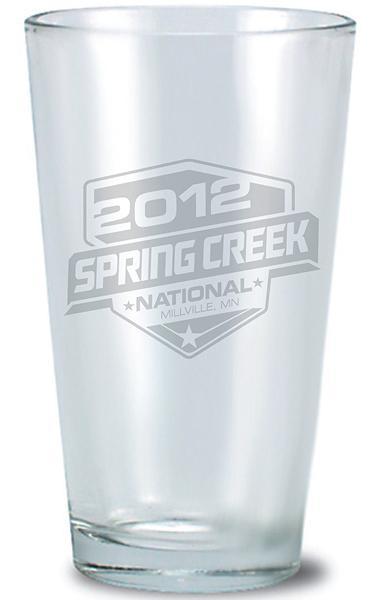 Have you ever mistaken the white flag for the checkered flag? Well this road racer here did it on TV!
If you're in the Twin Cities area following the Spring Creek National on Sunday morning, don't forget to check out Ryan Dungey's charity bicycle ride. The MN Major River-to-River Ride will benefit St. Jude's Children's Hospital and it looks like it's going to be a whole lot of fun. For more information check out www.MNMajor.com. And if you can't make it, be sure to follow along on Facebook.
Someone spotted Star Wars Storm Troopers riding in the dunes. Turns out they've got some freestyle tricks, but they're a little old-school. Hey, it's a long time ago in a land far, far away!
Randy Richardson, one of the all-time good guys in motocross, still works at Michelin and is still posting funny stuff on his Facebook page, like this gem: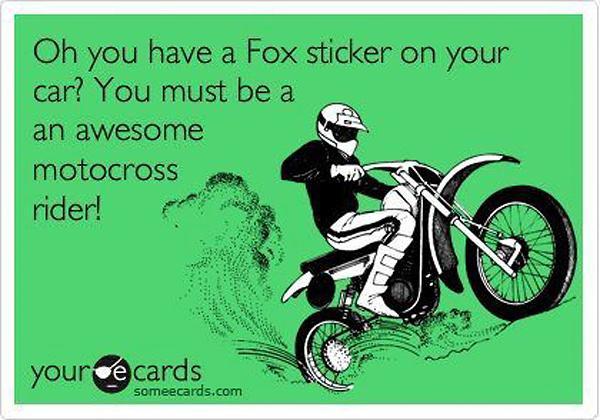 Okay, that's all I've got for this week—time to get ready for tomorrow's live-live-live-live motos. And get used to that. We'll be there soon. Thanks for reading Racerhead, see you at the races.