Am-Pro Yamaha's Paul Whibley is leading this year's Can-Am Grand National Cross Country standings heading into this weekend's big race at the Snowshoe Mountain Resort in West Virginia. New Zealand's Whibs, the 2009 GNCC Champ, gave us a few minutes before heading to the track to help host GNCC Unversity, and then get ready to race.
Racer X: Happy with the season, Paul?
Paul Whibley: Yeah, really happy. It's been a good year, started with a win, I've been really consistent with podium finishes, and I won the last race, so we're leading the points. We've made some changes to the bike setup this year and I'm really happy with it, so it's been going good.
That's what I was going to ask you about. You had a good season last year and finished second in points, but this year seems even better. Is bike setup a big change? What is making the difference?
The bike isn't a lot different. We've worked with Factory Connection and have a little different setup, but nothing huge. My training is about the same, too, as always we looked at weaknesses and tried to correct them. No massive changes, it's just that everything is going well this year. Last year we had a good year, but we had a problem at the first race hitting a tree and breaking the bike, so that put us down right off the start. If not for that, we would have been looking better early last year.

This year has been solid—but we know in GNCC, something bad is going to happen at some time!
[Laughs] Yeah, you have to keep your fingers crossed, but it's a lot of races and a lot of time on the bike—13 three-hour races is 39 hours for something to go bad. Having a season where nothing goes badly is pretty remote, really, everyone seems to have a bad race at some point. We're going to keep our fingers crossed.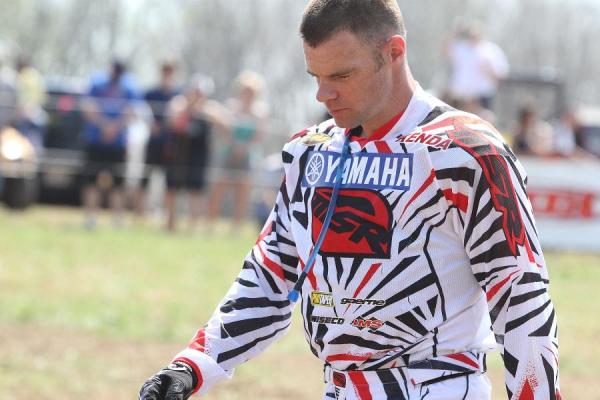 Seven rounds down and five to go, Whibley holds a five-point lead over Kailub Russell.
Photo by Krista Shaw/Digitaloffroad.com
Talk about racing with Kailub Russell this year, he's won some races and is right behind you in points. Last year, it was you, Charlie Mullins and Josh Strang battling it out, but now Mullins has had some bad luck, and Strang hasn't raced a GNCC since breaking his leg last year.
It's good, it feels like the spot that Josh left from last year. There are three of us, with me and Charlie, but now it's Kailub in that pack. We could see it coming for a long time, Kailub has been getting faster and faster, it was almost inevitable that he was going to start winning races and battling for the championship. He's riding really, really well. We've just got to improve my speed and focus on getting better with what I'm doing. We've had some close racing this year, and that's really good for the fans and for us. It's cool.

The last race was a pretty good battle between you and Kailub.
Yeah, we didn't pass too many times, but he was right on me the whole way. He passed me on maybe the second or third lap, then I got him and Charlie back on lap four or something, but then he was right with me the whole race. From there, we were just tapped out the whole way, he was right there. It was close and I was glad to get the win.

I don't think the confidence game is as big of a factor for you as others, but Kailub had won four of five races. Was it still a boost to get that second win of the year?
I wouldn't say it was a boost, because I have been riding well all year. It was just nice. We knew another win was coming because I had been riding well all year, but Kailub has been riding really, really well so it was nice to get another.

I've never seen you as one of those guys that has one bad race ruin his season or have one good race change it. Seems like you're the same guy week in and week out. Do you agree?
[Laughs] Yeah, pretty much. I don't think I really get too down on myself. I get down if I'm not riding well, but I don't throw it away. In 2010, when I was defending the championship, I hadn't won anything all year, until the last two races when I won both of them. But even when I wasn't winning, I was still trying my hardest and trying to get the wins. I was pretty much doing the same thing.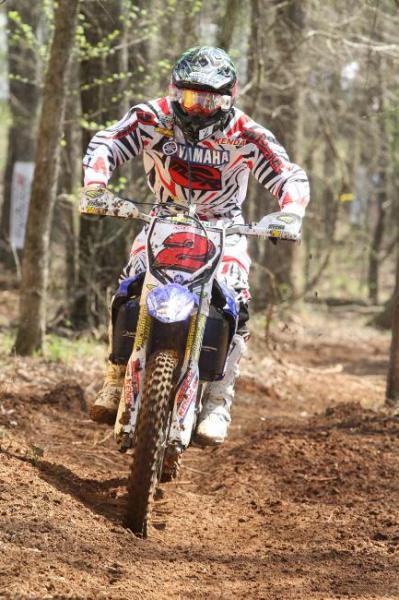 Whibs took second in last year's GNCC Title Chase.
Photo by Krista Shaw/Digitaloffroad.com
A lot of people are saying this is going to be your last year here in the U.S. Is that true?
No, I don't know where this is coming from! But I've heard it, too!

[Laughs] So you have no idea!
[Laughs] I guess it's because I'm pretty old now! Seriously, I will go back to New Zealand when I'm done racing here, I do miss home a lot, but while we're still winning races, I'll still racing here. Racing back there, you can't make a living, it's just a hobby. I haven't talked to Randy [Hawkins, Team Manager] about next year yet, he's still working on budgets for 2013. But at the moment it's going well, I'm still winning races and pushing for a championship, so at this point I don't have any plans to hang it up.

Okay, Snowshoe GNCC coming up, and you the Yamaha crew do a thing called GNCC University where you host riding schools for a few days in advance. Talk about that.
It's pretty cool. We do it 2-3 days before the event, and we share some things about specifics like riding in the rocks, roots and hills, things that help at that race, but also general technique. Jason Raines does a great job, he teaches a lot of the stuff he teaches in his regular riding schools, and Randy teaches hillclimbs and stuff like that. It's pretty cool.

Finally, the Snowshoe race. It's pretty unique, even for a GNCC.
Yeah, it's a really cool venue. Starting in the Snowshoe Village there with all the buildings around, and all the spectators, and then you have the ski lift where all the spectators can get down the mountain and see other parts of the track. The riders race underneath the ski lift, too, so you can get a good angle on the racing from up above. The track itself is tough, it's really rocky, and it seems like water holes just spring up and make it muddy. It's a big course, twice the distance of a regular GNCC, so it's hard to memorize all the lines. That makes it different.

Since you're known as one of the tough guys in this series, I think everyone thinks Snowshoe is your type of race, and you do well in muddy, rocky, technical stuff. But I'm not sure if that's really the style you prefer.
I don't! I don't really prefer the rocks! [Laughs]

That's what I thought! When you first came over here and raced on Scott Summers team, he told me that from racing in New Zealand, you prefer faster stuff.
That's true. I don't really mind the fast stuff. In New Zealand there's a lot of grass and farm land. I've had to adapt to the slower stuff here—we do have mud over there, so that wasn't too bad, but the rocks and roots and slower stuff, I've had to learn it. I'd say I'm getting better in the rocks, but we don't have much of that in New Zealand. I've worked hard to improve my game in the tight stuff.

Whatever gets thrown at you, you seem ready.
Hey, that's what we've got to do!