Mt. Morris, PA
High Point
Lucas Oil AMA Pro Motocross Championship
Round four of the Lucas Oil Pro Motocross Championship took place at
High Point
Raceway, or Mount Morris, depending on what era you grew up in. If you grew up with,
Motocross Action Magazine
, as your motocross bible, you thought the race was called Mount Morris. Then as you get older and start working as a mechanic, everyone around you called it
High Point
. Today, it seems split down the middle. Whatever it's called, it was a good race with lots of drama and ups and downs.
At least that's the way it was in the 250 class, which is where we'll start. We usually begin with the premier class each week, and although we saw some great rides by KTM's Ryan Dungey and MotoConcepts' Mike Alessi, the real action was in the 250 class, so let's get to it. The quartet of GEICO Powersports Honda's Eli Tomac and Justin Barcia, Monster Energy Pro Circuit Kawasaki's Blake Baggett and Red Bull KTM's Ken Roczen are putting on some amazing racing this year. How amazing? We're four races down and have three different winners!
This time around at The FMF High Point National, we saw Justin Barcia win the first moto with a glorious display of riding, although I believe he tipped over at one point while nursing a fifteen-second lead. Barcia's really started to hit his stride in the last couple of races, although there is some cause for concern, which I'll get into later. In the second moto it was all Roczen, who rebounded from a so-so first moto by putting on a clinic his second time out. It was not to be, however, as a washout after the start straight erased a big lead and allowed Eli Tomac to get his claws into Roczen. Ask any racer and they'll tell you that once you can see a rider, it's a whole lot easier to catch him.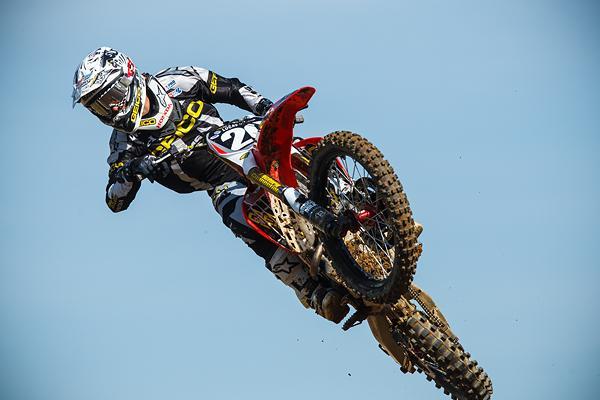 Justin Barcia would capture the moto one win at High Point but would fall short of the overall.
Simon Cudby photo
The second moto should've been Roczen's, but Tomac was just a machine out there. He caught and passed Roczen and snatched the overall from Barcia in the blink of an eye. It's ironic, as Barcia was awarded the overall last week due to some helpful circumstances with a lapper (involving Roczen). This week a Roczen crash ended up costing him the overall. The motocross gods giveth, and they taketh away, folks. To me, this moto was even more impressive than Tomac's incredible ride in Texas where he swept both motos. He had a long way to go to get to the front and not much time to do it in.
There isn't much to separate these four guys and every week they produce a cornucopia of colors and noises. I love the fact each week, nay, every moto, you write someone off or absolutely 100 percent believe that you know which guy is going to take the title.
Then the gate drops and everything you thought you knew evaporates and you're left sobbing, a shell of your former self, trying to figure out this crazy 250 class. After Hangtown I was riding the Blake Baggett train stamping everything and everybody with my beliefs. Then Texas came and Tomac was the guy! His dad is gnarly, didn't you hear?
Then came Lakewood, where Barcia laid wood to everyone in the first moto, and I could see him winning the title. In the first moto at High Point, Barcia just rode away with the first moto again and proudly exclaimed, "See?! He can just pull away!!!" Then here comes the second moto, which Roczen had in the bag if not for a silly crash, and I'm busting out my stamp that says "Itjusttookhimalittlewhiletogetusedtothingsbutnowitsoverforeveryone!"
Let's break the 250 points down:
Blake Baggett – Kaw, 175pts. 1win
Justin Barcia – Hon, 168pts. 1 win
Eli Tomac – Hon, 164pts. 2 wins
Ken Roczen – KTM, 158pts. 0 wins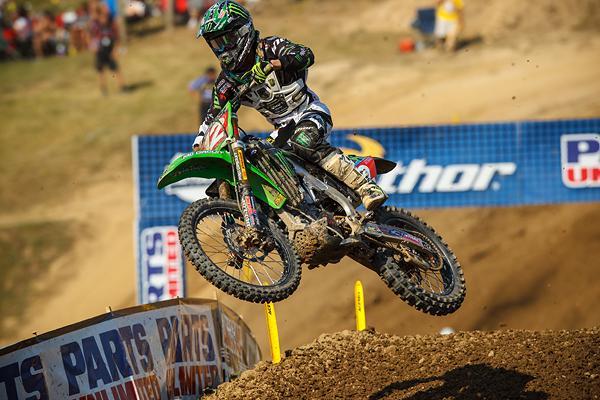 High Point marked the first time all season that Blake Baggett would finish off the podium.
Simon Cudby photo
And here's what I think of each guy:
Blake Baggett cannot just keep living on the razor's edge of getting so-so starts and hoping to blitz through the pack like he did a bunch of times last year, and also at Hangtown this year. That strategy, while being super impressive, is not a tried and true formula to winning races. I'm not saying he's doing that on purpose, but I have to think that he has confidence that he can do it. Well, it didn't work at Texas and it didn't work at High Point. Baggett's a rider that rides a 250 to perfection; he takes wide, sweeping lines, keeps the throttle pinned and uses momentum to his advantage. The problem with that style is that when he's in traffic early, he struggles a bit until he can get into his groove with an open track. Then the hunting starts. It's just so risky to do, and you lose any margin of error that you may have had. Baggett's got to get some better starts, and when he does, I'll be back on that wagon.
Roczen is doing just fine but he's probably a little frustrated by his results so far. We saw the whole range of Ken Roczen at High Point. In the first moto we saw bad Kenny when he faded off the back of the lead pack to fifth. In the second moto we saw the good Kenny, and he probably should have won if not for a silly mistake. Roczen's living with Andrew Short in Texas right now and is getting used to the heat as best he can. In between laughing his ass off at his rival Jeffrey Herlings self-destructing at the GP's, Kenny's pounding out motos and trying to get to that top step. He'll get there, but he's got to get just a smidge, and I mean a smidge, faster. When that happens, I'll be on the German bandwagon yelling, "Vunderbar for everyone!"
I have a ton of respect for Jeff Stanton. The six-time AMA champion is no one's fool, he doesn't need money and he isn't hanging out in the sport for the glory of being Jeff Stanton. He's a self-made champion and about as honest as the day is long. When I was doing webcasts a few years back and we had Stanton on the show, Jason Weigandt and I would just be giddy with all the things that Stanton would say about his own riders (he was working with Honda at the time), and others.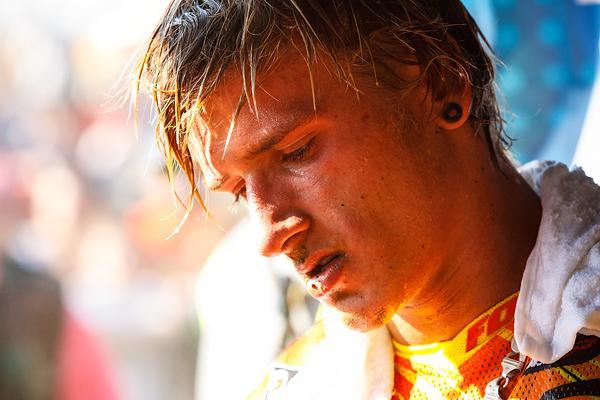 Heartbreak for Ken Roczen at High Point.
Simon Cudby photo
Now, when Stanton tells me that working with Justin Barcia is satisfying him because Barcia is working hard and listening, that's good enough for me. Bam-Bam isn't the take-out, high-revving, bounce off berms with the throttle wide-open kind of kid anymore. He's much more in control than he was in his rookie years. He's still revving his bike a lot, but he's calculated and aggressive, all at the same time. Trust me when I say that if Stanton thought that Barcia wasn't working hard and didn't care, he'd be out of there faster than you can say, "Just JMB."
Barcia knows this is his last shot at the 250 National title and he's taking it as serious as ever. He's focused and riding great, and I knew he had the right mindset (Hi Jeff!) when he was hella-pissed after Texas when he came from the back to 5-6 finishes. He's got one eye on the prize this whole summer. The only disconcerting thing about him is his tendency to not be able to finish off the overall on the day. At High Point, he dominated the first moto only to fall back in the second moto when he had a chance to make it his day. Same thing happened when he was leading the second moto at Lakewood, although he did say he had a rear brake problem there.
And that leaves us with Eli Tomac who has been as impressive as Baggett, if not more so. The first moto at Hangtown is his only real blemish, as he got dropped by the other three guys and eventually finished fourth. Whatever happened with that moto hasn't resurfaced and Tomac has been right there ever since. He's come from the back to win, he's gotten to the front quickly and motored away, he's done it any way you like (except for the easiest way one can win, which is holeshotting and taking off). And now he's won more than any other guys! Tomac's got the yellow jersey in my mind but as I said, this is a week by week thing with these guys.
I hope these guys can keep it up because the 450 class this weekend was a snoozer. After a thrilling Freestone where I felt like I was watching the latest, Indiana Jones, movie (look it up kids, and not the last one with the aliens), we went to Lakewood where Ryan Dungey destroyed everyone. At High Point, despite a valiant fight from Mike Alessi, the outcome was never in doubt. Dungey simply bided his time, made the move when he felt it was safe to do so, and went 1-1 on the day.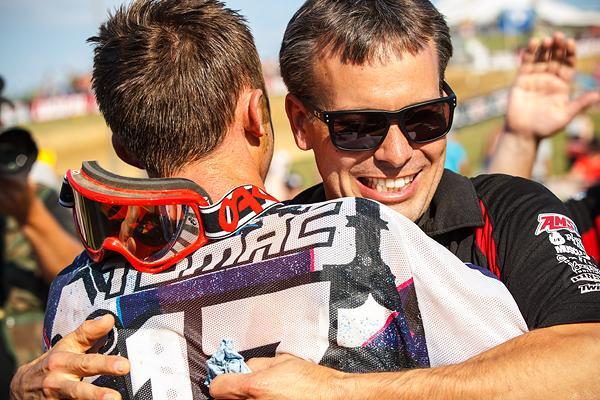 Eli Tomac celebrates his second overall of the season.
Simon Cudby photo
As I said, the #800 of Mike Alessi fought hard, led a lot of laps and he'll never, ever get it in his head that Ryan Dungey is better than him, he's just not wired that way. Mike will not accept defeat easily and Dungey better hope that Mike doesn't find that extra little bit because he's not intimidated by Dungey whatsoever.
Here's the difference between the two. When Alessi was leading, he was clearly pushing it. Getting sideways, spinning out, making mistakes and then grabbing a handful of throttle. And behind him was the KTM rider looking completely in control, almost robotic and just waiting. Alessi's 100 percent is Dungey's 85 percent. You'll get a good fight from Alessi, but that's all. He's not going to beat Dungey without some sort of bad luck befalling The Dunge.
Maybe Alessi should have Dungey stand next to Filthy Phil Nicoletti. When the inevitable anvil falls on Filthy, maybe some shrapnel will find its way over to Dungey. Oh and by the way, Nicoletti couldn't race this weekend because his team didn't sign him up. I'm not bagging on the Eleven 10 Mods team, this stuff happens when you can't afford to lay out money for everything a year in advance. The point is, if I asked you to guess which top rider couldn't race High Point because his team forgot to sign him up, would you have any other guesses than Nicoletti? I'm telling you, this is getting comical.
As it was, Alessi rode to a 2-2 behind Dungey's 1-1, and Mike deserves some real credit for doing what he's doing on a bike that, I don't care what anyone says, is not as good as the ones his main competitors are riding. The machine isn't everything in the 450 class, but it's still something, and Alessi is doing the most with the least right now. Good on him and the MotoConcepts team.
James Stewart came out to try and race with his injured hand/wrist but it was clear early on in the first moto that it wasn't going to work out. He did set the fastest time in practice, which made one think he was going to be okay, but a bad start in the first moto and a subsequent inability to be James Stewart indicated that there was a problem with the hand. A fifth in the first moto and then a DNS for the second moto pretty much tells us that orange is going to be the prominent color this summer.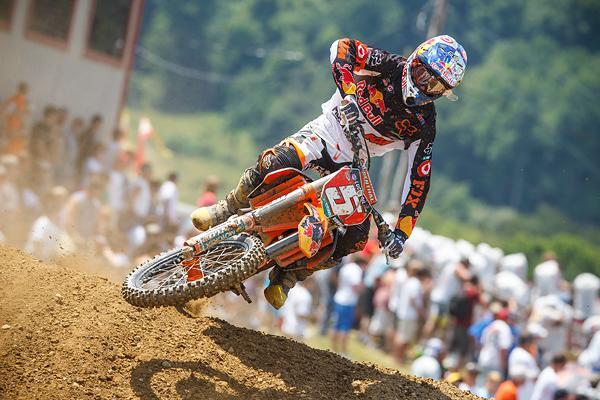 High Point saw another 1-1 performance from Ryan Dungey.
Simon Cudby photo
According to people in his camp, there is nothing broken in the hand or wrist, and all he needs is rest. I hear it's his hand officially, but whispers in the pits indicate it's the wrist. I don't think we'll see Stewart this weekend at Budds Creek, but after that there's a two week break in the series, which will allow Stewart a full four weeks of rest. All indicators say that he'll be at RedBud, but as always with Stewart, we'll have to wait and see.
Jake Weimer has been on fire lately and sort of rode to a lonely 3-3 on the day, but considering that last year his best finish was a fourth, he'll take thirds all day long. Weimer's starting to rise above a lot of the guys that we thought he'd be battling with, and is establishing himself as "a guy." At Lakewood we saw him get second in a moto and at High Point he garnered a couple of thirds. Weimer's likely going back to Kawasaki next year (and Canard's going back to Honda), where he'll just keep trying to get better and better.
Let's take a look-see at the results shall we?
250 Overall Results:
1. Eli Tomac 2-1
2. Justin Barcia 1-3
3. Ken Roczen 5-2
4. Blake Baggett 3-5
5. Marvin Musquin 6-4 - Oh poor Marvin, he's clearly been pretty good this year but he's also clearly not as good as the top four guys. He's riding by himself out there more times than not. I heard that Pro Circuit is in talks with him for next year.
6. Wil Hahn 4-9 - Yeah Wilbur! Hahn had his best moto in a long time when he ran second for most of the race before getting eaten up by Tomac and Baggett. The number one rule of trying to get faster is ride with faster people, and by Hahn getting up there and getting a taste of what those guys are doing, he'll learn and hopefully, he'll grow and make it, "the big five." The real trick is following it up with another good ride. Don't forget, Hahn has done well at Budds Creek before in the TLD Honda days.
7. Ivan Tedesco 7-10 - Tedesco has big number 9's on the back of his jersey so at least that makes me happy. As far as his riding, it was okay. Nothing great but nothing bad either.
8. Jason Anderson 13-6 - Anderson had a great qualifying time, and should focus on being a top-ten kid and build for next year.
9. Kyle Cunningham 14-7
10. Jessy Nelson 10-11 - This kid is the real deal. His manager, Tyler Keefe, stressed to me that Nelson isn't a fill-in guy for this year, that he was always going to be on the team next year, and injuries to the team just sped the process along a bit. Either way, Nelson has been awesome for a rookie.
11. Alex Martin 8-13 - Martin pulled a couple of great starts on the privateer machine and had a good finish. One thing about Martin, he doesn't ever look tired out there, but I'm sure he is. He rides hard.
12. Gareth Swanepoel 15-8
13. Travis Baker 11-12 - Baker's been quietly pretty good this year, and sits just outside the top ten in points.
14. Kyle Peters 12-15
15. Jake Canada 9-34 - Canada twisted a knee in practice and it bothered him all day long.
16. Dakota Tedder 17-14 - This is a real surprise. Tedder is figuring things out with the help of Steve Lamson, and with two solid finishes, Dakota tripled his points from the first six motos with these two motos.
17. Matt Moss 18-17 - Moss made his return to the team from injury and this is a decent result.
18. Hunter Hewitt 30-16
19. Blake Wharton 16-38
20. Zack Freeberg 36-18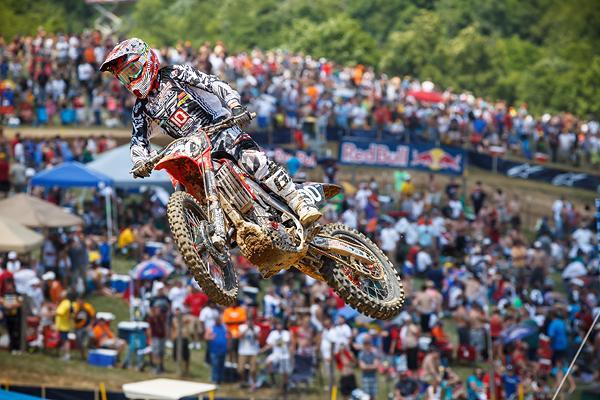 Alex Martin had one of his best rides of the season at High Point, finishing 11th overall.
Simon Cudby photo
450 Overall
1. Ryan Dungey 1-1
2. Mike Alessi 2-2
3. Jake Weimer 3-3
4. Andrew Short 4-8 - Shorty doesn't like High Point (probably due to the fact that you're never straight up and down on the track), so he'll take this result even though he lost some points to Alessi and Weimer.
5. Davi Millsaps 9-4 - Millsaps had a good second moto when he tracked down Metcalfe for fourth, but his first moto was even better despite the ninth. He was way, way back early on.
6. Brett Metcalfe 7-5
7. Broc Tickle 6-9 - At least Tickle's bike didn't break! Broc's really been good this year, better than I thought he would be, to be honest.
8. Ryan Sipes 12-6 - Sipes is riding with an injured hand that swells up so big it looks like something out of a circus freak show. Anyways, he had his best ride of the year.
9. Nico Izzi 8-10 - The "Izzi Magic," which is something I never, ever thought I would type in a million years, wasn't on display as much as it has been at the previous rounds but still, when 8-10 is what you do on a bad day, you'll take it.
10. Michael Byrne 13-7 - Another strong moto for Byrner, who's getting better and better. Confidence is a funny thing isn't it?
11. Justin Brayton 11-13 - We thought we were seeing the breakout Brayton ride last week but this week he was back to making everyone wonder what is going on with him. You know it's bad when his man-friend, Rich, is depressed.
12. Kyle Chisholm 14-12 - When was the last time you saw Chisholm at the front at the beginning of a moto? Exactly, you don't.
13. James Stewart 5-39
14. Vince Friese 16-14
15. Josh Grant 10-38
16. Kyle Regal 25-11- Regal's got to figure it out soon, he's too good to suck this badly. Maybe he needs Mark Pellegrino back at the races, or at least Jim Lewis.
17. Jimmy Albertson 18-15 - Top Jimmy was Average Jimmy this weekend.
18. Ben LaMay 17-17
19. Billy Laninovich 20-16 - Bad Billy has one more race as a fill-in guy before Christian Craig is scheduled to come back. Even so, I wouldn't be surprised to see Lano at some more races.
20. Matt Lemoine 15-36 - Oh what could have been! Matt was ninth in the second moto and looking good for a top finish when he bailed hard and snapped his bars. A good day was turned to poop just like that.
It was a tough weekend for the Rockstar Energy Drink Suzuki team with Anderson doing well, but Blake Wharton crashing out and Hunter Hewitt also not doing well. The team is missing Martin Davalos, who is out with a concussion. Not sure when we'll see him back, but for the team's sake, hopefully it's soon. I like Wharton and I think we haven't seen the best of him yet this season.
Speaking of tough luck, Mookie Stewart is having his fair share of it this year. The younger brother of James Stewart seemed like maybe he turned a corner last week at Lakewood (of course! Why wouldn't a guy who's probably too heavy for the 250 class get his best finish of the year when horsepower is at its smallest?), but this weekend it was more crashes and a pair of DNFs. My Mookie Fever is pretty much the lowest its ever been these days, seeing as how Stewart is plowing his way to the end of the year by literally plowing dirt most weeks.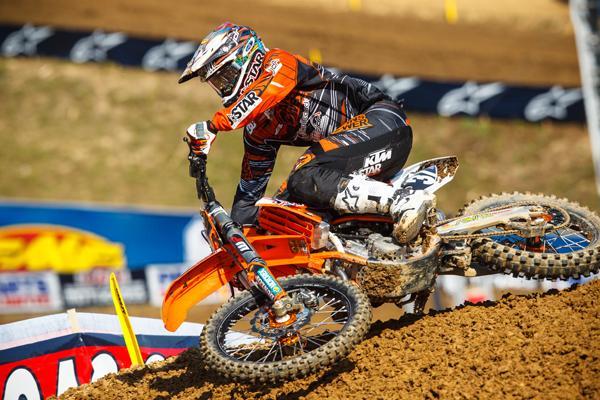 Crashes would hinder Malcolm's day at High Point.
Simon Cudby photo
Nick Wey was at High Point, but he once again struggled and finished outside the top twenty in both motos. Wey's better than that, but, he's finding out that it's really tough to just jump in and race here and there. I remember when Mike LaRocco came back for RedBud years ago after being away from the Nationals for years, and he was thoroughly worked after the race. He said, "This was a bad idea," and we never saw him race at another National again.
I expected better things out of Cole Thompson, but since getting thirteenth at Texas, it's been downhill for him. He's a good young rider privateering it on his own, and he'll figure it out eventually but for now, it's a tough deal to make it happen. I did hear that MotoConcepts is talking to him for next year though. That would be cool.
Thanks for reading. I'm pretty lonely most of the time, so email me at matthes@racerxonline.com if you want to chat about this or anything else.