Budds Creek Motocross Park
Mechanicsville

,

MD
Budds Creek
Lucas Oil AMA Pro Motocross Championship
When in doubt, you can always rely on the seminal 1987 film Winners Take All to find your motocross guidance, wisdom and inspiration.

In his graceful southern accent, Hurricane Cycles boss Frank Bushing mused, "This has nev-ah been a team sport." And while the movie may be panned for taking, ahem, a "few" Hollywood liberties in how it portrays the sport—i.e. a local dude who has never raced a supercross before shows up with the speed to battle for the win, and does it on a clapped out, handbuilt bike complete with twin Monroe gas shocks off an F-150 (without springs) and tank from a Harley-Davidson (that somehow passed the AMA production rule). But the nev-ah a team sport bit? Pure genius.

Yeah, it's a team sport behind the scenes, as riders need a good team of workers around them to succeed. But what they don't need is a teammate in order to win—in fact, most teams are structured with Alpha Dog status built right in, as today's budgets make it tough to go after two championship-proven riders at the same time. And if you're an old-schooler who subscribes to the "Hey, Team Honda had RJ and Bailey at the same time, and they pushed each other at Anaheim 1986 to create the greatest supercross race ever," theory, well, if the best example you can give of two teammates pushing each other was 25 years ago, well, I rest my case.
It's a little different in the Lites class, which requires teams to have more than one lead rider since their supercross efforts have to be divided on two coasts. But even then, rarely do two teammates end up a perfectly even match, let alone make it through every race healthy enough in order to battle each week.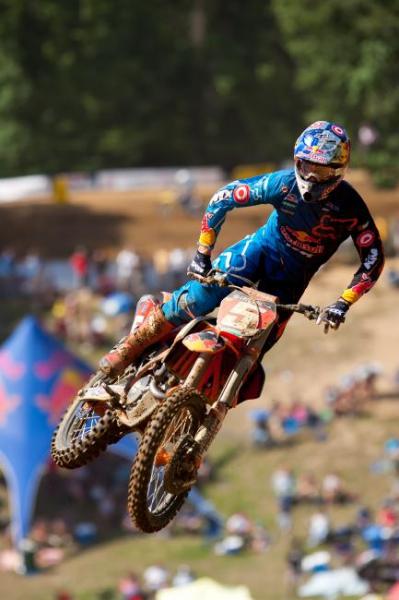 Ryan Dungey has manned the one rider 450 Red Bull KTM team to the championship points lead through five rounds.
Andrew Fredrickson photo
If a team can get more than one rider to the front—such as Monster Energy Pro Circuit Kawasaki's ridiculous dominance of last summer's Lucas Oil Pro Motocross Championship—well, that's a bonus. That team also did a great job with Ryan Villopoto and Ben Townley in 2007. But such success is rare. More often, a one-man gang creates all of the success for the squad, and in a sport where we spend most of our time focused on the front runners, that's all that matters.

And so at this weekend's Red Bull Budds Creek National, one-man armies Ryan Dungey and Blake Baggett took the wins to carry the 450 and 250 points leads into the first break of the season. Dungey is the only factory KTM 450 pilot, saddled single-handidly with developing their new SX-F. It was expected to be a tough task, but he's making it look easy.

Baggettt's team has been decimated by injuries, with Dean Wilson, Darryn Durham and (450 bound) Tyla Rattray out. Ivan Tedesco had performed admirably as a replacement, but he's no longer at championship status. In other words, it's all on Baggett to save a team that hasn't gone a full season without a championship since 2003. 2003! That's about a decade, and even that stat is misleading, because in 2003, James Stewart was the best Kawasaki rider in the class and won the West Region 125 SX title, but he rode for the factory team, leaving Mitch Payton without what should have been his best weapon. Since Stewart went to the 250s in 2005 and Payton once again started getting Kawi's best talent, his team has never gone a full season without a title.

That's a whole bunch of pressure on Baggett, but he's performing even better this year than he did with mega-comp from his teammates last year.

"I would say it's different, but not better or worse," said Baggett about racing for the title alone.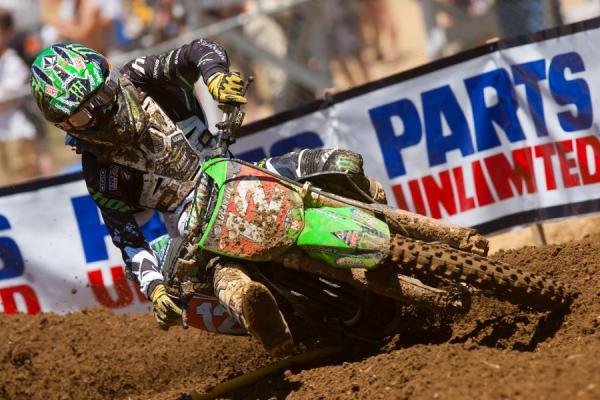 Blake Baggett has carried the torch for the injury riddled Monster Energy Pro Circuit Kawasaki team, and currently leads the points chase.
Andrew Fredrickson photo
The other teams are ganging up on Pro Circuit. GEICO Honda is throwing both Justin Barcia and Eli Tomac out there, and Red Bull KTM has Ken Roczen and Marvin Musquin. In many a moto, Baggett has had to battle with all four to get to the front—but, he's getting there.

Unfortunately for Baggett, the standards for his team are set so high that GEICO Honda's 1-2 supercross punch already has people in front of, and behind, the scenes saying, "What happened to Pro Circuit?" Nevermind that Wilson was neck-and-neck with Tomac for the West title before he went down. That crash not only ended PC's SX title hopes, but also knocked the defending MX Champion out of the running. Throw in Durham's injury and Rattray's bump to the 450s and you're guaranteed for a results drop off from last year. Yet, still, their lone contender is out front. That's pretty good in my book.

As for Dungey, his results have suddenly, amazingly, solidified KTM as a legit player on the biggest stage. In fact, things have changed so quickly that most of us are fretting over how predictable (boring?) the races are now that Dunge is out front by himself. Did you ever think you'd be saying, "Yup, no one can touch that KTM" in AMA 450 motocross?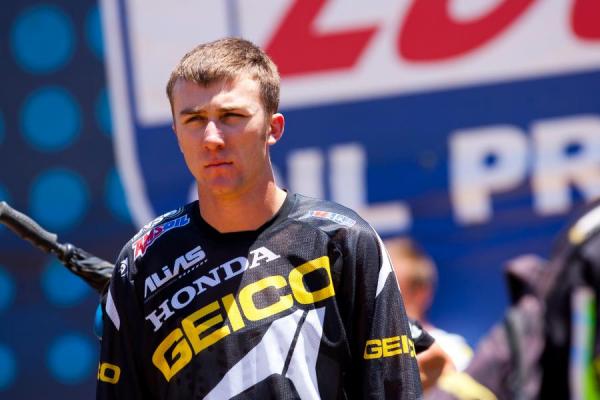 But behind Baggett GEICO Honda's Eli Tomac and Justin Barcia are ready to pounce if Baggett should falter.
Andrew Fredrickson photo
But that's the way it works. When Jeremy McGrath left Honda, they fell apart. He couldn't fix Suzuki overnight, but he certainly made Yamaha a player for the next few years. Then Carmichael took Honda from struggling to dominant, and did the same for Suzuki. One rider can completely change the rep of a team, heck, Josh Grant's strong 2009 season for JGR put that team on the map.

It takes a whole team behind the scenes to generate those results, but it only takes one rider to do it. And at Budds Creek, the loneliest of title contenders where standing in the loneliest spot: number one.