Thunder Valley Motocross Park
Lakewood

,

CO
Thunder Valley
Lucas Oil AMA Pro Motocross Championship
GEICO Honda's Justin Barcia makes for three winners in three rounds of 250-class racing in Lucas Oil Pro Motocross, but it wasn't easy. He dealt with serious pressure from Ken Roczen in moto one, then was part of a super-intense four way battle in moto two. At one point he dropped from first to third and appeared to have lost the overall win, but on the last lap, he got Roczen back for second, which gave him the win with a 1-2. He talked about it in the post-race press conference.
Racer X: Three races, three winners.
Justin Barcia: Yeah for sure, last weekend was pretty tough on me. I got some really bad starts. I kept it up there and got back toward the front, and I got fifth overall, which is pretty good, but obviously the goal is to be on the podium every weekend. Today was awesome for me. The first moto was sick. I got the holeshot, rode my own race, and won it. Second moto was good, too. But on the third or fourth lap, my back brake got super squishy. I don't know what's up with that, but, with these ruts, it's hard without a back brake. It was so gnarly, I was stopping with so much front brake. And the track was gnarly, the ruts were up to our radiator shrouds.
But things were good, the team did a really good job today. We didn't make many changes throughout the day. LaRocco actually tested the fork out in California this week, and we went with that. We went to a different tire in the first moto, and then switched back to the original tire in moto two. Things worked out good.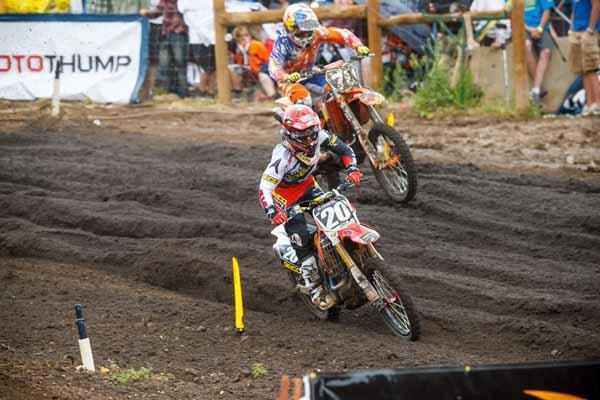 Justin Barcia made it three different 250 winners through three rounds with his win at Thunder Valley.
Simon Cudby photo
Did your mechanic put on the pit board, in the second moto, that you needed to go get Roczen for the overall?
I knew what I needed to do. I don't know, I lost some ground for a little bit, but I just put in a super hard charge. There were some lappers that got in there, too, and I got alongside of him. He kind of cross-rutted a little bit and went down.
There was a jump called the Toyota Mountain, it was tough for the 250 riders to get overa clean. You had some close calls there.
Yeah, I had a bunch of close calls there. Today, it was sketchy at times. I had my feet off the pegs a bunch of times, I was happy to stay as smooth as I did.
You weren't jumping that jump, then I saw you try to jump it one time and there was a lapper right there. Seemed like a crazy time to jump it, in traffic!
Yeah, that one wasn't too smart! But I was just going for it!
You and Roczen seem to always be around each other, no matter if it's for first, second, or third, you guys are always close.
Yeah, this class is pretty gnarly this year. The top five guys are fast, and we're always linking up at some point during the race. It's nice when you can grab a holeshot and just check out, but that's not really the way it goes in the Lites class. You've got to fight the whole time. That's the way it was in Texas, I had to fight from pretty much last in both motos. It's not easy, but it's going to be an exciting year, for sure.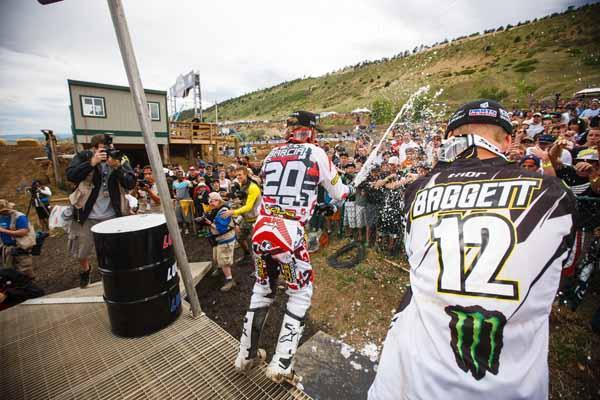 Barcia celebrates his first overall of 2012.
Simon Cudby photo
Give us your perspective on the last lap. Did you catch back up to Roczen before you got to the lappers, or did he just get jammed up with them?
Yeah, last three laps I just put in a super hard charge. I was catching him a little bit each lap, and then he got into some lappers on that last lap. In that big sweeper, I went inside and he went outside and kind of came across in front of me. Then we came to that little ess turn, and there were three lappers on the inside, and I went to the outside. I think he saw me trying to sweep around the outside, so he popped over a few ruts to try to get outside,he cross rutted, ended up going down. It was definitely wild for me, it was crazy!
You normally get such good starts, but last week was a disaster as far as that goes. Did last week fire you up?
Oh yeah! Me and my dad, Big Diesel Don, we did some serious practice starts this week. I just did start after start all week, and that's what it takes in this sport. I don't know what happened last week, it was stupid. I think the work I do on my starts normally shows—I had good starts at Hangtown and then good starts today. I think in this class, it's key to winning races.
Going to High Point now.
Yeah I'm excited. I don't know what the weather is going to be, that always throws a curveball at us, but it's a good track, has some good ruts and jumps. So I'll go home, work hard, get ready and hopefully I'll be right up there.