Thunder Valley Motocross Park
Lakewood

,

CO
Thunder Valley
Lucas Oil AMA Pro Motocross Championship
Red Bull KTM's Ryan Dungey now owns the points lead in the Lucas Oil Pro Motocross Championship after a wild day at the Toyota Thunder Valley National in Colorado. His title rival James Stewart crashed out for the day while leading early in the first moto, and from there Dungey picked up the lead and won it, and then followed up with a gate-to-flag win in moto two. He talked about it in the post-race press conference.
In the first moto, Stewart went down. There's no doubt that you saw him go down there.
Ryan Dungey: Yeah, it was unfortunate, it looked like it was shaping up to be another good battle. I was right there and we were 1-2. I didn't see the guy cross the track, but I saw the footage and then I could see it. I could see where he's [Stewart's] coming from, you're trying to focus on what's going on, and you see that and you're like "Man, what is that guy doing?" It was unfortunate, I hate to win like that. I feel like me and James have really been pushing each other to new levels, and he won the first four motos, but it was good. Hopefully he's alright, and he heals up and comes back to Mt. Morris.
You picked up 50 points today. Does this change the game plan?
No, game plan as usual. There's so much racing left, you can't focus on the end result because anything can happen. We saw that today. For me, I like to come into the races focusing on myself, doing my deal, and not underestimating anybody. I feel like today, we got off to good starts and the bike was working well. We had a good setup right off the bat. But to me, things happen so quick, you can't focus on round 12 or the championship, what's happening right now is what you need to focus on.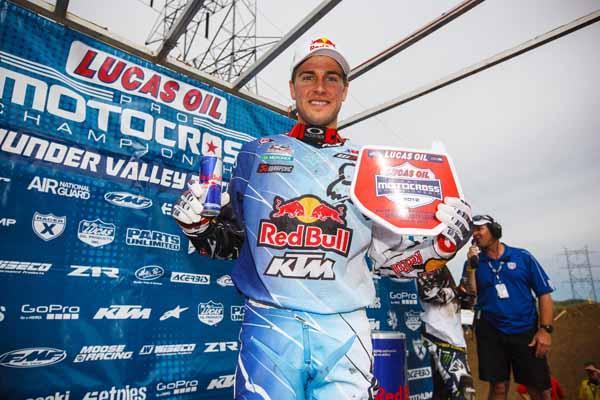 Ryan Dungey is the new points leader after a 1-1 performance at Thunder Valley.
Simon Cudby photo
When we first came to the outdoors, you had a new bike. Obviously the first few rounds have gone well for you. Where do you feel you are right now compared to previous years? Is there still room for improvement?
I like to think that every year we get better, and we get faster. But there's always room for improvement. The riders are always getting faster. It's like supercross -- it's not even a matter of doing the jumps anymore, it's a matter of who can do them faster. We started off a little rough in the first moto of the year. Last week we did some work with the rear shock, and we worked on that at home some during the week. Today, after practice, I was like "alright the bike feels nice." I didn't feel like I was out there trying to put in a record lap time, but my time was still good. Being comfortable on the bike is so critical, so big credit to the guys.
There are no excuses, but we do have a new bike. It's really cool because going into next year, we'll have a year of notes under our belt. It's such small, fine changes, it's little stuff nowadays. You have to keep improving. Don't settle, but don't go off track.
How about the track today?
It was a little different from what I was expecting. Especially because 2010 and 2011 were really rough and really rutted. Like coming down the big sweeper, you had big ruts and big bumps. Today, it was soft in places, but other sections were rock hard. I think the rain actually helped us. I was surprised how good it looked for the 250s, and it ended up being really good for us. It took the edge off, it softened up some of the harder areas, and we had good traction. I think they did a great job considering what the weather was.
You've now won the 450 overall here three years in a row, and you also won the des Nations here. Is there something special about this track for you?
I don't know. It's tough being up here in elevation. I struggled here in the Lites class, the elevation and the power, you know, it was tough. On the 450 it's been much better, obviously, and today I was happy with the power of my bike. It's a good track, I've had a lot of great success here and great memories here with des Nations and stuff.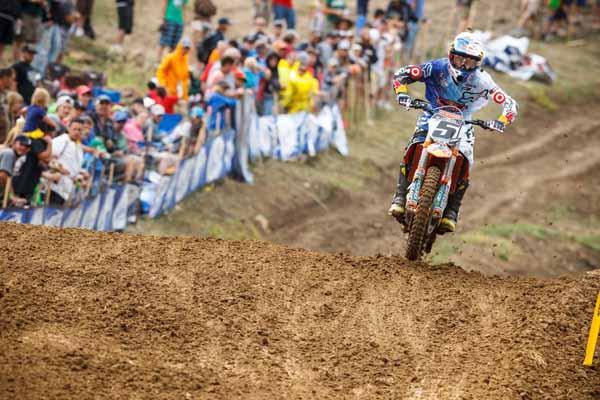 Dungey gained 50pts on James Stewart after Stewart crashed in the first moto at Thunder Valley.
Simon Cudby photo
It didn't end up being a non-factor because James crashed, but, once again he started behind you and passed a bunch of riders early to get the lead. Do you think you were in a good position to win the moto, or is that still something you need to work on, making sure he doesn't sneak past you on the first lap?
The first moto, you know, I did have him on the holeshot. But when I tripled up the hill, I went to rail the outside and he snuck under. He was able make his passes really quick, and I knew I did, too. I think it was, what, the third lap and we were already 1-2. He had a little gap on me, so I was trying to close that down. It was shaping up to be another great battle. I think I can get better. The second moto was better as far as getting the start and getting going. There's always room for improvement.
Next week is High Point. Your thoughts?
High Point is always good. It has good elevation change, and the off-cambers and stuff. It's usually a good place to be, and hopefully the weather is good. We'll see what she brings.