Hangtown Motocross Classic
Rancho Cordova

,

CA
Hangtown Motocross Classic
Lucas Oil AMA Pro Motocross Championship
You couldn't script a better return to Lucas Oil Pro Motocross for James Stewart, who debuted his new Yoshimura Suzuki with a 1-1 overall win at the FMF Hangtown Classic. He was back up to speed so quickly that it almost looked like he'd been riding the new bike for several years—and had never left the motocross series to begin with. Afterwards, he talked about it in the post-race press conference.
Racer X: Obviously you feel comfortable on the bike, whatever tweaks you were able to cram in during the short time you have are working for you.
James Stewart: We really did try to cram in a lot of stuff pretty quickly, and it was good. We were just trying to get here and figure out where we were. It was a pretty good gauge, I see where we can improve with myself. It went a lot better than I thought it would, I thought we would come here and struggle a little bit for us, which I did, personally. But I felt pretty good overall and hopefully it can continue. I have to give it up to these guys at Suzuki, I think we only had to make two clicker changes all day, so what we were doing in testing worked. From here we will just continue to build.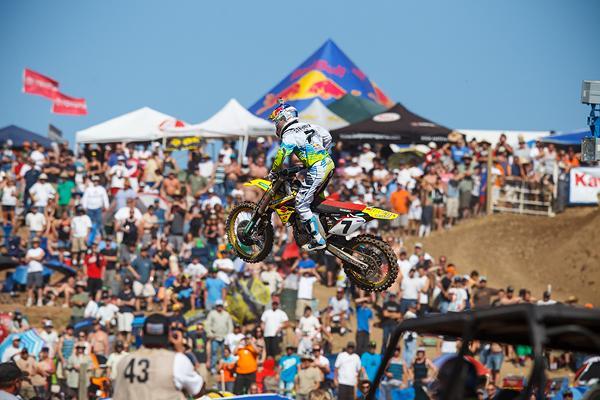 Stewart went 1-1 in his return to the Lucas Oil Pro Motocross Championship.
Simon Cudby photo
Earlier in the day, you said you were just trying to get through the day. What was your goal? Just get top five or top three?
Really, my goal was just to have fun. That's why I'm here. I didn't come here to go 1-1, I didn't come here to be the fastest, I came here to learn the motorcycle. Because it is tough to make changes in the middle of the year. This is a new bike for me, new mechanic, new team manager, and this is the roughest track I've raced on for a long time. Every lap, I was really figuring out what the bike was doing. And to my surprise, I was really stoked to see that every lap I was just feeling better and better and better, and it translated into a win today.
"Trust me, before I even showed up, the 24-0 talk is not something I'm looking forward to. That is not going to happen." - James Stewart
In 2008 you won all 24 motos. Did that season start like this, were you just trying to see where you were? Were you super confident, then?
Honestly, I feel like I'm better prepared this year than I was in 2008, just because, in 2008, I was off the motorcycle, I was actually hurt [torn ACL] for four months. But the difference was, at least then, when I got back on, I was on a bike that was familiar to me. Where as here, this bike is unfamiliar to me. Even though I did have a little time on it last summer, it wasn't on the factory motorcycle. The results are the results, but I look at it like, this is a good start, but we still have a long way to go. To start out the way we did is good, but we can improve a lot. Trust me, before I even showed up, the 24-0 talk is not something I'm looking forward to. That is not going to happen. I just want to be there week in and week out. My whole goal here is to learn for 2013, and it was just good to get a win.
Second moto was close between you and Dungey. Were you pacing yourself, or where you like, "This guy will not go away!"
I know how Ryan rides. He's was very strong here last year, and he's a very good outdoor rider. I was comfortable where I was, and I'm sure he was, also. It was more just hitting your marks, and picking it up where you needed to. In the middle of the moto there, I kind of tested it out and got a few good laps in. I knew if he raised the bar I could raise the bar, too. We got caught up in some lappers, I got into them and I was able to get through them, then he got into them, too. From there it was just a matter of putting in good laps. He rode good, though. And so did Mike [Alessi] and Davi [Millsaps] and my teammate [Brett Metcalfe]. This race is kind of like Anaheim, you don't see the best of people at Anaheim. So, to win, this is definitely unexpected, but it's nice.
Seemed like the fans were pumped. They were cheering for you as soon as you rolled out in practice.
Yeah, number one, the fans were awesome. Even for practice, I could hear them around the race track. It was kind of like 2008, where it had that "Welcome back" feel. This track is nice, but honestly, it's not a James Stewart kind of track. This is probably my worst track of the year. This track is really kind of tough, it's got that California base where it's hard packed, but it got really rough. I mean, the Dirt Diggers, they did a good job. Compared to when I was last here in '08, the dirt is a lot more loamy, and a lot more rough. It's definitely not my favorite track on the circuit, but they way they prepared it, the support I had from the fans, and the way everything was laid out, was good.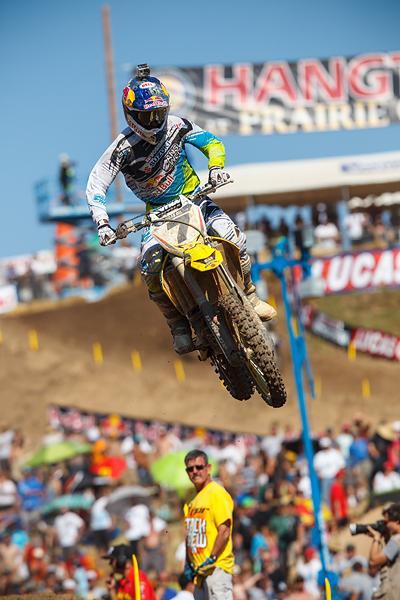 "The year I raced there, it was the hottest I had ever felt in my life!" - James Stewart on his return to Freestone.
Simon Cudby photo
Can you talk about relationship Ryan Dungey? Would you call it a rivalry, or a friendly rivalry, or what?
I think it's a racing rivalry. We definitely want to beat each other, but there's a lot of respect there. I feel like we race each other clean, sometimes we get close, but there's no me and Chad Reed rivalry there! We definitely respect each other, and may the best man win. We actually rode together in 2008, and then he moved to the 450s, so obviously I felt like maybe we shouldn't ride together anymore, for both of us. But there's no animostity from my side and I'm hoping there isn't from him. It's one of those things where, I hear the media say "The Big Two," but there's a guy over there that got third place [Alessi] and he's going to be really tough. And Davi Millsaps got second in the first moto, so there's a lot of guys out there that are going to make our job tough. But I'm looking forward to the challenge.
We're on our way to Freestone, what are your thoughts?
Freestone is good. The year I raced there, it was the hottest I had ever felt in my life! I haven't checked the weather, and I'm not going to. But we'll be ready for that, too. Obviously I had my amateur national there, so I was there a few months ago. I like the sand whoops they have there. I'm just looking forward to going racing. We had a barbeque last night with my family and friends. I've been away from it for awhile, and I don't realize how much I miss it until I'm gone. The atmosphere is so chill, we're all having a good time. I think we're all looking forward to it. So, Texas here we come.