Rice-eccles Stadium
Salt Lake City

,

UT
Salt Lake City
Monster Energy AMA Supercross Championship
Eli Tomac came into the Salt Lake City round of Monster Energy Supercross holding a slim points lead over Dean Wilson, and even third-place Cole Seely was still in contention. Under pressure, Tomac engineered a superb come-from-behind effort to win the main. Couple that with Seely crashing out in practice and Wilson crashing out in the main, and suddenly a nail-biting championship was over! We talked to Eli about it in his GEICO Honda semi after the race.
Racer X: Were you thinking at all this morning, "I could win the championship today?" Was that really on your mind? All of a sudden, it was just like, oh! He won the title!
Eli Tomac: Yeah, exactly, just the way you said it. I really wasn't expecting it here. If all the stars fell together right, it could happen and they did. I just knew I had to go out there and get a win in the race. No one even told me at first. They were like, "Oh, one point or something." That's what Kranz first told me. And I was like, no! But then, obviously, it came out, so it was just like yeah!
You made it tough on yourself. In practice, you weren't dominant and then in the main you kind of had a bad start. Did you feel it coming on, or were you a little worried at one point?
Once the heat race was going, I obviously got bumped around a little on that start, but came through the pack really well and it was just like a whole different day for me, really.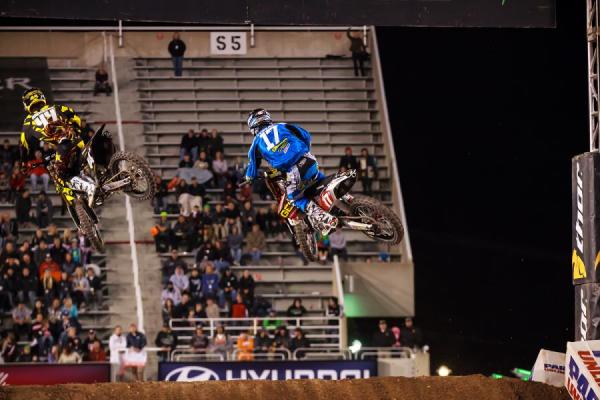 Anderson's attempt to hold off Tomac would prove futile.
Simon Cudby photo
In practice, did you feel like you struggled a little bit?
Practice wasn't really that bad, I was just pissed that I was like at the bottom of the super close times. Definitely don't need to stress on those tenths next time. It lit some fire.
That seems to be working for you. Did you hit the spin bike and all that, do you get fired-up-warm-up routine?
Yep, cranked on the spin bike for a little bit, got nice and warmed up. Did a little jog on the way out to the start line. [Laughs]
But in the heat race, something turned around.
Totally. I don't know, it seems like the more I rode the track, the more I come around on it. So it was good.
Then in the main, probably not the start you wanted.
No! I was super fired up, too. I was trying to put myself in the same mindset as last week, but I didn't really get the jump, then got a little bumped. But since I was on the inside, I was able to sneak around there and then down the straight away to a decent position where I could work my way up.
So were you ever worried?
I was like, "No way! Deano's already a couple guys up!" At that point, my main goal was just to catch him.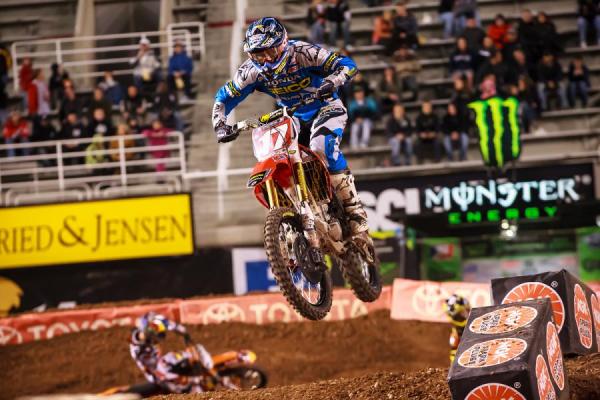 Down to Wilson early, Tomac would fight his way through the pack en route to the win.
Simon Cudby photo
But you figured you had 15 laps to do this. You weren't panicking.
No. I wasn't completely out of my mind like in San Diego. So I definitely learned a good lesson.
So, just take me through it. Do you remember what passes you made where or anything? I think Davalos didn't jump a triple…
Yeah, I got Anderson in the sweeper. I think I got two guys there. I got [Marvin] Musquin and [Jason] Anderson in that sweeper. Then Deano, I got him in that corner after the long rhythm section because he missed that triple into the corner, and then he didn't do the triple out.
Anderson had a pretty good lead on you guys at one point, but he lost it quick. Did you go from at one point not even being able to see the leader to seeing him?
Yeah, at one point he was stretching out and I was like, "Wow, I need to get going." Then, once I got past Dean, it was on.
Did you know that Dean had fallen?
No, not at first. I mean, obviously, when I came around, I saw him completely backwards on the track. I heard the crowd a little bit and I saw the lights going, but I didn't expect for Dean to be the guy that was down.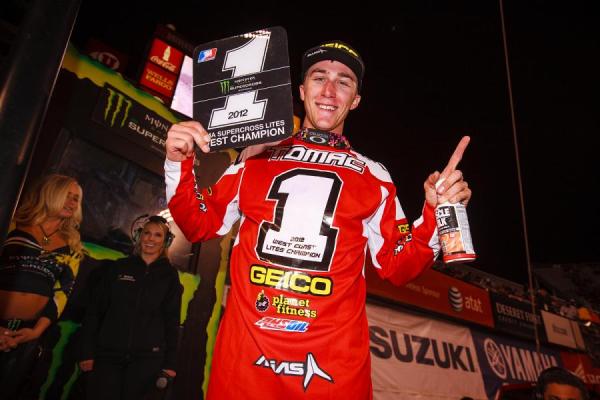 A win, paired with Wilson's 19th, gave Tomac his first career West Region Lites.
Simon Cudby photo
Now I have to ask, how does it feel being champ?
As good as it gets! It's a childhood dream came true.
You were so close last year. Does that make it better?
Yeah, it definitely lit the fire this year.
You had one goal and one goal only: to get it done.
Yes, it was too close last year.
You probably didn't expect to go to Vegas not having to worry about the title. That's got to be nice.
Yeah, two GEICO Hondas, two number ones, so it's going to be sweet. I'm so happy right now!
Congrats, man!
Alright! Thanks!